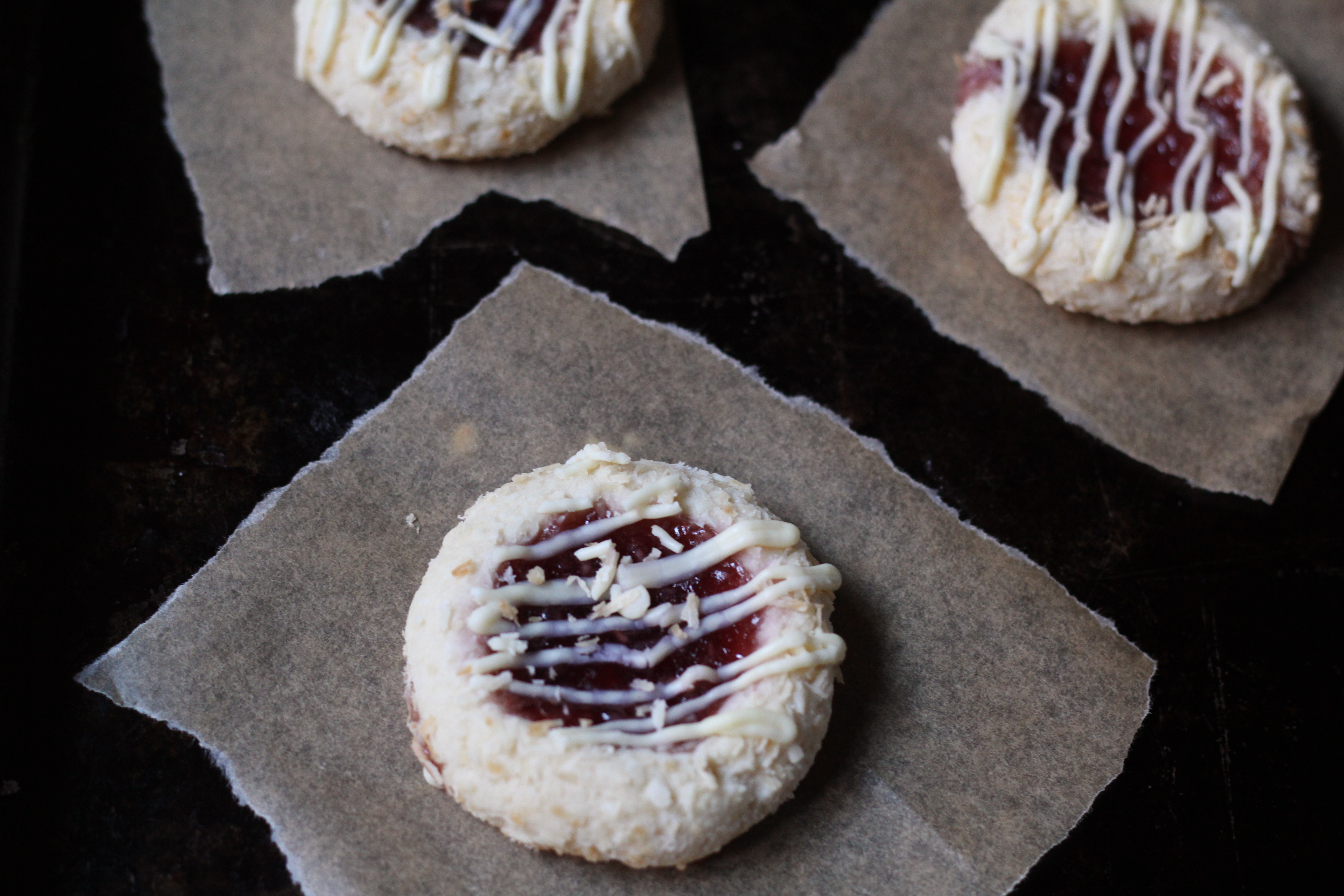 We are nearly halfway through January… is it okay to be talking about cookies? Too soon? (It's never too soon for cookies!) Around Christmas, one day I decided baking giant heaps of various cookies was completely necessary (must have been that crazy-brain-thing that happens around the holidays). I made the go-to Christmas cookie: plain sugar cookies to be frosted and decorated with the kids, chocolate crinkle cookies, soft chewy ginger cookies, chocolate chip cookies with hazelnuts, chocolate and peanut butter chips… and the following thumbprint cookies.
Hands down, these were probably the favorite among both my husband and myself. They're slightly delicate, but don't lack flavor even in their light texture. The jam is important here; make sure to use something you like. That's pretty open-ended, but intentionally so. You can even mix it up and use various jams (whoaaa!). These are great cookies for any time of the year and certainly don't need to be saved for the holidays!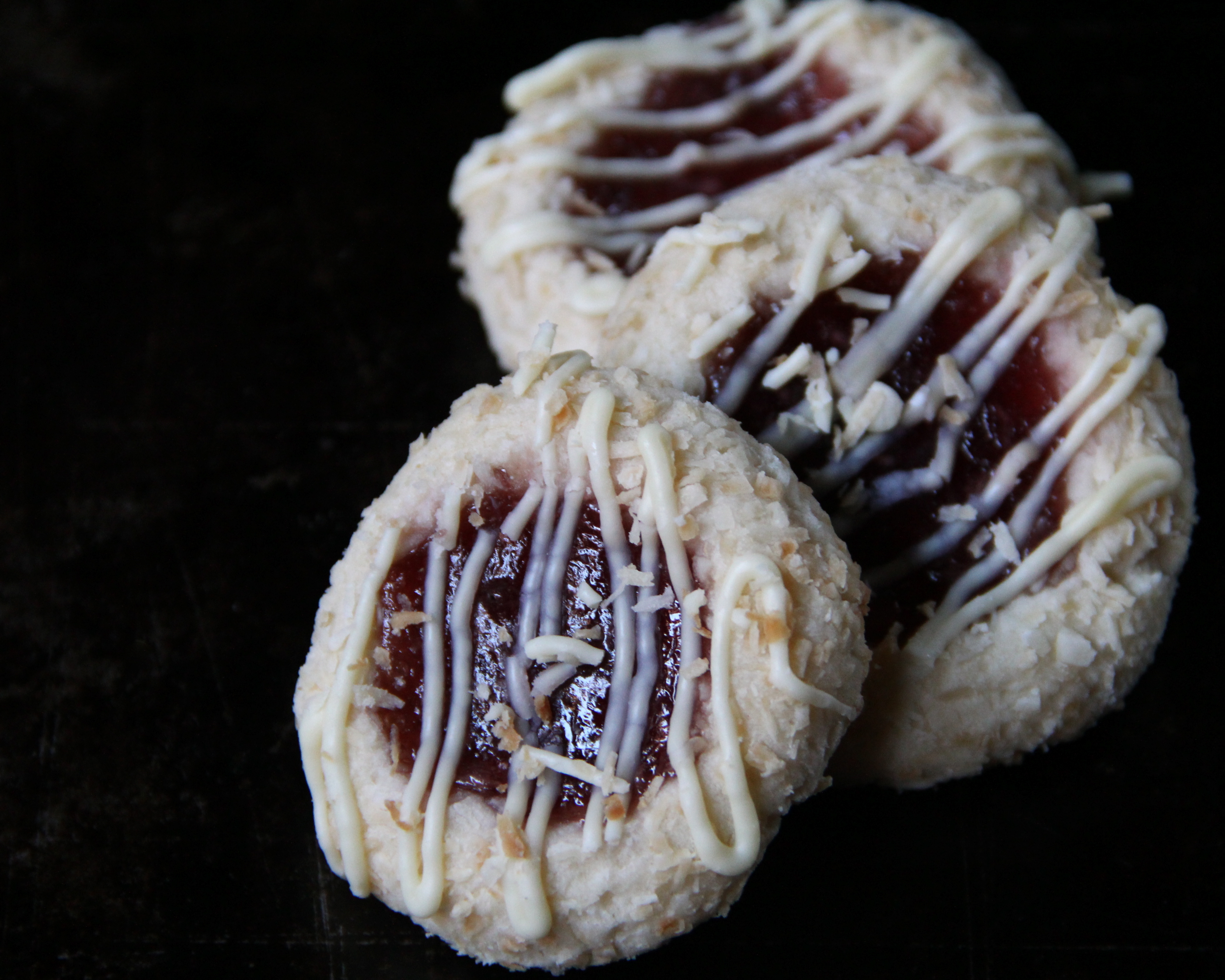 Coconut Laced Jam Thumbprint Cookies
Very lightly modified from Kayley at The Kitchen McCabe.
Yields two dozen cookies.
Ingredients:
1 3/4 sticks unsalted butter, softened (14 tablespoons)
1/2 cup powdered sugar
1 1/2 cups all-purpose flour
1/2 cup cornstarch
1 teaspoon almond extract
1/2 teaspoon vanilla extract
1/2 cup unsweetened coconut flakes
3-4 tablespoons of jam (I used a homemade lavender grape jelly)
2-3 ounces white chocolate
Directions:
Preheat your oven to 300 degrees F. Line 2 baking sheets with parchment paper.
In a stand mixer, use the paddle attachment to cream the butter and powdered sugar together until light and fluffy (about 2 minutes at medium speed).
Whisk together the flour and cornstarch in another bowl. Add the flour mixture to the butter and slowly mix until combined. Add the almond and vanilla extracts, then mix until just combined. Divide the dough into 24 pieces. Roll each piece into a ball, then roll the dough in the coconut flakes.
Place each coconut rolled dough ball about 1 1/2 inches apart on the prepared baking sheets. Flatten each dough ball slightly, pressing the center of each ball down with your thumb to make a small well. Spoon about a half teaspoon of jam in each indentation.
Bake in your preheated oven for about 15 minutes, or until the coconut is just slightly toasted. Remove the pans from the oven, but let the cookies sit on the baking sheet for 5 minutes. Place on a wire rack to finish cooling.
While the cookies are cooling, melt the white chocolate in a double broiler. Drizzle the melted chocolate over the tops of the cookies (a piping bag with an attached fine tip works well for this). If you refrigerate the cookies for 15-20 minutes, the chocolate should fully set, although the cookies won't need to be refrigerated after the chocolate has set.