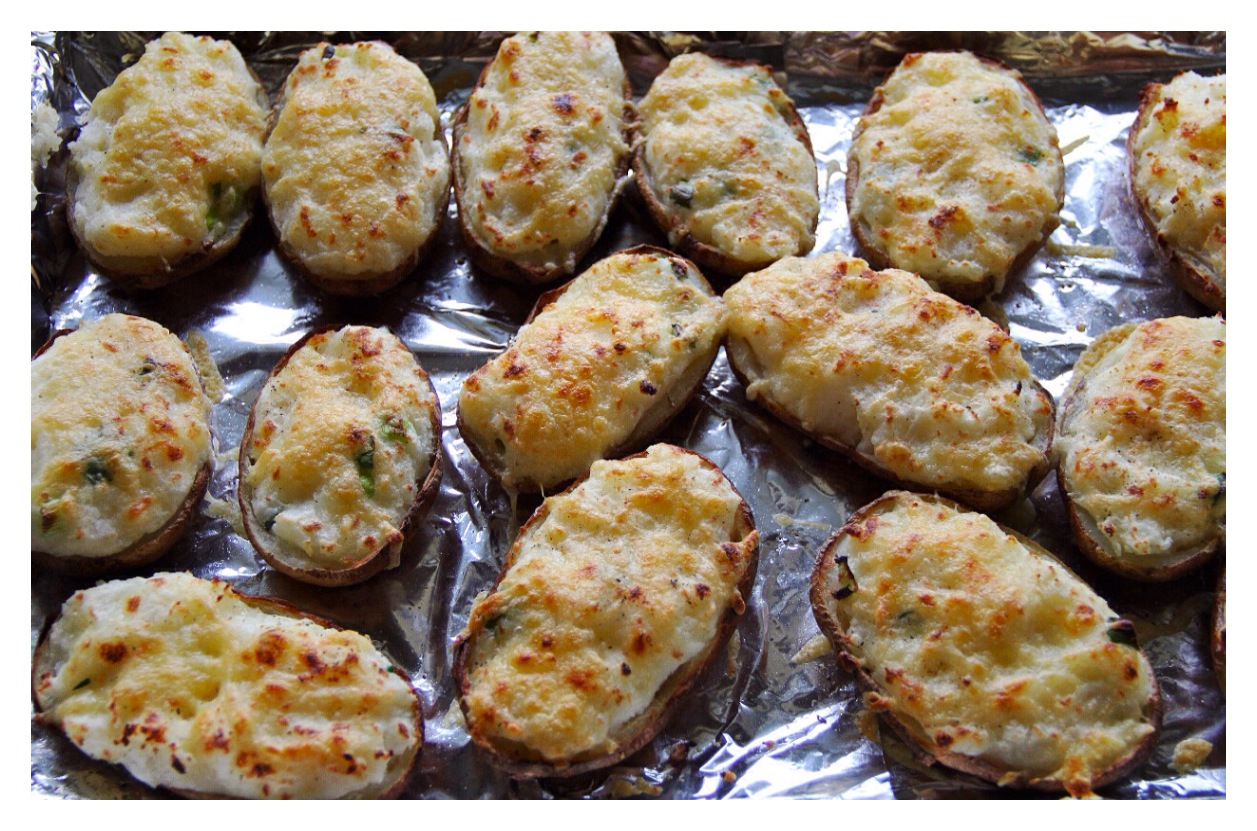 Alright, alright… I have been meaning to share this recipe since the Super Bowl happened. Let's not backtrack to how long ago that was. While I'm not a huge fan of potatoes in general (albeit, for no good reasons), twice baked potatoes tend to serve up as excellent comfort food. They are filled with creamy mashed potatoes, covered in melty cheese, but also have a crispiness that one would find in really good french fries. A win-win situation.
The filling can offer itself up as a vehicle for creativity. The things you can throw into the mix are endless. However, I was making these to share with young kids and I wasn't sure how adventurous I could get before they wouldn't touch the potatoes at all. That said, these are easy. Creamy, cheesy, flavorful… and while the kids didn't know how to eat a twice baked potato (as in, pick it up with your hands and shove it in your mouth… don't use a spoon to scoop out the cheesy mashed potatoes and throw away the skin!), the adults may or may not have topped theirs with vegetarian chili, a little more cheese, and certainly a little more sour cream.
Even better, the leftovers can be reheated and just may be even more delicious the next day!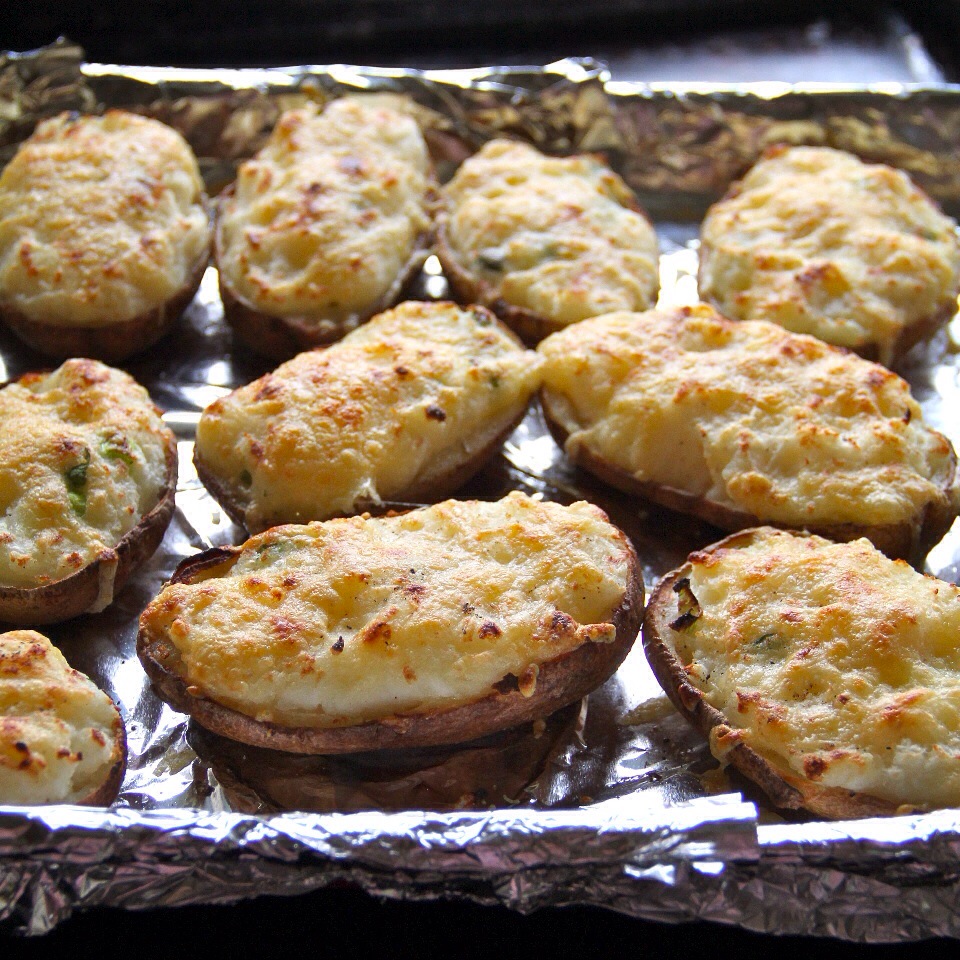 Cheesy Stuffed Twice-Baked Potatoes
Makes 30 stuffed potatoes.
Ingredients:
15 medium russet potatoes, scrubbed well
8 ounces low or full fat sour cream
6 tablespoons milk
8 ounces sharp cheddar, shredded
1/2 cup chopped scallions
1/2 teaspoon granulated garlic
1/2 teaspoon ground black pepper
1/2 teaspoon sea salt
1/4 teaspoon dry mustard powder
4 tablespoons butter, melted
Directions:
Preheat your oven to 400 degrees F and position racks in top and bottom thirds of the oven. Use a fork to poke 10 to 12 deep holes all over the potato so that moisture can escape while it's cooking. scBake for 45 minutes to 1 hour, until the skin feels crisp, but flesh beneath feels soft.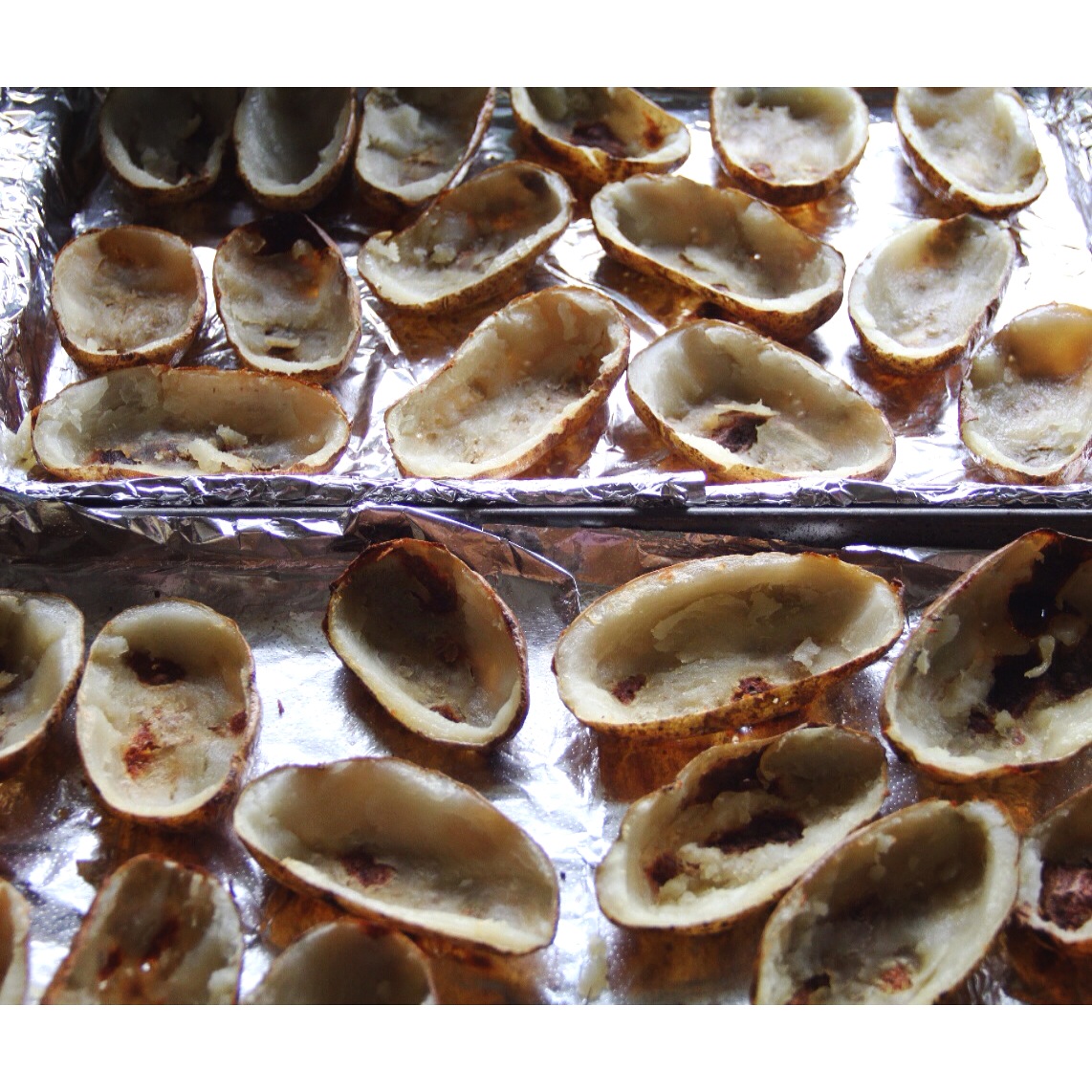 Slice each potato in half, lengthwise. Carefully scoop out the inside of each potato skin, being careful to not break the skin. Leave a small rim of potato to keep the skin from falling apart or tearing. Place the scooped out insides in a large bowl, then lay the hollowed out potato skin on a baking sheet, hollow side facing up.
Add the sour cream, milk, half of the shredded cheese, scallions, garlic, pepper, salt and mustard powder to the scooped out insides. Mash this filling up until smooth and creamy, using a potato masher. Set aside until needed.
Brush each of the hollowed out potato skins with half of the melted butter. Place in the oven for 2-3 minutes, until lightly browned. Remove from the oven, then flip over, so the skin is facing up. Brush with the remaining melted butter, then return to the oven for another 2-3 minutes, until slightly crisp to the touch.
Fill each of the potato skins generously with the filling. Top each potato with a little more grated cheese, then bake for 15 to 20 minutes, until golden brown on top and warmed all the way through.
Serve hot/warm for best flavor and consistency.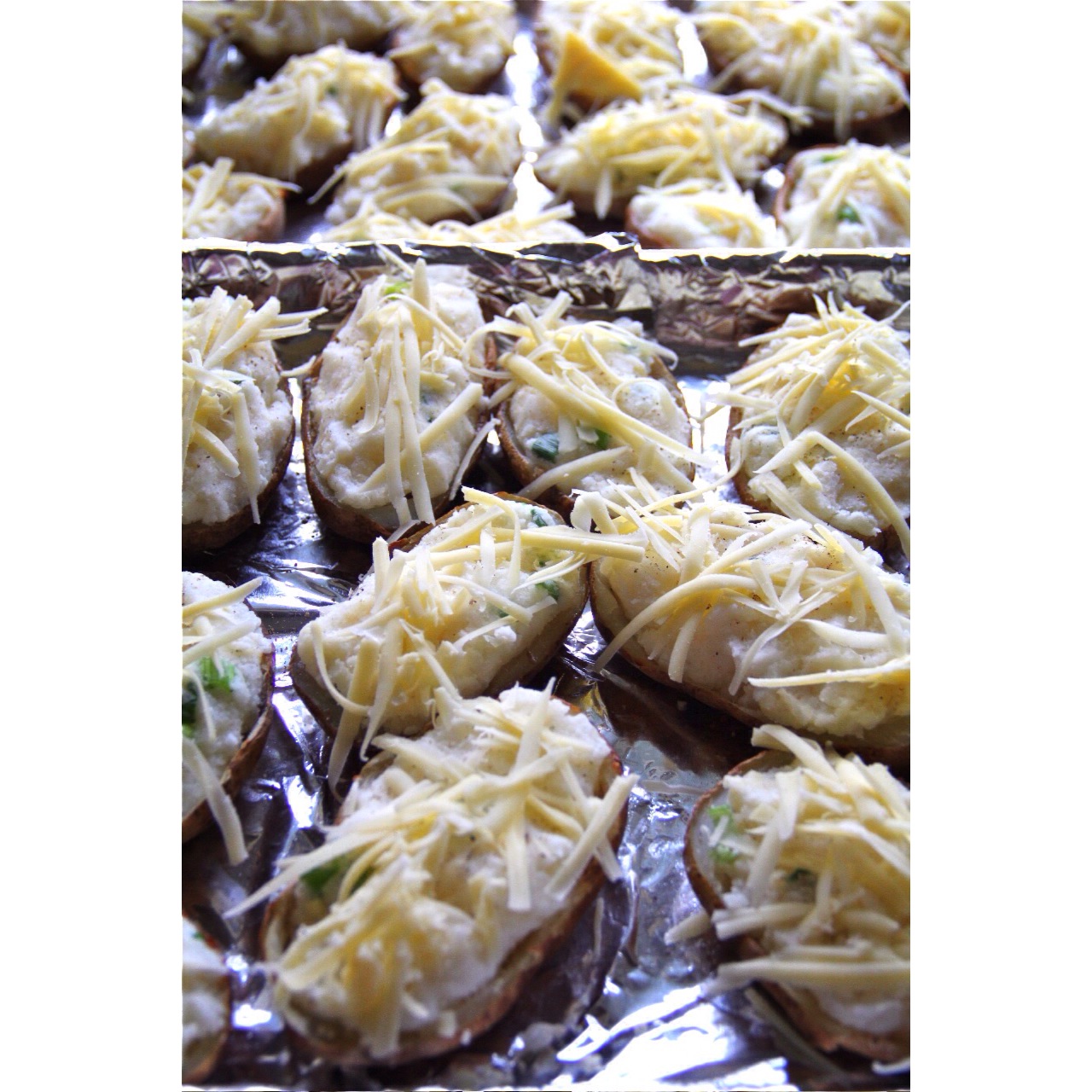 Please follow and like us: