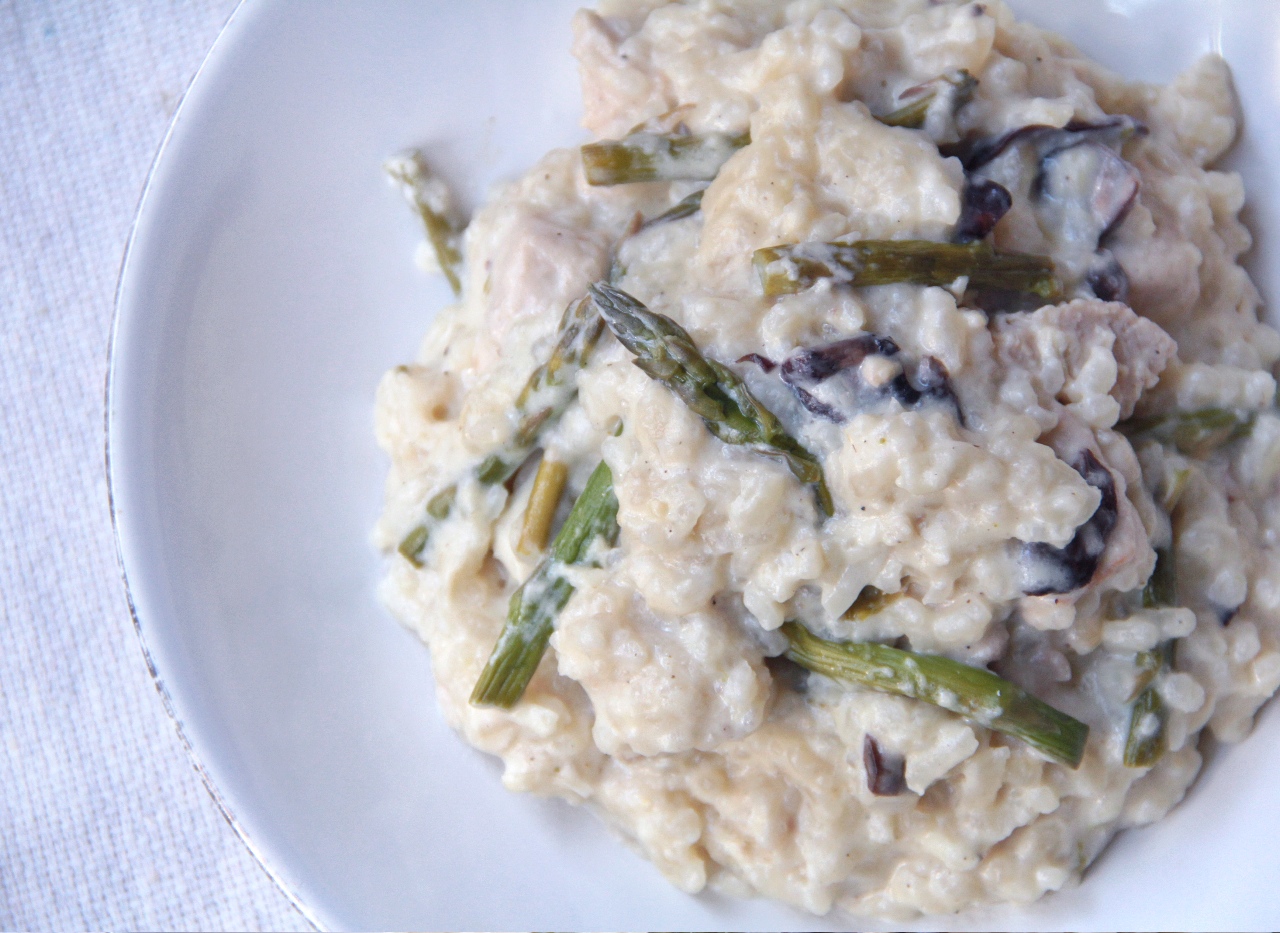 It's supposedly spring around here, although the cold appears to be lingering for a while longer. Daylight remains present at nearly 7 o'clock and from my bedroom window, I can clearly see the hills surrounding downtown Ashland are purple and pink hued, softly green. I can hear our resident pigeons, cooing and wooing one another, building their nests. The sounds, the colors… they are some of my favorite things about this time of year in the Pacific Northwest.
Then there's the abundance of fresh produce that seems to swoop into the grocery stores and farmer's markets mid-spring that weren't around through the winter. Artichokes, chard and other greens, grapefruit, spinach, peas, lemons, asparagus… they're everywhere, in abundance and often scream at me to try new dishes.
I used Quorn brand vegetarian chicken in this recipe, which works nicely and maintains its chicken-like consistency in the risotto. The way that the asparagus is prepared prior to adding it to the risotto is actually my favorite way to cook asparagus. Generally I just trim off the tough ends, but cook it exactly the same. Nine year old Silas ate some a couple weeks ago and declared, "this is good 'sparagus!" So I reckon it must be good if you can get a nine year old boy to ENJOY asparagus ;) !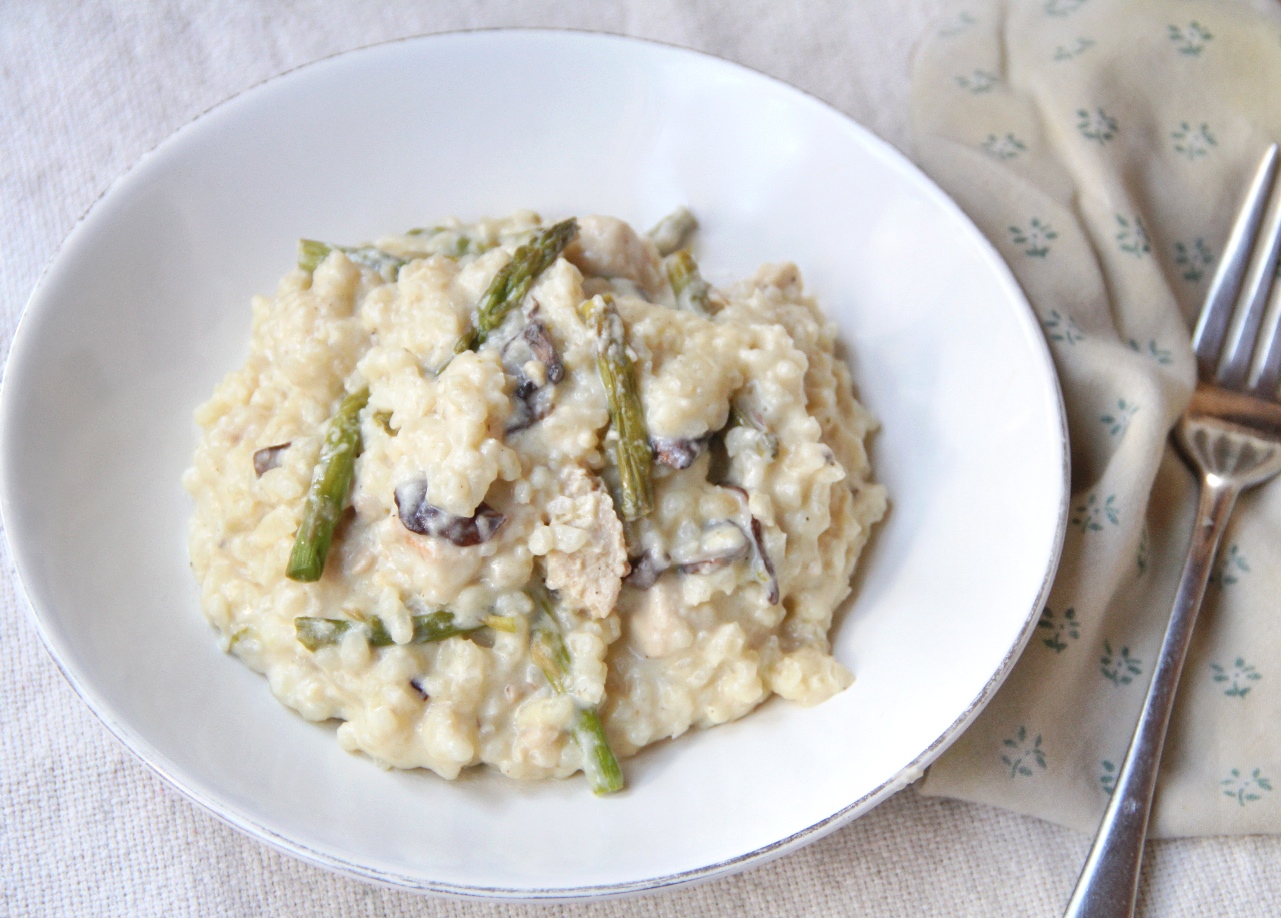 Risotto with Roasted Asparagus, Mushrooms, and Chik'n
Serves 6 or so folks.
Ingredients:
1 pound fresh, thin asparagus
2 teaspoons oil
zest and juice from a large lemon
1/4 teaspoon salt
1/4 teaspoon fresh ground pepper
8 medium sized crimini mushrooms, diced bite-size
one 12-ounce bag Quorn chik'n tenders
2 tablespoons oil
8 cloves garlic, minced
1/2 teaspoon salt
1/2 teaspoon ground pepper
2 1/4 cups arborio (risotto) rice
2 teaspoons oil
4 tablespoons butter
1 large shallot, minced
4 cups No-Chicken broth (vegetable broth if you must)
4 cups half and half
1/2 cup grated parmesan cheese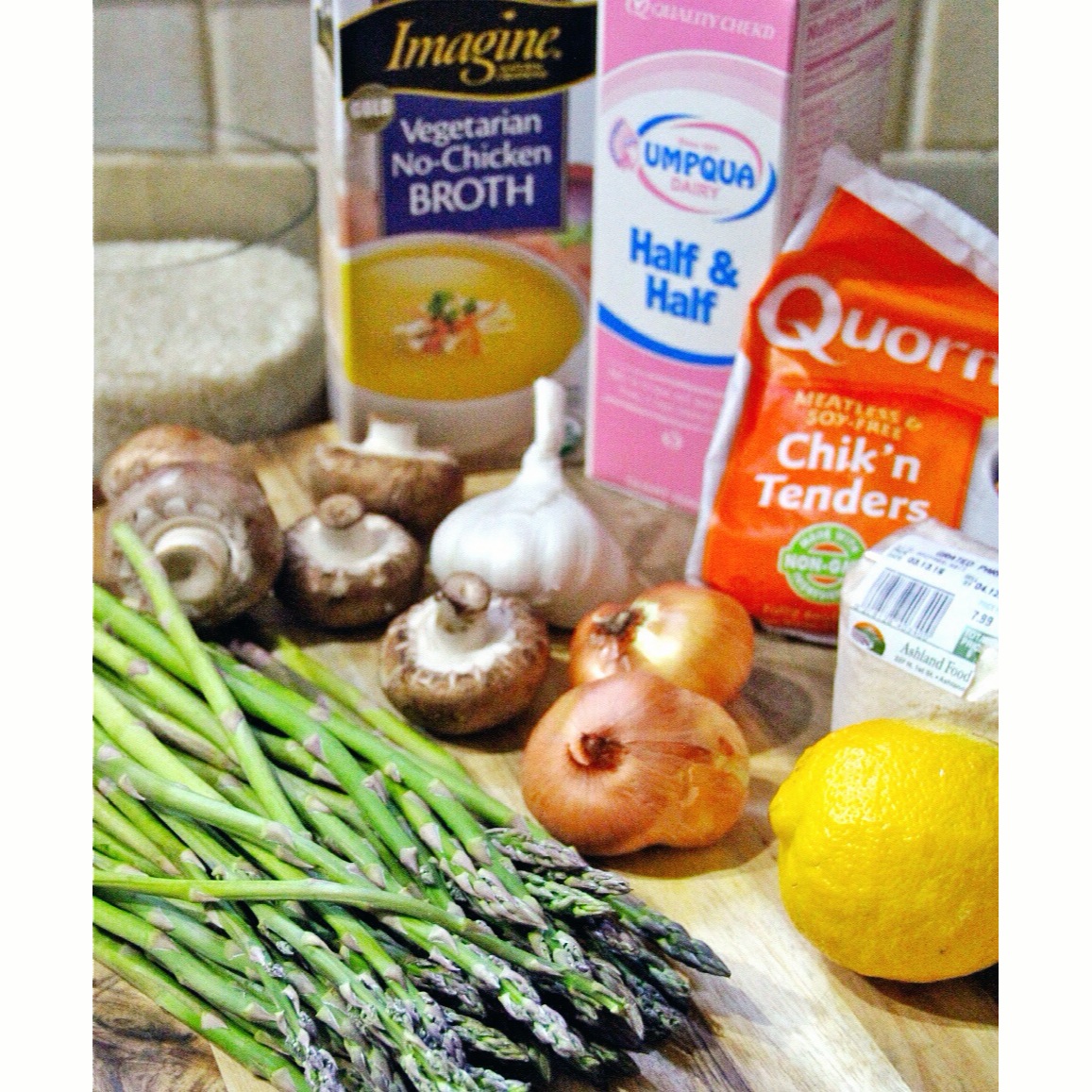 Directions:
Prepare the asparagus: Preheat your oven to 400 degrees F. Dice the asparagus into pieces that are about 1 1/2 inches long. Place them on a large rimmed baking sheet in a single layer. Drizzle two teaspoons of oil on the asparagus, then sprinkle on the lemon zest, salt, and pepper. Gently turn the asparagus a couple times to coat with the oil and toppings. Bake for 10 minutes (if using really thin asparagus – which is preferable). If thicker asparagus is being used, bake for 12-15 minutes until fork-tender. Drizzle the lemon juice over the asparagus and set it aside until needed.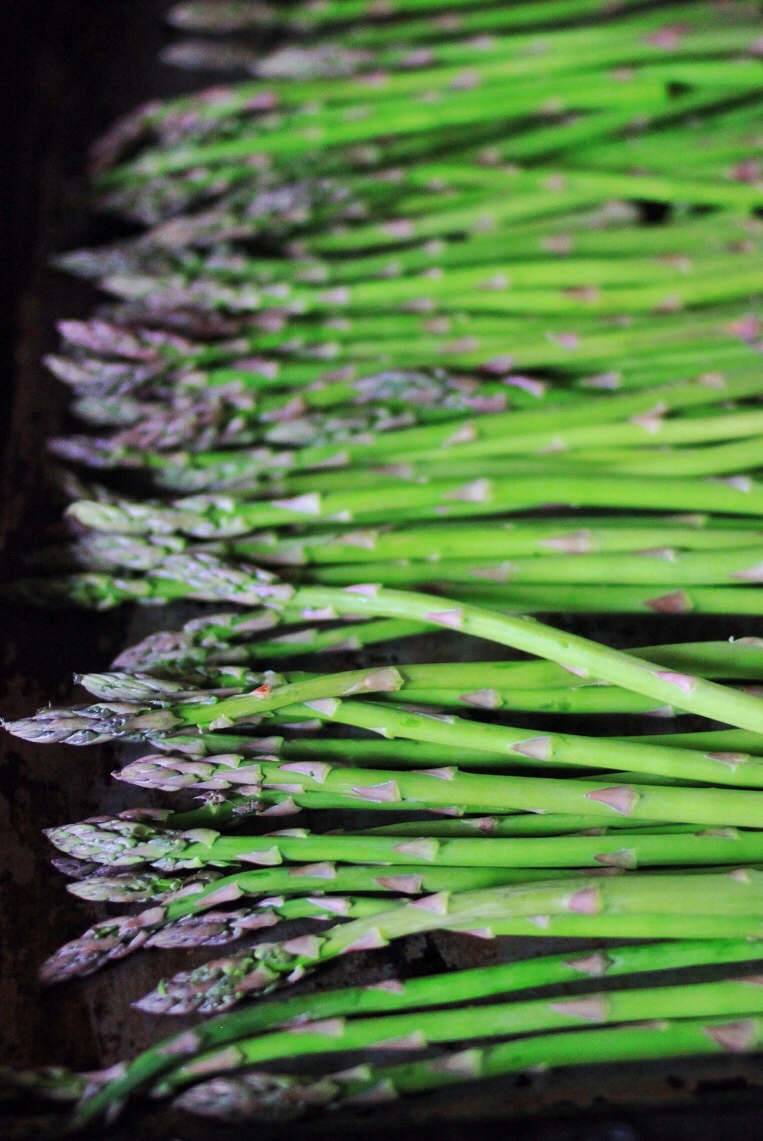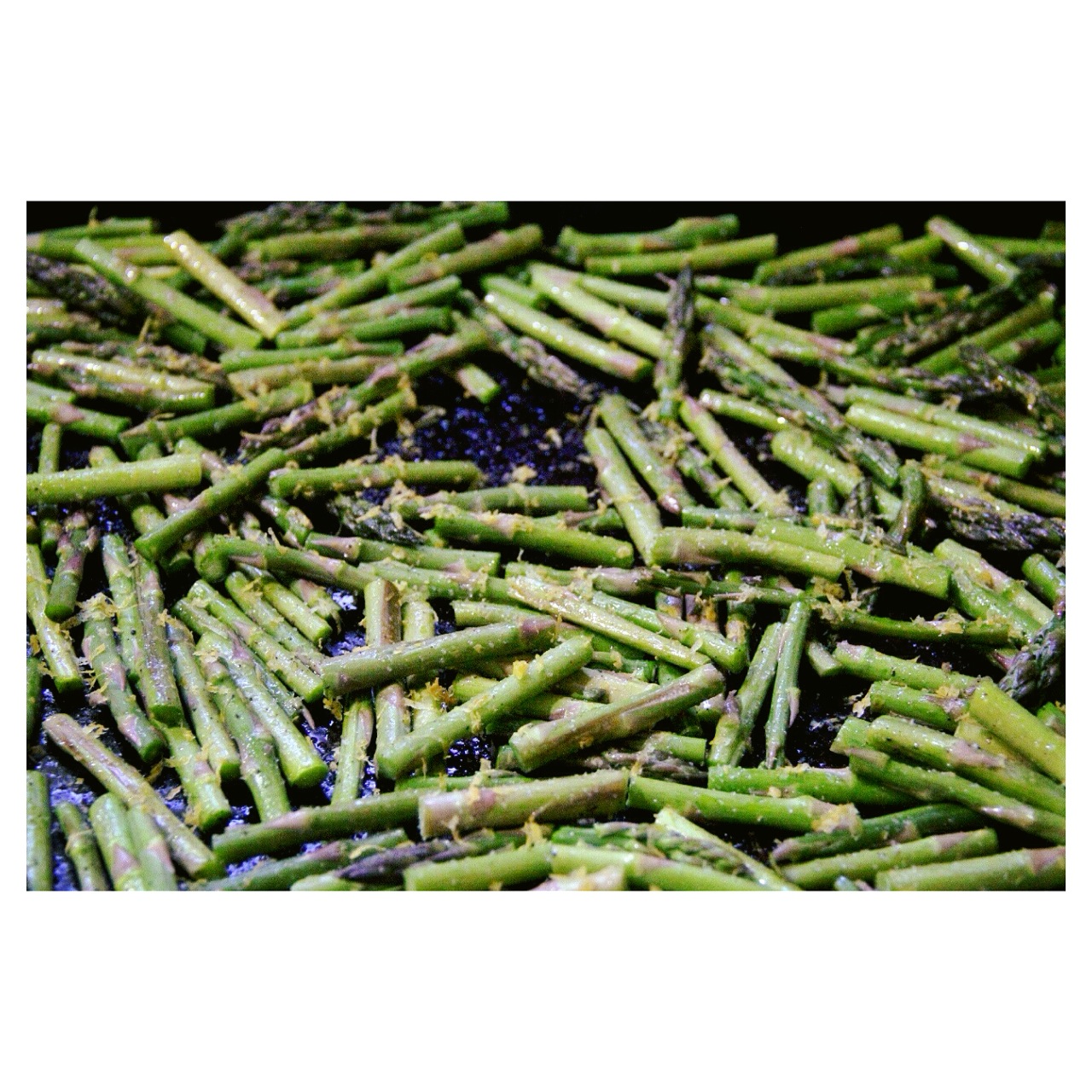 Prepare the veggie chicken and mushrooms: In a large saucepan or pot, which you'll use for the risotto as well (I use one similar to this size and type), heat two tablespoons of oil over medium-high heat. Add the garlic, Quorn chik'n tenders, diced mushrooms, 1/2 teaspoon salt and 1/2 teaspoon pepper, stirring to coat with the oil. Cook, occasionally stirring, until the tenders lightly brown and the mushrooms soften without getting overcooked. Pour the cooked tenders and mushrooms into a large bowl, then set it aside until needed.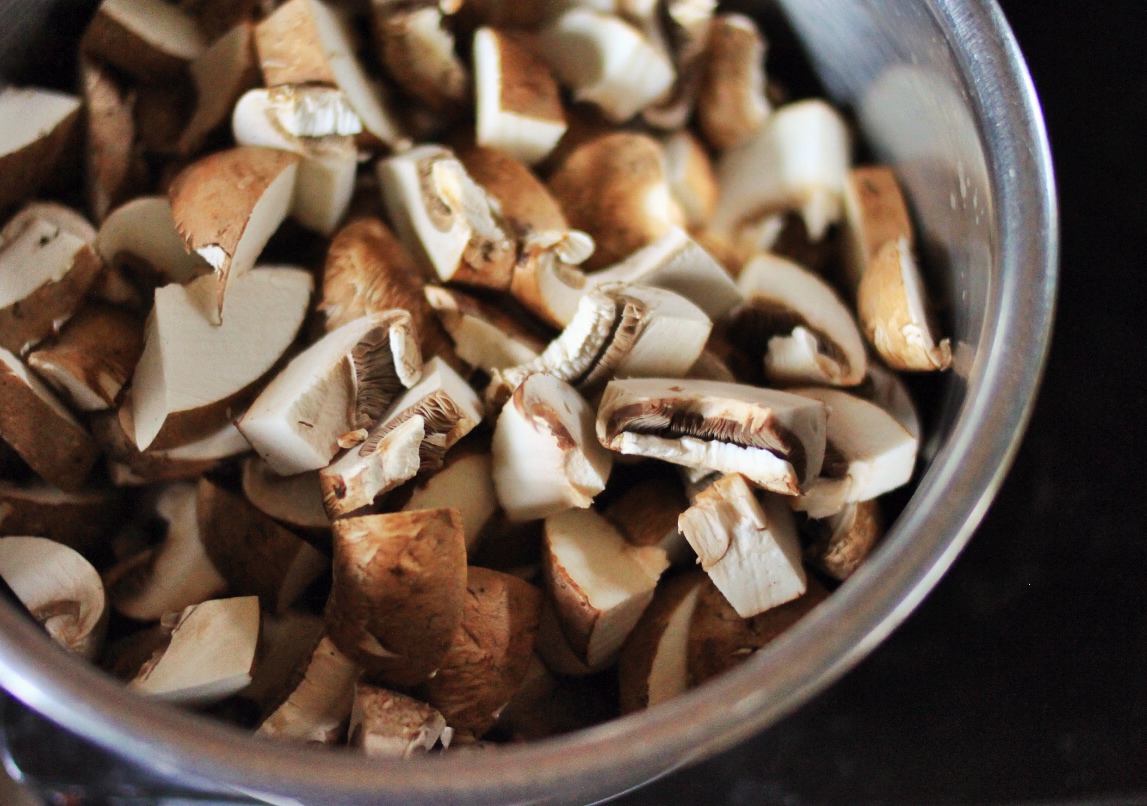 Warm the broth to make the risotto: Pour all 4 cups of broth and 4 cups of half and half into a saucepan and bring to simmering over low heat. Keep on low, simmering while you prepare the risotto.
Prepare the risotto: In the saucepan you cooked the tenders and mushrooms in, heat two teaspoons of oil and 4 tablespoons of butter over medium-high heat. Add the minced shallot and arborio rice, stirring to coat the rice with the oil. Saute until the rice changes in color from translucent to white (2-4 minutes). Once the rice has changed colors, add one cup of the warm broth, stirring it into the rice until fully absorbed. Once the broth is absorbed, add another cup of warm broth, again stirring until completely absorbed.
Continue adding the broth, one cup at a time until all the broth has been incorporated. The risotto will get creamier as more broth is added and absorbed, slowly. When all the broth has been added, stir the 1/2 cup of grated parmesan into the risotto. Gently fold in the roasted asparagus, chicken, and mushrooms. Let the risotto cook for an additional 5 minutes or so, to warm the asparagus, etc., back up. Serve immediately.