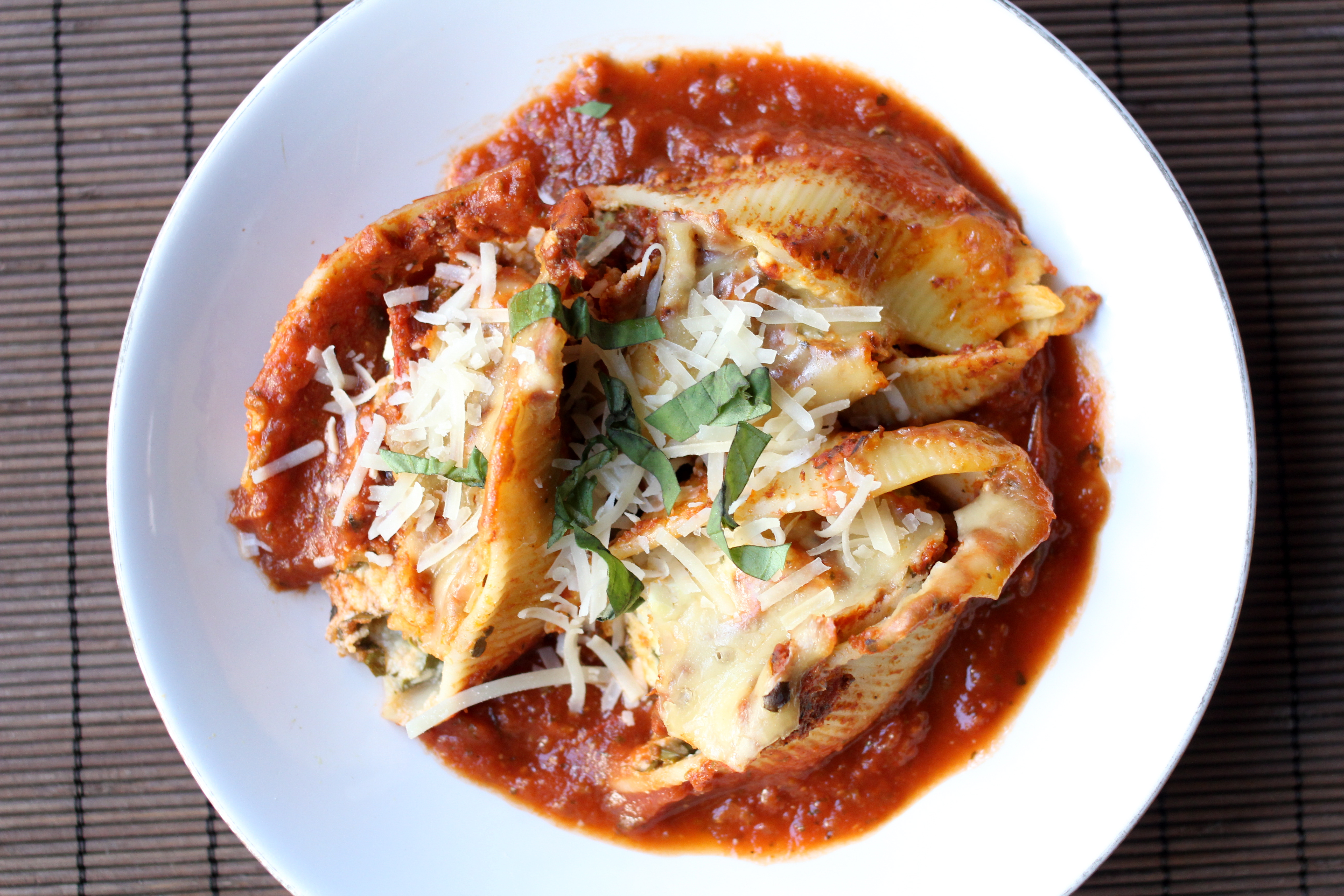 Even as a girl who thoroughly enjoys cooking, it's easy to get into cooking ruts. Since dinner tends to be the meal I put the most time into, it's not uncommon for me to feel like I am cooking the same dinners week-by-week, simply changing the day we happen to eat that particular meal. My husband and the kids are pretty flexible about my need to change things up, although the theme rarely seems to stray — Mexican food, Asian food of various sorts, pasta-type things, pizza…
I do love pasta-type things. And I certainly do love pizza (it's what we're having tonight, in fact). But sometimes the same old, same old becomes just that… old. While thinking about making pizzas (again) with a spinach and ricotta topping, I decided I didn't want to make pizza (again). I happened to be walking through the pasta aisle, right near the jumbo shells and decided that would certainly change things enough for one meal.
Of course when Silas asked what was for dinner and I responded with "stuffed shells," his reaction was, "WHAT! What is that?!" (They ended up going over well!)
You can easily stuff the shells ahead of time (by 2-3 days) then bake them up later. They also reheat nicely for a second-day-lunch! This is a great, simple, mid-week vegetarian dinner option if you're in need of one!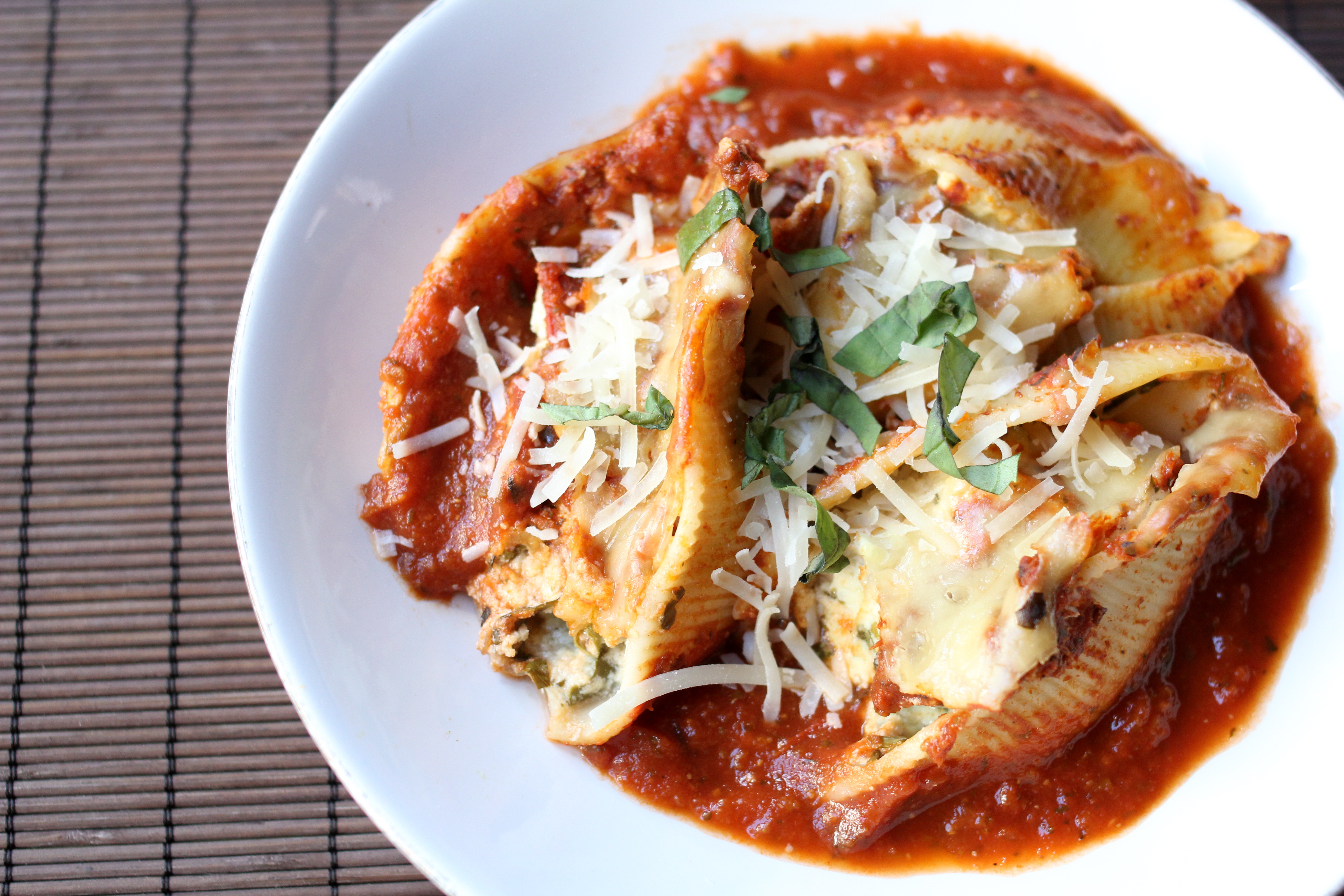 Spinach and Cheese Stuffed Shells
Serves 8-10 folks.
Ingredients:
6 ounces Quorn Chik'n tenders
2 tablespoons olive oil
4 cloves garlic, minced
1/2 teaspoon salt
1/2 teaspoon ground pepper
30 ounces part-skim ricotta
2 eggs, lightly beaten
1/4 cup prepared pesto
1 cup grated parmesan cheese
1/4 cup fresh basil, chopped
1 teaspoon salt
1/2 teaspoon ground pepper
4 ounces raw spinach, chopped roughly
12 ounces jumbo pasta shells
4 ounces shredded mozzarella cheese
64 ounces marinara sauce *
*You can use whatever sauce you prefer. Store-bought, homemade, whatever. I used some sauce I canned from our tomatoes last summer!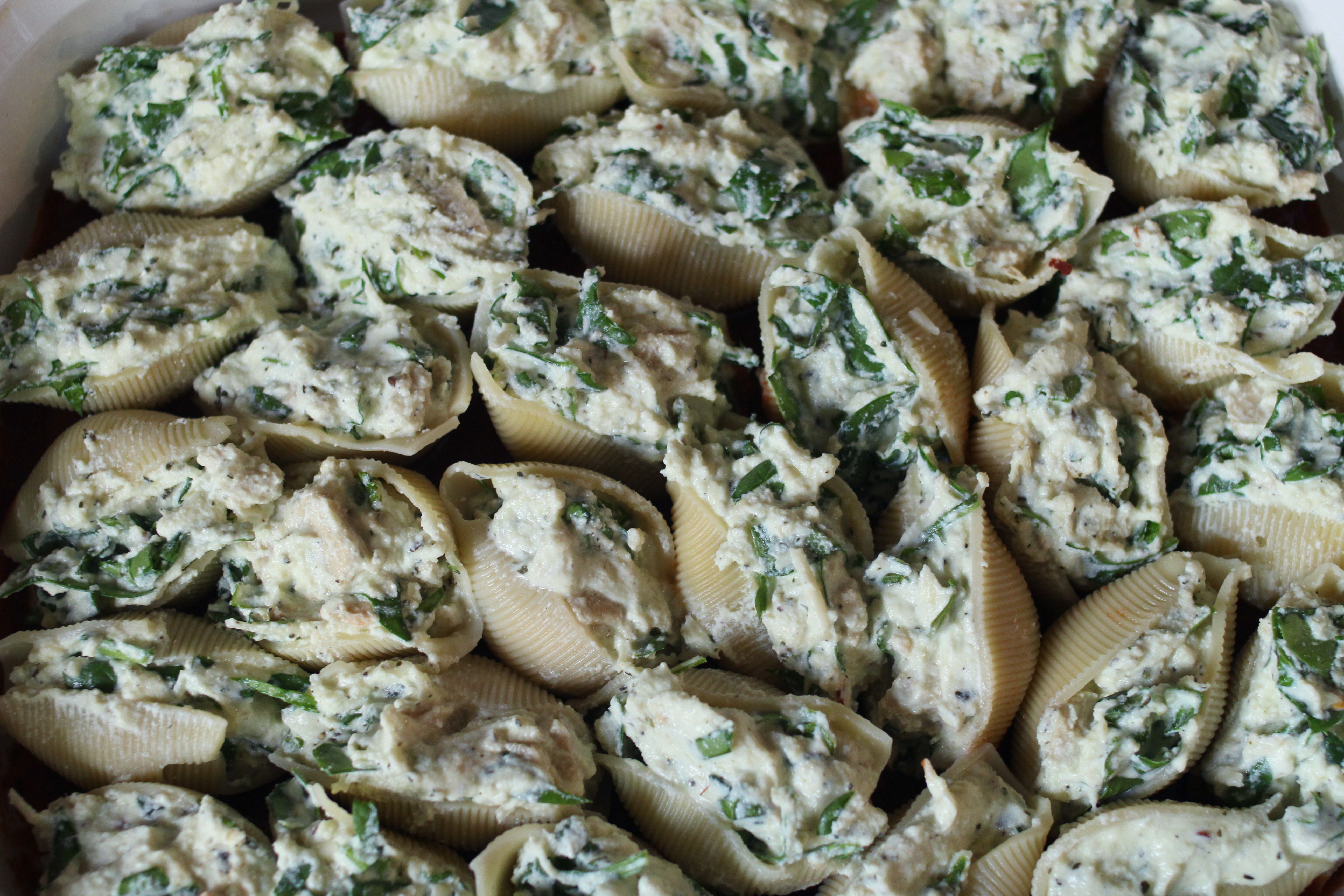 Directions:
Oil a 13 x 9-inch pan, set aside. Get a big pot of water boiling and preheat your oven to 350 degrees F with a rack in the middle.
To make the filling, bring two tablespoons of olive oil and garlic to sizzling over medium heat. Add the Quorn tenders, half teaspoon of salt, and half teaspoon of pepper. Increase the heat to medium-high and cook, stirring occasionally until the tenders are golden brown. In a large bowl, combine the ricotta, eggs, prepared pesto, parmesan and basil, teaspoon of salt and half teaspoon pepper. Mix until combined, then fold in the chopped spinach and Quorn tenders. Set aside.
Cook the shells according to package instructions in generously salted water until the pasta is al dente. If you overcook them, the shells will tear as you fill them. Drain and let cool long enough to handle.
Spread 1/3 of sauce across the bottom of your prepared pan. Fill each pasta shell with the ricotta filling, arranging the filled pasta in a single layer in the pan. Gently pour the remaining sauce over the shells, then top with the shredded mozzarella. Cover with foil and bake for 25 minutes, then uncover for an additional 10 minutes. Serve while hot.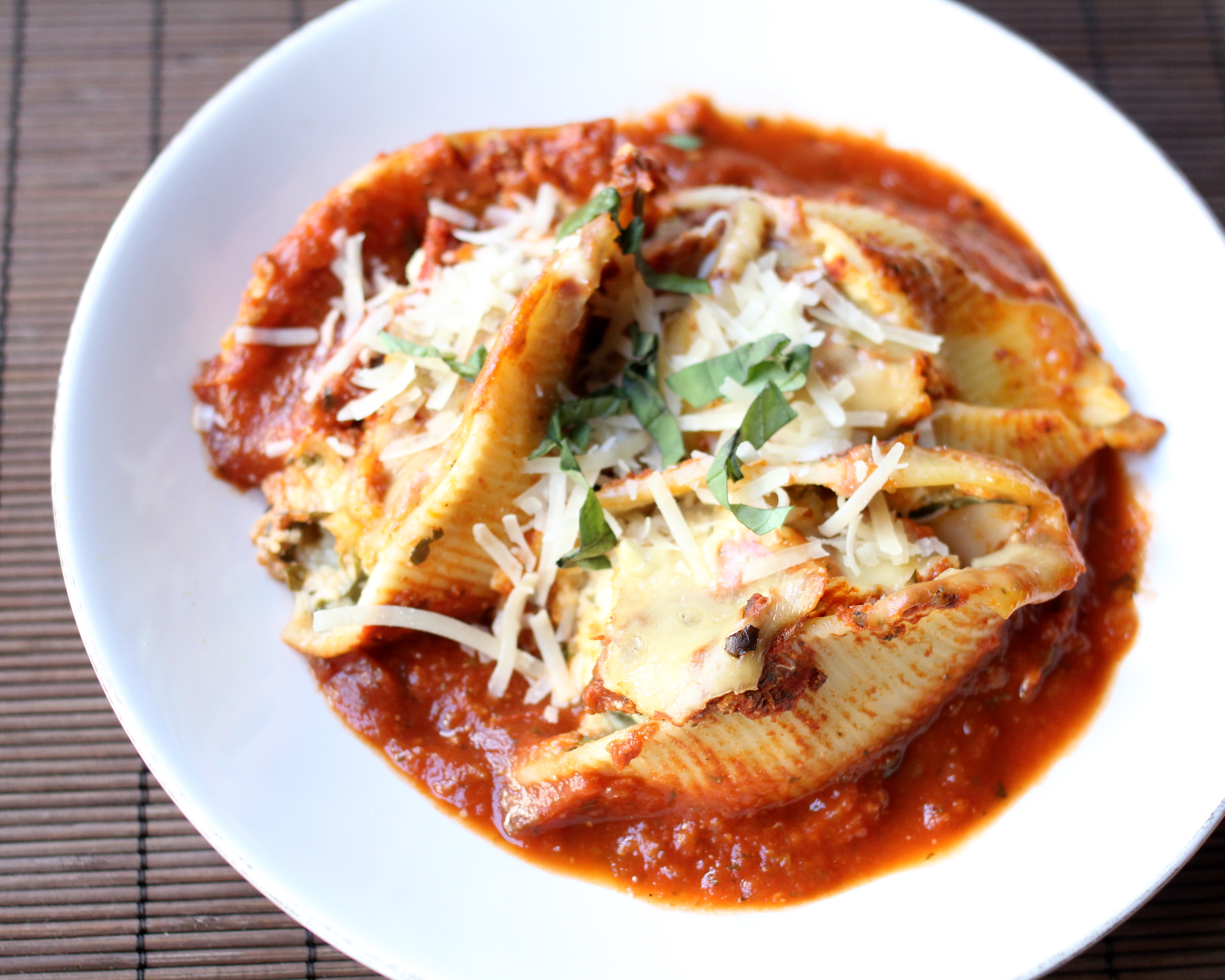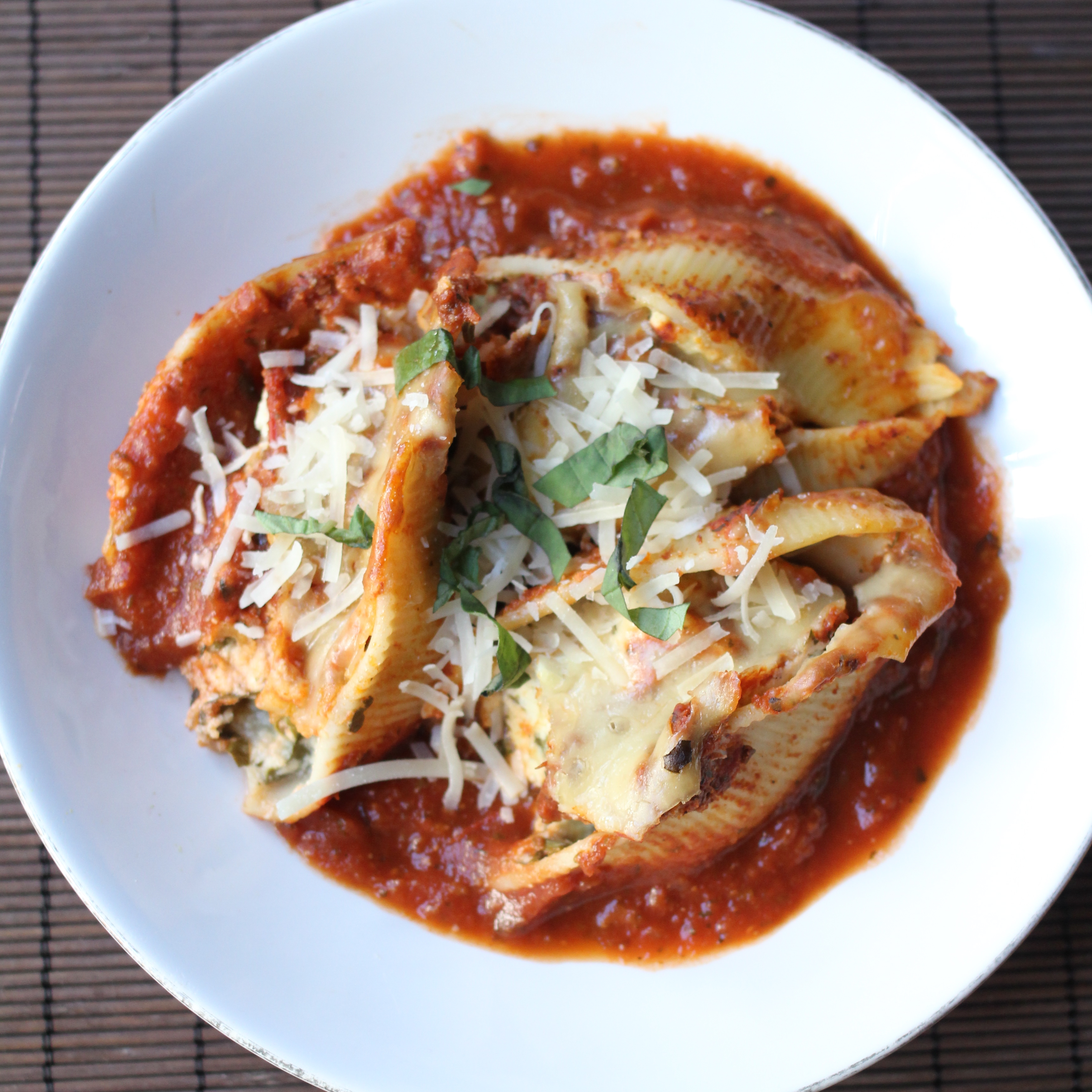 Please follow and like us: