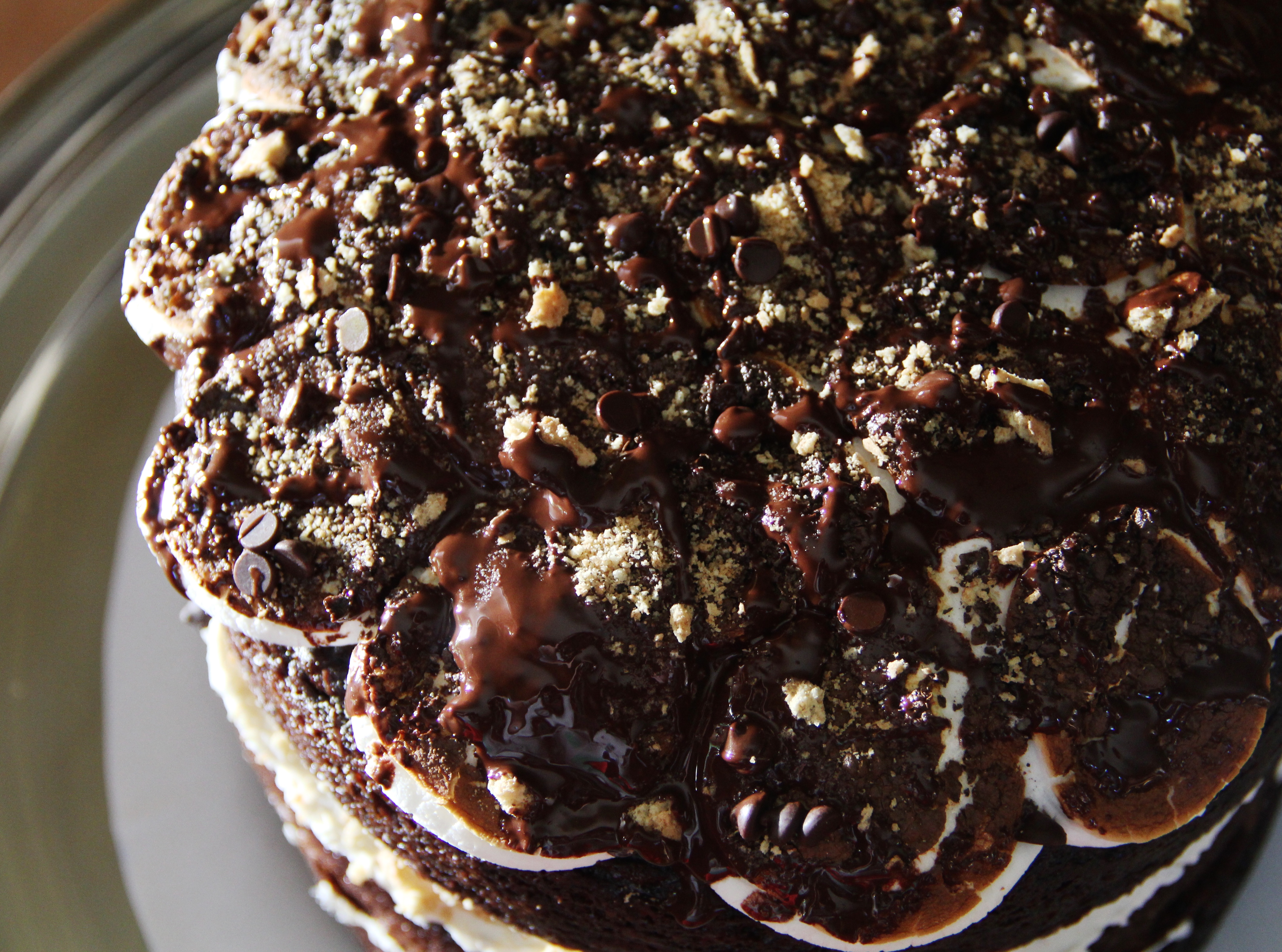 When I first met Silas, he was a not-quite-two-year-old, making a mad-dash away from his dad (my now husband) at the park beside my old apartment. Seeing this rambunctious, active, very spirited, near-two-year-old grow up into the still rambunctious, very spirited, ten year old he is now has been quite the journey. He is more than willing to try your patience… again and again and again, within a matter of minutes. But he's just as quick to care about people, offer sincere compassion for folks he both knows and doesn't know. His heart is gold (even on the days I would quickly describe him as pure hellion).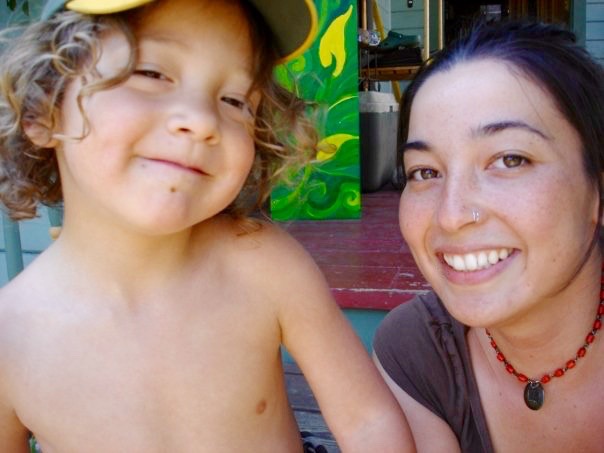 For his tenth birthday, Si requested a s'mores cake. The last couple years he's requested cakes that are more ambitiously themed or colored, so I was pretty quick to OK a s'mores cake. Even though I buy marshmallows only, perhaps, once every couple years. Hah. As I scoured the inter-webs for ideas, I pulled tips and recipe attempts from various places. This is probably the largest (as in tallest) cake I've ever baked, but it was fun to make! And even more fun to eat!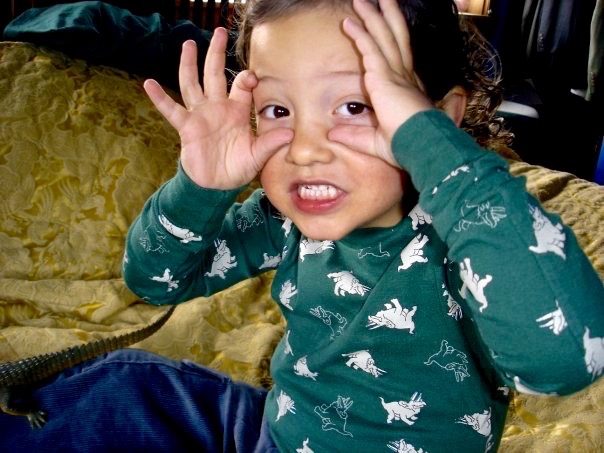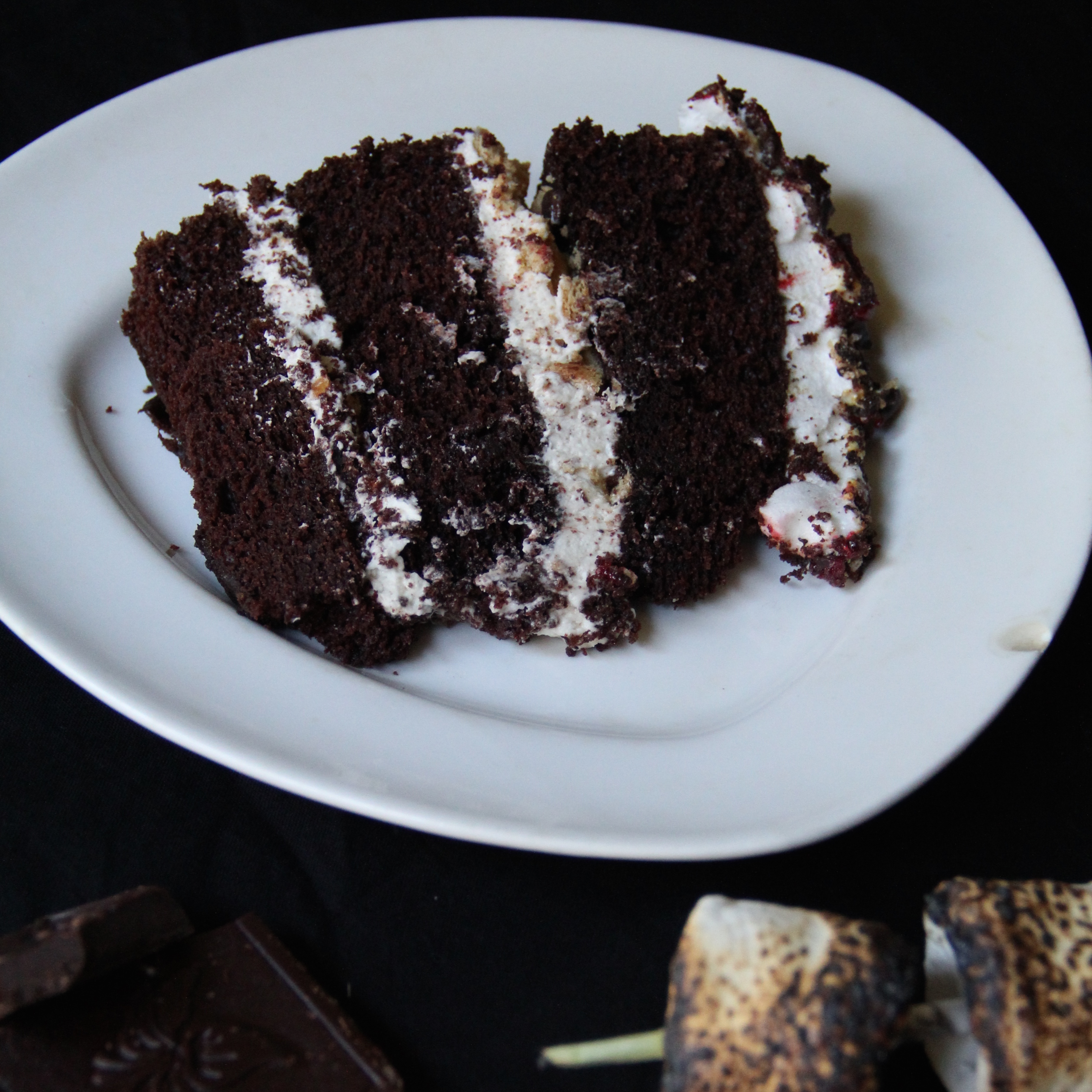 S'mores Cake with Toasted Marshmallow Buttercream Frosting
Makes one 3-layer, 8-inch round cake OR one 2-layer cake and 6 cupcakes
Ingredients:
For the cake:
2 1/2 cups packed brown sugar
14 tablespoons butter, softened
3 eggs
1 3/4 teaspoons vanilla extract
2 1/4 cups all-purpose flour
1/2 cup + 2 tablespoons unsweetened cocoa powder
2 1/2 teaspoons baking soda
1/2 teaspoon sea salt
1 cup sour cream, at room temperature
1 cup boiling water
For the filling:
12 large marshmallows
1 cup powdered sugar
1 cup butter, room temperature
1/2 teaspoon vanilla extract
one 7 1/2-ounce jar marshmallow fluff
1/4 cup mini chocolate chips
1 graham cracker, finely crumbled
For the topping:
one 3.5 ounce bar of dark chocolate, broken into pieces
12-16 large marshmallows
1 graham cracker, coarsely crumbled
2 tablespoons mini chocolate chips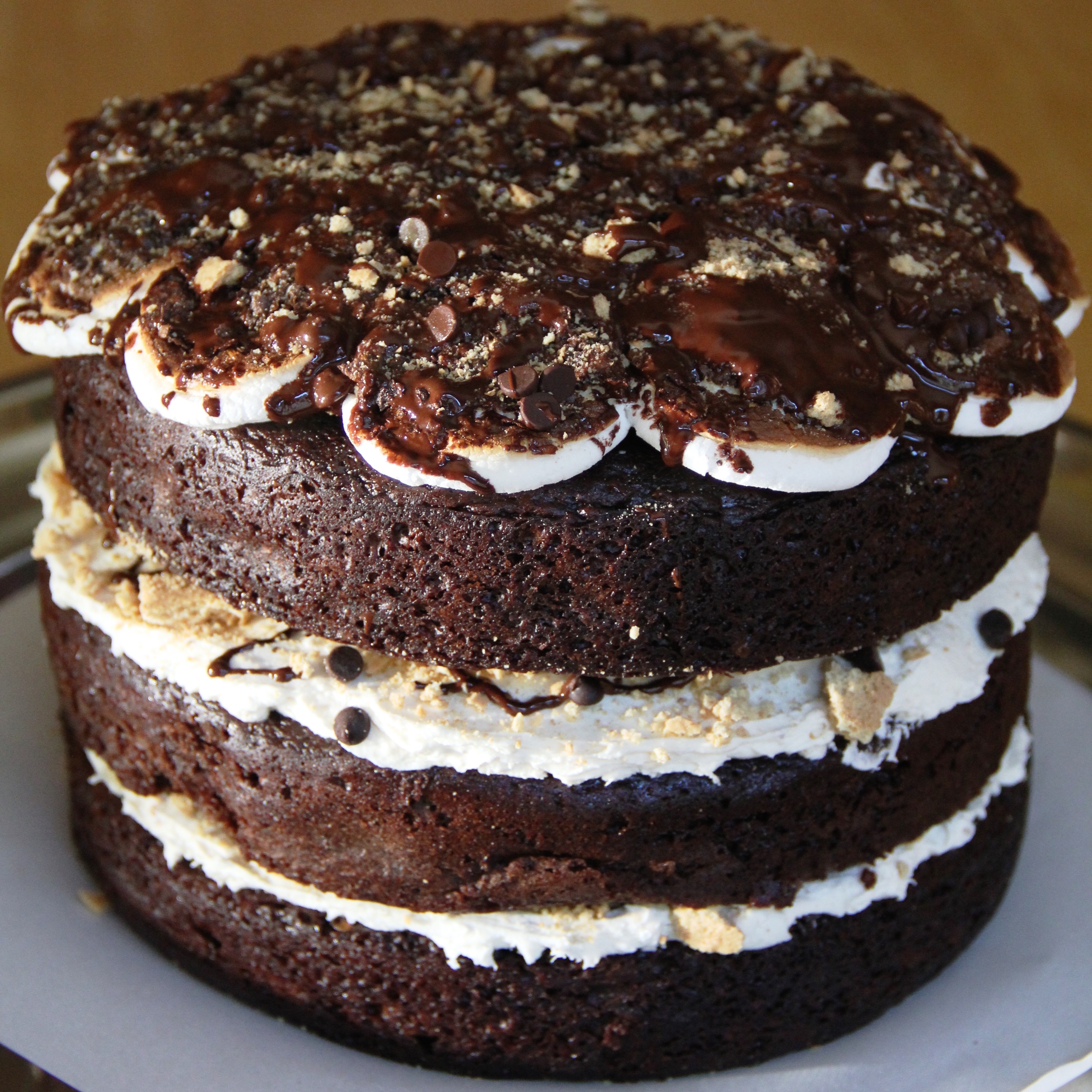 Directions:
Prepare the cake: (This step can be done 24 hours in advance; just let the cake layers cool completely, then individually wrap each layer in plastic wrap and leave at room temperature until needed.)
Preheat your oven to 350° F. Lightly grease three 8-inch round cake pans then dust lightly with flour.
Cream the butter and sugar together until light and fluffy. Add the eggs to the creamed butter mixture, one at a time, making sure each is fully incorporated before adding the next. Beat on high speed until the mixture is light and fluffy. Mix in the vanilla extract.
In a separate bowl, combine the flour, cocoa powder, baking soda, and salt.
Alternate adding the flour mixture and the sour cream to your butter mixture. Mix on low speed until well combined. The batter will appear semi-thick at this point. Stir the boiling water into the batter.
Pour the batter into your prepared pans, filling each to about 2/3-full. Bake for 25-30 minutes, until a toothpick poked into the center of the cake comes out clean or with minimal crumbs attached. Cool completely.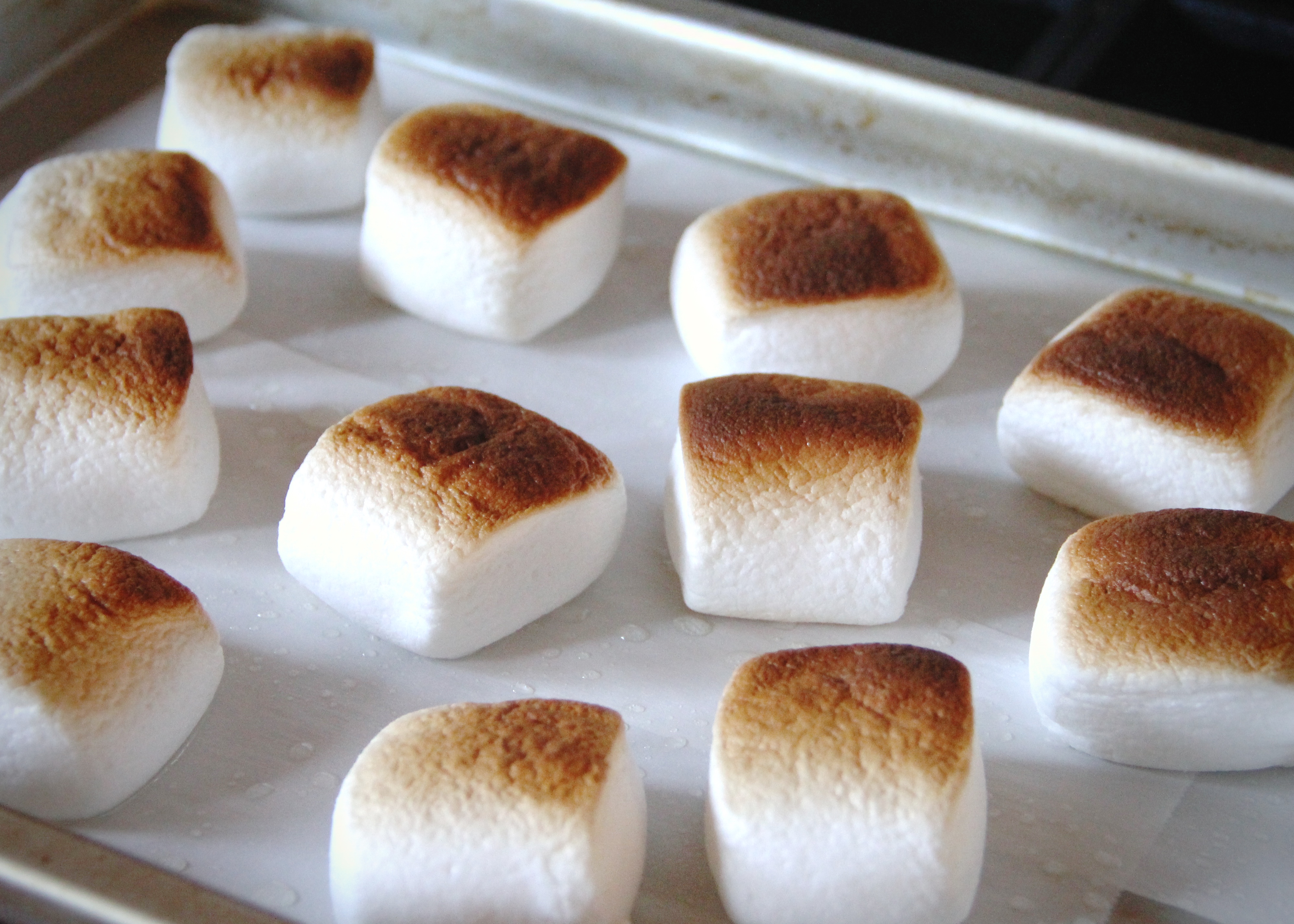 Prepare the toasted marshmallow buttercream: Turn your oven on to broiling. Line a baking sheet with parchment paper, then brush lightly with olive oil. Arrange 12 marshmallows on the prepared pan, spacing them at least 1 1/2-inches apart. Place the marshmallows under the broiler and watch carefully. As soon as the marshmallows have reached a toasty-brown color, flip them over. Lightly brown that side as well. Make sure to keep a close eye on these. They go from light brown to burnt quickly! Remove from the oven.
Beat the butter and powdered sugar over low speed until blended together (1-2 minutes). Add the vanilla extract and increase the speed to medium-high. Beat for 3-4 minutes. Add the marshmallow fluff and toasted marshmallows, and mix on the lowest speed for about 1 minute, scraping down the sides of the bowl as needed.
Assemble the cake: Place your first layer of cake face-up on a cake plate or stand, then cover with half of the toasted marshmallow buttercream. Sprinkle on half of the finely crumbled graham cracker and half of the mini chocolate chips. Place another cake layer on, face-up and cover with the remaining buttercream, followed by the remaining finely crumbled graham cracker and mini chocolate chips.
Prepare the top cake layer: Turn your oven on to broiling. Line a baking sheet with parchment paper. Place the remaining cake layer on the pan. Arrange the 12-16 marshmallows on the cake, standing them upright. Gently place the cake in the oven and again, keeping a close eye on them, toast until lightly golden brown. Remove from the oven and gently smoosh down each marshmallow.
Melt the dark chocolate in either a double broiler or microwave.
Place the top cake layer on top the the assembled cake, then sprinkle on the coarse graham crackers, remaining mini chocolate chips, and drizzle the melted dark chocolate over the entire cake.
The cake is best served the same day it is made, but leftovers can be stored at room temperature, wrapped or covered, for up to 3 days.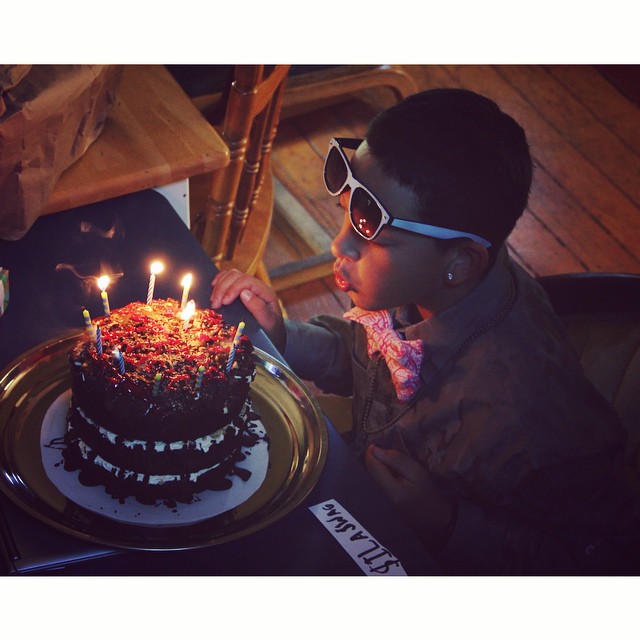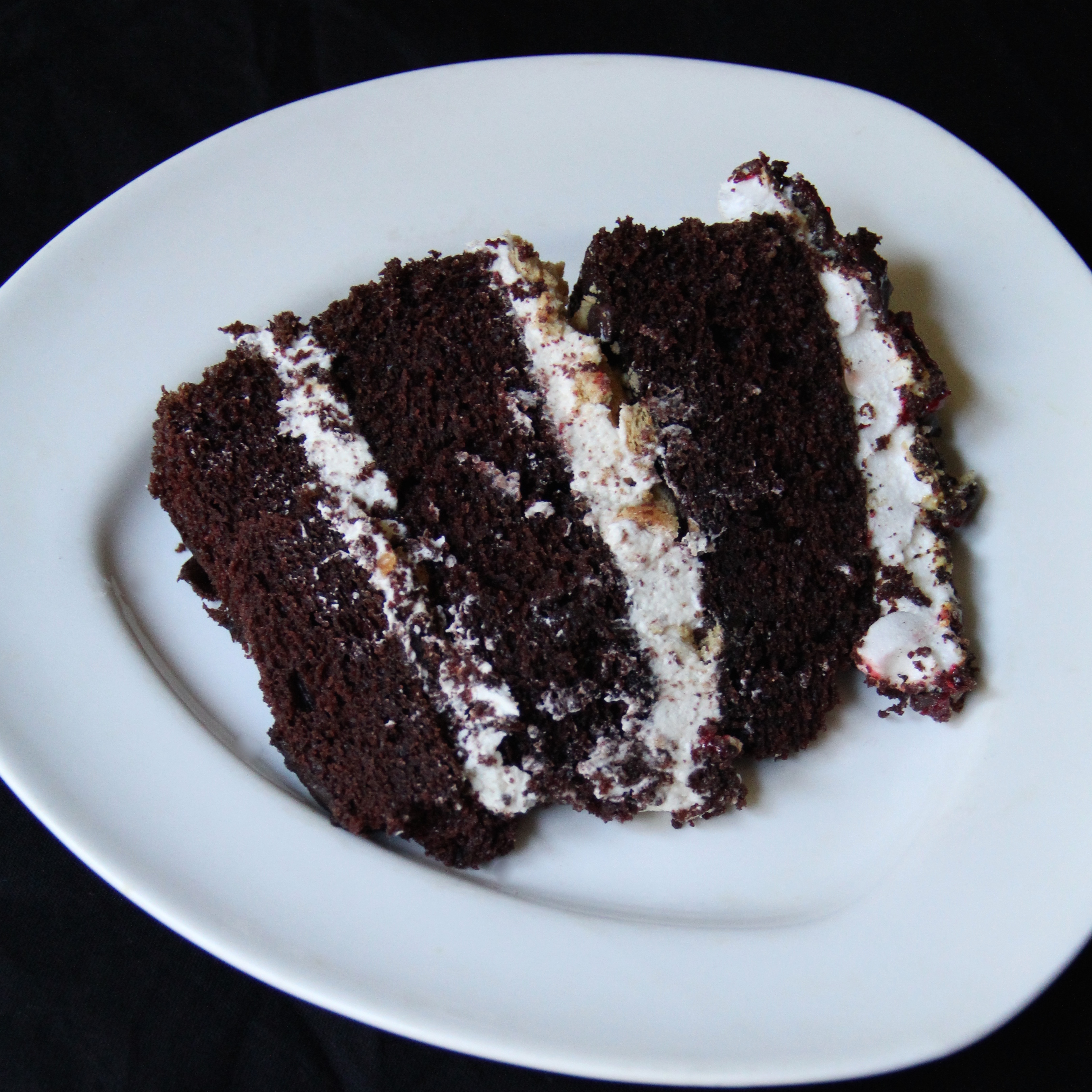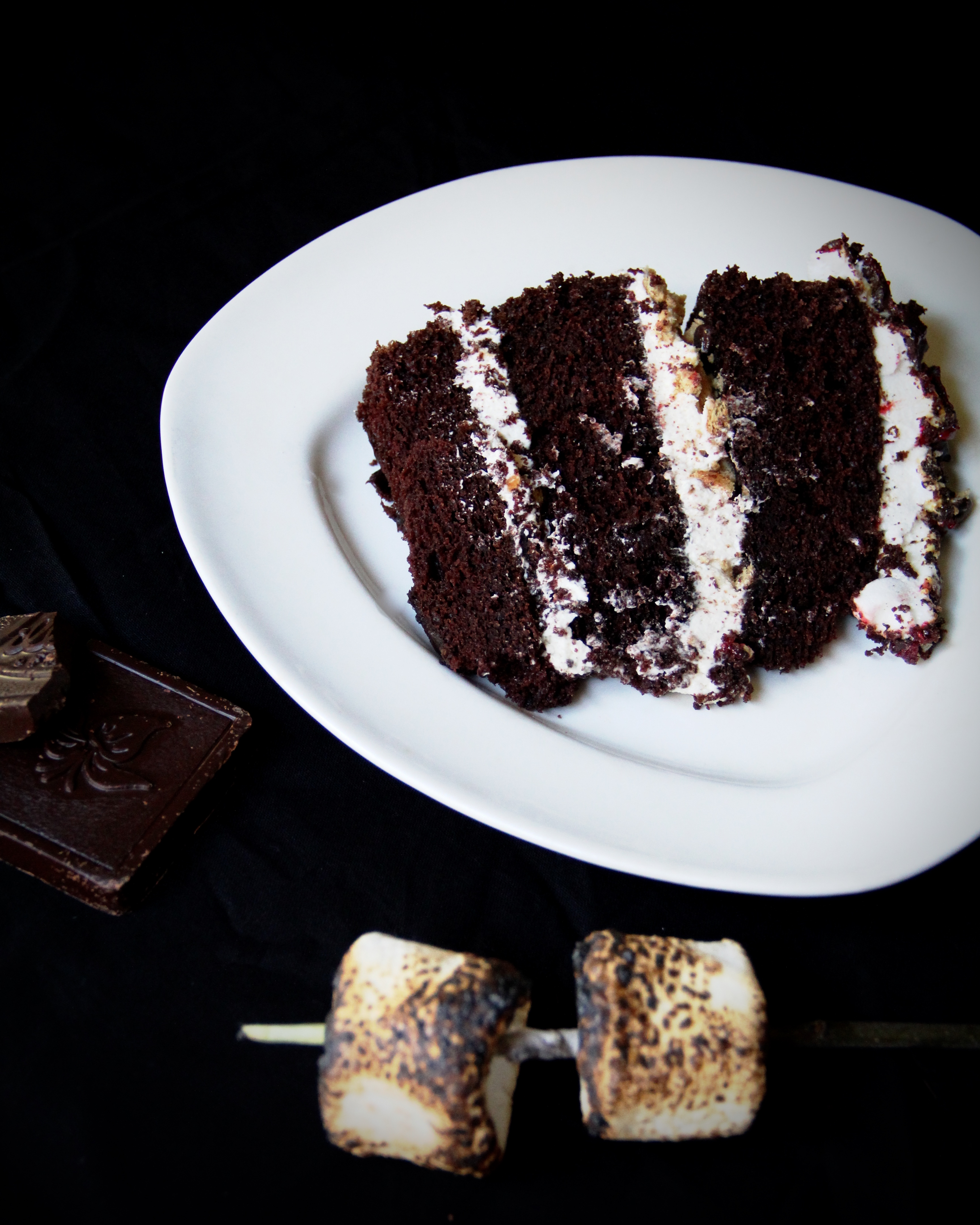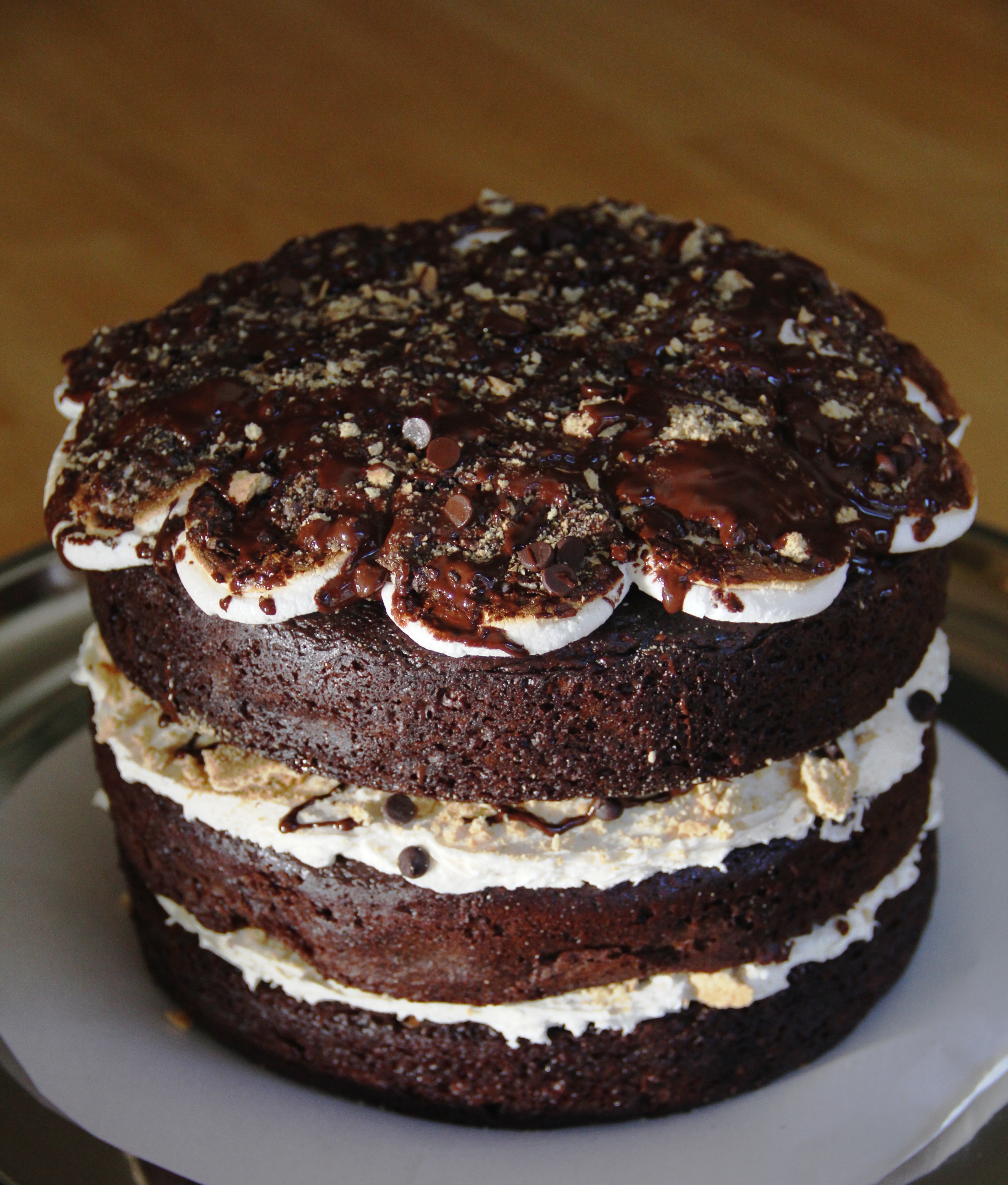 Please follow and like us: