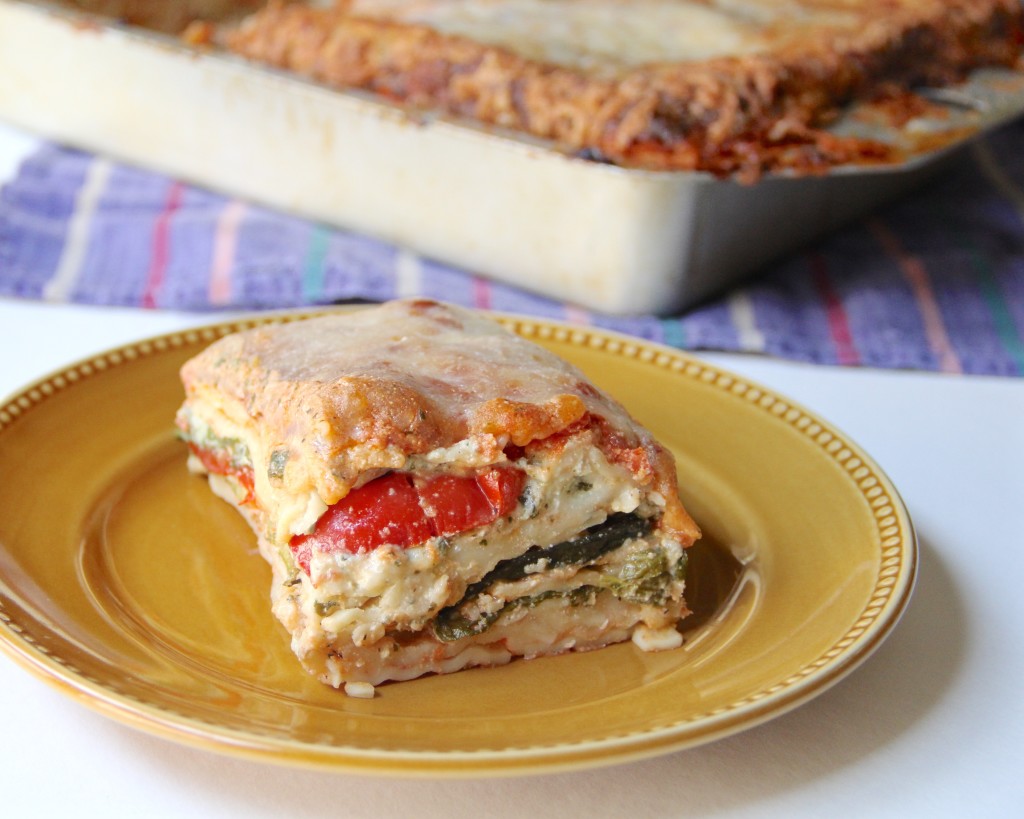 Summertime throws my schedule so very out of whack. Up until the middle of last week, anytime we had Silas here, baseball practice ran until after 8, making dinner time somewhere around 8:30 or 9. Vincent's lax summer schedule (as expected and predicted for any 16 year old) means half the time I don't know if he'll be here for meals, or  if I'm supposed to make sure there's food on hand just in case, or if I don't have to think about it at all.
We come and go, dependent on weather and shenanigans, last minute excursions, etc., and while I am all for unplanned/last minute trips or spontaneous decisions to be somewhere other that in the kitchen when I'd generally be cooking, it certainly makes any meal planning seem ridiculous.
Often I end up with the ingredients for dishes I'd planned on making, with half the people I intended on feeding. (Thankfully never ever the other way around, not enough food for the folks I need to feed!) I forget how this lasagna came into existence, but know it wasn't what I initially planned on.
The thing about pastas in general, they're satisfying all the way around here. They're filling, plentiful, and often leave enough leftovers to get me off the hook for another meal or two the following day! (Hurray!)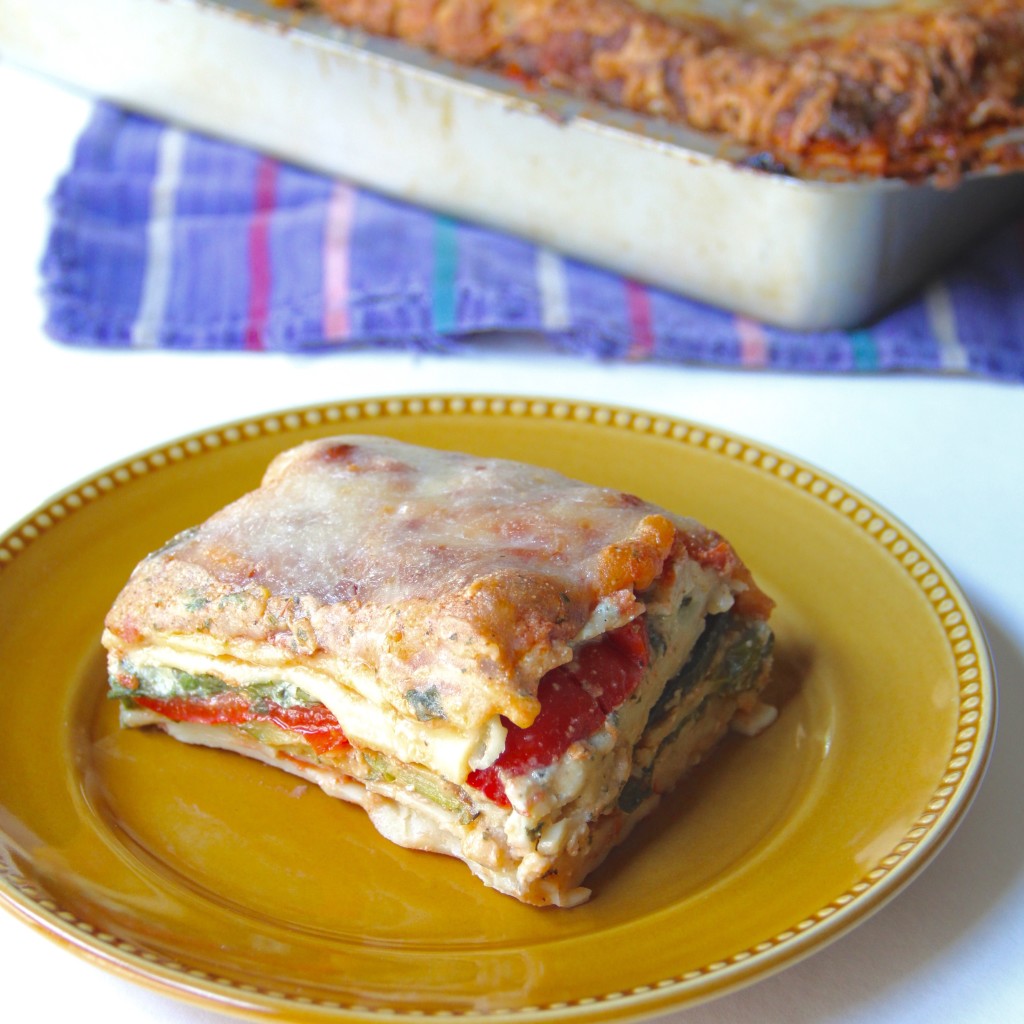 Roasted Vegetable Lasagna
Makes one very large lasagna.
Ingredients:
15 ounces whole fat ricotta cheese
4 ounces goat cheese,
6 ounces pesto (homemade or prepared)
5 cloves garlic, minced
3 eggs
1 tsp. salt
1 tsp. fresh ground black pepper
1 1/2 pounds fresh spinach
1/4 cup parmesan cheese
1 large eggplant, peeled then sliced in 1/4-inch thick slabs
2 large red bell peppers, stems and seeds removed, sliced in large pieces
3 medium zucchini, sliced into 1/4-inch thick slices
3/4 cup olive oil
juice and zest from one large lemon
1 tablespoon seasoning salt
24 ounces marinara sauce (of your preference)
4 cups low-moisture mozzarella, shredded
1/4 cup grated parmesan cheese
1 pound lasagna noodles (1 box, typically)
2 tablespoons olive oil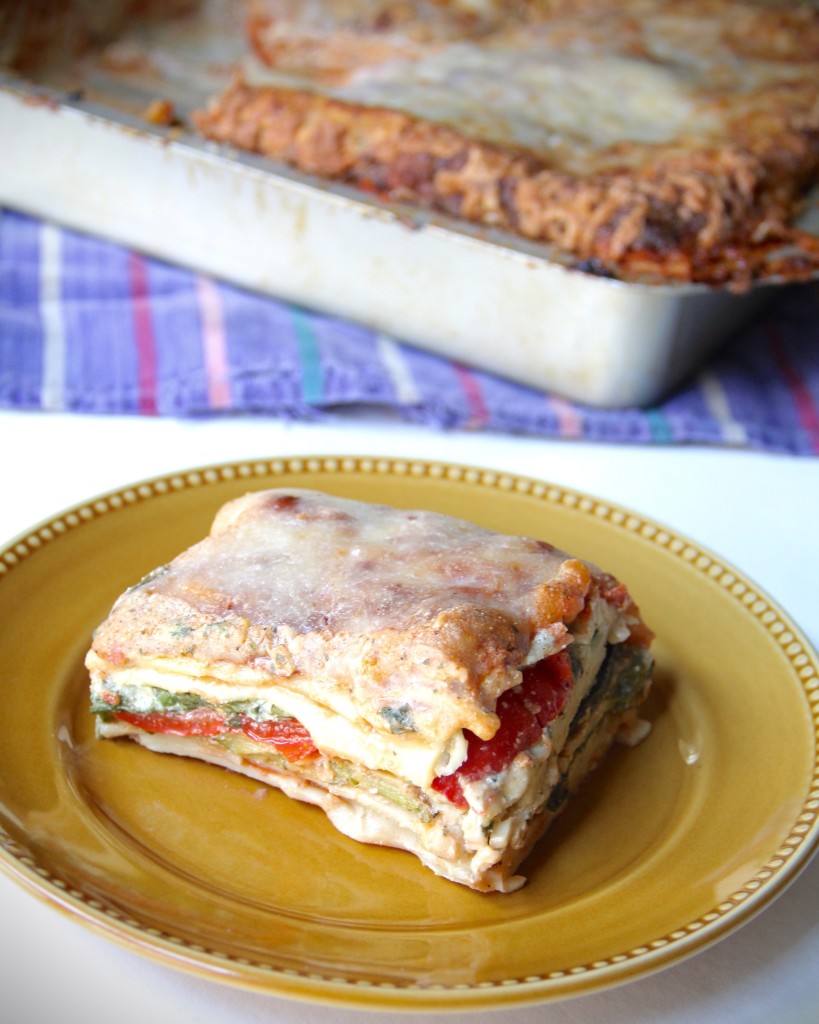 Directions:
Preheat your oven to 375 degrees F. Bring a large pot of water to boiling, then cook the lasagna noodles according to the package directions. Work in batches if necessary. Lay the noodles in a single layer until needed, on a baking sheet drizzled with the two tablespoons of oil.
In a food processor or high power blender, combine the ricotta cheese, goat cheese, pesto, garlic, eggs, salt and pepper, until well combined. Fold in spinach and parmesan cheese. Set aside until needed.
Whisk together the 3/4 cup olive oil, lemon juice and zest, and seasoning salt. Brush the eggplant, bell peppers, and zucchini with the mixture on both sides. Using either an outdoor grill or indoor grill, work in batches to grill the vegetables until nicely browed/charred. Set aside until needed.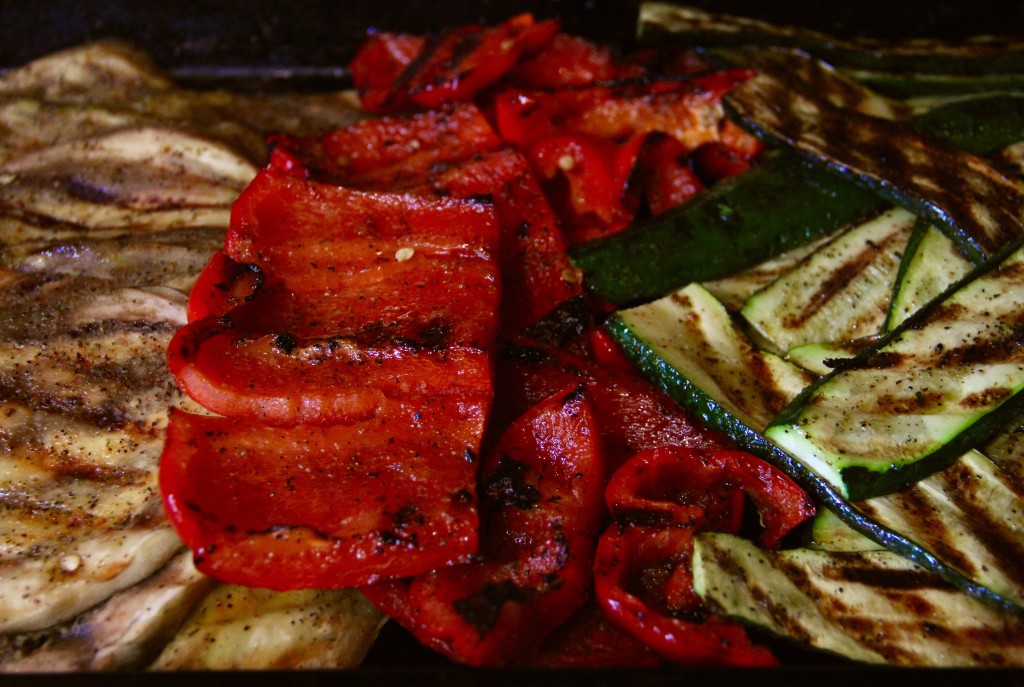 Bring a large pot of water to boiling, then cook the lasagna noodles according to the package directions. Work in batches if necessary. Place the cooked noodles on a baking sheet.
To put the lasagna together, spread the remaining two tablespoons of oil along the bottom and sides of a 9×13-inch baking dish. Spoon a half cup of sauce all over the bottom of the pan. Arrange a layer of noodles over the sauce, overlapping the edges by about 1/4-inch. Spread half of the ricotta mixture evenly over the noodles, followed by the grilled peppers. Spoon 1/3 of the remaining marinara sauce over the peppers, followed by 1/3 of the shredded mozzarella. Add another layer of noodles, the remaining ricotta mixture, then a layer of zucchini, another 1/3 of the sauce, the eggplant, and another 1/3 of the shredded mozzarella. Add another layer of noodles, followed by the remaining sauce, then the remaining mozzarella. Sprinkle the 1/4 cup of grated parmesan over the mozzarella.
Line a large baking sheet with foil, then place the lasagna dish on top, covering it tightly with foil another sheet of foil that has been brushed with oil. Bake the lasagna on the center rack in the oven for 40-45 minutes. Remove the cover and continue baking for an additional 15-20 minutes, until the top is golden brown and the sides are bubbling. Remove from the oven and cool for 10 minutes. Cut the lasagna and serve.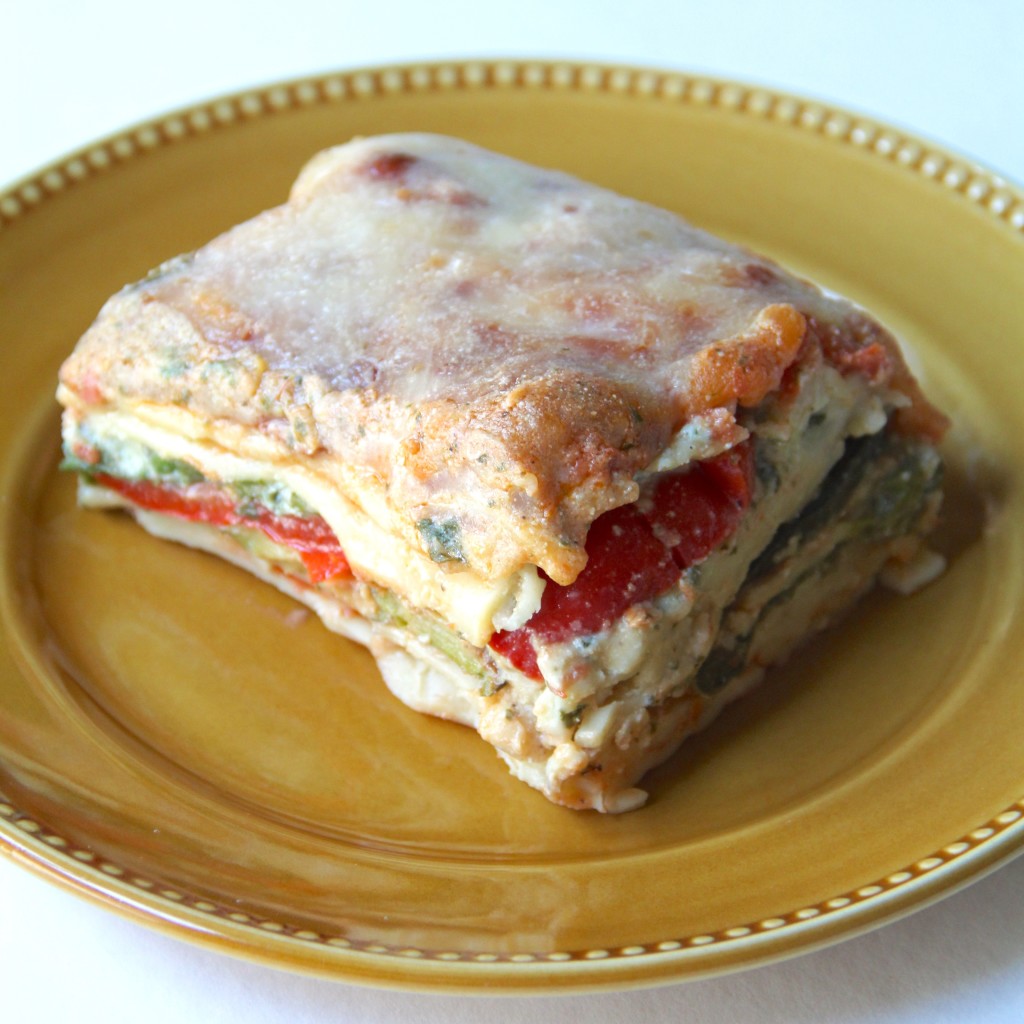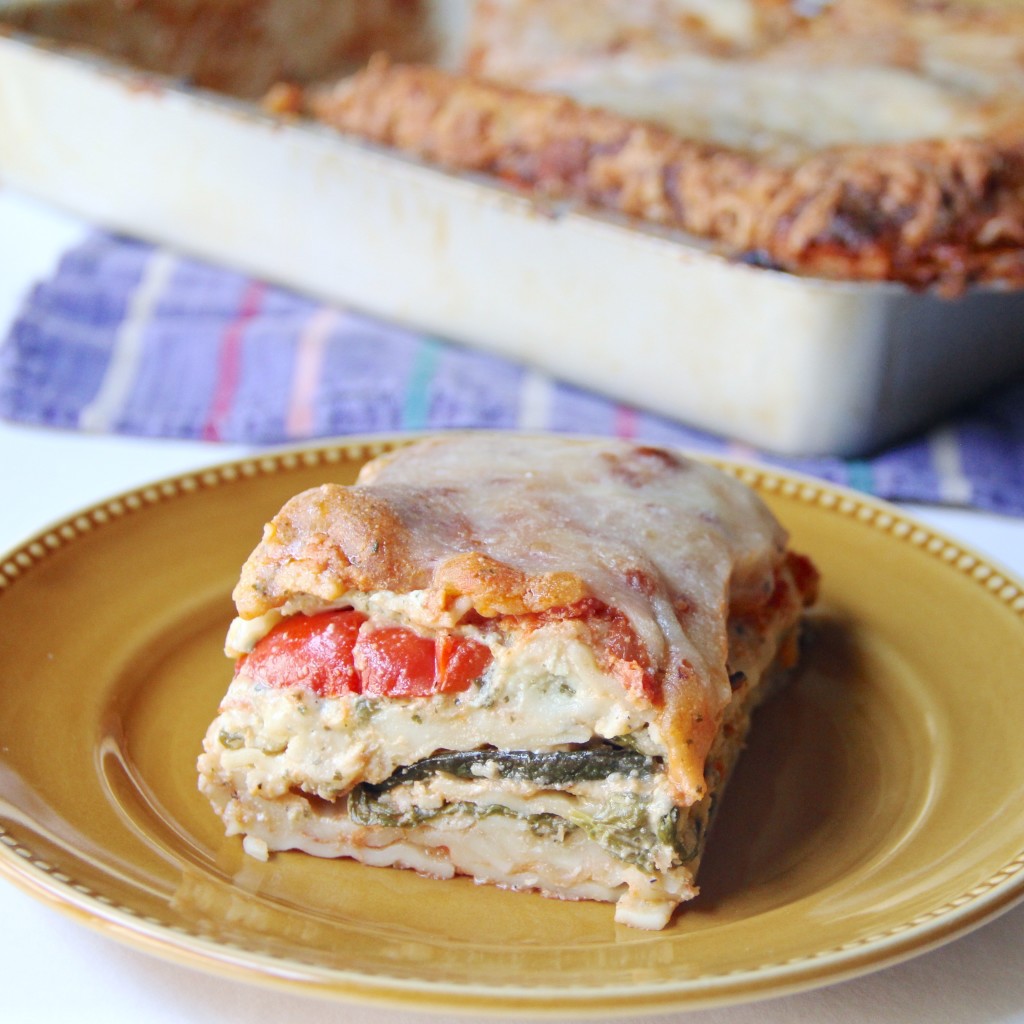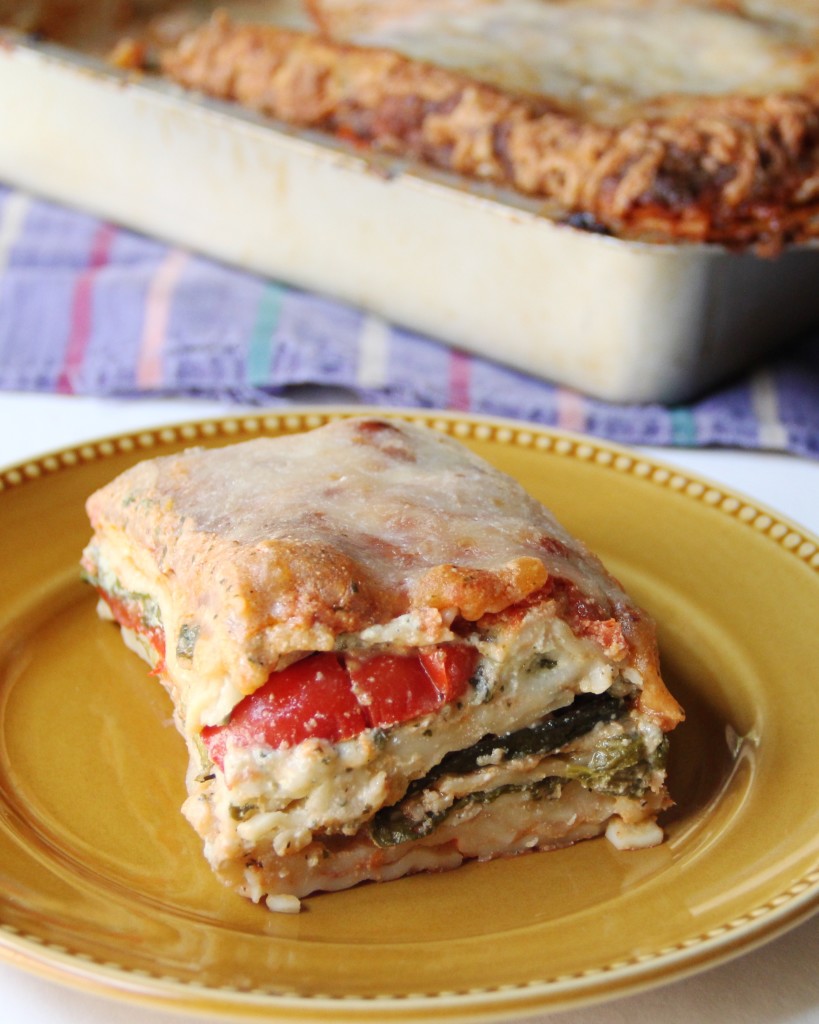 Please follow and like us: