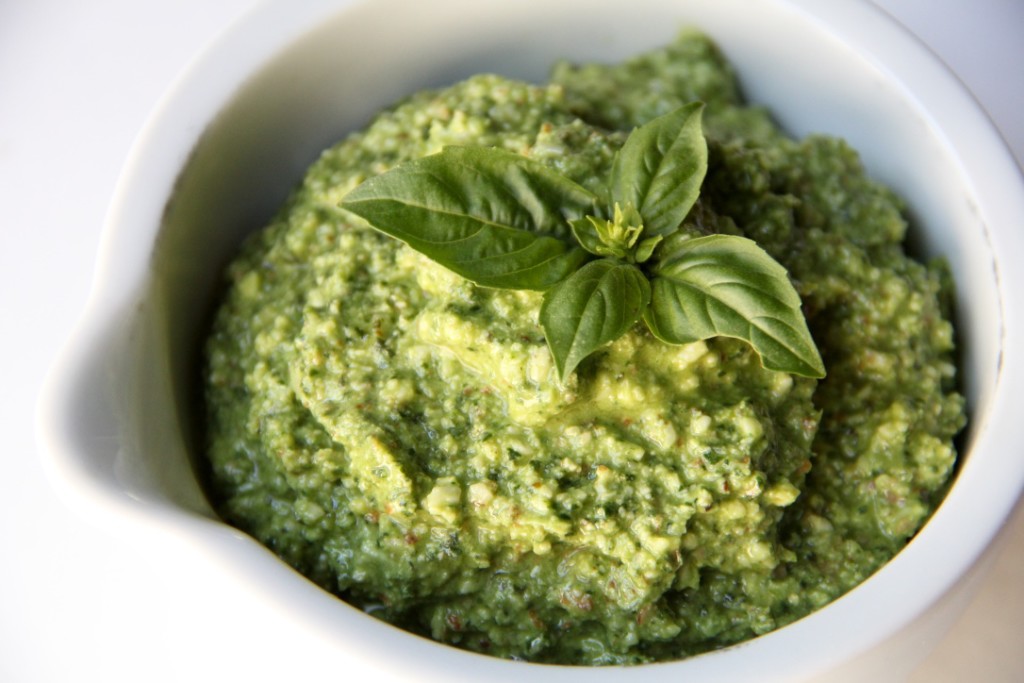 When summer rolls around, one of the flavors I most look forward to (and miss during various other seasons) is fresh basil.  While my garden last year flourished beautifully, this year's endeavors have been met with too much heat and not enough water, moles, neglect, ants… I have tried to remain optimistic, but find myself merely reminiscing about last year's bounty versus the two cucumbers, one cherry tomato, three strawberries, single green snap pea, and nasturtiums I've picked thus far. One thing that has (miraculously) grown pretty abundantly is my basil. Granted I put 8 sweet leaf and 6 Thai basil plants in the ground back in May!
Traditional pesto is made in with a mortar and pestle, grinding up copious amounts of basil with pine nuts, garlic, lemon juice, parmesan cheese and olive oil. One thing I've learned though, is just how versatile this delicious sauce can be. For instance, I use whatever I happen to have on hand — cashews, walnuts, lime juice, no parmesan, etc. The other day, I happened to have a bunch of fresh spinach. I decided to incorporate it into some pesto.
The result was a vibrant, tasty pesto.  This isn't "traditional" pesto by any means. The spinach makes the color really pop, plus it adds a boost of dietary fiber, protein, vitamins A, C,  E and K. The addition of cream cheese certainly doesn't add much in the way of "healthy benefits," but does create a nicely creamy, rich sauce.
Enjoy this pesto on some freshly cooked pasta, or put a (hefty sized) dollop on some grilled halibut, use it as the base for a pizza, put a spoonful on a slice of freshly cut summer-ripened tomato (and add some fresh mozzarella and a piece of baguette if you're feeling adventurous)!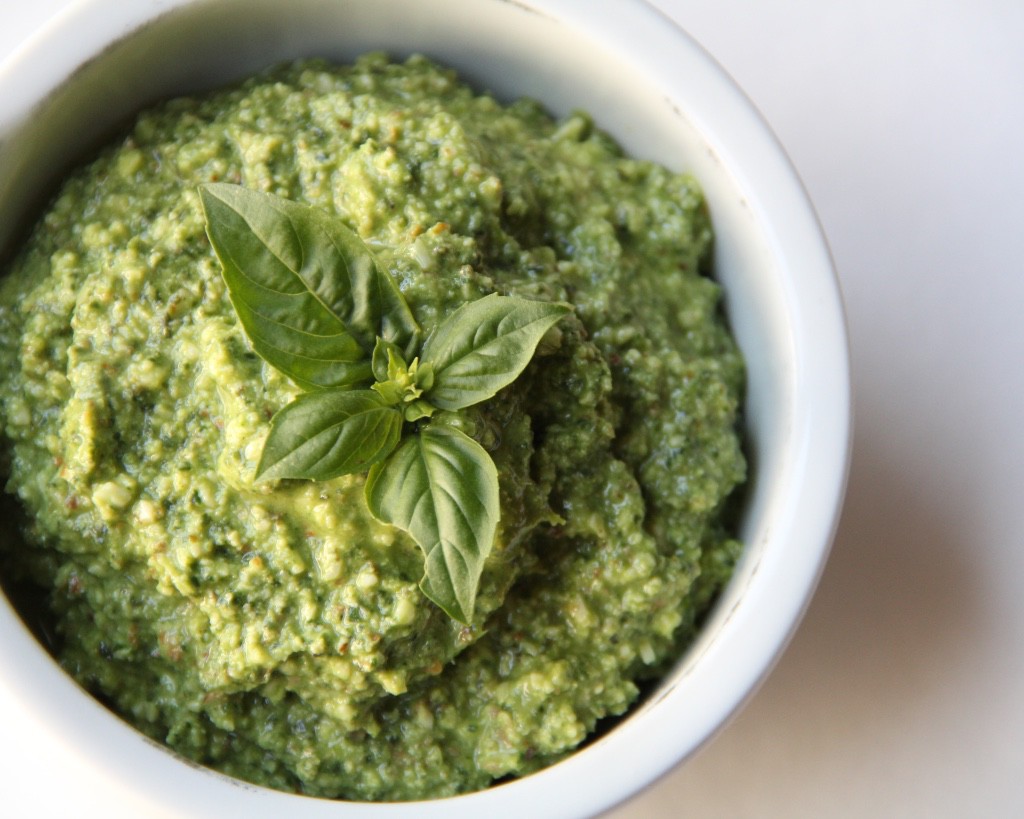 Spinach Basil Pesto
Ingredients:
1 1/2 cups fresh basil
2 cups loose-leaf/baby spinach
3 cloves garlic
1/2 cup almonds, shelled
1/4 cup olive oil
2 tablespoons lemon juice
2 tablespoons cream cheese
1/2 tsp. salt (or to your taste)
fresh ground pepper (to your taste)
1/2 cup grated parmesan cheese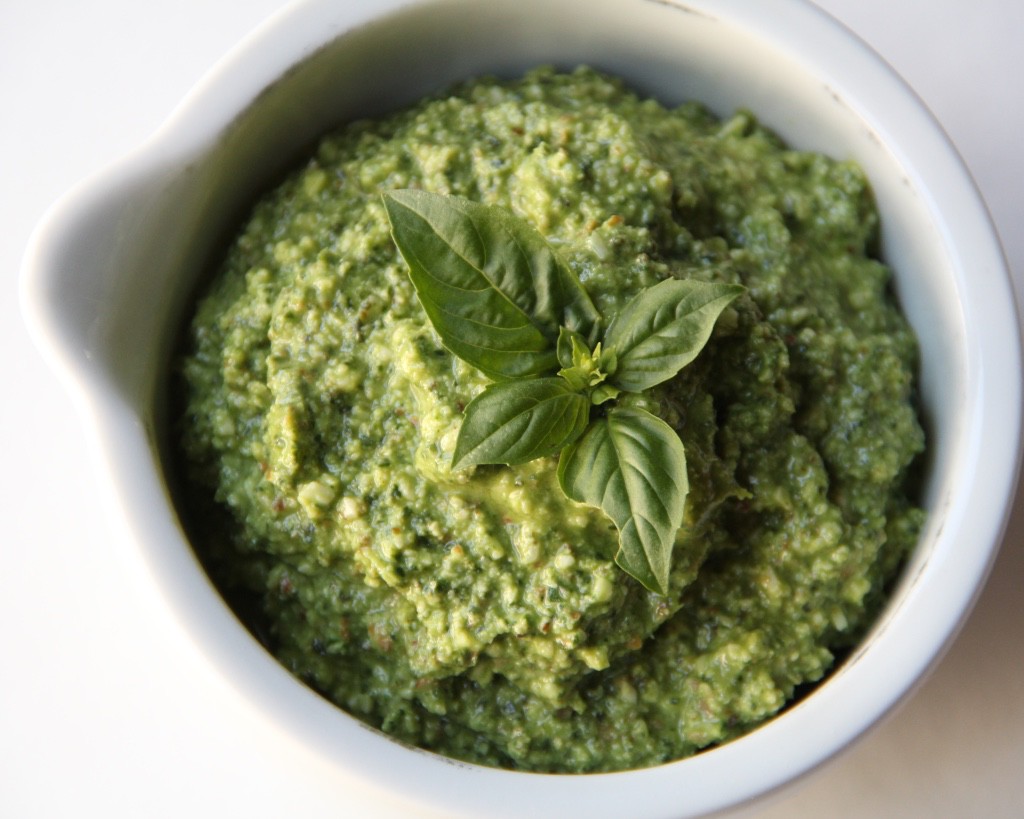 Directions:
Combine the garlic, almonds, olive oil, and lemon juice into a blender. Process until slightly creamy looking and most of the nuts have broken down into small pieces.
Add the basil and spinach to the blender and pulse until just combined.
Add in the cream cheese, salt, pepper, and parmesan cheese and blend just until mixed.
You may add additional olive oil to thin the sauce out if you'd like.
To keep the pesto fresh, add a layer of olive oil the the very top and refrigerate.