Having never eaten General Tso's chicken, it would seem kind of silly to decide to cook such a thing on a whim. However… rule number one in Julie's kitchen: have no fear and jump right in.
So what the heck is this dish? Basically, it's pieces of breaded and fried chicken, covered in a slightly sweet, slightly spicy sauce. It's found in numerous Asian restaurants, though its origins are in Taiwan. If you want to read a more in depth explanation, check this out.
While everything I cook at home is vegetarian (with the exception of fish), every now and then I do miss cooking/eating chicken. One of the most realistic chicken-like alternatives I've found is Quorn Chik'n. Generally I just cook it as I would real chicken. This dish is pretty simple to throw together. We enjoyed it with veggie fried rice, but you could serve it with plain steamed rice or noodles.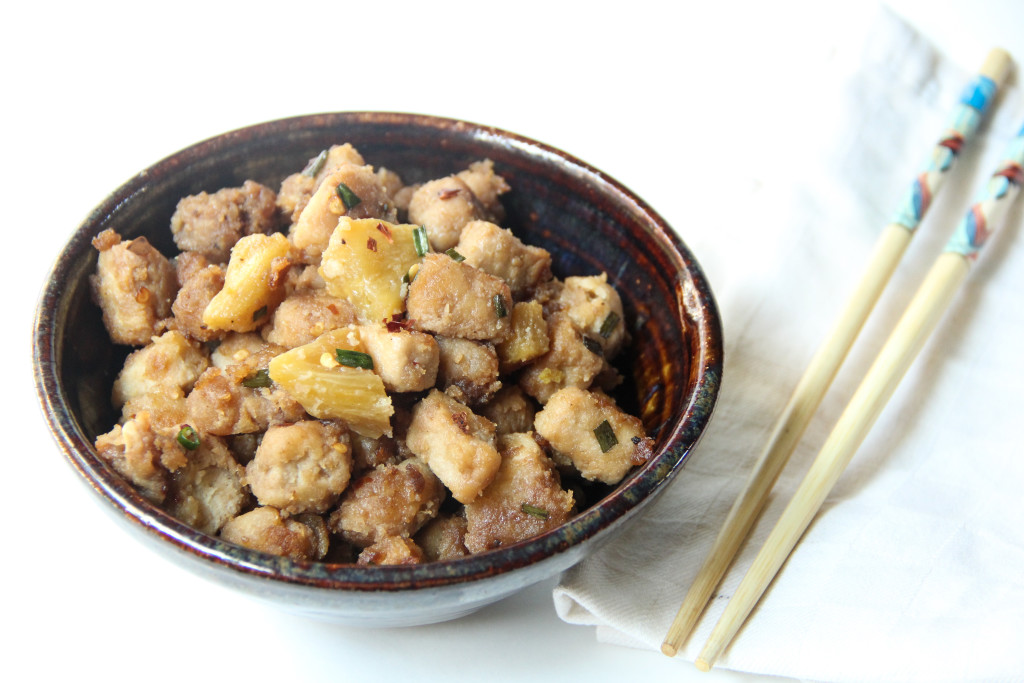 General Tso's Quorn Chik'n
Serves 6 or so.
Ingredients:
For the Chik'n marinade:
1 egg white
2 tablespoons soy sauce
2 tablespoons rice vinegar
2 tablespoons vodka
1/4 teaspoon baking soda
3 tablespoons cornstarch
1 1/2 packages Quorn chik'n tenders
For the dry coating:
1/2 cup all purpose flour
1/2 cup cornstarch
1/2 teaspoon baking powder
1/2 teaspoon salt
For the sauce:
3 tablespoons soy sauce
4 tablespoons rice vinegar
3 tablespoons vegetable broth
4 tablespoons light brown sugar
1 teaspoon sesame oil
1 tablespoon cornstarch
2 teaspoons olive oil
2 tablespoons fresh minced garlic
2 tablespoons fresh grated ginger
1/2 teaspoon red chili flakes
2 tablespoons chopped chives
1 1/4 quart sunflower or peanut oil
1 cup fresh pineapple, cubed (optional)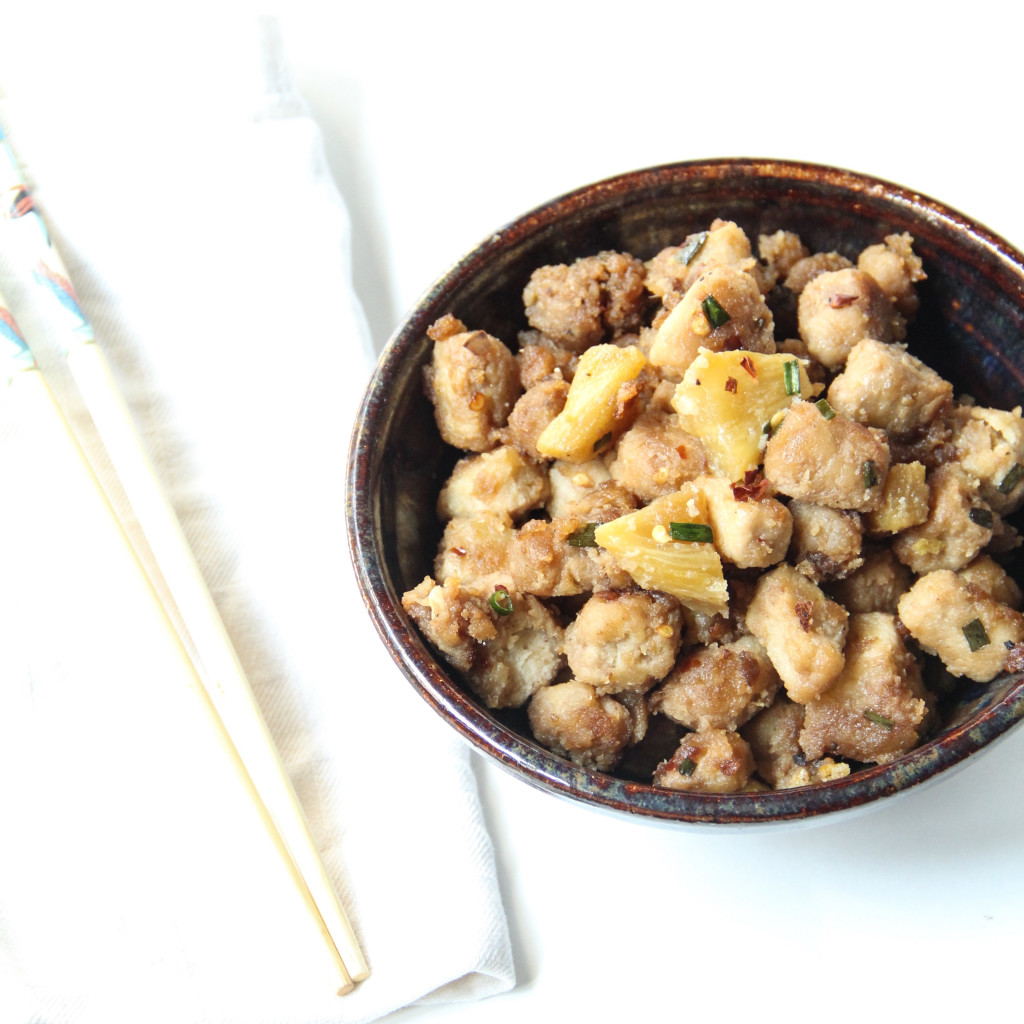 Directions:
Beat egg white in a large bowl until lightly foamy. Add soy sauce, rice vinegar and vodka. Whisk to combine. Set aside half of marinade in a small bowl. Add baking soda and corn starch to the large bowl and whisk to combine. Add the Quorn Chik'n to the large bowl and turn to coat thoroughly. Cover and set aside.
Combine flour, corn starch, baking powder, and salt in a large bowl. Whisk until well combined then add the reserved marinade, mixing just until mixture has coarse, mealy clumps. Set aside.
To make the sauce combine soy sauce, wine, vinegar, chicken stock, sugar, sesame seed oil, and cornstarch in a small bowl and stir with a fork until cornstarch is dissolved and no lumps remain. Set aside.
Combine the oil, garlic, ginger, red chili flakes in a large skillet and place over medium heat. Cook, stirring, until vegetables are aromatic and soft, but not brown. Stir sauce mixture and add to skillet. Cook, stirring, until sauce boils and thickens, about 1 minute. Add scallions. Transfer sauce to a bowl to stop cooking, but don't wipe out your skillet.
Heat the sunflower or peanut oil in a large wok or Dutch oven to 350°F. Transfer the chik'n from the marinade to dry coat mixture, tossing in between each addition to coat chik'n. Once all the Quorn chik'n is added to the dry coat ingredients, toss with your hands, pressing dry mixture onto the chik'n so it adheres, making sure that every piece is coated thoroughly.
Shake off excess coating and carefully lower the flour-coated chik'n into the hot oil, one piece at a time. Once all chicken is added, cook, stirring around until the chik'n is cooked through and very crispy, about 4 minutes. Transfe to a paper towel-lined bowl to drain any excess oil.
Add the chink'n to the empty sauce skillet and return the sauce to the skillet. Toss chik'n, folding it with a rubber spatula until all pieces are thoroughly coated. Fold in the fresh pineapple if you're using it. Serve immediately with rice.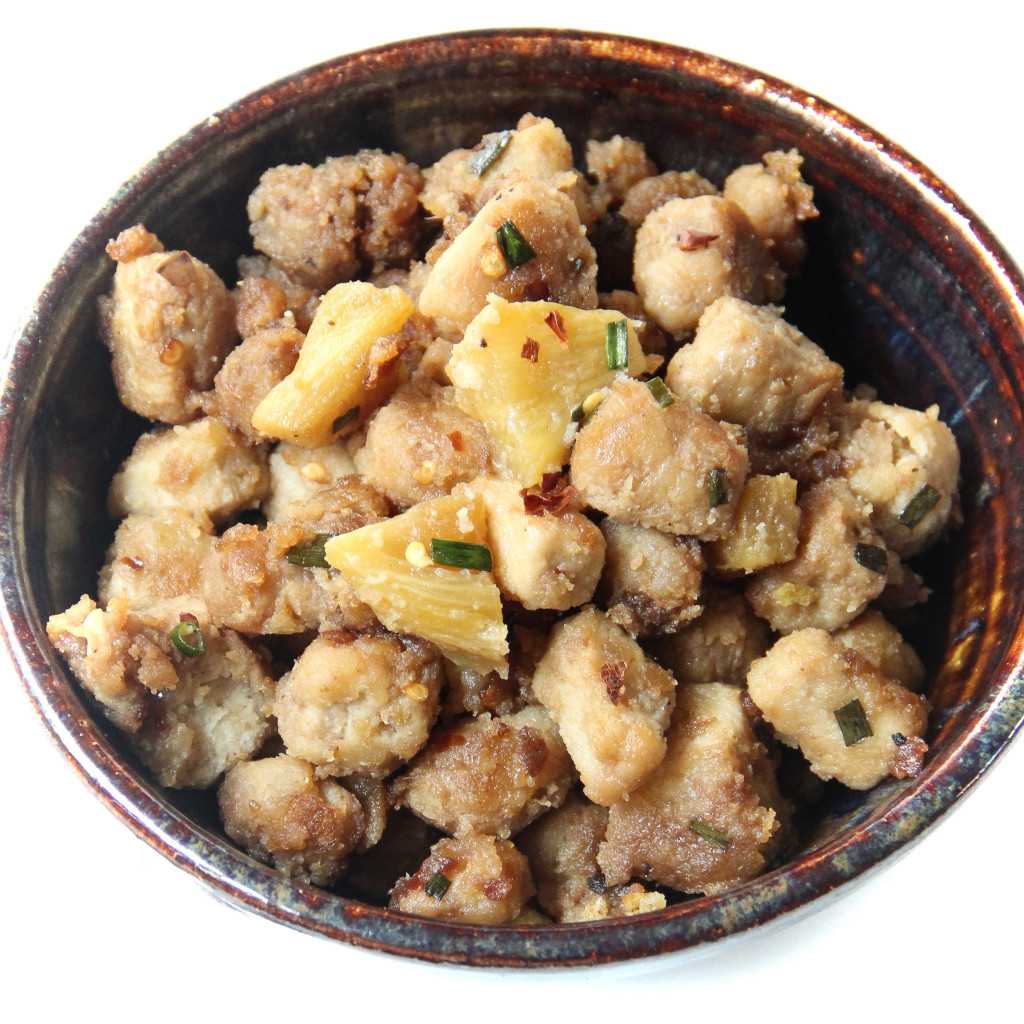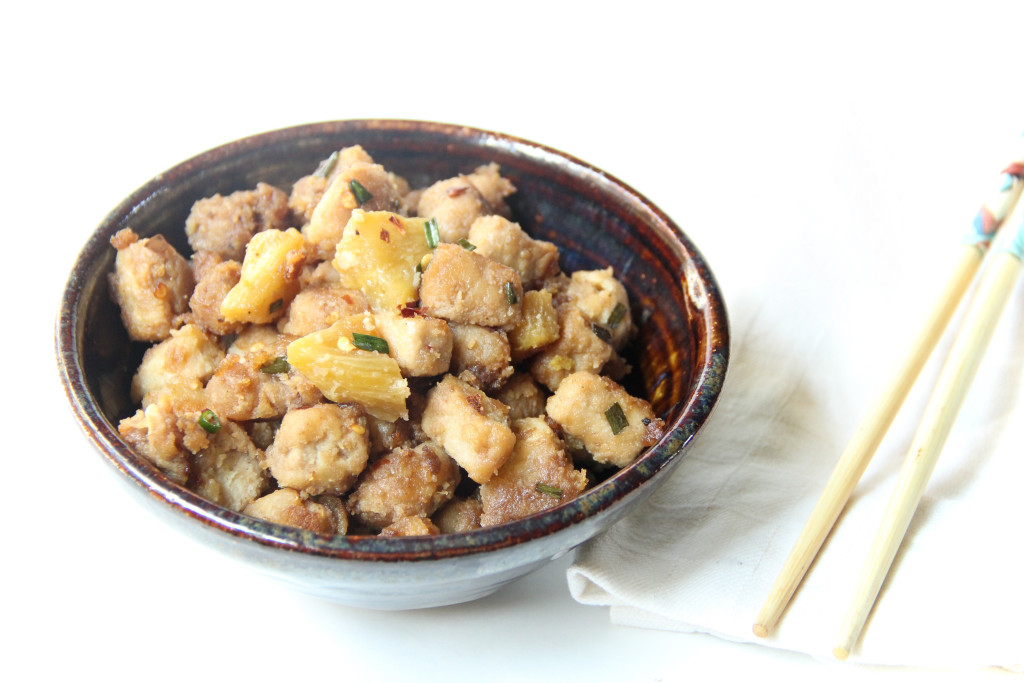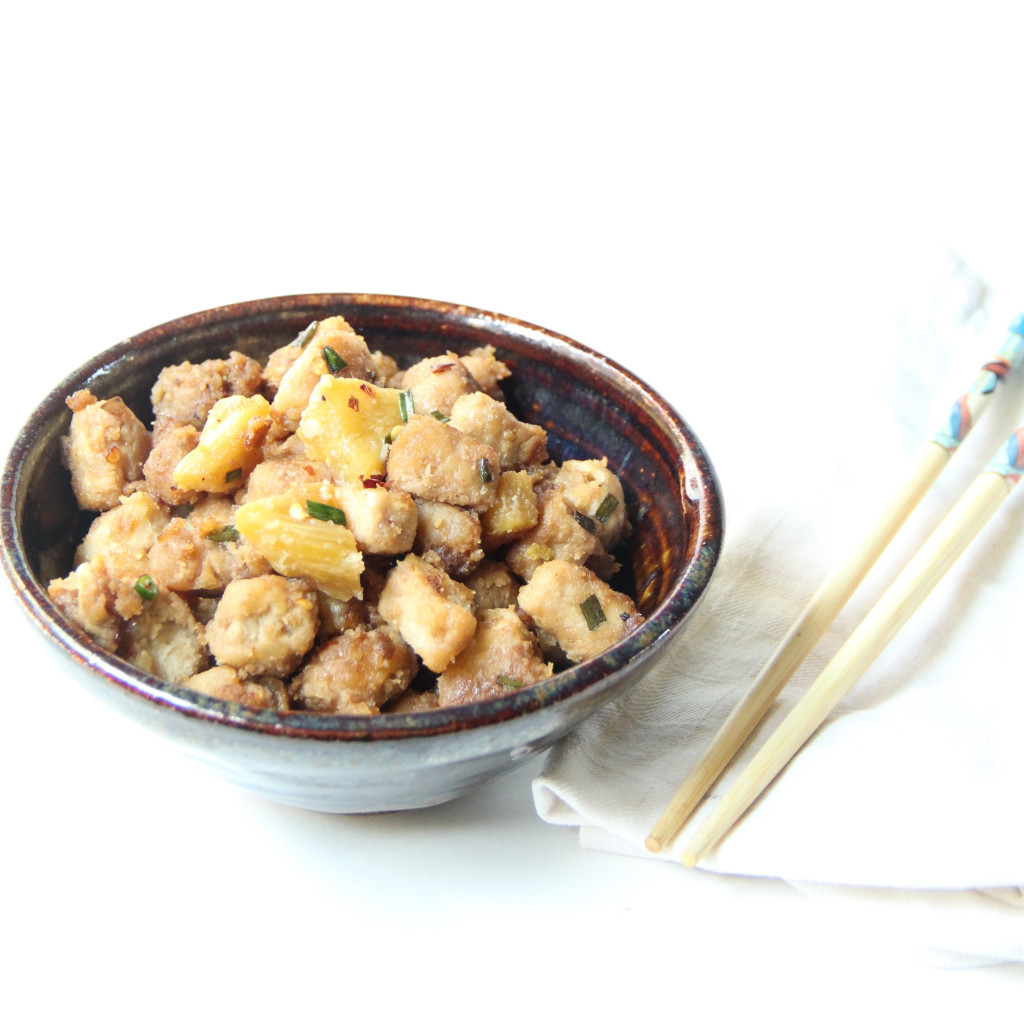 Please follow and like us: