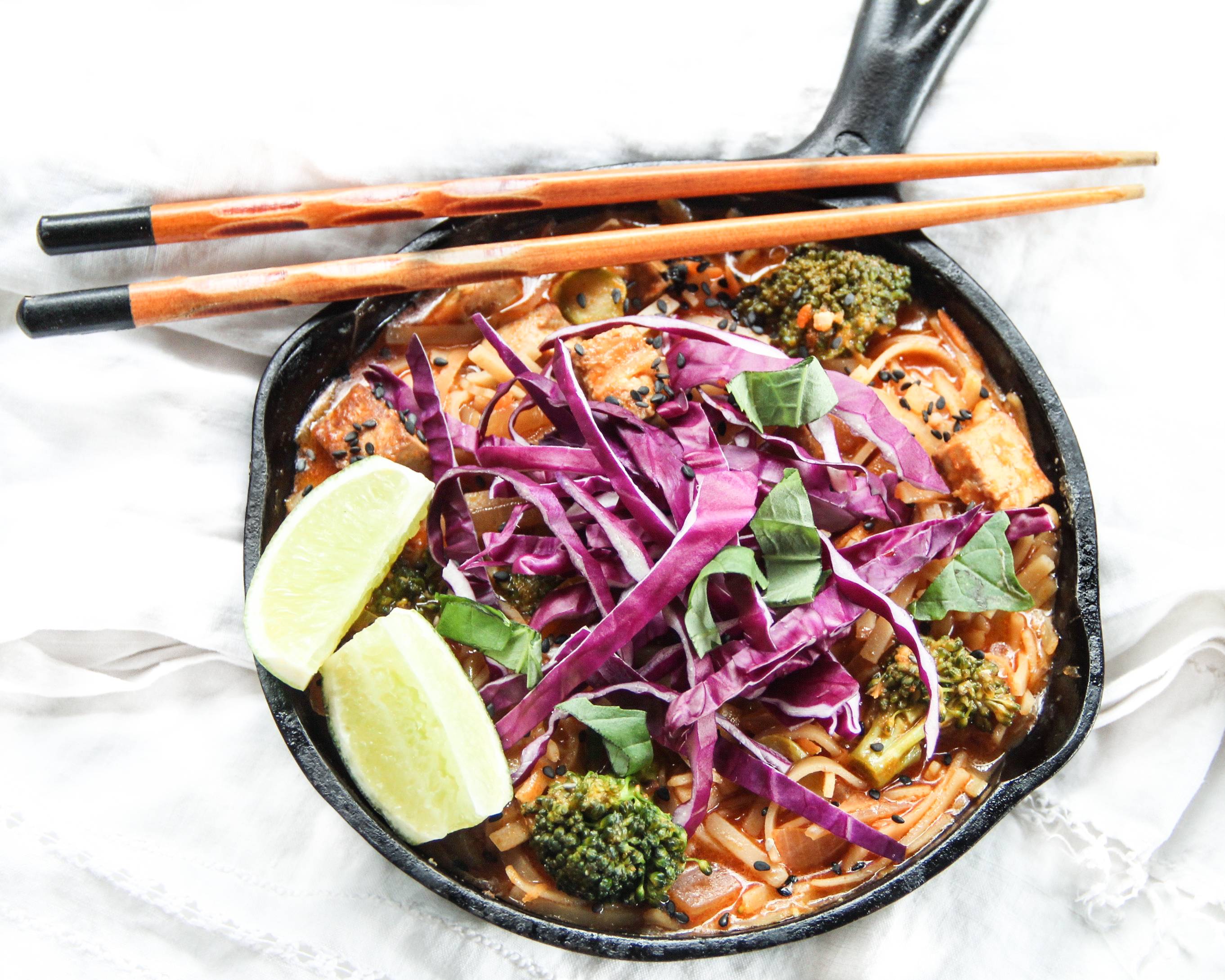 Some things I've enjoyed about the past few weeks: The stretches of days where we've had sunshine and weather warm enough to trick you into thinking Spring's closer than it is. Slow walks through downtown, mostly to the grocery store. Our two old dogs, who are nearing the end of their days, following me around throughout the day then laying right under my feet later as I try to prepare dinner. Stretching homemade pizza dough into very OCD pizza rounds. Unintentional lazy weekend days (Sundays, after long sports-filled Saturdays). Not bothering to brush my every-growing-ridiculously-long hair for days at a time (messy buns to the rescue!). The rain we've suddenly been getting, with the threat of more rain and potential snow this weekend… Bowls of noodles.
Bowls of noodles of any sort are my go-to comfort food. Mac and cheese, ramen/saimin, cold udon or soba noodles… The following recipe is soup-like, but heavy on the noodle-to-soup ratio. The sauce is creamy, delicious, not overly spicy, but super flavorful. If you want things a little spicier, you can certainly add your desired amount of chili-garlic sauce!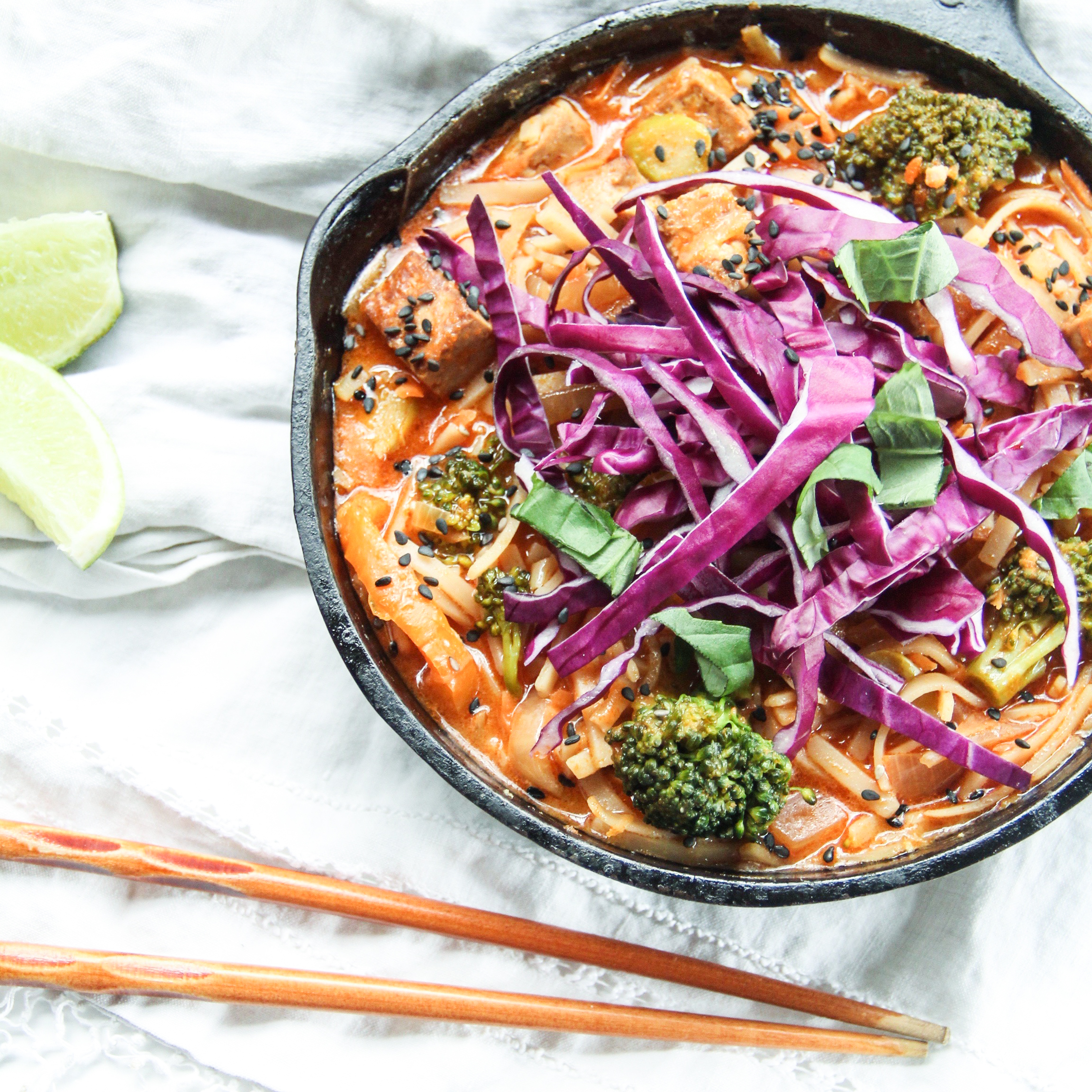 Bangkok Curry Noodles with Crisp Baked Tofu
Serves 8-10 people.
Ingredients:
For the Tofu:
15.5 ounces extra firm tofu
1 tablespoon toasted sesame oil
2 cloves garlic, minced
1/4 cup soy sauce
1/4 cup light brown sugar
1/2 tsp gochujang (I prefer Mother in Law's 00 Fermented Chili Paste)
For the Coconut Curry Sauce:
2 tablespoon oil
3 shallots, minced
2 tablespoons fresh ginger, minced
4 tablespoons red curry paste
2 14-ounce cans regular coconut milk
1 cup No-Chicken (or vegetable broth)
4 tablespoons brown sugar
2 tablespoons gochujang
6 tablespoons soy sauce
For the Bowls:
12 ounces brown rice noodles
2 tablespoon oil
half an onion, chopped thinly
2 cups chopped broccoli florets
1 cup shredded carrots
2 cups chopped asparagus
2 cups shredded purple cabbage
black sesame seeds for topping
limes for serving
a handful of fresh thai basil for serving
Directions:
Prepare the tofu: Drain tofu about an hour before you want to prepare your meal. Roll the tofu in an absorbent towel several times and then place something heavy on top to press. I use a pot on top of a cutting board and sometimes add something to the pot to add more weight. Do this for 30 minutes.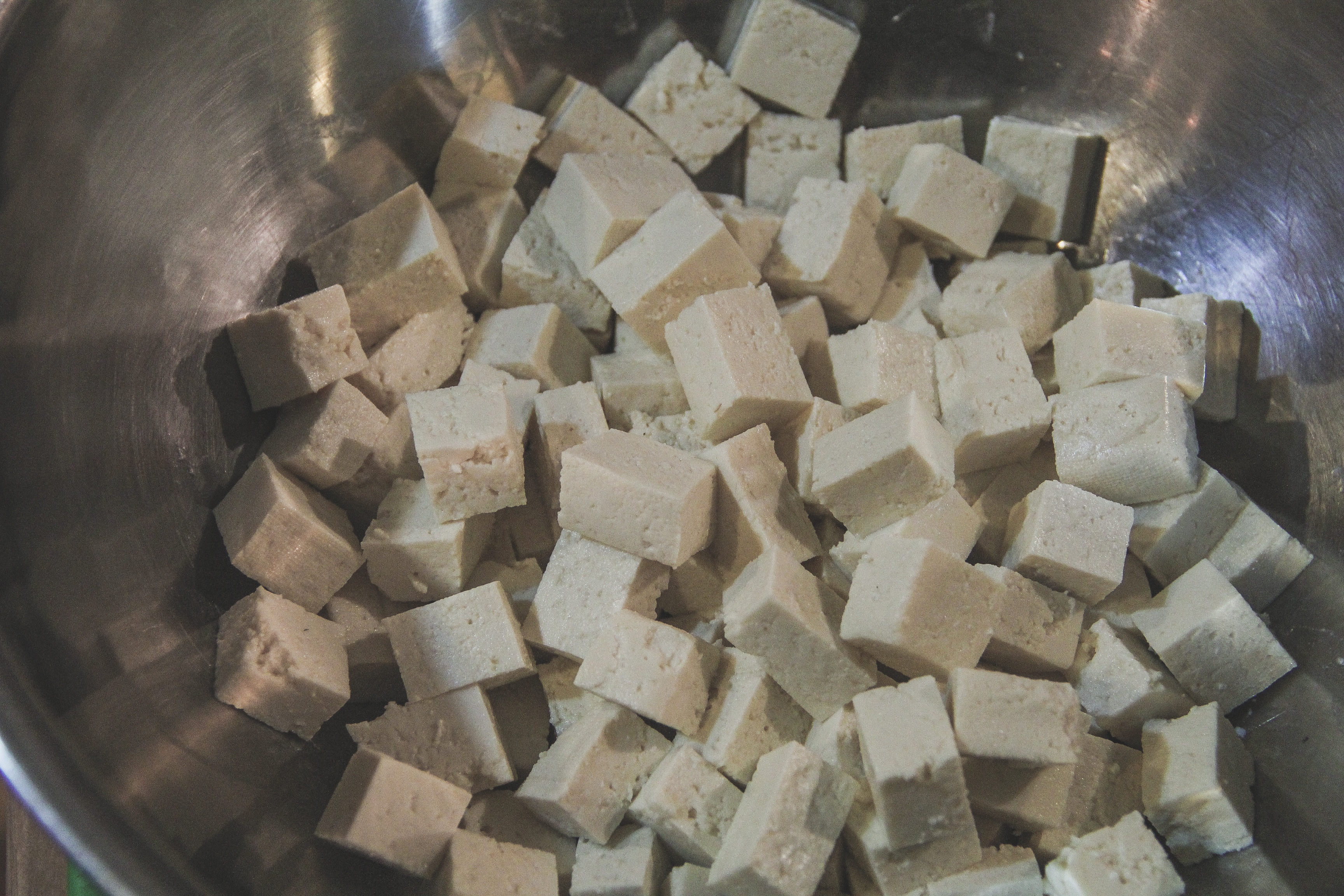 Preheat your oven to 400 degrees F. While the oven preheats, cut the tofu into bite size cubes. In a large mixing bowl, whisk together the sesame oil, minced garlic, soy sauce, brown sugar and gochujang. Gently toss the tofu in the mixture. Place the tofu on a nicely/generously oiled baking sheet, arranged in a single layer. Bake for 30-40 minutes until the tofu is nicely brown and crisp on the outside. Remove from the oven and set aside until needed.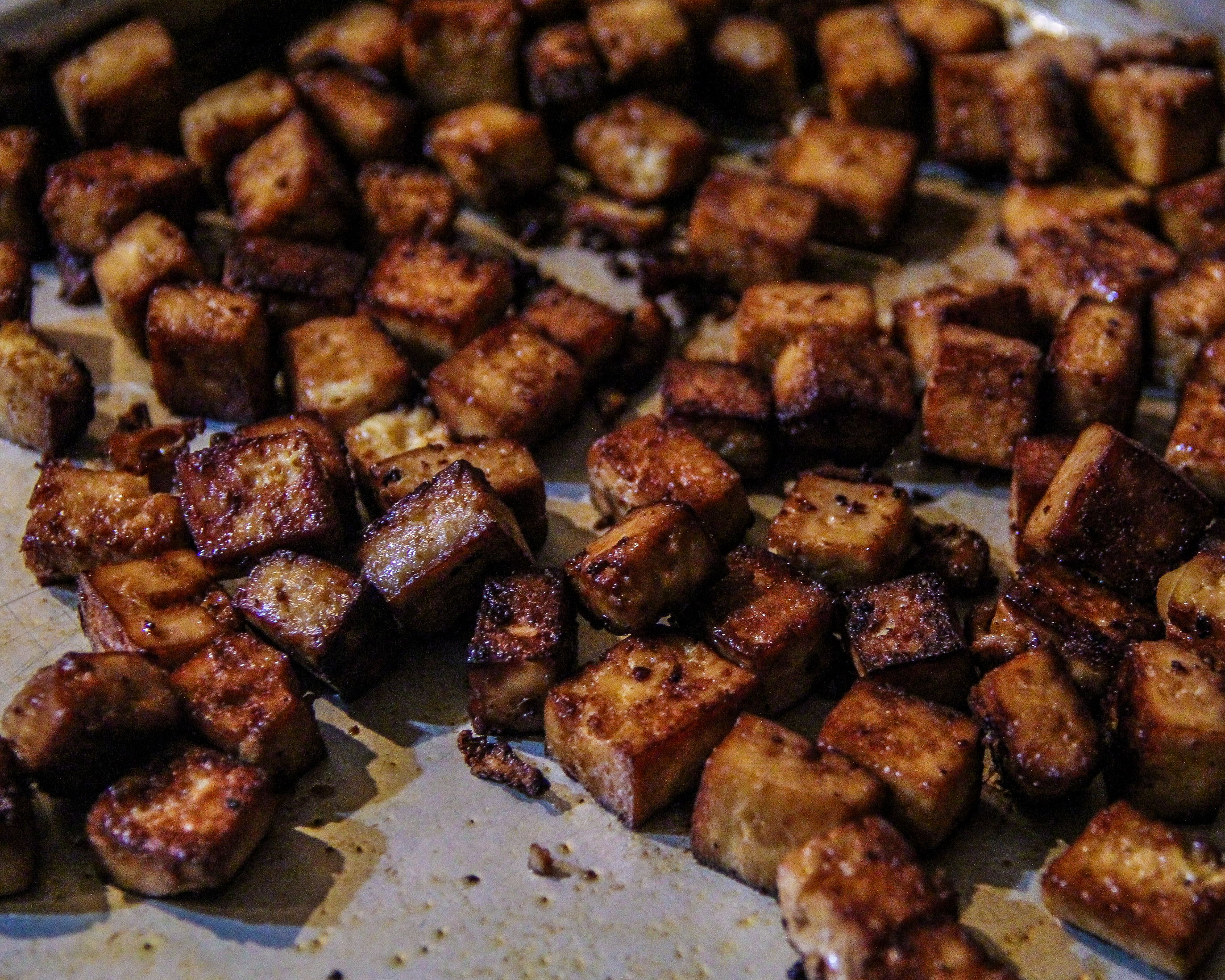 Prepare the noodles: soak the noodles in a bowl of cold water for at least 20 minutes, until they're soft. Drain and rinse. Set aside until needed.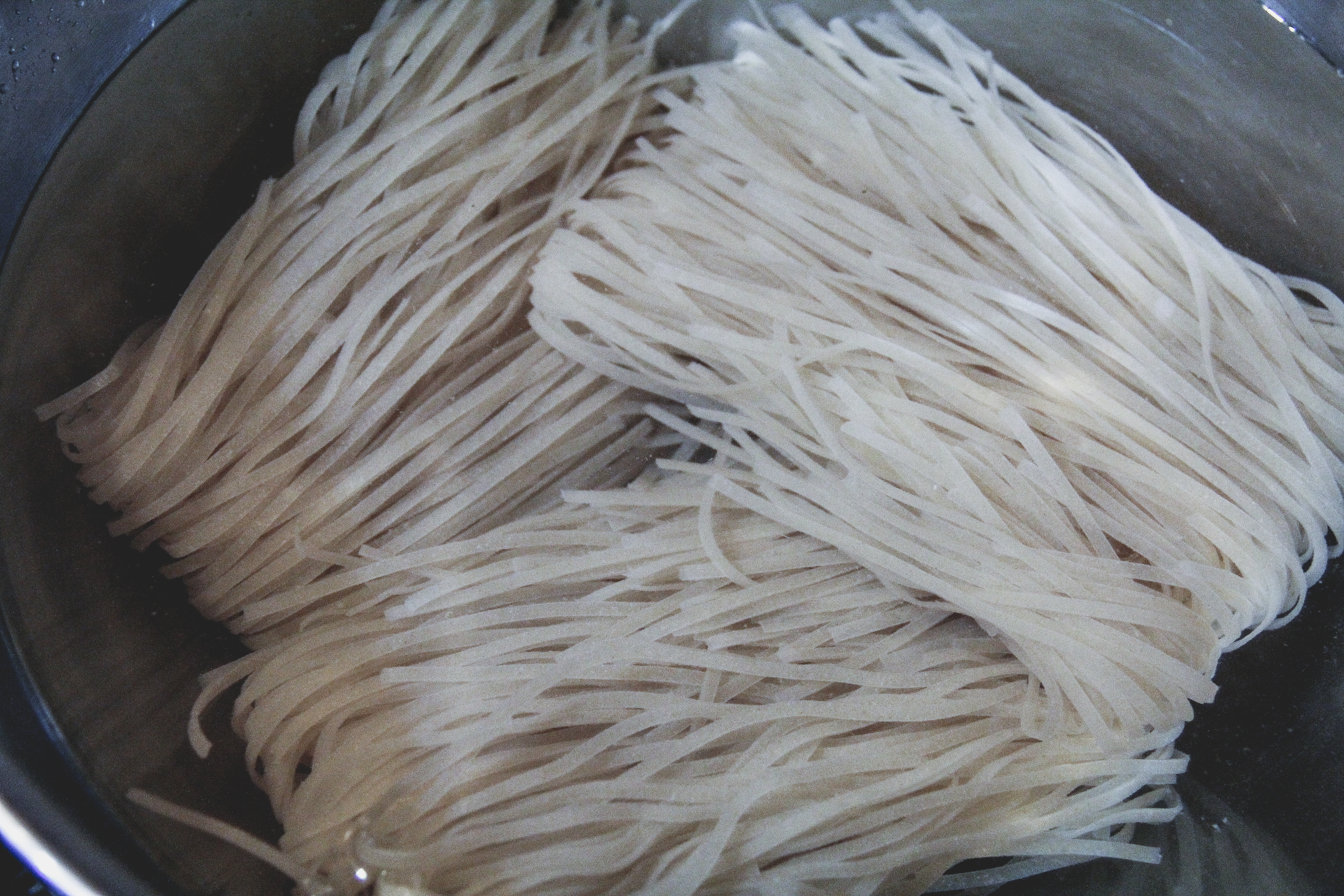 Prepare the sauce: heat the oil in a large saucepan. Add the shallots and ginger; stirring around for 3-5 minutes. Add the curry paste; cook for 1 minute. Add the coconut milk, sugar, gochujang, and soy sauce. Simmer for 15 minutes or so while you prep the rest of the ingredients – it should thicken slightly.
In a large skillet or wok, heat the remaining two tablespoons oil over high heat. Add the onion, carrots, broccoli, and asparagus. Stir fry for about 5 minutes until the broccoli and asparagus are bright green and just slightly tender. Add the noodles and baked tofu, tossing them around with the vegetables. Add the sauce and toss together until just combined (if you cook it too long at this point, the noodles can get overly sticky).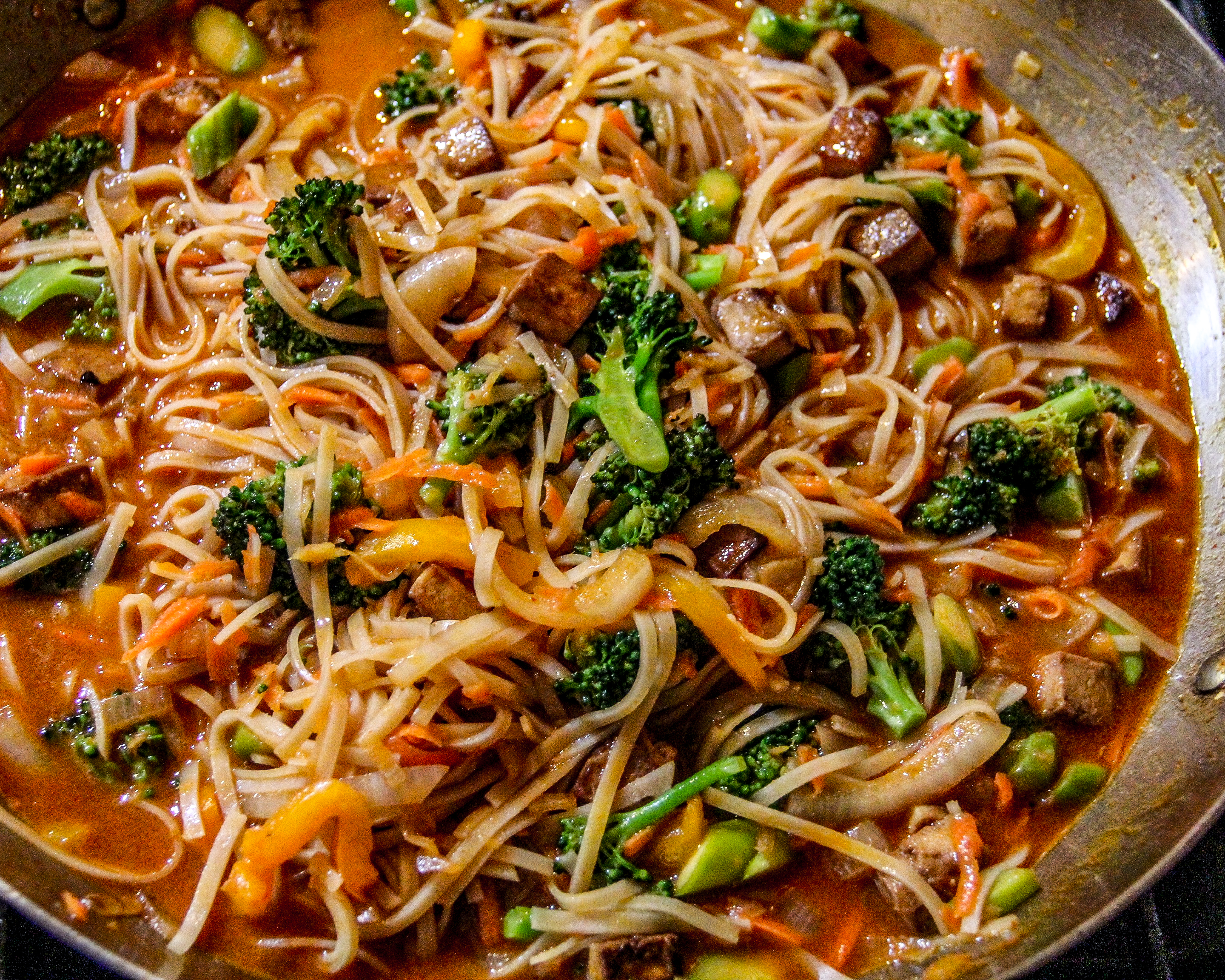 Prepare the bowls: serve bowls topped with the purple cabbage and sesame seeds, along with a squeeze of lime and chopped basil leaves. Enjoy!