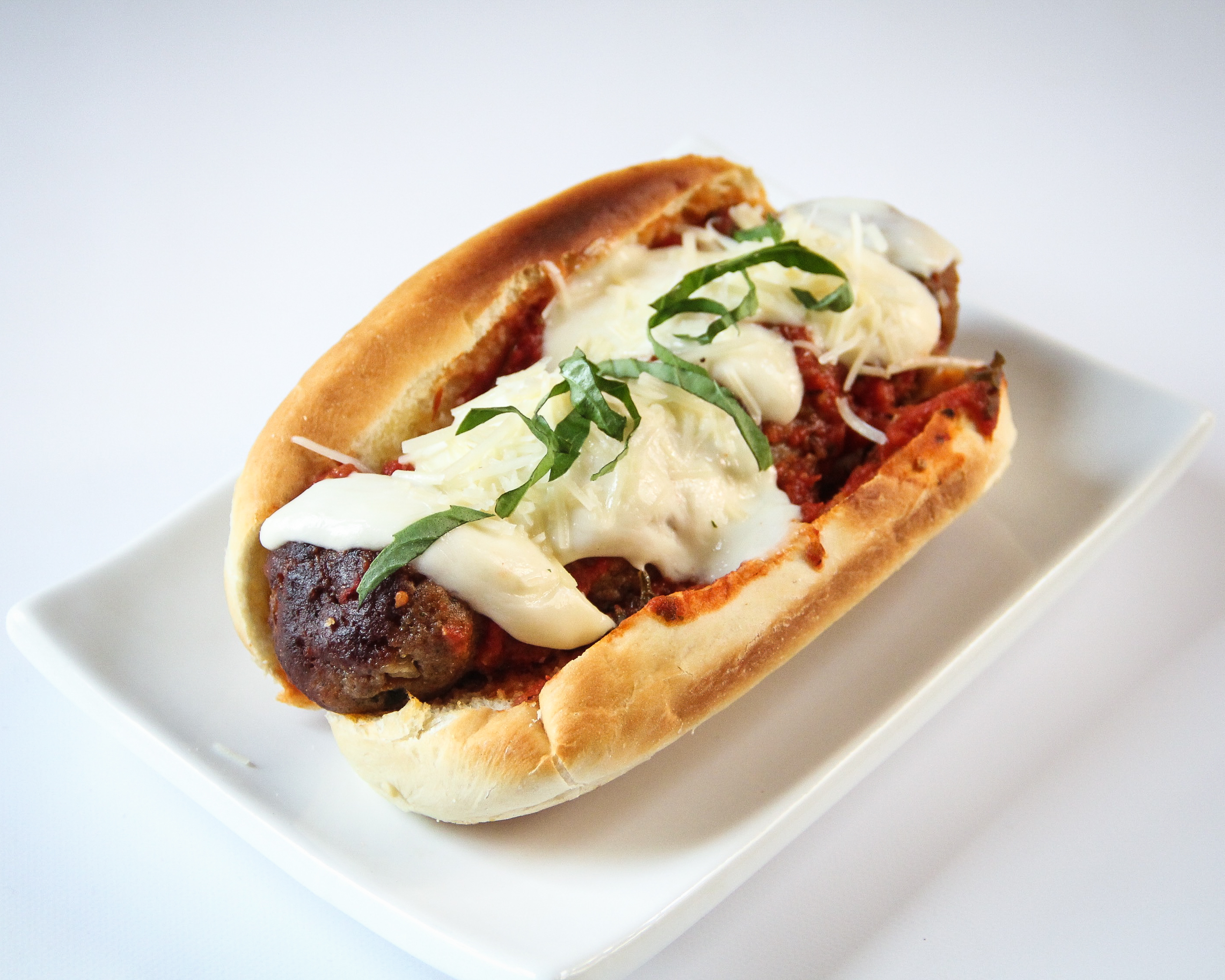 During my first year of college, I lived in the dorms, which meant sharing an 11′ x 17′ living space with my roommate, on a floor made up of twelve rooms, filled with all 'honor student' females. Our floor also contained a kitchen — not a common commodity in these dormitories!  Dorm-livin' meant cafeteria-eatin' and there were many occasions in which the cafeteria dinner options sounded beyond unappetizing. Cereal or frozen yogurt seemed the most viable options. I didn't cook in those days of dorm living. Unless you consider saimin (Top Ramen) cooking, which, at 15 cents a piece was doable on my student budget.
However, it turned out my friend Oliva across the hall was an excellent cook — her dad being a chef and all. If we purchased the ingredients, she was often more than obliging in cooking a delicious meal (granted we share the meal with her, too — understandable!).
I remember meatball subs being something I hadn't eaten before, but one evening when ruminating over grumbling stomachs of what should we have for dinner? Olivia very matter-of-factly said "MEATBALL SANDWICHES." When Olivia had an opinion on what was going to be cooked and eaten, you were better off just going with that (the alternatives being a mad dash across the street to 7-11 for lord knows what, or a run uphill to the cafeteria, just in case they may still be open, or let's be real – vending machine pop tarts and Pepsi for dinner). So that's what we had. Soft pillowy hoagie rolls, filled with homemade meatballs, marinara sauce and cheese. A fork-and-knife type of sandwich, but delicious.
This version isn't what we had in those days. The 'meatballs' are entirely vegetarian, the sauce is homemade and filled with flavor. The fork and knife are optional, but probably helpful.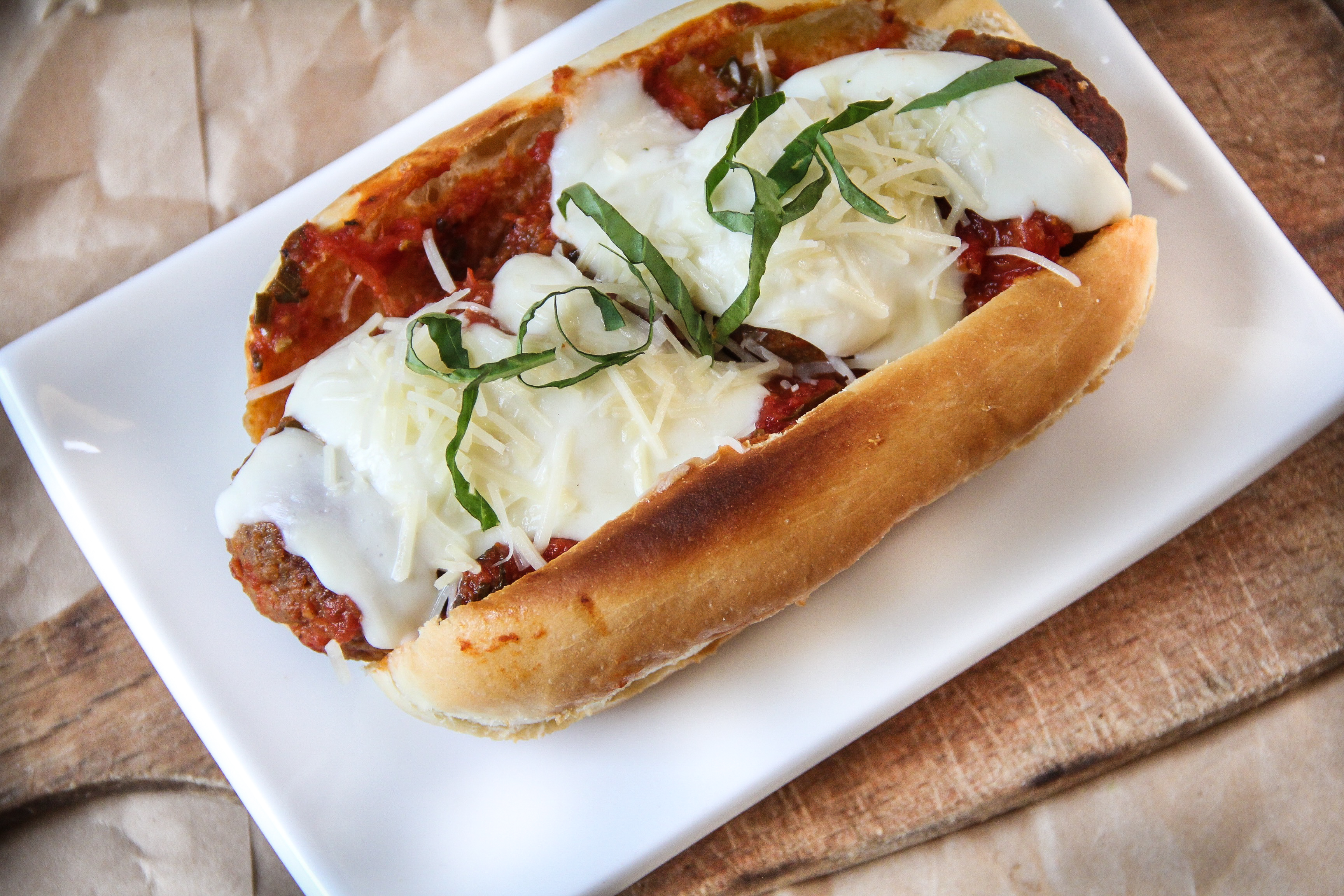 Meatless Meatball Subs
Yields 6 very hefty sub sandwiches.
Ingredients:
For the marinara sauce:
3 tablespoons olive oil
1 large onion, chopped
1 medium sized bell pepper, diced
6 cloves garlic, minced
1/2 pound crimini mushrooms, diced
1 28-ounce can diced tomatoes (with juice)
1 6-ounce can tomato paste
1/2 teaspoon sugar
2 teaspoons dried basil
generous amount of black pepper
1 teaspoon dried oregano
1 teaspoon dried thyme
1 1/2 teaspoon salt
1/2 cup freshly minced parsley
For the meatless meatballs:
2 14-ounce tubes Lightlife's Sausage-Style Gimme Lean
1 medium onion, chopped
1 clove garlic, minced
1/2 cup Italian breadcrumbs
1 teaspoon salt
1/2 teaspoon ground black pepper
2 eggs, lightly beaten
1 teaspoon liquid smoke
4 tablespoons COLD butter
olive oil
For the subs:
6 hoagie style rolls
3 tablespoons butter, melted
1 teaspoon granulated garlic
16 ounces fresh mozzarella, sliced into pieces about 1/4-inch thick
1/2 cup shredded parmesan cheese
6-8 fresh basil leaves, julienned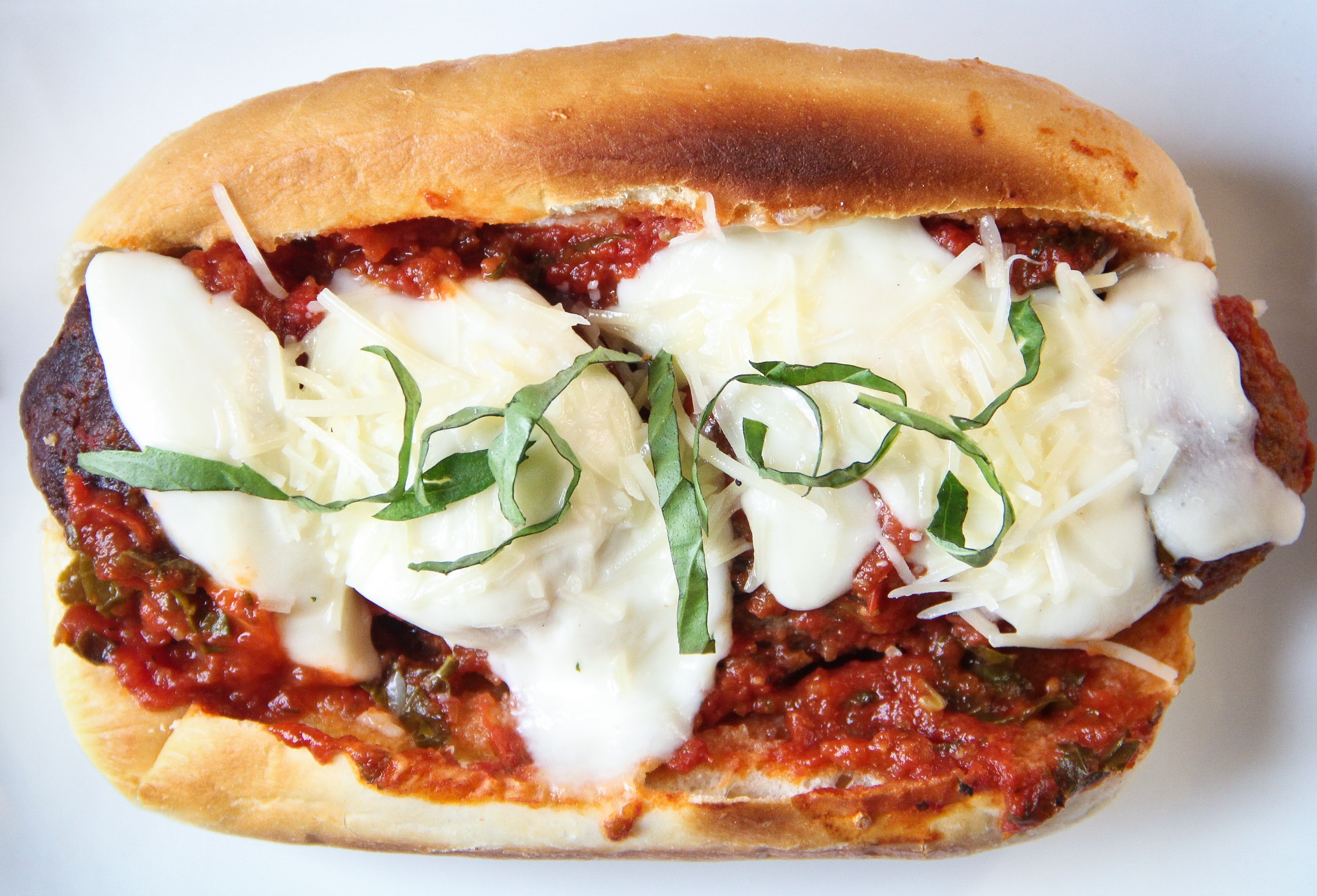 Directions:
Make the sauce:
Heat the olive oil in a large pot over medium-high. Add the onion, bell pepper and garlic, then sauté until the onion is very soft (8 to 10 minutes).
Add the mushrooms and sauté 2-3 minutes, just until the mushrooms slightly soften. Add tomatoes, tomato paste, sugar, basil, black pepper, oregano, thyme, and salt. Bring to a boil, then lower heat and simmer, partially covered, for 45-60 minutes. Stir in the fresh parsley at the last minute.
Make the meatballs while the sauce cooks:
Preheat your oven to 375 degrees F. Lightly oil a rimmed baking sheet. Set aside until needed.
In a large mixing bowl, combine the Gimme Lean, onion, garlic, breadcrumbs, salt, pepper, eggs and liquid smoke. Use a box grater to grate the cold butter into the mixture. Using your hands (if you prefer a spoon that's fine, but your hands make this easier!), mix together the mixture until well combined.
Scoop about 2 tablespoons of mixture and use your hands to roll it into a ball. Place on the greased baking sheet. Continue doing this until all the mixture has been used up, spacing the veggie meatballs about 1-inch apart on the baking sheet. Bake for 30 minutes (turning once halfway through), or until the meatballs are nicely crisp and browned on the outsides.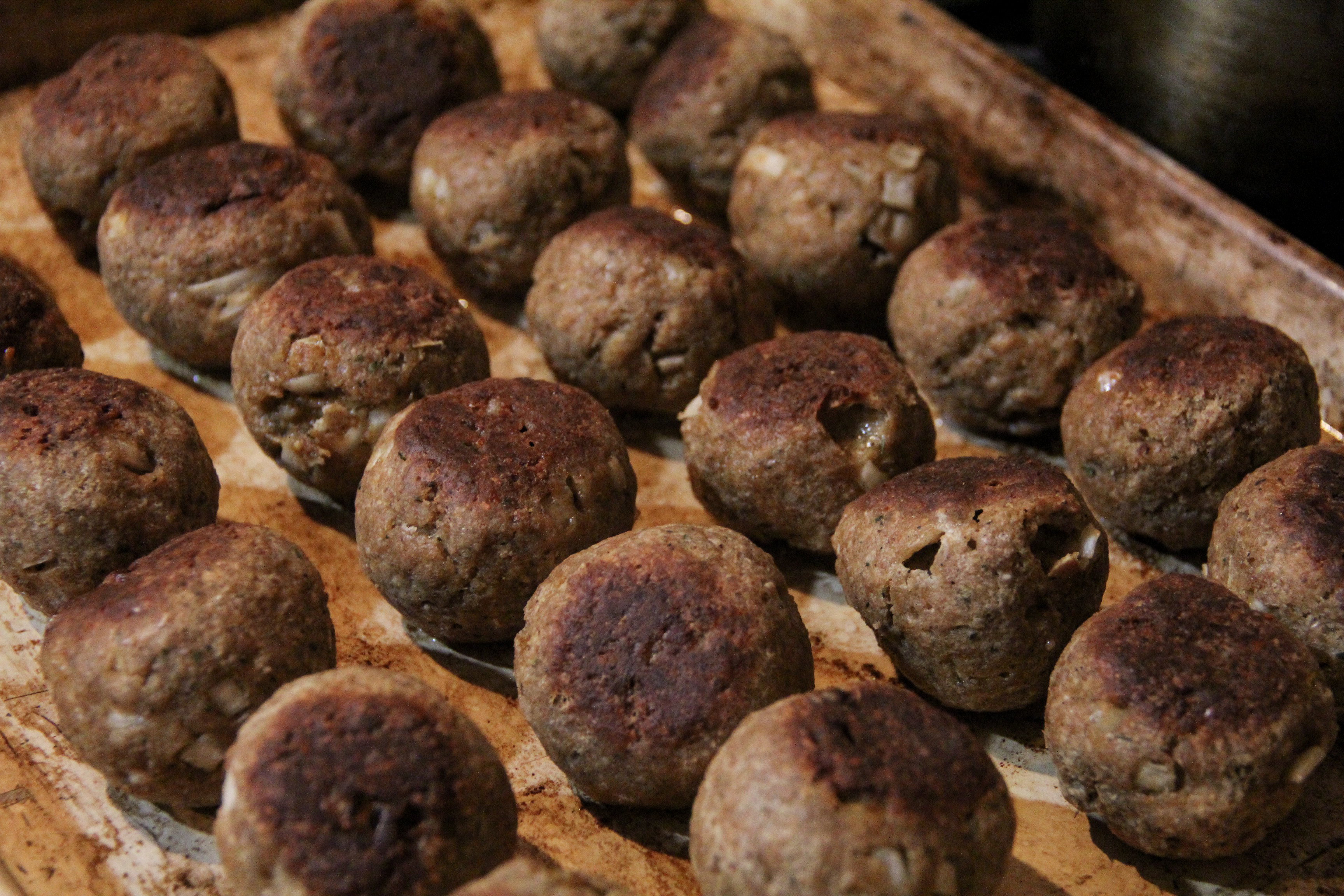 Make your subs:
Turn your oven on its broil setting.
Mix together the 3 tablespoons melted butter and granulated garlic in a small dish.
Split the hoagie rolls in half lengthwise, being careful to try and keep one side intact. Brush the butter/garlic mixture on the split sides of the hoagie rolls. Place on a baking sheet, buttered side-up. Once all the rolls have been buttered, place under your broiler, watching carefully, until the bread is toasted to just-golden-brown in color.
Remove from the oven and spoon about 2 tablespoons of the sauce on each hoagie. Arrange 4 meatballs on each hoagie, followed by 3-4 more tablespoons of sauce. Top with pieces of mozzarella (as much or as little as you prefer), and a sprinkle of parmesan cheese.
Return the subs to the oven, under the broiler, again watching closely so your sandwiches don't burn. Broil until the cheese melts. Remove from the oven and sprinkle a bit of fresh julienned basil over each sandwich.
Serve immediately and enjoy!