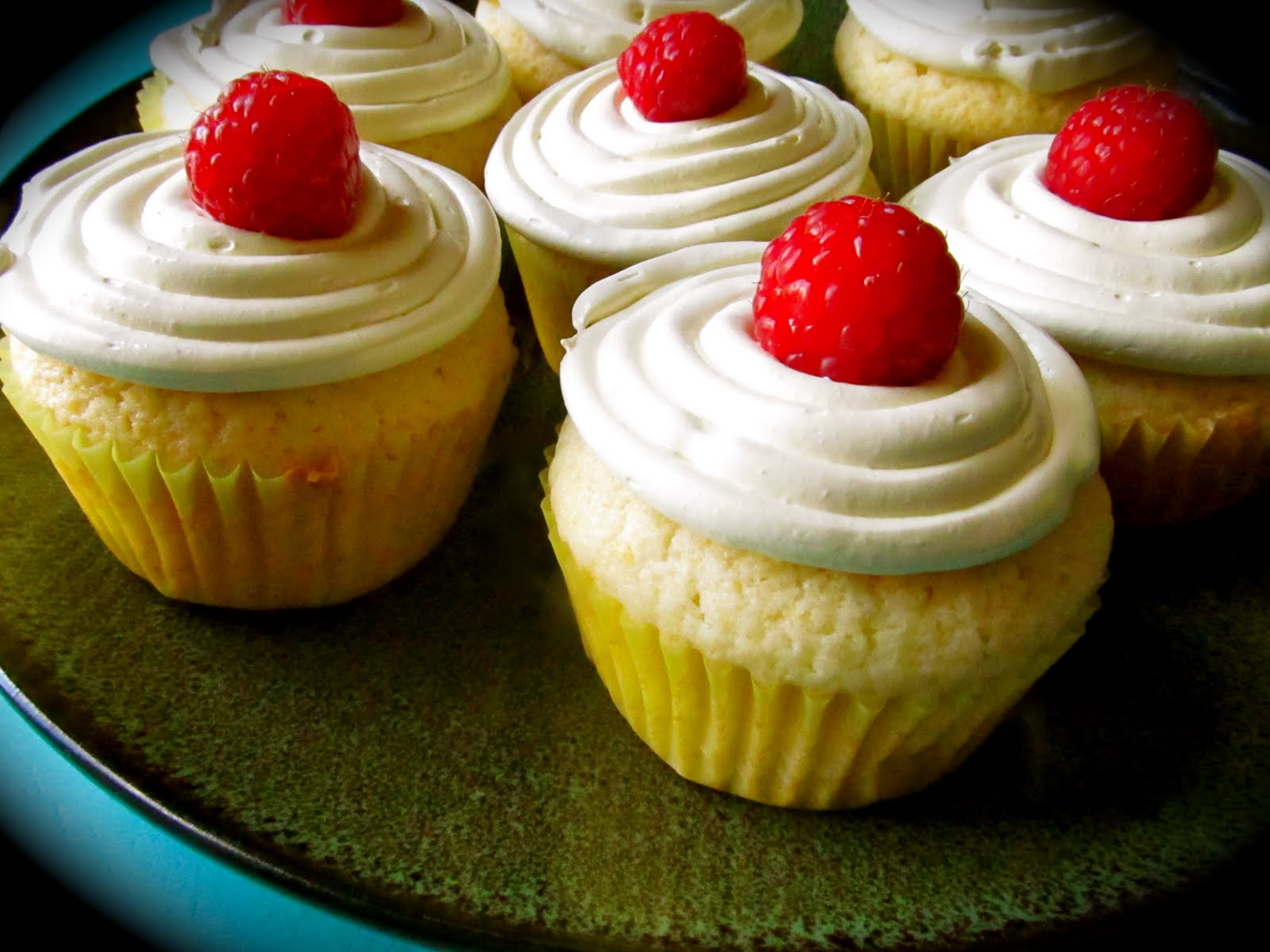 It's June?! How did this happen? Summer vacation starts tomorrow. Tomorrow I am officially closer to 30 than 20. The last few weeks have been spent in and out of town, running around like a madwoman, readying myself for the sunshine-laden summer. I'm ready. I'm hoping that the next few months are full of new cooking projects, more kid-friendly and involved recipes. We'll see.
In the meantime, here's a recipe for some lemon cupcakes that started on a whim, ended up delicious, and a new go-to staple. They're easy. You can skip the topping entirely and consider them a muffin :) I didn't include step-by-step photos this time… mostly because I don't have them. Like I said, this started on a whim. I had no idea how they'd come out. Try them. They're easy. Lemony. Summery. Vanilla-y.
Lemon Vanilla Cupcakes
Makes approximately 6 cupcakes
For the cupcakes:
Ingredients:
1 cup all-purpose flour
2/3 cup sugar
1 egg
1/3 cup butter, at room temperature
1/3 cup milk
¼ cup fresh squeezed lemon juice
2½ tsp. lemon zest
1 tsp. baking powder
1 tsp. pure vanilla extract
1/8 tsp. sea salt
Directions:
Preheat the oven to 375º F. Grease 6 muffin cups or line with cupcake liners.
In the bowl of your mixer, cream the butter and sugar together until light and fluffy. Add the egg, mixing until the ingredients are creamy.
In a separate bowl, combine the flour, lemon zest, baking powder and sea salt. Mix thoroughly.
Add the vanilla extract to the lemon juice. Turn the mixer on low and alternate adding the dry ingredients and wet ingredients to the butter/sugar mixture until everything is well combined.
Fill the muffin cups about 2/3 of the way full. Bake for 15 – 18 minutes. A toothpick inserted into the middle of the cupcake should be clean or have a few dry crumbs stuck on it.
For the topping:
Lemony Ricemellow Topping
Ingredients:
¾ tsp. egg replacer + 1 tbsp. water OR one egg white
¾ cup ricemellow fluff (marshmallow crème if you prefer)
1 cup confectioner's sugar, sifted
2 tsp. freshly squeezed lemon juice (I prefer meyer lemons to anything else)
¼ tsp. cream of tartar
Directions:
In the bowl of your mixer, beat the egg replacer and water or your egg white until stiff peaks form. Beat in the ricemallow fluff and lemon juice at high power, until the mixture is white and glossy looking (1 – 2 minutes).
Add in the confectioner's sugar. Beat for about 3 minutes on high power. Add in the cream of tartar and beat on high until stiff peaks appear. This will take anywhere from 10 – 15 minutes. You can't really over-mix and it's better to mix it too long than not long enough.
Once the cupcakes are completely cool (not even slightly warm!) use a pastry bag or Ziploc with the corner snipped to pipe the ricemellow onto the cupcakes.
Enjoy!