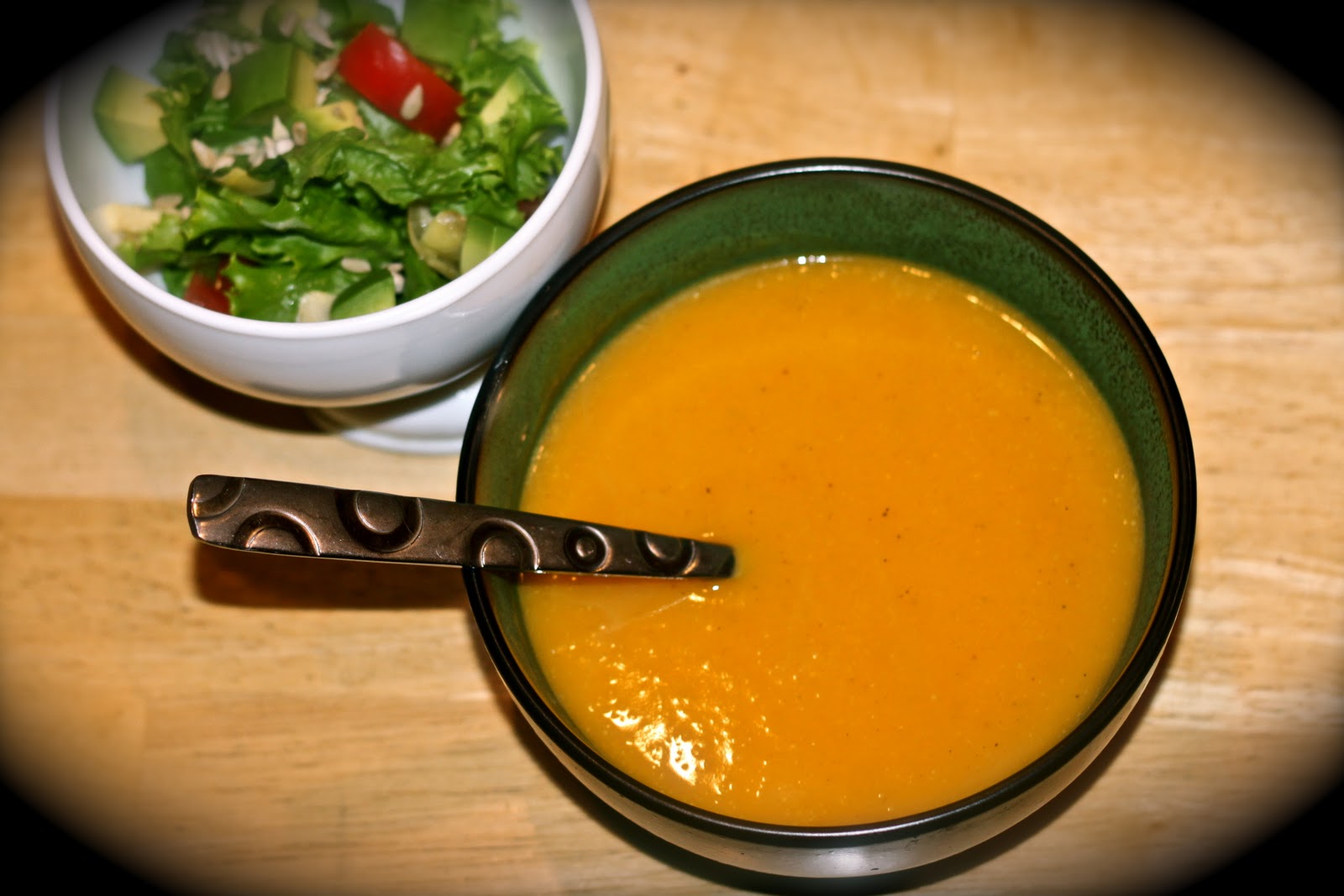 Fall is my favorite season for a number of reasons and increasingly so… I love the always possible chance of blustery cold, windy, rainy days just as much as I enjoy warm sunny days in the summer. Today was cold, windy, wet, and a perfectly dreary fall day.  Perfect soup weather.
Now I don't get excited about soup. Ever. In fact, I almost have to not think about it before deciding to eat it. There's no good reason for this. Maybe it's because so much of my "soup experience" has come from canned or boxed soups. Perhaps it's just that soup never sounds all that exciting. One of those drinkable meals. Like Ensure or Slim-Fast. Yech.
I'm going to talk you right out of trying this recipe. Or maybe not, as I'm posting it because I loved this soup! We're planning a trip out of town, so I was attempting to come up with a meal that would use up some of the various veggies and fruits we had on hand. Also as I stated in the last posting, I'm trying to more or less eliminate gluten from my diet (which, has been awfully tricky! I am finding that if I simply limit the amount of gluten within my daily intake, my body seems to be processing everything regularly. I end up trading off one glutenous food for another… For instance, skipping bread/wheat or semolina pasta/brownies then allowing myself to have a beer! Haha) So far so good. 
Silas requested Quorn brand chik'n nuggets and bunny mac&cheese for dinner, which Craig probably would've ate without much hesitation. At first I said okay, as long as a green salad accompanied that. Of course I was thinking, wheat based nuggets and wheat based pasta was just me asking for a stomach ache, so I decided to make some soup for myself, using up what I had on hand. After one taste, Silas decided on soup and chik'n nuggets rather than bunny mac. Having a 6 year old who will willingly eat greens and squash soup with added veggie protein on the side seems unfathomable. 
Try this soup out. It's delicious. And I don't often advocate on any soup's behalf. ; )
Curried Butternut Squash Soup
3 medium-sized russet potatoes, peeled and diced into 1″ cubes
1- 

1

½ 
lb. butternut squash, peeled and diced into 1″ cubes
1 medium granny smith apple, peeled and diced into large chunks
½ a small yellow onion, roughly diced
3
½
 cups vegetable broth (homemade makes this amazingly good!)
½ tsp. yellow curry powder
sea salt and fresh ground pepper, to taste
In a small pot over high heat, boil the diced potatoes in salted water until they're fork-tender. Drain and set aside.
In a saucepan, heat the oil over medium-high heat.  Add the squash, onion, and apple. Sprinkle with dried thyme, basil, salt and pepper. 
Sauté for 1-2 minutes. Add in the 
¼ cup water, then cover and reduce heat to medium. Occasionally stir, cooking until the squash and apple are fork-tender (about 10 minutes).
In a high-power blender or food processor, combine the potato, squash, onion, apple, curry powder, and ginger. Pulse until a very thick mixture begins to form. Add in the vegetable broth, one cup at a time until completely incorporated.  Taste, then add salt and pepper to your liking. Re-heat over medium heat on the stove if you need to!
* Makes about 7 full cups of soup.