First of all, I'm not a New Year's Resolution kind of girl. I don't believe in setting goals for the upcoming year that are bound to result in disappointment or loom over me all intimidating and heavy. That said, I'm also not entirely pessimistic all the time. I simply think it's good to constantly strive to be better, but take it one day at a time, always trying to improve yourself. And if you screw up, or back track here and there, so what? It's a lesson in being human. If I were a resolution making kind of person, I'd strive to post more often on this blog and on my poetry blog. I'd be at the gym more often than every couple of weeks, as its turned into over the last couple of months. I'd call my family more often. I'd be more in touch. My phone wouldn't be a foreign object that rings, 95% of the time, with telemarketers rather than familiar voices on the other end. I'd be more patient and pick my battles more carefully, even when I'm tired and caffeine deprived. I'd be more rigid with the gluten-free thing. I'd read more and electronically connect less. I'd paint a few times a week. I'd photograph more consistently. Phew. But I'd like to do all those things anyway. Realistically. With the understanding that I'm not going to do so perfectly all of a sudden.
Moving on, Craig and I got ourselves a dank Christmas present, which I'm very excited about using: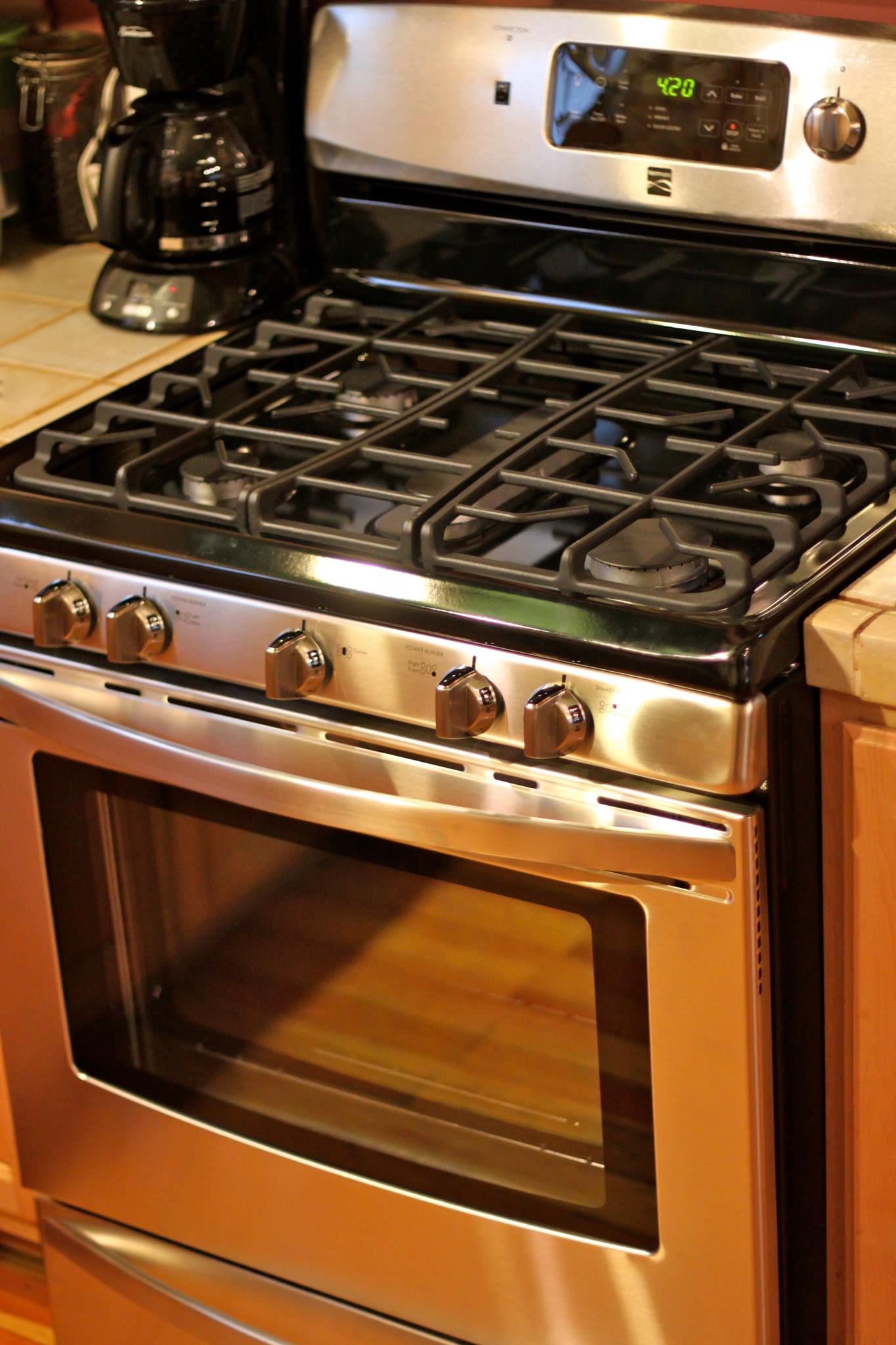 All of a sudden I have 5 burners to work with. And an oven that works consistently. WOOO HOO HOOOO!
So far its been graced mostly with Mexican meals: homemade tacos; poblano pepper, corn, potato, and cheese enchiladas; toasted yellow rice; lots of pinto beans; chilaquiles… and some red velvet cake, of course. I am very much looking forward to meals-to-come.
That said, prior to the new kitchen appliance, I made a few different types of cookies not too long ago. I had never baked a vegan cookie in my life prior to 2011. They were good, definitely best fresh out of the oven (what cookie isn't?). I was very surprised with these cookies — they may be my new go-to recipe.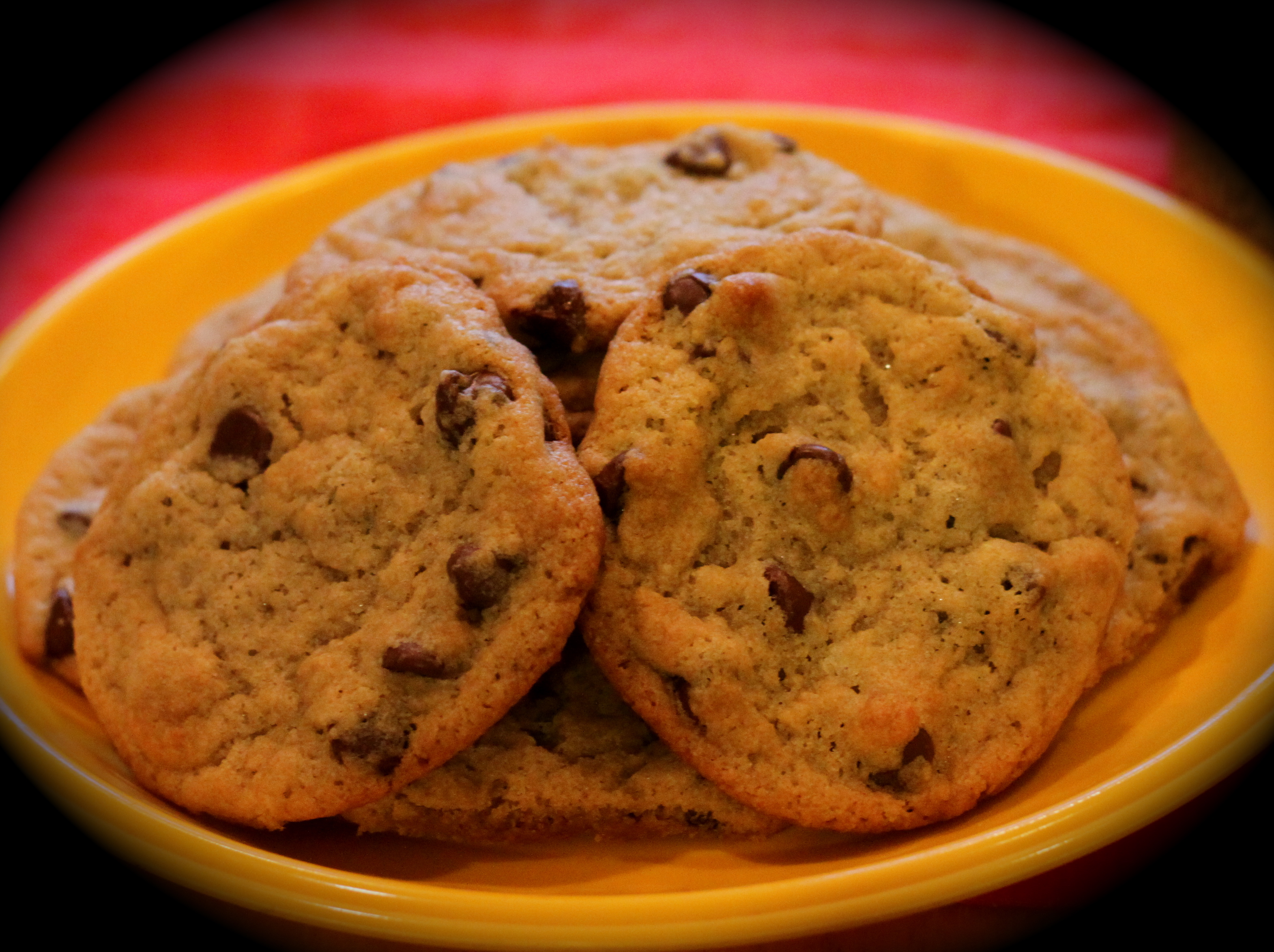 Vegan Chocolate Chip Cookies
Ingredients:
½ cup Earth Balance (vegan margarine)
½ cup cane sugar
1 tsp. vanilla extract
½ tsp. baking soda
1 ¼ cup flour
¼ tsp. ground cinnamon
1 tsp. baking powder
1 tbsp. balsamic vinegar
1 tbsp. water
1 cup vegan chocolate chips
½ cup chopped walnuts or pecans, optional
water as needed
Directions:
Preheat the oven to 375ºF. Line a baking sheet or two with parchment paper (or lightly grease). Using a fork, cream together the Earth Balance and sugar with a fork. This will take 3-4 minutes, to really get the mixture combined and creamy.
Add the vanilla and baking soda to the Earth Balance/sugar mixture. Slowly mix in the flour and cinnamon.
In a small dish, mix together the baking powder, vinegar, and 1 tbsp. of water. It'll get bubbly. Dump it into the batter, mixing well. If necessary, add more water 1 tbsp. at a time, until you have a semi-sticky dough that stays together. Stir in the chocolate chips. Oh, and the nuts if you're adding them.
Drop by rounded tablespoons onto a cookie sheet, about 2 inches apart. Bake for 8 – 10 minutes, until lightly brown on top. Allow the cookies to cool on the sheet for 5 minutes before transferring to a cooling rack.
Enjoy while still warm! Yields about 1 ½ dozen cookies.