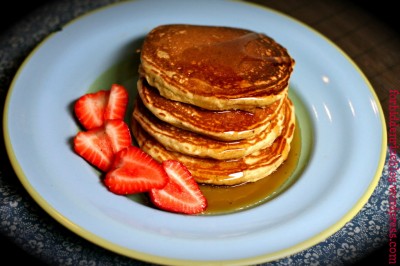 I remember lacking all excitement about pancakes as a kid, especially in the morning. Sometimes I'd watch Japanese horror movies with my mom at night and we'd get hit with the 10 o'clock munchies. I remember we'd make two giant pancakes–one for her, one for me. My mom made pancakes a lot. Never from a store bought mix, always from scratch. In my adult life, I have a new appreciation for the fact that she got up every morning before the sun came up and had breakfast ready for four kids who barely got out of bed and out the door, to the bus stop in time, even if breakfast was pancakes–a lot of the time. She'd always wrap them up and stick the leftover 'cakes in the fridge, which I loved when I got home from school. I much preferred cold pancakes in the afternoon to hot ones in the morning. My mom made plain pancakes. Sometimes with sprinkles, or chocolate chips. Sometimes with bananas. Or bananas and walnuts or macadamia nuts. Sometimes filled with corn.
Breakfast isn't exactly my thing… I love breakfast foods, but coffee is more or less my morning staple, and by the time I've had two cups or so, I'm not hungry for a large meal. However, feeding everyone else is still necessary. Silas and Craig request pancakes often. Truth is, they really aren't difficult to make from scratch–often including ingredients you're bound to have on hand. That's why I never understood pre-made mixes that are inevitably overpriced.
I like variety to my pancakes, so sometimes I'll make lemon blueberry, or cinnamon-swirl, or chocolate chip, or rainbow, or cinnamon apple, or pumpkin, or carrot cake, or coconut, or strawberry, or banana. Sometimes snakes with raspberry blood or weird faces, because pancakes actually offer quite a bit of room for creativity (seriously, check out Jim's Pancakes! His "potty cake" design has been occasionally popular in our house, too).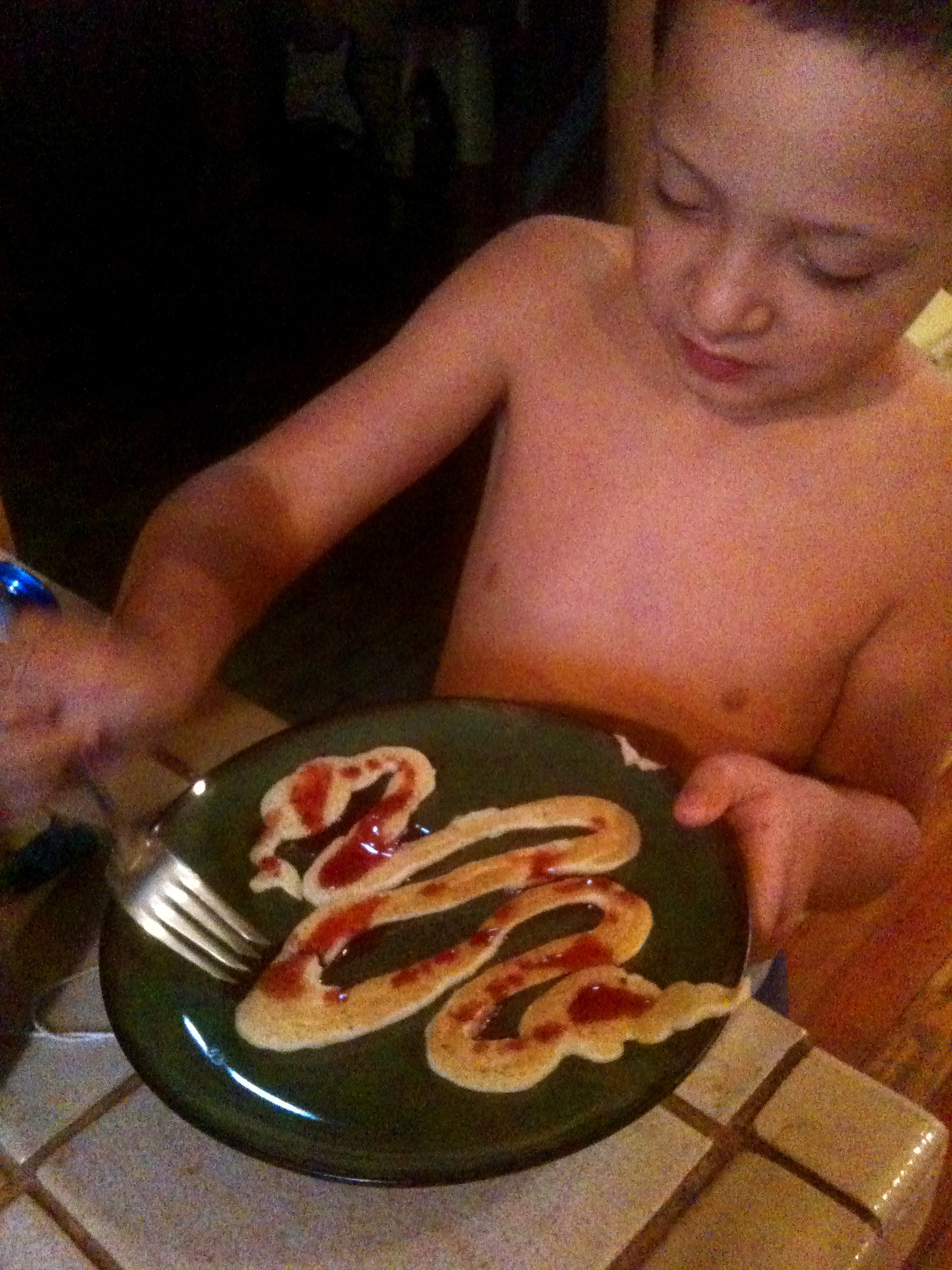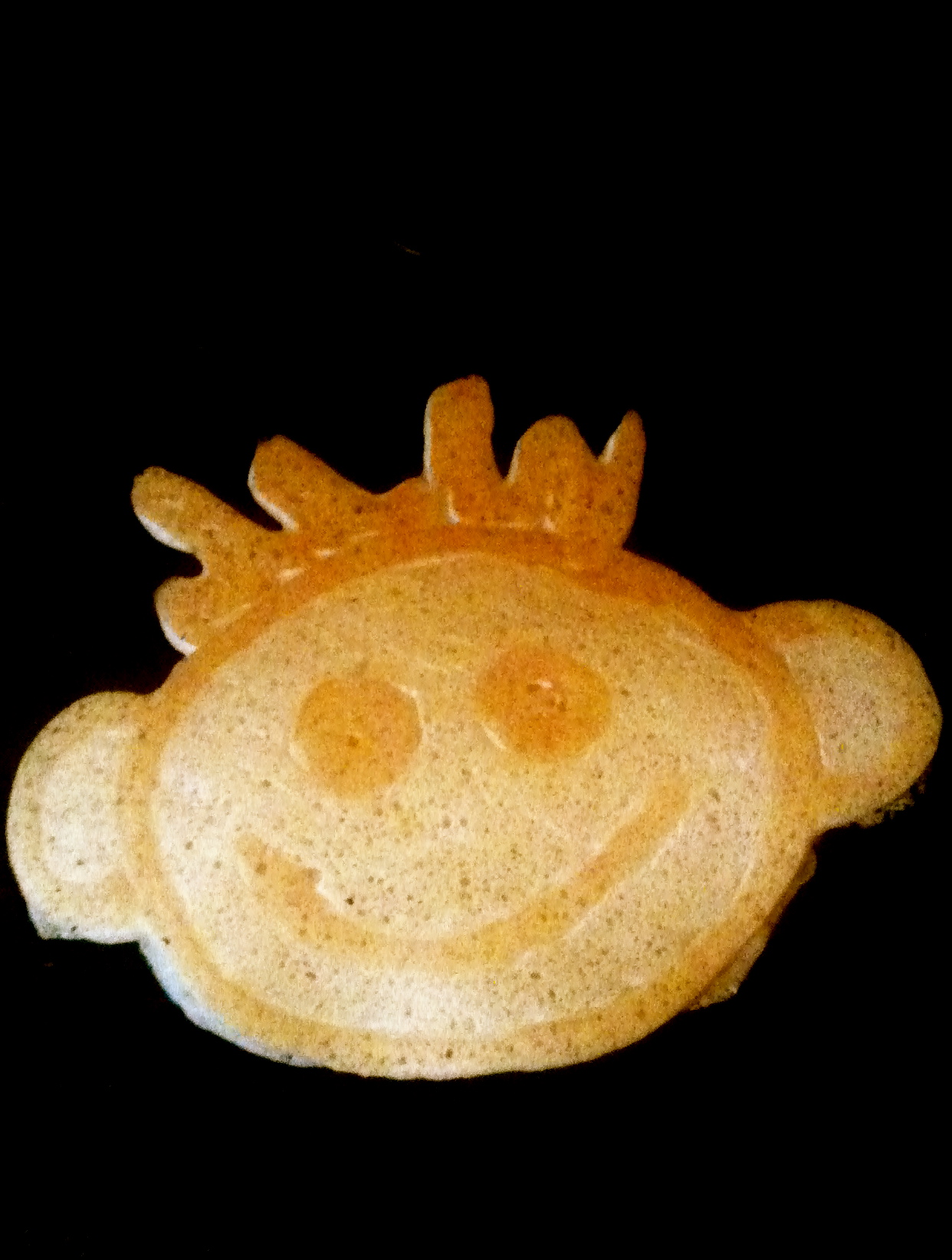 Last night when I couldn't sleep, I watched reruns of Diners, Drive-Ins and Dives on Hulu. Don't judge. The last episode I watched before falling asleep included a popular diner that had an array of pancakes. Seeing as 2 o'clock in the morning isn't a practical time to make breakfast, I simply fell asleep thinking I'd make some big, fluffy, diner-style pancakes when I got up later. At normal human hours.
I've got my go-to (mom's) recipe down to memorization. Her recipe uses oil in the batter, which I often replace with butter, and a little more of it. The following recipe is my own, although honestly, I think my pancakes are different every single time I make them. These really did come out deliciously though, and I even measured the ingredients. Just for you. (:
Fluffy Vanilla Pancakes
yields about 1-dozen 5″ pancakes
Ingredients:
1¾ cups all-purpose flour
2 tsp. baking powder
3 tbsp. sugar
4 tbsp. melted butter
2 eggs
1¼ cups milk
seeds from 1 vanilla bean (or 1 tsp. vanilla extract)
pinch of salt
Directions:
In a large bowl, sift together the flour, baking powder, sugar, and salt.
In another container (I use my measuring cup), whisk together the melted butter, eggs, milk, and vanilla bean.
Make a well in the center of your dry ingredients, then pour in the milk mixture. Mix until smooth, then allow the batter to sit for about 5 minutes.
Heat a lightly oiled frying pan or griddle over medium-high heat. Scoop the batter onto the hot griddle (approximately ¼ cup per pancake). Cook until bubbles appear on the surface of the pancake, then flip and cook until browned on the other side.
Serve hot.
* I like to keep my pancakes in the oven, at 225˚ F in a tightly covered dish/pan until all the 'cakes are cooked. This allows them to steam for a little while as well, which creates a really soft, fluffy pancake. I serve them once all of the pancakes are done.