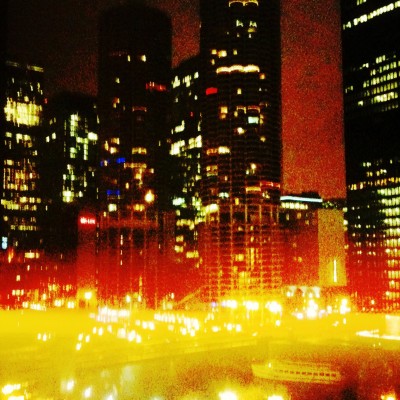 We are in Chicago for AWP 2012. Last night, while still in Ashland we worried about the storm that was a'brewin', as we were planning to leave the house at 4:45 AM and snow, storms… they don't work well with travel sometimes. This morning, however, despite icy windows we didn't have any problem getting to the airport.
I experienced my first airport pat-down. Who knew if you put your ID into your back pocket before going through the body scanner it's cause for alarm? Not I! 5 AM is a little early for a butt-pat down by some random security woman. I'd only had one cup of coffee by that point! Oh well.
Once we got on our flight, snow started dumping from the sky. We sat for awhile while this mechanical alien (and a real-life person with a hose) de-iced the plane. Not too long after, we were off! I love flying.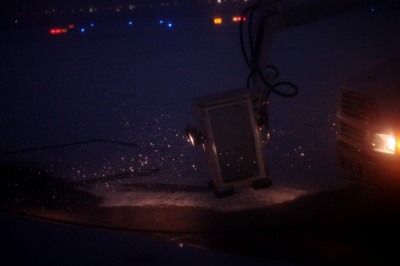 We made it to Salt Lake City right on time, with a two hour layover. I packed bagel sandwiches for Craig and I — because spending $15 on a so-so sandwich at the airport is silly. They were full of Tofurky, cream cheese, mustard, green leaf lettuce, mozzarella, black pepper, and basil on Dave's Killer Good Seed Halos. We also packed sweet potato chips, water, and various little snacks (seitan jerky, Luna bars, chocolate peanut butter squares).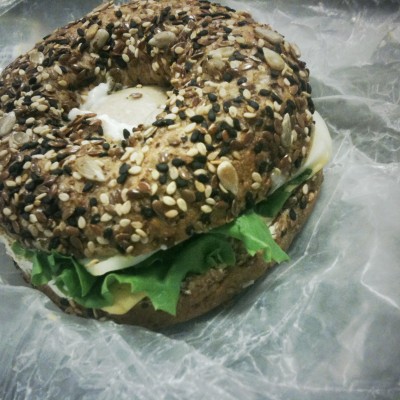 I remember flying many times as a kid and having a strange fascination with airplane food. Of course this was when a meal was included with your ticket cost, not something you had to pay extra for. I don't know if my love for airplane food had something to do with the individually wrapped compartments on my plate, since I don't actually remember the food… just the little compartmentalized items, like cafeteria lunches in elementary school. These days I don't have a fascination with airline meals. I prefer to pack something myself that will be enjoyable and filling, rather than something alien-looking.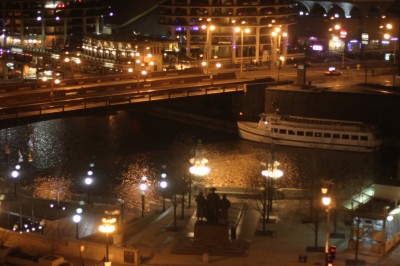 We made it to Chicago. I've never been here before, which always makes traveling a lot more fun and adventurous. We are staying at a Kimpton hotel downtown… They are always so nice to us at these hotels: we had a fabulous room upgrade, offering the view above. The free wine hour right before dinner is always lovely. Tonight there was also a cocktail demonstration from the adjacent restaurant, including a round of brandy-based delicious concoctions for us. We are right on the river, which is always welcomed by this water-loving girl. Oh, and you can most certainly borrow a goldfish from the hotel to keep in your room, making it a little more homey feeling.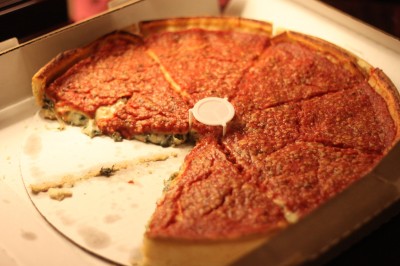 I am a Yelper. Every time we are traveling, I scour Yelp before we leave, as well as when we're there, looking for the best hole in the wall spots to eat. Or the places that'll be most delicious. Toni's Pizza and Organic Pizza sounded like the place for us–included on the menu was a stuffed spinach and cheese pizza, one of their most popular items. We got the pizza delivered, right at wine hour. Classy!
Good lord. We ordered a large, which Craig and I can usually polish off pretty well. This pizza must've weighed ten pounds. Ten pounds of amazing, perfectly cheesy, spinachy, goodness. The crust was not at all oily, perfectly done, flaky, and tasty. The sauce–equally delicious. We ate 1½ slices each, thus leaving 5 more slices to go. Breakfast (and lunch!).
We'll be attending various AWP panels all day tomorrow; Craig more of the fiction-oriented, myself the online publishing/poetry oriented. On top of that, we've got food plans…