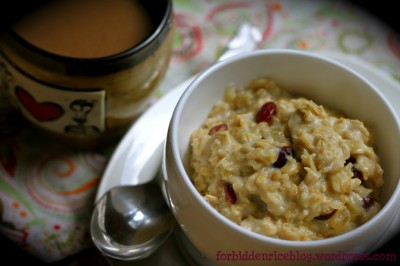 For the first time in nearly five years, I've had our home to myself for the week. Its been strange in various facets. There is no one yelling "JULIE!" every two minutes, meaning trouble, help, or hunger. I can go to the bathroom without knowing that one minute later there will be pounding on the door, followed with another "JULIE!" No messes to pickup after in places I don't expect them. Quiet. Lots of quiet. I've been missing my husband in big ways and subtle ways though–like having to get up and turn the heat up myself in the morning, or resorting to sleeping on the couch because our bed's too big for one Julie in a house so quiet and still, or kisses on my eyelids at 4:30 in the morning. Meals for one and not an army… that has been questionable.
Since I haven't had to think about feeding anyone but myself (well, and the dogs, but they don't require a home-cooked dinner), my eating habits have been super sketchy. Oatmeal at 1:30 in the afternoon? Why not. French press instead of a pot of coffee? Okay. Dinner at 9:30? Sounds good. Breakfast at 3? That'll work, too. A beer at 4:30 and dinner four hours later? Sure thing.
I read a book a couple years ago, Alone in the Kitchen with an Eggplant, which is about cooking for one as well as eating alone. I loved it. The book is made up of a collection of stories from writers, foodies, and well known others who indulge you in the secrets of dining alone–though in the fashion of celebration, rather than complaint. When you have no one else's hunger to consider, what do you indulge in?
I've been eating oatmeal. Doctored-up frozen pizza. Roasted asparagus. Risotto. Oatmeal. Oatmeal. Bananas. Yogurt straight out of the 32 oz. container. Sandwiches full of ripe tomatoes, massive amounts of lettuce, cheese and yellow mustard, not on a plate. Oatmeal. Turns out cooking for one isn't as fun as cooking for my family, though. The following recipe is my favorite oatmeal. I am positive that I could eat this for two out of three meals a day.
Banana Cranberry Ginger Oatmeal
Serves 1
Ingredients:
2/3 cup old-fashioned rolled oats
1 cup milk (whatever type you like; easy to veganize this recipe!)
1 small banana, sliced
pinch of salt
2 tbsp. unsweetened cranberries
1 tbsp. crystallized ginger, chopped
1 tbsp. pure maple syrup
¼ tsp. vanilla extract
Directions:
In a small pot, combine the oats, milk, banana and salt over medium heat. Allow the oatmeal to heat up, about 3 minutes. Once it becomes bubbly, stir well to break up the banana chunks. Once all the liquid has been absorbed (about 3 more minutes), the oats are finished.
Remove the pot from the heat. Stir in the cranberries, ginger, maple syrup, and vanilla. Serve immediately and enjoy.