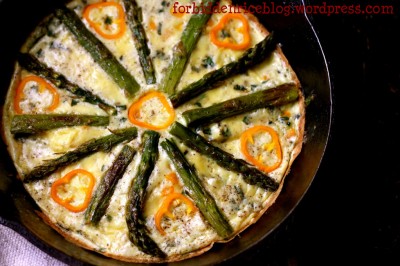 I must admit, I love to sleep in. Especially through the winter and early spring, when my insomniac tendencies are at their all time high. Sometimes "bedtime" is nearly 3 AM, which means waking up falls somewhere between 9 and 11 AM. That said, breakfast is an interesting meal. It usually takes a couple of hours before I feel any sense of hunger, especially after a cup of coffee or two. "Breakfast" more or less becomes lunch.
The perfect meal for such a thing? A tasty frittata. I never made a frittata in my life prior to this one though. A frittata is basically the Italian version of an omelette. It sounds fancy-schmancy, but really, the dish is quite easy. Not only that, they're very versatile: you can essentially throw in anything that sounds good. I believe in keeping the ingredients pretty simple though – pick a couple key ingredients and work around them. I happened to have asparagus and sweet peppers on hand, so I went with those things.
This makes enough for one large meal, for one… or perhaps enough for two with a side salad. Frittatas are delicious hot, but honestly they're equally as tasty at room temperature or even cold.
Roasted Asparagus and Sweet Pepper Frittata
Serves 1-2
Ingredients:
3 eggs
2 cloves garlic, minced
2 tbsp. sweet peppers, minced
1 tbsp. fresh basil, chopped
1 tbsp. grated pecorino romano cheese
5-6 stalks young asparagus
1½ tsp. olive oil
salt and pepper to your liking
Directions:
Prepare the asparagus:
Preheat the oven to 400°F. Toss the asparagus in 1 tsp. of olive oil, about ¼ tsp. salt, and a generous amount of fresh ground pepper. Roast for 12-15 minutes, until the asparagus is tender. Cut each stalk into thirds (about 3" long pieces). Leave the oven on 400°F.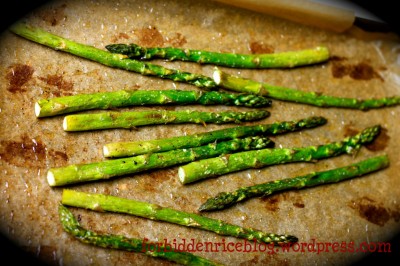 Prepare the frittata:
Heat the remaining ½ tsp. of olive oil in a 7-inch cast iron pan, over medium-high. Sauté the garlic, sweet peppers, and basil until the peppers are tender (1-2 minutes). Whip together the eggs, pecorino romano cheese, salt and pepper until it's frothy. Pour the eggs over the sautéed garlic and peppers. Sprinkle in the cheese and arrange the asparagus however you'd like on the top of your eggs (you can add more sweet peppers then, too, if you want some added color). Allow the eggs to almost set (3-4 minutes), then place the pan in your heated oven. Once the frittata begins to puff up (3-5 minutes), browns on the edges and top, it's done. Cut into wedges and serve.