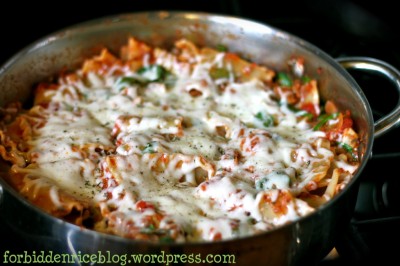 I'm learning to enjoy grocery shopping more, although I am still fully capable of running into the store, getting exactly what I need in both lightning speed and robot fashion. I apologize to folks I know and still blatantly walk past in this manner; it's not out of rudeness or little desire to stop and chat, but rather my goal to spend no more than 5 minutes in the grocery store.
Meal planning is not exactly (okay, not at all) my area of expertise. These two things go hand in hand. See, once upon a time I would plan meals for the week, which meant one long shopping trip getting everything I'd need for all these meals. Most people would probably aim to do that. I prefer the day to day wing-it method. Plus being able to make quick stops for what I need means I get my ingredients fresh and as needed, rather than letting them hang out in the fridge for a few days.
However, I'm discovering that my lack of planning leaves more days where I don't know what I'll be making for dinner even as it approaches. I made a loaf of sourdough bread the other night and had no idea what I would make to go with it. So I did what any normal person in this high tech age would do: I solicited the advice of my Facebook friends. While there were some fabulous ideas (tortilla soup, cheese soufflé, cioppino, chili, stew…) each of these things required a trip to the grocery store. Yikes. I raided the pantry and fridge instead and made a lazy girl lasagna.
While I am a full believer in the beauty of a homemade lasagna (seriously), it takes time. Time making various components that all add flavor, then the time it takes to layer everything, not to mention the time spent baking the damn thing. Sometimes I don't want dinner to take a few hours to prepare. This skillet lasagna is perfect for that. It took the same amount of time to prepare that it took a 6 year old boy to read two books and do some math homework. Fully doable on a busy mid-week night. Or simply because it tastes good. :)
While this lasagna was made as a vegetarian meal, using vegan "sausage" (I prefer Field Roast's vegan grain sausage), real Italian sausage (or whatever variety you prefer) is entirely okay as a carnivorous substitution. Simply make sure it's cooked all the way through before adding your artichoke hearts and tomatoes to the sauce. Lasagna has never been more simple or delicious.
Vegetarian Skillet Lasagna
Ingredients:
10 lasagna noodles, broken into 2-inch pieces, cooked according to the package directions
1 tbsp. olive oil
½ a medium onion, diced
4 cloves garlic, minced
1 tsp. dried basil
1 tsp. dried oregano
½ tsp. sea salt
¾ tsp. ground black pepper
3 tsp. sun-dried tomato pesto
1 cup artichoke hearts, chopped
1- 28 oz. can fire roasted crushed tomatoes
2 ½ oz. fresh spinach, chopped
2 cups grated mozzarella
½ cup grated parmesan cheese
2 apple sage Field Roast sausages, cut in half lengthwise then in ¼" thick pieces
Directions:
In a large oven-proof skillet (I used a 12-inch stainless steel pan), heat the oil over medium-high. Sauté the onion and garlic until translucent. Add in the basil, oregano, salt, pepper, and pesto. Stir to combine everything well, cooking for 1-2 minutes.
Add in the Field Roast sausages, cooking for 5-6 minutes until the sausage is lightly browned. While the sausage is cooking, preheat the oven to 400ºF.
Add in the artichoke hearts and canned tomatoes, stirring well. Gently fold in the spinach in. Add the noodles in a few at a time, stirring to coat each additional noodle with some of the sauce. Stir in ½ a cup of the grated mozzarella and the parmesan cheese. Evenly arrange the noodles in your pan, then top with the remaining mozzarella.
Place the pan in your preheated oven until the top layer of mozzarella is melted to your liking. Serve hot.