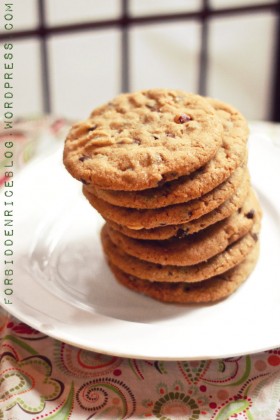 We just spent the weekend in the Bay Area, where my husband played a few shows with his band, Cast of Clowns. I do enjoy Ashland, where we live, but also appreciate and enjoy the time traveling elsewhere. Trips of these sort are always filled with amazing people, great music, good food, new scenery even when it's familiar, a degree of relaxation, and at the end, a desire to be home.
Usually I've got good judgment as far as grocery shopping prior to plans of being out of town. This past week wasn't the case. I had milk, cream, eggs, avocadoes, tomatoes, fresh herbs, broccolini, tempeh, and a number of other things that needed to be used up. So what's a girl to do? Of course bake a bunch of cookies, right, that will need to eaten up as well? Oy!
I have this new hobby. It's listening to backdated episodes of a HomeFries podcast done by Joy the Baker and Tracy Benjamin of Shutterbean while cooking, while photo-editing, while doing the dishes, while folding laundry. I'd say it's borderline obsessive. The fact that my husband will crack up while listen in too, pretty much on accident, and probably because it's unavoidable considering my fascination – adds to my happiness around the whole thing. Anyway. A couple months ago, I listened in and heard these hilarious ladies discussing "cookie butter." I hadn't heard of cookie butter before, but the need for it in my kitchen sounded necessary.
One day while walking with Silas in the grocery store, I happened up on jars of Biscoff cookie butter (next to the organic cereal bars and vegan this-and-thats, of course). In a neurotic glee, I said, "Si! Do you know what this is?! Cookie butter!" I'll tell you right now – it doesn't take a lot of convincing when you tell a 6-year-old that cookie butter is needed in your home.
Nearing the end of our jar of cookie butter and craving cookies, I thought, well – you can make peanut butter cookies, why not cookie butter cookies? Turns out you can make cookie butter cookies. And they're tasty. Especially with hazelnuts and chocolate chips.
Cookie Butter Chocolate Chip Hazelnut Cookies
Recipe adapted from Joy the Baker's
Peanut Butter Chocolate Chip Cookies

Ingredients:
½ cup unsalted butter (1 stick), room temperature
½ cup Biscoff Spread (Belgian Speculoos Spread)
½ cup light brown sugar
¼ cup granulated sugar
1 egg
1¼ cups all-purpose flour
½ tsp. baking soda
¼ tsp. baking powder
¼ tsp. ground nutmeg
¼ tsp. ground cinnamon
pinch of salt
¾ cup mini chocolate chips
½ cup chopped hazelnuts
an additional ¼ – ½ cup granulated sugar
Directions:
Preheat your oven to 350ºF and line your baking sheet(s) with parchment paper.
Use a stand mixer, fitted with a paddle attachment. If you don't have one, a hand-mixer will do. Beat the butter over medium speed until it's smooth and creamy (30 seconds – 1 minute). Add the biscoff spread (cookie butter) and mix for an additional minute. Add both sugars and beat for a few minutes, until well combined. (Don't over-mix.) Add the egg, beating for a minute. Scrape down the sides of the bowl.
Whisk together the flour, baking soda, baking powder, nutmeg, cinnamon, and salt. Over low speed, add the dry ingredients to the butter/sugar mixture, mixing just until the flour isn't visible (a minute or two). Mix in the chocolate chips and hazelnuts. The dough will be soft.
Pour the additional granulated sugar in a shallow dish. Scoop the dough one tablespoon at a time for each cookie, rolling it with your hands into balls, then roll them in the sugar. Place on your prepared baking sheets, leaving about 2 inches between each ball. Use a fork to press the dough ball down, creating a crisscross indentation.
Bake the cookies for 12 minutes. The cookies are done when lightly colored, but still slightly soft (they'll crisp while cooling). Cool on the baking sheet for a minute, before transferring to a cooling rack. Cool to room temperature.
Please follow and like us: