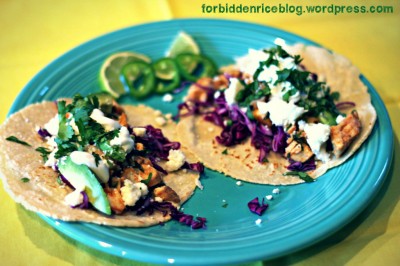 My summer eating habits are pretty terrible. For one, I still need coffee every morning. I am not hungry for breakfast – ever. Most days, lunch completely eludes me. Then all of a sudden it's dinner time. Hungry or not, I'll eat dinner with my husband. Weather and moods: the apparent determining factor for my hunger. This isn't smart or healthy. Don't be like me. There are the very random things that I'll consume on a whim: snap peas out of the garden while watering, baby romaine straight out of my very consistently producing lettuce tub, a banana or yogurt sometime near lunch time. Pieces of dark chocolate somewhere in there.
I've been living on homemade veggie burritos for the last couple days. If we weren't out of the massive 14-inch whole wheat tortillas we found earlier this week, I'd probably eat another one right now. Another thing I could eat that way – you know, consistently through the week, without tiring of it – is tacos. Homemade soft tacos. We'll make veggie tacos most of the time: home-cooked black or pinto beans, cheese, salsa, lettuce, sour cream, red or yellow toasted rice, chopped tomatoes, hot sauce, avocado. The beauty of homemade tacos is making your own tortillas, because then you aren't limited to the typical 4-inch corn tortilla. You can get them to 6, 7, 8 inches – for tacos that don't overflow so quickly! Homemade corn tortillas are my favorite, always. There are good brands of store-bought tortillas you can use and heat up, but I like the extra effort (and flavor) of making my own. Especially for these spicy, tasty, tacos.
I like veggie tacos a lot, but also love fish tacos. I don't remember the first time I had one, but I remember it must have been close to my fish-despising days, because even the sound of a "fish taco" sounded questionable. I ate it anyway. Golden fried cod, shredded cabbage, tomatillo salsa, sour cream – it was so good. About six months ago I had fish tacos prepared differently: no fried fish, rather, pan seared and spicy bite-sized pieces of moist, delicious, fish. A spicy slaw, tangy Mexican crema, chopped onions, and fresh cilantro. It was amazing. I decided I was going to make this at home, except I simply used purple cabbage instead of making a slaw. It was equally as good.
Spicy Fish Tacos
Makes approximately 12 fish tacos
 Ingredients:
1 pound skinless pacific red rockfish, de-boned
1-2 limes
1½ tsp. ground cumin
1 tsp. ground coriander
1 tsp. smoked paprika
1 tsp. ground cayenne pepper
½ tsp. ground black pepper
½ tsp. sea salt
½ tsp. granulated garlic
2 tbsp. fresh cilantro, chopped (plus more for serving)
1 tbsp. fresh oregano, chopped
2 tbsp. oil
12 small corn tortillas (store-bought or homemade)
chopped fresh cilantro
1 fresh jalapeno, seeded and diced
sour cream
cotija cheese (or any other mild, crumbly cheese)
about 1 cup shredded purple cabbage
1 avocado, sliced into thin pieces
Directions:
Place the fillets of fish in a large baking dish. Squeeze the juice from half of one lime over the fish. Sprinkle on half of the cumin, coriander, paprika, cayenne, black pepper, salt, and garlic. Flip the fillets over and squeeze the other lime half over the fish, then sprinkle on the remaining cumin, coriander, paprika, cayenne, black pepper, salt, and garlic. Let the fish sit for 5-10 minutes.
While the fish is resting, heat the oil in a large pan over medium-high heat. Once the oil is hot, add the fish fillets. Cook the fish for a couple minutes, then flip over and cook the other side until the fish just begins to flake. Use a spatula or fork to flake the fish apart into bite size pieces. Add the 2 tablespoons of fresh chopped cilantro and 1 tablespoon of fresh chopped oregano to the pan. Gently stir to evenly distribute everything. Reduce heat to low.
Warm the tortillas according to the package directions. To assemble, place a tortilla on your plate. Layer some shredded cabbage, then about 2 tablespoons of fish, 2 slices of avocado, a tablespoon or so of cheese, then a light drizzle of sour cream, a small pinch of cilantro and jalapenos. Serve with a slice of lime for squeezing on the taco right before eating. Enjoy!
Please follow and like us: