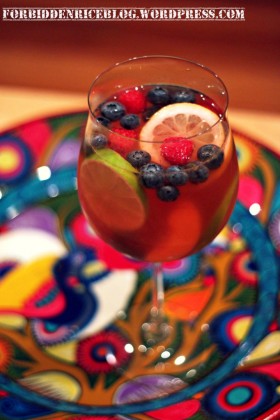 I've got a confession before delving into this recipe. Prior to making this sangria, my experiences of the cocktail were limited to a mock version my 6th grade teacher made for a class party once and the inexpensive jug of Carlo Rossi Sangria you can pick up at the grocery store. When I was in college, we'd buy these cheap jugs and drink them down with straws to accompany meals of equally inexpensive pizza. I know this exudes class and all, but I had my sights on a better version of "sangria," especially with the fresh fruits available this time of year.
Sangria is a wine-based punch, or drink, typically found in Spain and Portugal. It's filled with slices and pieces of fresh fruit, some form of sweetener, and often other forms of alcohol like brandy or vodka. Carbonated liquids may be added as well, or in place of the other alcohol. Sangria ingredients vary vastly from recipe to recipe. While red wine is often used, white wines may also be used.
As is often the case with my cooking, especially at the last minute, I like to use what's on hand. We recently had some house guests who left a giant bottle of chardonnay in our refrigerator. Not being a huge wine drinker, I knew I wanted to experiment with some kind of sangria using this cold white wine. When I saw fresh apricots, blueberries, and raspberries available I decided to experiment with those particular fruits. I didn't add any other alcohol, but also didn't miss it. This sangria was very light  and refreshing.
Apricot and Berry Sangria
Ingredients:
¼ cup peach honey (or whatever honey you like)
¼ cup blackberry syrup
1 large bottle white wine (I used a chardonnay, about 6 cups)
¾ cup fresh raspberries
¼ cup fresh blackberries
1 cup fresh blueberries
3 apricots, sliced into wedges
½ a lime
2 lemons
Directions:
In a large pitcher, whisk together the honey, blackberry syrup, and wine, until the honey is dissolved. Squeeze the lime and one of the lemons into the wine. Add the raspberries, blackberries, blueberries, and apricots. Use a wooden spoon to stir gently, making sure you don't break up the fruit. Slice the remaining lemon into rounds and add that to the pitcher. Refrigerate for several hours before serving (the longer, the better, as this allows the fruit to infuse more flavor).
Serve cold, making sure to include some of the fruit in each served glass.