It seems many cultures offer some form of pulled pork. In Hawaii where I grew up, there's kalua pig: pork rubbed with sea salt, wrapped in ti leaves, traditionally cooked in an underground oven (imu), and then shredded, creating a very smoky tasting, super moist meat. In areas like Tennessee, pulled pork is often served with a tomato-based sauce, whereas in North Carolina you've got cuts of meat in a vinegar-based sauce, or no sauce at all. If in Italy, you can find porchetta–roasted pork using various herbs and salt. And when it comes to the Mexican variant, there is carnitas: extremely flavorful pork, moist, rich, tender, and also crisped on the outside. I am not sure I've ever had carnitas before, but have often seen them on the menu of taquerias and taco trucks.
My husband mentioned he was having a band rehearsal at our house and asked if I'd be into feeding everyone afterwards? My initial response was YES! Because cooking for people is fun and often lends some new space for coming up with new recipe ideas. We decided on homemade tacos, buffet style. I knew I wanted to make homemade corn tortillas, "refried" pinto beans, whole black beans, roasted poblano guacamole, various salsas, crema, cheese, and Mexican rice. But I also decided it would be fun to create a filling, vegetarian meat-like substitute that none of these folks had probably had before. Ground veggie taco meat? Nah. Chunks of grilled non-chicken? Nope. Protein-rich, spicy, seitan seasoned with semi-traditional flavor? Oh yes.
Last week, I attempted a homemade seitan that could be shredded like pork and had a smoky, pork-like flavor, minus the meat. Typically I've simmered my homemade seitan, always ending up with a consistency more soft than I like. So this last time I decided to steam the wheat-meat. The results were much more firm and the taste was close to what I'd hoped: smoky, peppery, and far from soy-rich in flavor. I couldn't "shred" it like real meat, but found chopping it up wasn't too far off. I decided to use a similar recipe for pork-style seitan, but also wanted to include some Mexican flavor and create a "carnitas-style" sauce to marinate the "meat" in.
Since seitan is a little chewier than real meat, the consistency is slightly different than non-vegetarian carnitas. But the flavor of this seitan is great. I let the steamed seitan marinate overnight to create a fuller, richer flavor. While this recipe takes a little bit of time, it's well worth it. One of my husband's band-mates said he was certainly sold and ate a fair share of tacos to reiterate. You won't be disappointed, either!
Homemade Seitan Carnitas
Ingredients:
For the seitan:
1½ cups vital wheat gluten
1½ tsp. salt
1 tsp. ground black pepper
1 tsp. fresh oregano, chopped fine
½ tsp. fresh marjoram, chopped fine
½ tsp. smoked paprika
½ tsp. chili powder
½ tsp. ground cumin
¼ tsp. ground cloves
½ cup warm water
2 tbsp. adobo sauce (from 1 can chipotle peppers)
2 tbsp. pure maple syrup
2 tbsp. tamari or soy sauce
1½ tbsp. worcestershire sauce
1 tbsp. apple cider vinegar
1 tbsp. ketchup
1 tbsp. liquid smoke
1 tbsp. pineapple juice
5 cloves garlic, peeled and slightly smashed
¼ yellow onion, peeled
2 bay leaves
small bunches of fresh oregano and marjoram
1 stick Ceylon cinnamon, broken in half
For the sauce:
2 cups warm water
½ cup light beer
1 vegetarian no-chicken bouillon cube
2 chipotle peppers in adobo sauce, minced
2 tbsp. tamari or soy sauce
2 tbsp. tomato paste
½ tsp. ground cumin
½ tsp. ground black pepper
¼ tsp. salt
¼ tsp. dried oregano
¼ tsp. cayenne pepper
1 tbsp. arrowroot powder
2 tbsp. warm water
2 tbsp. olive oil
Directions:
In a large bowl, whisk together the vital wheat gluten, salt, black pepper, fresh oregano and marjoram, smoked paprika, chili powder, cumin, and cloves. In a measuring cup or another bowl, whisk together the warm water, adobo sauce, maple syrup, tamari, worcestershire sauce, apple cider vinegar, ketchup, liquid smoke, and pineapple juice. Add the wet ingredients to the above dry ingredients, stirring until a ball of dough is formed. Allow the dough to rest for about 5 minutes.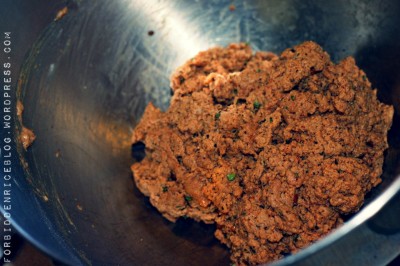 Prepare a large piece of foil about 12-inches long. Place the smashed garlic, onion, bay leaves, fresh oregano and marjoram, and cinnamon stick in the center of the foil. Use your hands to form the dough into a rectangle, about 6½ by 4 inches (1½ inches thick). Place the dough onto the garlic, onion, etc. Fold the sides of the foil inwards, around the seitan. Then fold in the top and bottom of the foil, pinching them closed and creating a neat foil packet. Place the packet into a steamer and steam for 60-75 minutes. Allow the seitan to cool in the refrigerator for a few hours.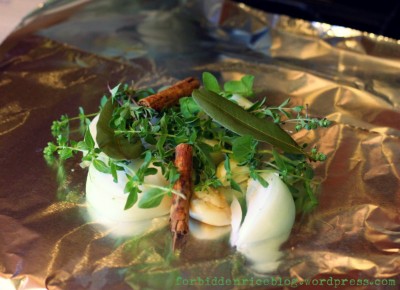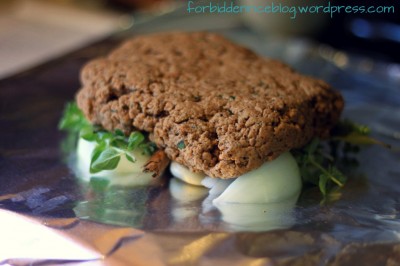 Once the seitan is cooled, cut it up into thin, bite-sized pieces (I use kitchen scissors to create very thin pieces about 1-inch long). In a medium sized pot, prepare the sauce by stirring together the warm water, beer, bouillon, minced chipotle peppers, tamari, tomato paste, cumin, peppers, oregano and salt. Bring to just under a boil. Combine the arrowroot powder and water, whisking until fully dissolved. Whisk the arrowroot mixture into the sauce, then bring to a low-boil. Cook for 10-15 minutes. Add the cut up seitan to the sauce, stirring to coat everything evenly. Pour into a dish and refrigerate overnight (at least 8 hours).
When ready to prepare for eating the following day, heat the oil in a large (preferably cast iron) pan over medium-high heat. Add the marinated seitan and sauce to the pan, cooking until the seitan is browned and most of the sauce has been absorbed (15-20 minutes). For the last minute or two, turn the heat up to high and stirring frequently, allow some of the pieces of seitan to crisp without burning. Serve as you would regular carnitas: on their own, as a filling for tamales, tacos, burritos, etc.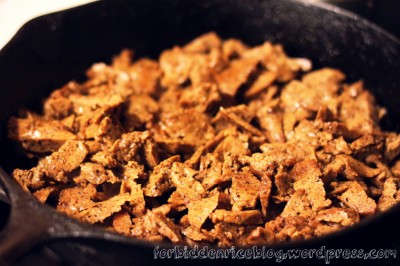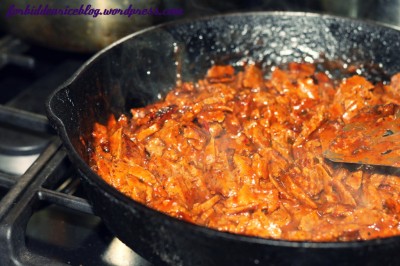 Please follow and like us: