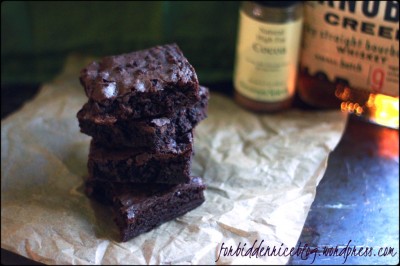 I've got to admit, I like my booze. I also like my dessert. Not in an excessive, over-the-top, drunkard, gluttonous sort of way. But… thoroughly. I try to make a point of creating desserts no more than once a week, though not always successfully. When we've got company for dinner, inevitably I wind up making something sweet to finish the meal. I'm not sure where these brownies came from. I didn't intend on bourbon in my chocolate. In fact, I'd planned on "Mexican spice brownies," featuring Mexican chocolate and the ceylon cinnamon I use in my homemade horchata. But after an already long day and facing cooking a full dinner for 8 people, I opened up the cabinet housing our liquor and discovered a bottle of Knob Creek bourbon. After realizing I'd also forgotten to pick up my Mexican chocolate at the grocery store, I poured a shot, then proceeded with curiosity into my planned brownie recipe.
The following resulted with happy, tasty, fudgy results. The only time I remember being able to taste the booze in my dessert was at an Italian restaurant when I was 18, where I'd ordered the tiramisu and distinctly remember the heavy flavor of alcohol and espresso. It was delicious and not just because I was underage for consuming alcohol on its own. I was worried that the bourbon in these brownies wouldn't hold up to the chocolate, but as it turned out, there was no reason to worry. They were more than slightly bourbon-flavored, without being overwhelming. I suggest using a good quality bourbon though, since you can actually taste the alcohol.
Fudgy Bourbon Brownies
yields one 9 x 13″ pan of brownies

Ingredients:
2 sticks unsalted butter
1½ cups granulated sugar
½ cup light brown sugar, packed
4 eggs, lightly beaten
½ cup plus 2 tbsp. unsweetened cocoa powder
1 cup all-purpose flour
½ tsp. baking powder
¼ tsp. salt
1½ tsp. vanilla extract
¾ tsp. ground ceylon cinnamon
¼ tsp. ground ginger
pinch of fresh nutmeg
1/3 cup good quality bourbon
Directions:
Preheat the oven to 350° F. Line a 9 x 13" pan with parchment paper so it hangs over at least two sides by an inch or two. Lightly brush with oil.
In a medium-sized pot, melt the butter over medium-high heat. Whisk in the sugars, stirring until fully incorporated. Remove the pot from the heat, then quickly whisk in the eggs (work fast so they don't cook – nothing worse than scrambled egg brownies!) and  vanilla.
In a separate bowl, sift together the cocoa powder, flour, baking powder, salt, cinnamon, ginger, and nutmeg. Stir the dry ingredients into the wet, stirring just until incorporated. Stir in the bourbon then pour the batter in your prepared baking pan. Bang the pan on your counter a couple times to let some of the air bubbles escape. Bake for 30-35 minutes, or until a toothpick inserted in the center of your brownies comes out clean or with few crumbs attached.
Allow the brownies to cool for about 15 minutes, then run a knife on the sides touching the pan, pull out by the parchment paper overhang and place on a cooling rack. Either cool to room temperature or if impatience gets the better of you, cut and serve while warm! :)
Please follow and like us: