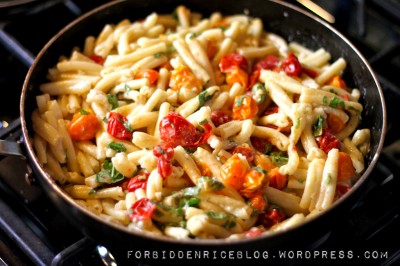 My appetite has gone haywire over the last couple months. Not hungry, not hungry, not hungry, ravishingly hungry after a couple weeks, though only around 10 o'clock at night. Summer is nearly always like that for me: the warm days somehow outweigh my desire for food. Winter is another story all around. It makes things difficult at times, being someone who thoroughly enjoys cooking, creating meals, and placing my creativity in the kitchen. However, summer offers such pretty, fresh ingredients it's not hard to convince myself to make something delicious to feed everyone when necessary.
While I'm not usually a fan of raw tomatoes, the turnoff always being the seeds encased in that goopy, mushy slimy mess they're in. Its taken time, but I'm definitely learning to enjoy tomatoes. In the past, we've grown them, ending up with tons of bright red 'maters. Last year we had a bunch of tomatoes, but with the abnormally cold stretch into summer, we didn't have single red tomato by the time fall came. I don't mind buying tomatoes this time of year, especially locally grown. Right now, cherry tomatoes are all over the place and they sure are gorgeous! Yellow, bright red, green, orange… and so very sweet.
I recently saw a recipe for roasted cherry tomatoes and about keeled over with excitement. While I've seen many recipes for slow-roasted cherry tomatoes that take hours in the oven at low heat, who wants to turn their oven on for three hours in the middle of summer?  Thirty minutes of oven time is worth it for these, even in the middle of summer. While you could easily eat these roasted tomatoes on their own, I added them to pasta with some fresh basil, goat cheese, feta, and romano cheese, resulting in a very creamy main dish. This pasta is actually delicious cold as well, the following day.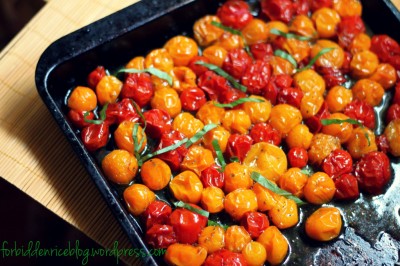 Creamy Three-Cheese Pasta with Roasted Tomatoes
Ingredients:
2 pints cherry tomatoes, stems and leaves removed
2 tbsp. olive oil
1½ tbsp. balsamic vinegar
salt and pepper
3 cloves garlic, minced
½ cup fresh basil, chopped
1 tbsp. unsalted butter
¼ tsp. red chili pepper flakes
¼ cup pecorino romano cheese
3½ oz. feta cheese, crumbled
4 oz. goat cheese
1 pound pasta (penne, spirals, strozzapreti)
2 tbsp. heavy cream
Directions:
Prepare the tomatoes: Preheat your oven to 400° F. Place the tomatoes in a single layer on a large rimmed baking sheet. Drizzle the tomatoes with the olive oil and balsamic vinegar. Generously sprinkle on some salt and pepper. Roast for 30 minutes, or until the tomatoes turn wrinkly and begin to pop from the heat. Remove from heat and allow the tomatoes to cool at room temperature while you prepare the pasta.
Prepare the pasta noodles according to the package directions (boiling in salted water). While the pasta is cooking, get the sauce started. Melt the one tablespoon of butter over medium heat in a large saucepan or pot (all your pasta will eventually go in here, so choose something large enough). Sauté the garlic, chili flakes, and about a quarter of the fresh chopped basil for about 10 minutes, until the garlic is tender.
Drain the cooked pasta, reserving about one cup of the cooking liquid. Add the pasta to your sautéed garlic, turning to evenly coat the noodles. Add in the roasted tomatoes (including their juices), pecorino romano cheese, feta, about half of the goat cheese, and the heavy cream. Stir well, folding all the ingredients in together and making sure the pasta gets coated evenly. Add in the remaining chopped basil. If the pasta doesn't seem creamy enough, you can add a little of the reserved pasta cooking-liquid (a couple tablespoons at a time). Add in the remaining goat cheese right before serving.
Please follow and like us: