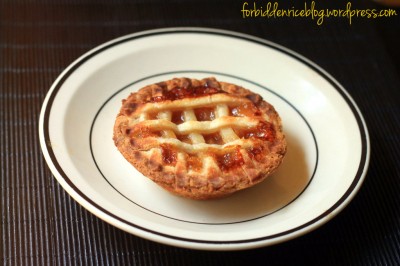 I enjoy peaches, especially this time of year when the summer heat so perfectly ripens them. Peaches themselves don't need many frills or additives to make them attractive. Wandering through the grocery store or farmers market, I love spotting these soft, fuzzy gems, heavy with sweetness and a promise of nothing short of delicacy. The following pie doesn't add much embellishment aside from the fruit. I do like fresh nutmeg with the sweetness of these peaches.
Last month, I discovered Sourdough Surprises – a group dedicated to using their personal sourdough starters for recipes other than sourdough bread. This month's theme was sourdough pies. I had not even heard of a sourdough pie before seeing the theme. I thought about the sweetness of good peaches and the notable sourness of sourdough, and decided that the ratio of crust to filling in my current Babycakes mini-pie craze, would perhaps work perfectly.
The results came with a not overly sweet peach filling, dense with fruit, and a flaky, buttery crust featuring noticeable hints of nutmeg. These very quickly became my favorite mini-pie thus far. As with my previous mini pies, I'm nearly positive this can be made into a larger, single pie. I've not tried it myself yet, though.
Mini Sourdough Peach Pies 
Yields approximately 10-12 mini pies
Ingredients:
For the crust:
1½ cups all-purpose flour
1 tbsp. powdered sugar
¾ tsp. salt
¼ tsp. fresh ground nutmeg
¾ cup unsalted butter (1 1/2 sticks)
¾ cup sourdough starter 
For the filling:
4-5 large ripe peaches (about 4 cups total when diced)
water
½ cup granulated sugar
¼ tsp. ground cinnamon (Ceylon preferred)
a pinch of freshly ground nutmeg
½ tsp. vanilla extract
2 tbsp. cornstarch
1 tbsp. water or reserved peach juice
Directions:
Prepare the dough for your crust: In a medium sized bowl, whisk together the flour, powdered sugar, salt and nutmeg. Cut in the butter (I like to use a box grater to grate the butter into the dry ingredients), until you have a bowl filled with very coarse crumbles. Add in the sourdough starter, stirring until a ball of soft dough comes together. Wrap in plastic wrap and refrigerate at least an hour, no more than 24.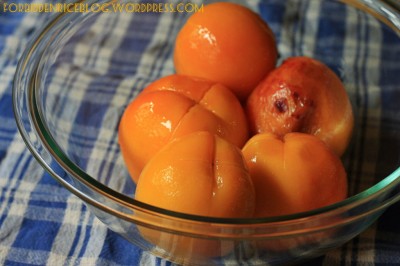 Peel the peaches: Bring a large pot of water to a boil (large enough so the peaches can be completely submerged). Prepare a bowl of ice water and set aside. Cut an X into the bottom of each peach, about 1-inch by 1-inch, not very deep.  Lower the peaches into your pot of boiling water. For ripe peaches, boil for 20-30 seconds, until the skin begins to loosen where you've cut. For less ripe fruit, boil 30-40 seconds, up to 1 minute. Immediately remove the peaches to your prepared ice bath with a slotted spoon, then a clean dish towel. As soon as the peaches are cool enough to handle, remove the skins, then set the fruit aside in a bowl.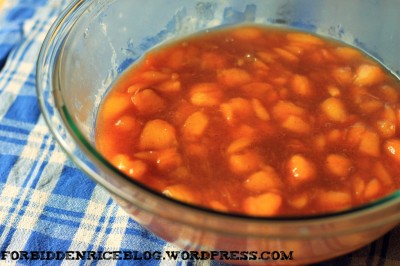 Prepare the filling: Cut the peeled peaches into bite sized pieces (reserving the juice that you'll find at the bottom of the bowl the peaches went into after they were peeled), placing them in a small pot. Add the granulated sugar and turn the stove up to medium-high heat. Cook, occasionally stirring, until the sugar has dissolved (3-4 minutes). Stir in the cinnamon, nutmeg, and vanilla. In a small bowl, mix together the cornstarch and reserved peach juice (or water if you didn't end up with enough juice). Whisk the cornstarch mixture into the peaches, increasing the heat to high. Continue stirring for 1-2 minutes, until the peaches thicken. Remove from heat and allow to cool completely.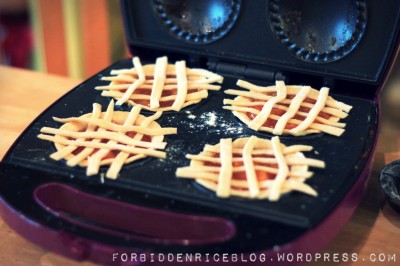 Prepare your pies: Remove your dough from the refrigerator and set aside about 1/4 of it. Roll out the remaining dough on a lightly floured surface, to about 1/8-inches thick. Use the larger Babycakes cutting tool to cut as many dough rounds as possible. Roll out the dough scraps for a few additional rounds. Set the cut crusts in the fridge for a couple minutes. Meanwhile, roll out the reserved dough (and leftover scraps) to about 1/16-inch thick and cut into 1/4-inch wide strips (about 5 or 6 inches long). You'll need about 8 strips per pie.
Brush the wells of your pie maker with oil, then press 4 dough rounds into the wells. Fill each well with 3-4 tablespoons of peach filling (be generous). Arrange the strips of dough you cut over each pie in a criss-cross or lattice pattern (about 4 strips in each direction). Trim the excess dough. Close and bake for 10-12 minutes, until the crusts are crisp, golden, but not burnt. Cool before serving. Top with fresh whipped cream or vanilla ice cream if you want!