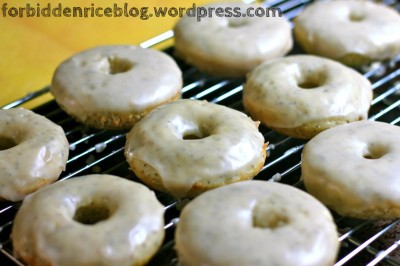 Today my husband had to put in a full day's work, despite it being Saturday. So Silas and I had a morning and early afternoon to ourselves. We started off with cinnamon apple oatmeal, orange juice that Silas insisted needed to be mixed with vanilla almond milk (to make it like a creamsicle, duh), and a flag football game… followed by pizza delivery for lunch. It's a recommended way to spend a Saturday start. We then decided to walk to the park to take in some fall  colors. On our way there we stopped for cupcakes (and free comic books from next door to the cupcake shop): Silas's choice consisted of a chocolate cupcake, bright blue vanilla buttercream frosting, sprinkles, and an angry bird bomber ring to top things off. I opted for a lavender cream, white chocolate ganache topped cupcake (which was light, delicious, and perfectly lavender-y).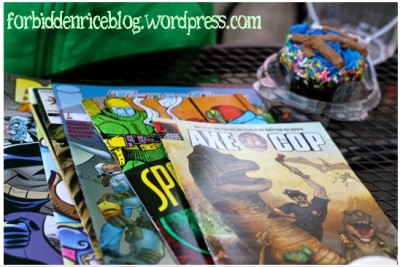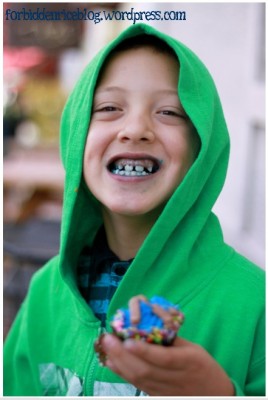 While I am surely fond of chocolate, many times I'll prefer sweets that have some tartness. Or something other than rich, heavy flavors. Lemon bars are my favorite, by far. I've always had a fondness for lemon flavored things: lemon muffins, lemon cookies, lemon cream wafers, lemon poppy seed pancakes, lemon poundcake… I'd say it's a problem, but really its always been enjoyable… The following recipe is a culmination of various doughnut recipes I've seen scattered around the internet. These doughnuts are very light, airy, and a lovely combination of tart and sweet. The glaze really adds a great amount of lemon flavor with each bite.
Baked Lemon Poppy Seed Doughnuts with Lemon Glaze
Yields about one dozen doughnuts
Ingredients:
¾ cup buttermilk
2 tbsp. sour cream
1½ cups all-purpose flour
1½ tsp. baking soda
½ tsp. sea salt
4 tbsp. butter, melted
½ cup cane sugar
the zest from one lemon
1 tbsp. poppy seeds
¼ tsp. vanilla extract
¼ cup fresh lemon juice
1¼ cups confectioner's sugar
1 tsp. coconut oil
2 tbsp. fresh lemon juice

Directions:
Preheat your oven to 425° F. Lightly grease a regular sized baked doughnut pan (two if you've got em, for 12 total doughnuts).
In a medium sized bowl, whisk together the buttermilk, sour cream, melted butter, vanilla and lemon juice. Stir in the flour, baking soda, salt, and sugar until you have a semi-thick batter formed. Stir in the lemon zest and poppy seeds until evenly dispersed. Spoon batter into each well in the doughnut pan, until about 2/3 full.
Bake for 6-8 minutes, keeping a close eye on the doughnuts to make sure they don't burn. The doughnuts are ready when they're golden in color, spring back when lightly touched, and a toothpick inserted towards the center of the doughnut comes out clean. Let the doughnuts rest in the pan a few minutes before removing to a cooling rack.
While the doughnuts are in the oven, prepare your glaze. Melt the coconut oil in a small saucepan over medium-low heat. Whisk in the lemon juice and confectioner's sugar once the coconut oil is fully melted. Keep on low heat until ready to use (it will thicken as it cools, making it increasingly difficult to dip your doughnuts).
Dip your preferred side of the baked doughnuts into the glaze, then return the doughnut to your cooling rack until the glaze hardens (10 minutes). Try not to eat the whole dozen all at once, but enjoy!
P.S. I am glad I married someone  a karate-chopping-ninja who apparently does not mind indulging in my need to make baked doughnuts at least once a week.