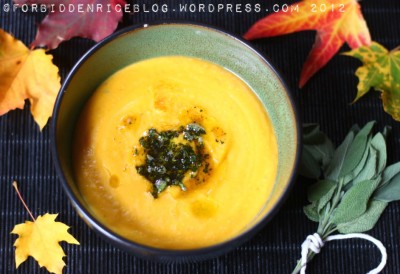 I have to admit something. I do not get super wrapped up in TV shows or trendy gossip. There aren't any TV programs I eagerly wait for week-to-week (possibly because we don't have cable). I do, however, have one thing I look forward to every single Thursday. This podcast done by Joy Wilson from Joy the Baker and Tracy Benjamin from Shutterbean. It's ridiculous. In a sincere, real life, smart lady, hilarious sort of way. My husband makes fun of me for listening at times. Other times, I'll be listening to an episode (like this gem I somehow missed when I first started listening to the podcast) and he'll be in another room and start cracking up at the things these ladies say, too.
Last week, Joy and Tracy did a podcast featuring a game using Google auto-fill (you know – you start typing in the Google search bar and you quickly receive suggestions for what the rest of your search terms will be) to answer some necessary (totally unnecessary) life questions. I've found myself checking what sort of questions Google thinks I may want to know the answers to beginning with "Why are…" or "I like to smell…" or "Is it illegal…" I've got to say, Google, I have never really wondered why manhole covers are round, or thought about enjoying the smell of other peoples farts (or my dog's ears?!), or if it's illegal to drive without shoes on. It perplexes me that other folks around this planet are concerned about such things.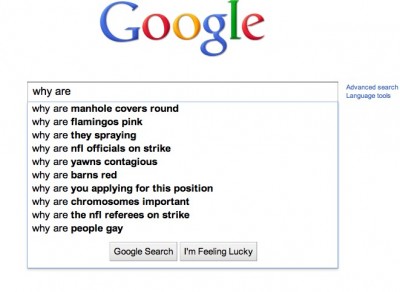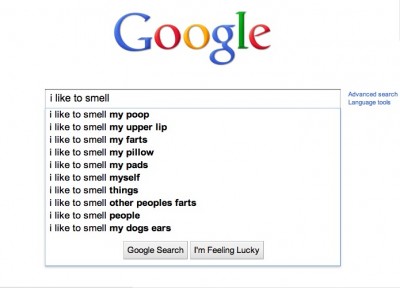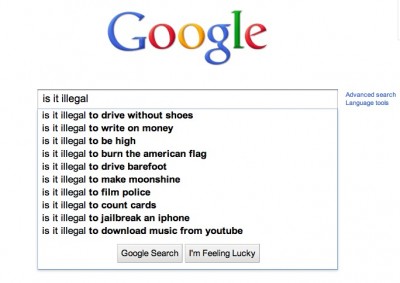 The other internet nerdy thing I do (a lot) is look through the search terms people use to find my blog. Some terms are reasonable, totally expected, natural I'd even say:  vanilla pancakes (top search term, often on Sundays), vegetarian red beans and rice, forbidden rice blog, sourdough cinnamon rolls… Other terms, however, make me laugh out loud. These are my top favorites of all time: spongy looking Filipino food, black lady carrot top, what is up with this vegetarian pot pie?, eating pants, and.. someone getting smashed by pancakes. Really, world?
In reality, none of these things have to do with the recipe you're about to get. I realize, also out of nerdiness, that if I post this soup recipe and someone were to stumble upon my blog, they'd think that for the last couple of weeks all we eat around here is soup and baked doughnuts. I suppose there are worse things you could live off of… This soup is very hearty, rich with fall flavor. Butternut squash is easy to find this time of year. The sweetest of fall squashes, it pairs nicely with apples, which are also easy to find right now and offer another layer of sweetness. I used Gravensteins, but you can use whatever type you prefer. The sage brown butter is slightly nutty in flavor and stirred into your bowl of soup right before you eat it, creates an enjoyable meal. I suggest you make a pot while listening to the Joy the Baker podcast. Seriously.
Roasted Butternut Squash Soup with Sage Brown Butter
Yields a gigantic amount of soup
Ingredients:
one 4–5 pound butternut squash
1 stick of unsalted butter
1 medium leek, hard green parts removed, then chopped thin
1 large yellow onion, chopped
3 cloves garlic, minced
2 tbsp. fresh sage, chopped
1 pound apples, cored, seeds removed, then cut into 1-inch cubes
5 cups No-Chicken or vegetable broth
1 cup half and half
¾ tsp. ground ginger
olive oil
salt and pepper
6 tbsp. unsalted butter
¼ cup fresh sage, minced
Directions;
Preheat your oven to 400° F. Peel the butternut squash, then dice into one inch cubes. Here are some great instructions for this! Place the cubed squash on one or two large baking sheets (I needed two). Drizzle generously with olive oil and a sprinkling of salt and pepper. Bake for 25-35 minutes, until the squash is browned on the edges and tender.
While the squash is in the oven, melt your stick of butter in a large stock pot, over medium heat. Once the butter has melted, add the leeks, onion, garlic, and two tablespoons of fresh chopped sage. Stir to evenly distribute everything. Cook until the leeks are tender and the onions are translucent (7-10 minutes).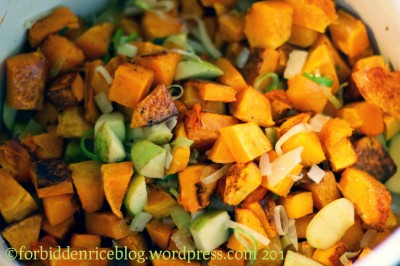 Add the cubed apples to the mixture, along with the roasted butternut squash. Add in the broth. Stir to evenly combine everything. Remove from heat.
Blend the soup in your food processor or high speed blender, until smooth. Work the soup in batches to accommodate your appliances. (I had to work half the soup at a time, placing the pureed soup in another stock pot.) Once you've pureed all of the vegetables and apples and returned them to a stock pot then stir in the half and half, ginger, and additional salt and pepper if you'd like. Heat the soup back up over medium-low heat.
While the soup is reheating, melt the 6 tablespoons of butter in a small saucepan, over medium heat. Whisk the butter frequently so it doesn't burn. Once the butter has melted, it will get foamy, then subside. Watch the butter carefully at this point, as you can get from golden brown to burnt before you know it. Once the butter has turned a nice golden brown, you'll notice darker specks forming on the bottom of your pan. Remove the butter from the heat, placing your pan on a cool surface (to keep it from cooking further). Stir in the fresh sage and allow the butter to rest for 10 minutes before using.
Serve the soup in bowls, each topped with about one teaspoon of brown sage butter drizzled on top.