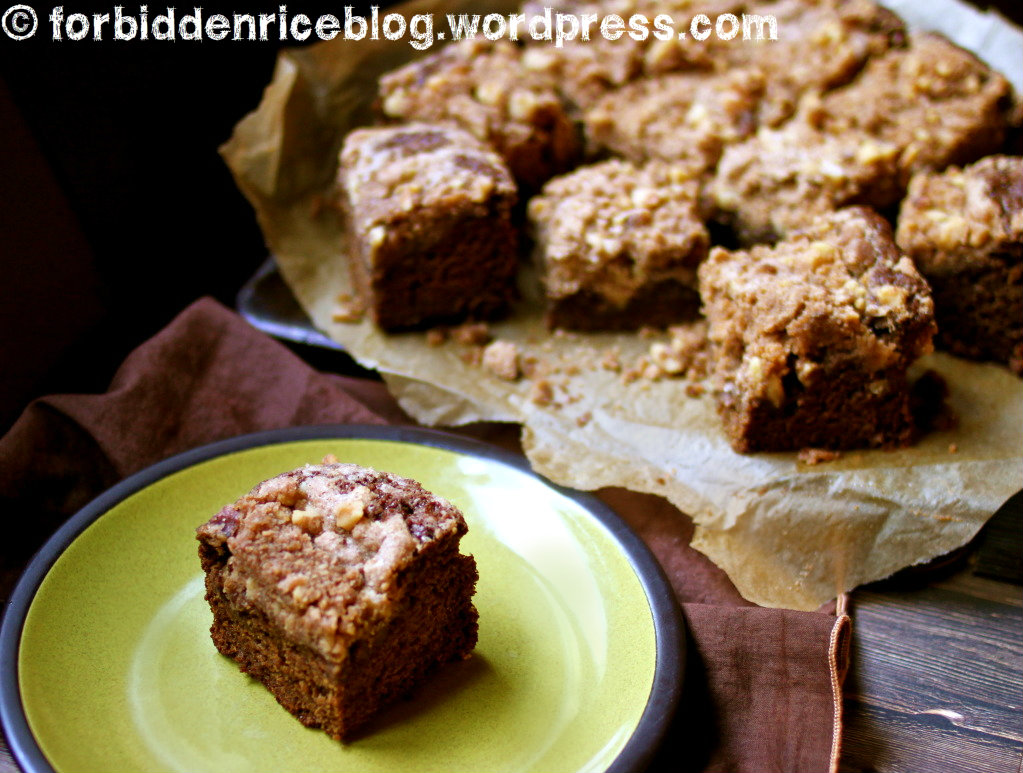 It's not often, but sometimes we wind up with leftovers that easily take care of dinner plans. I usually don't mind at all. Especially for dishes like soups, stews, lasagna… Things that taste better the next day, anyway. On the nights we don't have kids in the house, my husband and I will opt for whatever's easy for dinner. The other night, my husband had a music rehearsal scheduled for right around dinner time. We had nearly a dozen leftover enchiladas, homemade beans, and rice leftover from the night before. Since neither of the kids were here (not that either of them would object to enchiladas; it's a staple around this house), Craig said he'd just heat up a plate of last night's dinner, before practice.
So that left Julie not having to think about dinner for anyone else for the night. I started editing photos while drinking a beer. I wasn't really hungry for dinner yet and after a second beer, nothing savory sounded very good. The only thing that really sounded delicious was gingerbread. I scoped out recipe after recipe, trying to find something to make to satisfy my craving. I saw a lot of cookie recipes, but remembered that I really don't care for hard, crunchy gingerbread – especially when most recipes required the dough to sit in my refrigerator for at least two hours before baking. The only gingerbread cookies I ever genuinely couldn't get enough of are my grandmother's and at the moment, I don't have her recipe, either.
Then I came across this recipe from Julie at Willow Bird Baking for a make-ahead coffee cake that's topped with a cranberry pecan streusel. Of course I hadn't started this two days previous, so I did a little modifying. I didn't have cranberries that had soaked for two days. I didn't have any pecans laying around. So, I opted for chopped walnuts and no cranberries. The result was a deliciously moist, not overwhelming spicy gingerbread cake. I totally misread the original recipe and didn't bake the cake at all before adding the streusel topping. Everything still seemed to work out just fine.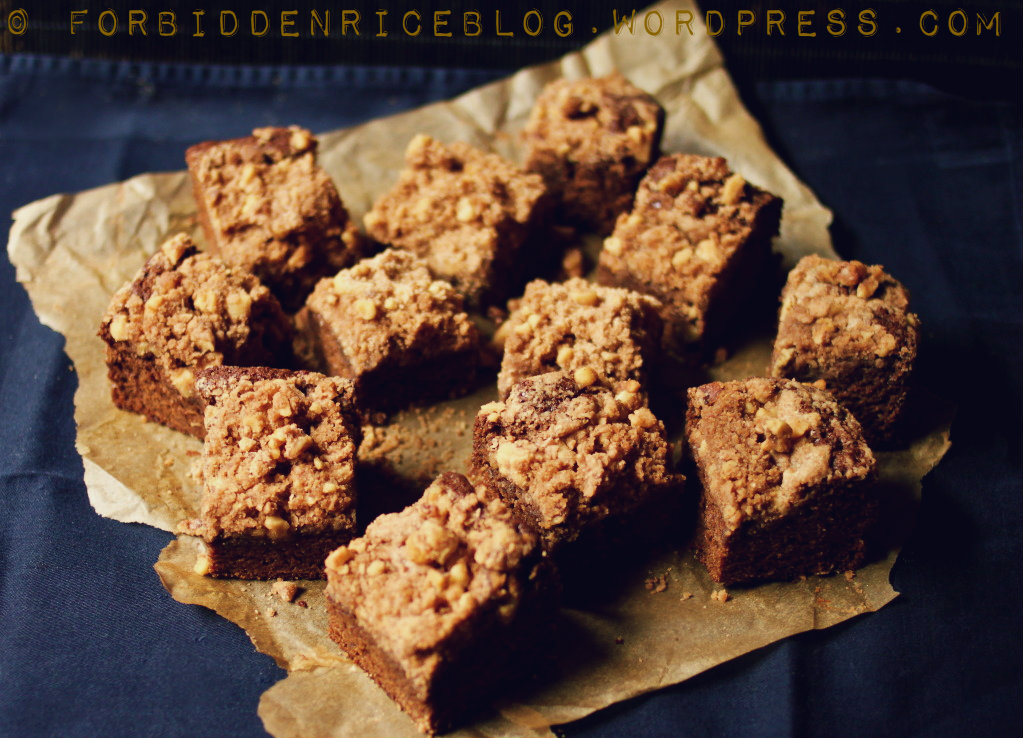 Gingerbread Coffee Cake
Makes one 9 x 9-inch cake
Ingredients:
For the cake:
2 cups all-purpose flour
1 tsp. baking soda
½ tsp. baking powder
½ tsp. salt
1½ tsp. ground cinnamon
1½ tsp. ground ginger
¼ tsp. fresh ground nutmeg
¼ cup unsalted butter, softened
½ cup light brown sugar, packed
2 eggs, room temperature
½ cup unsulphured molasses
½ cup sour cream
½ cup whole milk

For the topping:
¾ cup all-purpose flour
1 tbsp. ground cinnamon
¾ cup light brown sugar, packed
6 tbsp. very cold butter
1 cup chopped walnuts and/or pecans
Directions:
Preheat your oven to 350°F. Lightly grease a 9×9-inch pan, then line with parchment paper, so that the paper hangs slightly over the pan's sides. Lightly grease the parchment paper and dust with a little flour.
In a large bowl, mix together the flour, baking soda, baking powder, salt, ground cinnamon, ground ginger, and fresh ground nutmeg. Set aside.
In the bowl of your stand mixer (or in a large bowl), beat the butter until light. Add the brown sugar and cream together until the mixture is light colored and slightly fluffy (40 seconds-1 minute).
Beat in the eggs, one at a time. Once the eggs have been fully incorporated, beat in the molasses, sour cream, and milk, just until all the ingredients are combined.
Add the dry ingredients to your wet ingredients, mixing until just incorporated. Pour the batter into your prepared baking dish, then rap the pan on your countertop a couple times, to release some of the air in the batter.
In a small bowl, prepare the topping by mixing together the flour, cinnamon, brown sugar, and chopped nuts. Once the ingredients are well mixed together, add the butter. Use your fingers to break the butter into small chunks, evenly distributed through the flour/sugar mixture. Evenly pour the topping all over your cake batter.
Bake for 35-45 minutes, or until a toothpick inserted into the center of your cake comes out clean (or with a minimal amount of crumbs attached). Allow the cake to rest 5 minutes outside of the oven, before lifting the whole thing out of your baking pan (easily accomplished thanks to the parchment paper overhang!) to a cooling rack. Serve while warm for best flavor. Wrap leftovers with plastic wrap and the cake can sit out for 3-4 days. Wrap and store in the fridge for up to a week.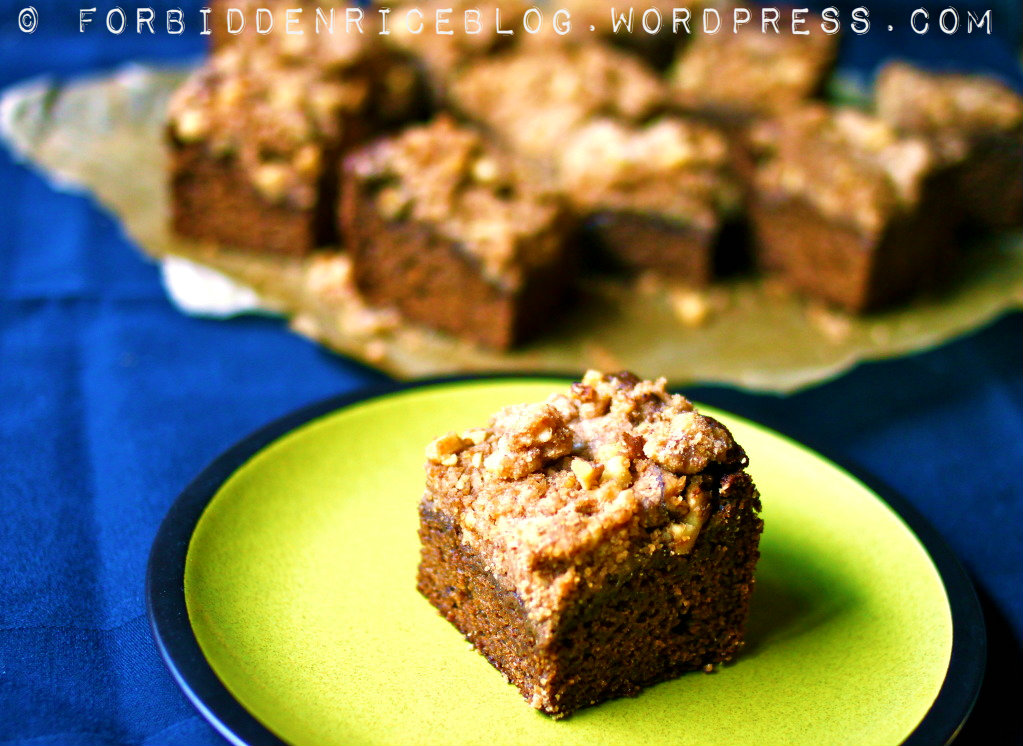 Please follow and like us: