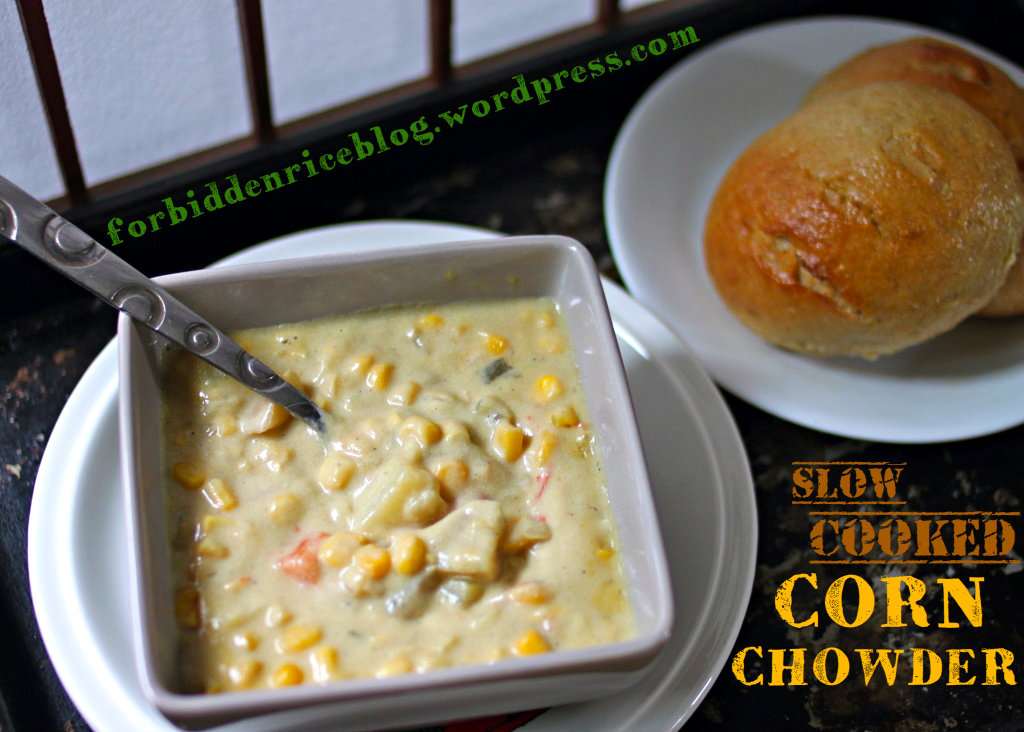 I've been enjoying our crock pot since Christmas. For one-dish meals, it works wonders, whether in the morning or at dinner time. Every new recipe is a brand new adventure. Sometimes it doesn't really work out how I'd like (like when I made polenta in the crock – only to discover I'd rather stand at the stove and stir it into creamy, delicious, goodness instead of the more clumpy version the slow cooker allows). Sometimes the outcome tastes better than what I imagined at first – like this blueberry coconut steel cut oats recipe.
Recently I decided to attempt corn chowder in the crock. I decided to precook some of the vegetables on the stove with the spices that would eventually make it into the chowder anyway. If you're wanting to merely throw this together and forget about it, like a crock pot is good for, you're welcome to.
This chowder was very creamy, with the sweetness familiar to corn chowder. I used Yukon gold and red potatoes so that they'd hold their shape while the chowder cooked, rather than fall apart like a russet would. Do whatever you want. If the chowder thickens up more than you like, simply add a little more broth or milk. This is an easy, comforting meal perfect for the drawn out cold winter days and nights we've been having!
Slow Cooked Corn Chowder
Serves 6-10.
Ingredients:
2 tbsp. olive oil
1 medium leek, thinly sliced (hard green parts removed)
1 large onion, diced
6-8 cloves garlic, minced
2 large stalks celery, diced
1 red bell pepper, ribs and seeds removed, diced
2 large carrots, cut in half, then sliced in half moons
2 tsp. sea salt
2 tsp. ground white pepper
½ tsp. smoked paprika
½ tsp. ground cumin
4 cups diced Yukon gold and/or red potatoes
3 cups sweet corn kernels (frozen is A-OK)
4 cups No-Chicken Broth
2 cups milk (preferably whole milk)
1 cup heavy cream
salt and pepper, to taste
Directions:
In a medium-sized skillet, heat the oil over medium-high heat. Add the leeks, onion and garlic, cooking until the onion is translucent and the leeks completely tender (5-7 minutes). Add the diced celery, bell pepper, carrots, two teaspoons of salt, pepper, smoked paprika, and cumin, stirring to evenly combine everything.
Pour the contents of the skillet into your crock pot, along with the diced potatoes and corn, broth, milk, and heavy cream. Stir everything to combine the ingredients well. Cover and turn the crock pot on high for 5-7 hours. Stir the chowder, then taste and add more salt and pepper to your liking.
Serve hot.