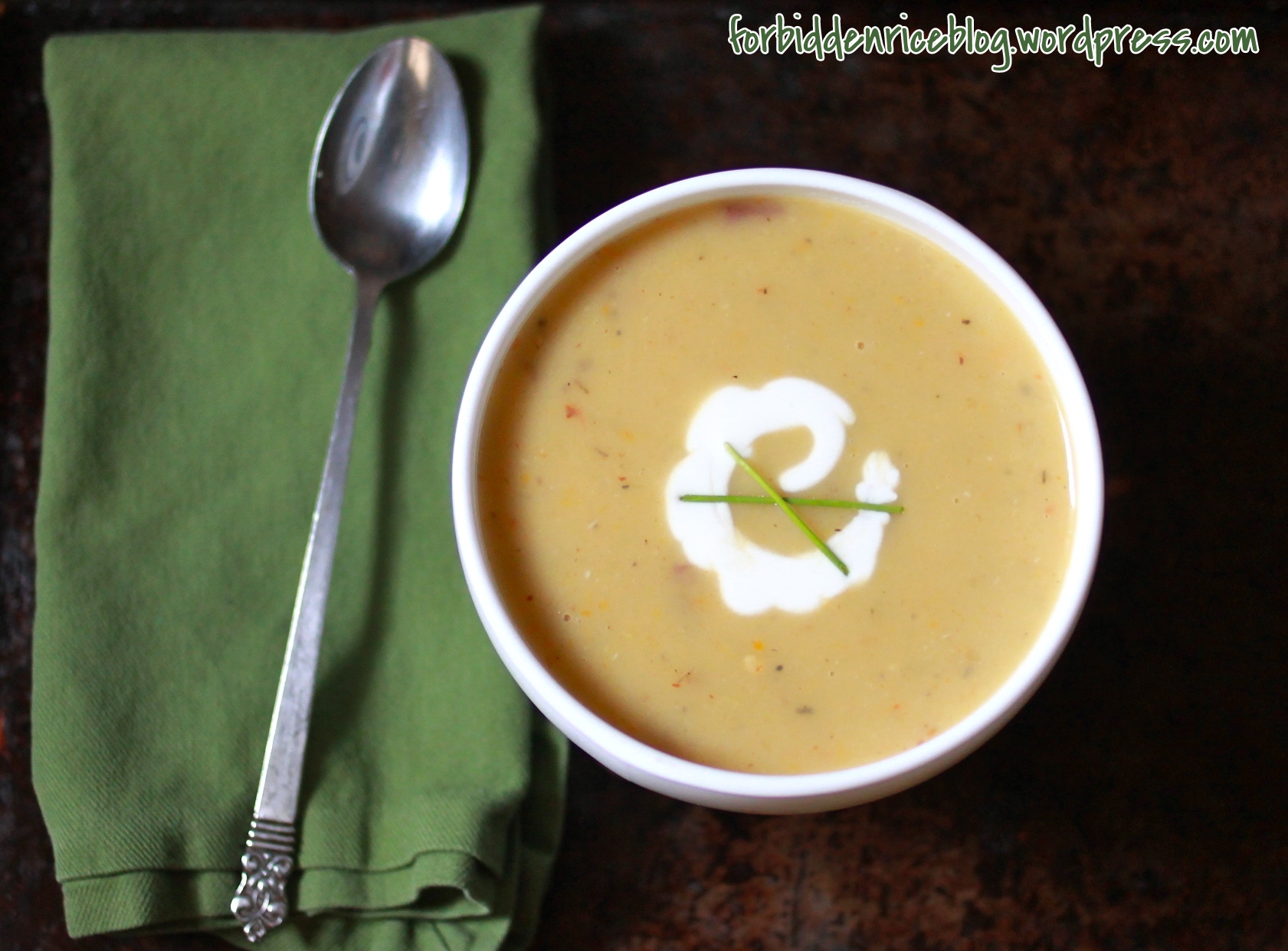 'Tis still the season for soup, I say. Sometimes when I can't think of what to make for dinner, I will look around the kitchen and my brain immediately goes to soup. Especially if it's a pureed type – anything can go in there that tastes good! (Okay, certain things pair better with others, but run with me for now…)
Leeks have been a new ingredient for me, for the last year or so. I remember seeing them in the grocery store and thinking, what the heck do I do with this?! There are still many items – specifically in the produce department or farmer's markets – that leave me with the same train of thought, but I like experimenting, so hopefully some of those alien-like things will continue to make their way into my cooking and on this blog.
That said, I love the mild flavor of leeks. They're earthy and sweet, and not nearly as distinct as onions in recipes. This soup is pretty dang easy. The ingredients aren't extensive, but the flavors work nicely with one another. You can keep this totally vegan by skipping the dairy while serving it up. If you're not worried about that, for a creamier soup, feel free to substitute a cup of the broth for heavy cream, half and half, or whole milk. In my opinion, the pureed potatoes offer enough creaminess on their own, but do whatever sounds good to you personally!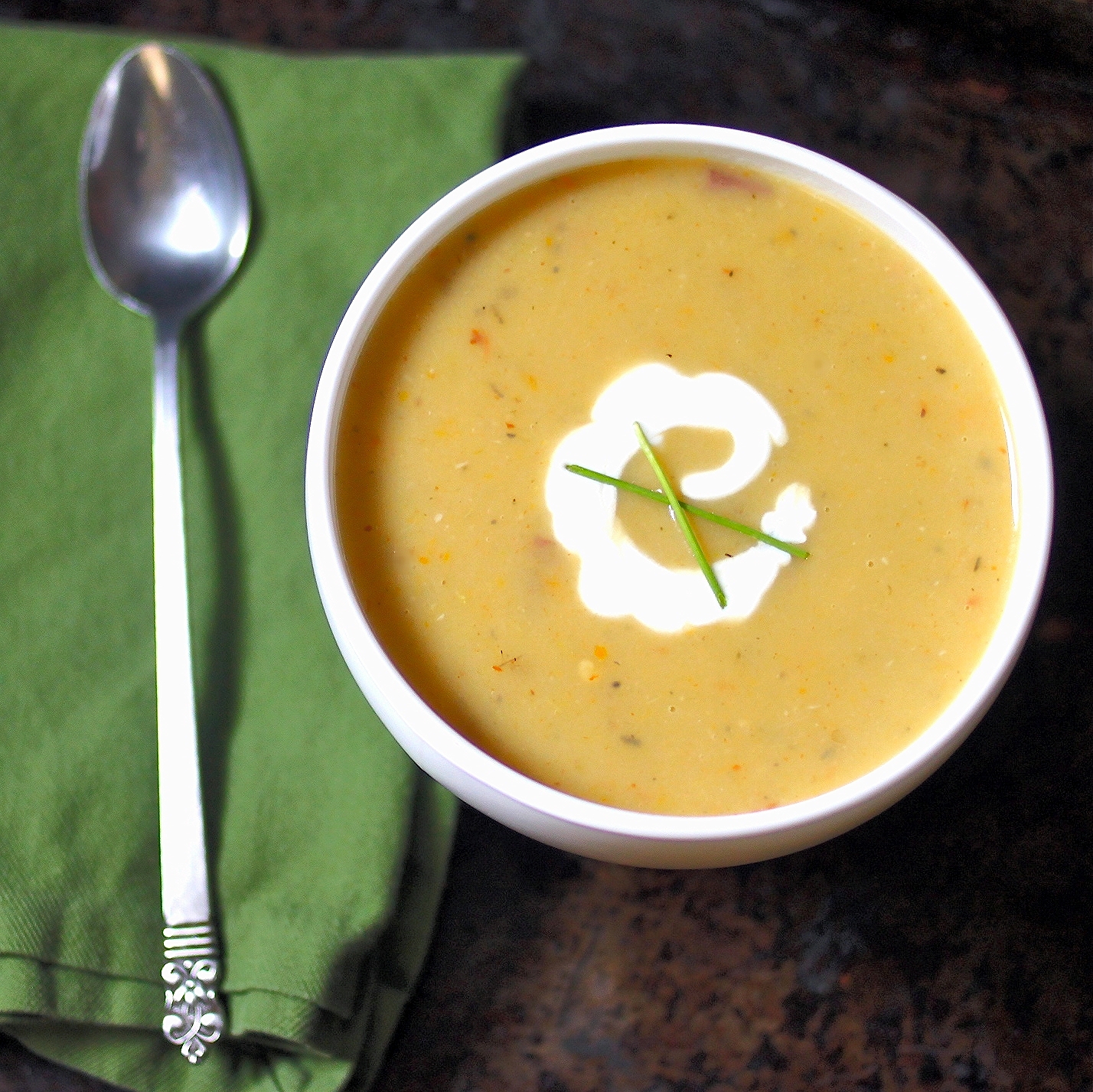 Creamy Potato Leek Soup
Serves 6-10 people.
Ingredients:
3 tbsp. sunflower oil
1 large leek (approx. 5 cups chopped)
8-10 cloves garlic, minced
1½ cups sweet peppers, diced
1 stalk celery, diced
5 cups diced potatoes (red, Yukon gold, russet are all OK!)
2 tbsp. fresh thyme, minced
½ tsp. ground turmeric
6-8 cups vegetable broth *
salt and pepper, to taste
* I used half homemade broth and half organic store-bought vegetable broth, because that's what I had. You can use all of either if you've got it. No-Chicken broth would also work great for flavor in this soup.
Directions:
Prepare the leeks: Remove the tough green leaves about an inch above the white part of the leek stalk. Trim off the roots. Slice the leek lengthwise, then cut into half-moon pieces about ¼-inch thick. Fill a large bowl with cold water then add the cut up leeks, swishing them around with your hand a few times. Lift the leeks out of the bowl and place on your work surface. The gritty stuff will sink to the bottom of the bowl, the leeks should stay on the surface, easily separating the two. Discard the grit/dirty water. Repeat with fresh water until the water remaining is clear.
Heat up the oil in a large stockpot over moderately low heat. Add the garlic, prepared leeks, diced sweet peppers and celery, stirring to evenly coat everything. Occasionally stir the mixture, until the leeks begin to turn golden in color and the peppers become tender (30-40 minutes). Add in the potatoes, thyme, turmeric, and at least enough broth to cover the potatoes by two inches. Add some salt and pepper, keeping in mind that you can always add more. Cook until the potatoes are completely cooked through (25-35 minutes).
Working in batches, blend the soup in a high-speed blender or in a food processor until smooth. Return the soup to the stock pot and bring the temperature back up to hot enough for serving.
Serve in bowls topped with sour cream or crème fraîche. Keep this vegan by topping with plain non-dairy yogurt. This soup both reheats and freezes well, so do with your leftovers whatever you wish!
Please follow and like us: