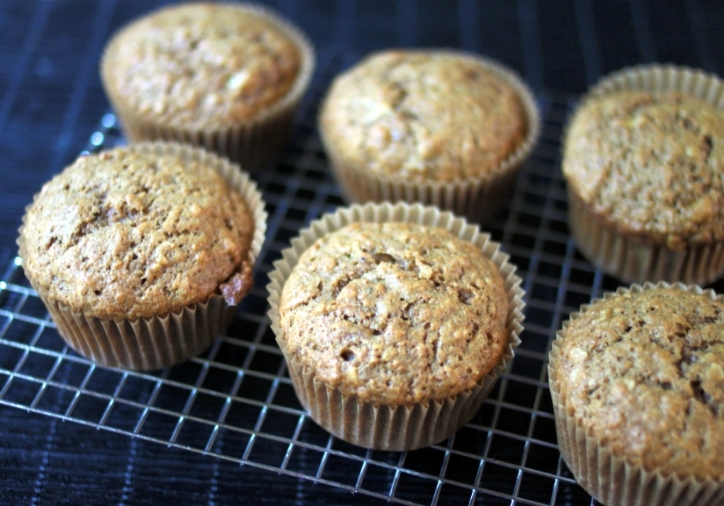 Some days require baking for no reason other than to fill your house with the smell of something freshly baked. Of course baking something that tastes as good as it smells is preferred. I've loved banana bread since I was little. We grew bananas in our backyard, so they were always available. I don't remember where my mom found her go-to recipe – perhaps from Sam Choy – but I do know it always reminded me of banana cake as much as banana bread… and when you're a kid and can cross that line without argument, that's a recipe to look forward to!
When I got a copy of this recipe as an adult (I feel the need to throw quotations around that word, but won't), I was surprised at the amount of sugar called for. And the heavy cream (although my mom says she uses whatever she has – half and half, 2% milk, etc.). Despite my hesitations, I'd make the same banana bread, for nostalgia's sake… Along with knowing it would taste good. When I saw this recipe from Tracy, the blogger behind Shutterbean, I was excited to see ingredients that reminded me of my mom's bread, but with significantly less sugar.
Since I always have carrot pulp on hand as a result of  too much  consistent juicing, I decided I wanted to include some in these banana muffins. I also added in some quick oats, for health's sake. The result was a light, but sweet and super moist banana muffin that our 7-year-old demolished straight from the oven, requesting more.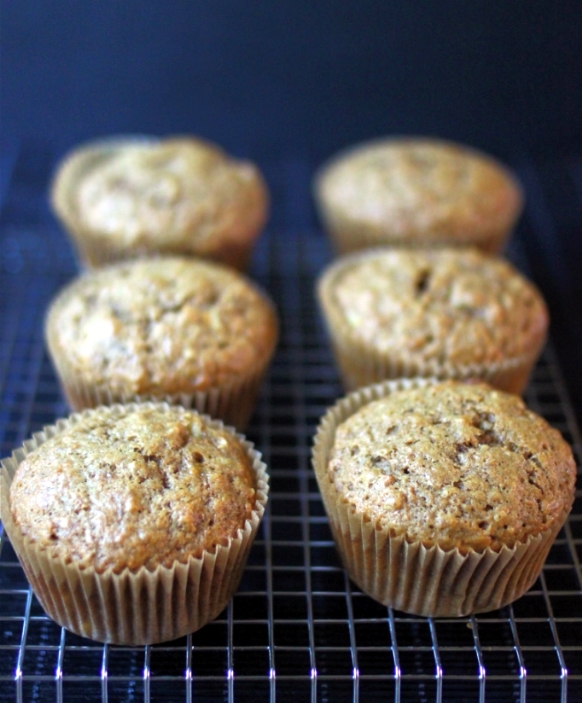 Maple Olive Oil Banana and Carrot Pulp Muffins
Makes approx. 18 standard sized muffins
Recipe adapted from Tracy Benjamin (Shutterbean)

Ingredients:
1 cup all-purpose flour
½ cup whole wheat flour
¼ cup quick-cooking oats
¾ cup fresh carrot pulp
1 tsp. baking soda
½ tsp. sea salt
¼ tsp. ground cinnamon
¼ tsp. ground ginger
½ cup light brown sugar, packed
2 large, ripe bananas
2 tbsp. maple syrup
1½ tsp. vanilla extract
½ cup olive oil
2 eggs

Directions:
Preheat your oven to 350°F. Line enough standard sized muffin tins (or work the batter in batches, 6 or 12 muffins at a time) with liners, or lightly coat with oil.
Whisk together the flours, oats, carrot pulp, baking soda, salt, cinnamon and ginger. Set aside.
In a large bowl, mash the bananas until they're broken down and no large chunks remain. Whisk in the sugar, stirring until the mixture is smooth. Set aside.
Whisk together (I do this in my measuring cup) the maple syrup, vanilla, olive oil, and eggs, until well combined. Whisk the egg mixture into your banana/sugar mixture.
Stir the dry ingredients into the wet ingredients, until just combined. Spoon the batter into your prepared muffin tin, filling each cup about 2/3-full. Bake for 22-25 minutes, until a toothpick inserted in the middle of the muffins comes out clean.
Remove from the oven and transfer the muffins to a cooling rack. You can enjoy these muffins warm or after they've cooled.