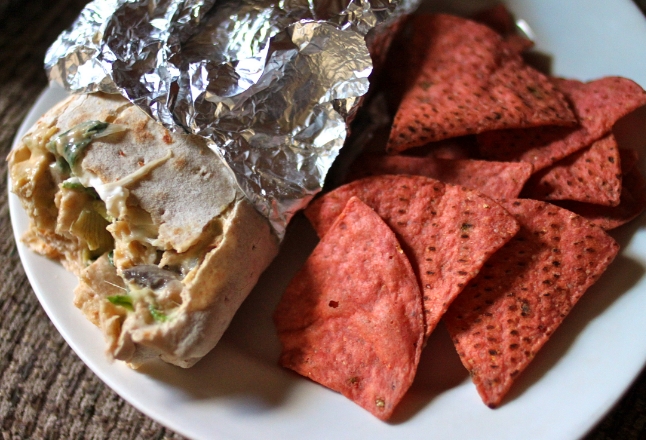 Sometimes I will see a recipe while browsing food blogs at 11:30, midnight, and think I need this in my mouth right now. Then I fall asleep dreaming of said food, waking in the morning still craving what I saw the night before. When I saw this spinach and artichoke grilled cheese sandwich, it blew my mind. Now, I am picky (P-I-C-K-Y) about spinach artichoke dip. It absolutely cannot taste like mayonnaise. It must be creamy. A little spice is delicious. Oh, and cheesy? Heck yes it must be cheesy. This sandwich sounded amazing, filled with all the things I love about a good spinach artichoke dip.
But I wanted to make something my husband would be more easily convinced to have as dinner. Veggie chicken sounded like a good addition… And morphed into a wrap? That's a little healthier than buttered bread, right? (Hah.) When I told him what I was making for dinner, he said, "Okay." As we ate that transformed into, "This is my favorite thing ever. I was not at all excited about it. But this… This is SO good!"
The truth is, I thought about this recipe all day before I made it. And as usually happens when I do that – the final product wasn't at all what I envisioned all day. It far surpassed fulfilling my food craving in flavor. Chock full of spinach, the filling is still very creamy and slightly spicy (add more or less Sriracha to your liking). The Quorn Chik'n added a satisfying amount of protein, making this an easy dinner for two. Granted, I made two huge wraps… Feel free to split the filling up into three or four portions if you'd like.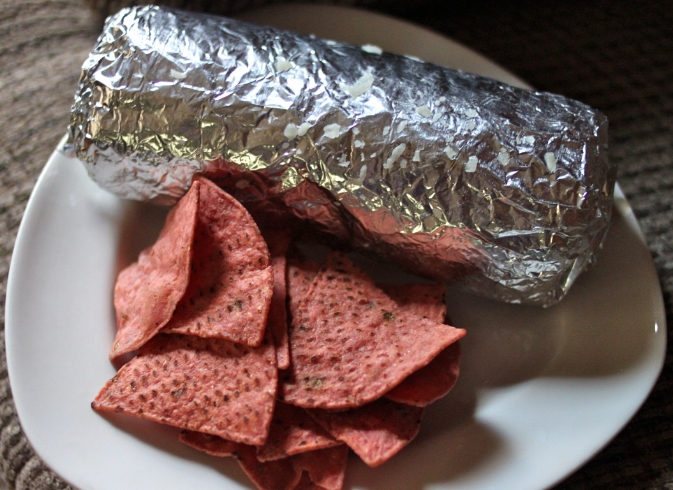 Cheesy Vegetarian Chicken, Spinach and Artichoke Wraps
Heartily feeds two grown folks.
Recipe idea greatly adapted from Joy the Baker.

Ingredients:
2 tbsp. oil
4 cloves garlic, minced
2 Quorn Chik'n Cutlets (thawed and cubed in bite-size pieces)
¼ cup diced white mushrooms
1½ cups artichoke hearts, roughly chopped
4 oz. fresh spinach, plus 2 oz. for serving
2 oz. Muenster cheese
4 oz. shredded mozzarella cheese
2 tbsp. crumbled bleu cheese
1 tbsp. Sriracha
2 tbsp. cream cheese, softened
2 Lavash flatbreads *
*We decided to try Trader Joe's Lavash flatbread, which is what I used for these wraps. Use what you have available to you. Can't find lavash? A large tortilla would easily work for this.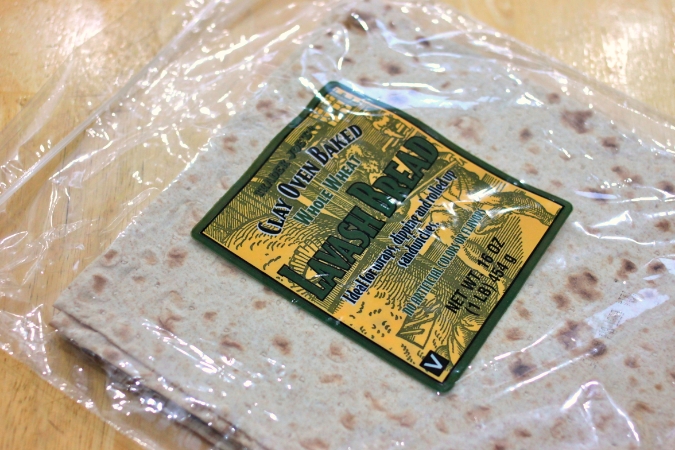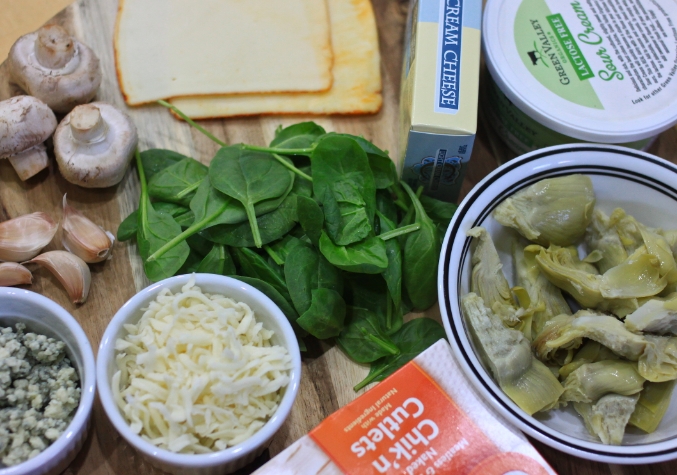 Directions:
Heat the oil in a large skillet over medium-high heat, then add the garlic, sauteing until fragrant (1-2 minutes). Add the Quorn Chik'n, stirring to evenly coat with the garlic-oil. Cook, stirring occasionally until the chik'n is nicely golden brown (6-8 minutes).
Once the chik'n is browned, add in the diced mushrooms and artichoke hearts. Stir everything together well, cooking for 3-4 minutes, until the mushrooms are browned and tender. Add the Muenster cheese (I used slices and just broke them up into bite-sized pieces), mozzarella, and bleu cheese, again stirring to evenly combine everything. Add the spinach, one large handful at a time, folding it in. Cook just long enough for the spinach to wilt. Remove the filling from the heat.
Heat a large griddle or pan over high heat. Heat the flatbread for 30 seconds (or until nicely warmed), flip and do the same to the other side.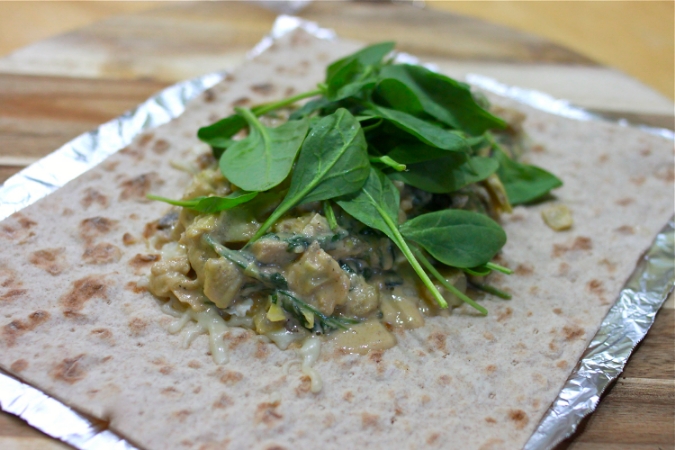 Spread one tablespoon of softened cream cheese in the center of each flatbread. Spoon the chick'n filling on each flatbread, right along the center. Add one ounce of fresh, uncooked spinach, on top of each flatbread. Wrap up like a burrito (fold both short-sides in, over the filling, then roll up length-wise). Eat immediately while hot.