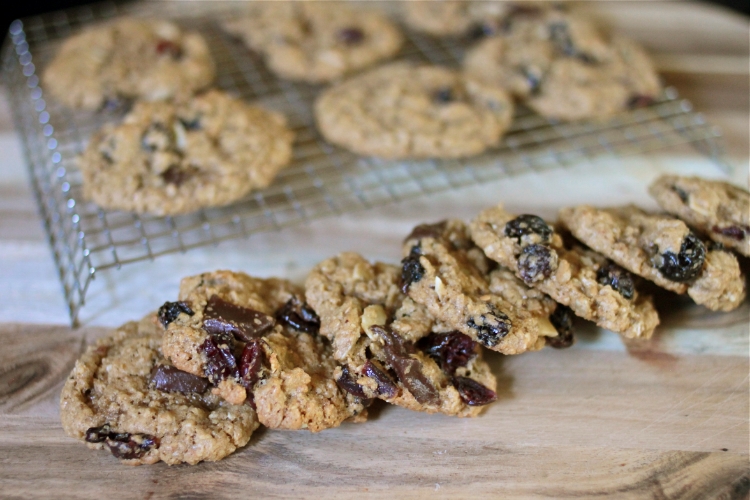 I try not to romanticize baking cookies, but then there are days when I wake up thinking about oatmeal cookies, the scent of butter creamed together with sugar and vanilla… and it seems futile to fight that (too hard). I'm not going to lie – part of the reason I love oatmeal cookies so much is that they always work out for me in the oven. When I make chocolate chip cookies, 50% of the time they turn into a giant cookie pancake. Okay, 50% of the time I make cookies of any type, they turn into a giant cookie pancake. The unpredictability is maddening.
Oatmeal cookies are predictable in a beautiful way. I know how the creamy lightness of butter whipped with dark brown sugar and cane sugar is going to cause me to dip a pinky-finger in before any other ingredients jump in. The batter is going to be sweet, but not overwhelmingly so. The texture of raw oats will leave a little chew as I'm eating said batter by the spoonful before it makes its journey to the baking sheet and oven.
I don't have a go-to oatmeal cookie recipe, perhaps because most are straightforward: butter, sugar, eggs, vanilla, leavening, salt, oats, flour. When the craving hits, I browse places like Foodgawker or Tastespotting, or my favorite food blogs, until something makes me read the directions twice, or my brain whispers this one. The other day I saw this recipe on Tracy Benjamin's blog, Shutterbean. It was undemanding. Tracy described herself as an oatmeal cookie aficionado and with that, I trusted she wouldn't steer me wrong.
To make myself feel better about eating half a dozen or so cookies (emphasis on or so), I decided to add in some good-for-you ingredients: flax seeds, sunflower seeds, almonds… Rather than using the raisins that usually go with oatmeal cookies, I opted for dried cherries and cranberries… and chocolate. Within twenty-four hours, we've eaten all but six cookies. I think the recipe is a winner.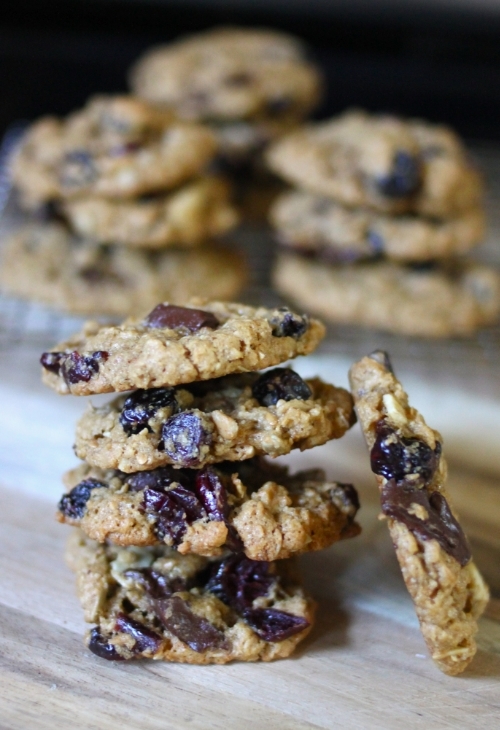 Oatmeal Cookies with Bonus Features
Makes about 24 two-inch round cookies.
Recipe adapted from Tracy Benjamin of Shutterbean
Ingredients:
1½ cups old-fashioned rolled oats
½ cup all-purpose flour
½ tsp. baking soda
½ tsp. salt
1 tbsp. flax seeds
2 tbsp. raw sunflower seeds
2 tbsp. sliced almonds
6 tbsp. unsalted butter, softened
½ cup dark brown sugar, packed
¼ cup unrefined cane sugar
1 egg
1½ tsp. vanilla extract
½ cup dried cherries (I used both tart and sour cherries)
¼ cup unsweetened dried cranberries
2 oz. bittersweet chocolate, broken into small chunks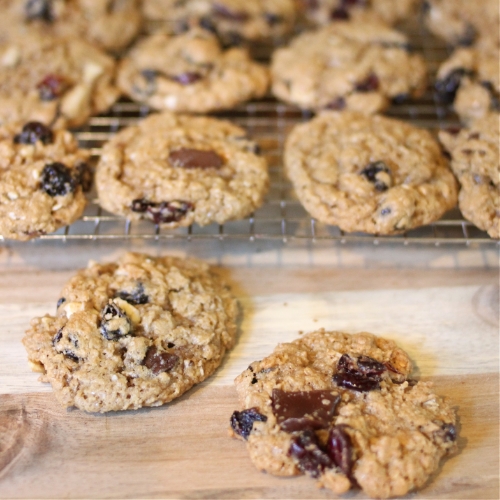 Directions:
Preheat your oven to 350° F. Line a baking sheet or two with Silpat mats or parchment paper. Don't have either one? Lightly grease a sheet pan or two.
In a large bowl, blend the oats, flour, baking soda, salt, flax seeds, sunflower seeds, and almonds together with a wooden spoon until well combined.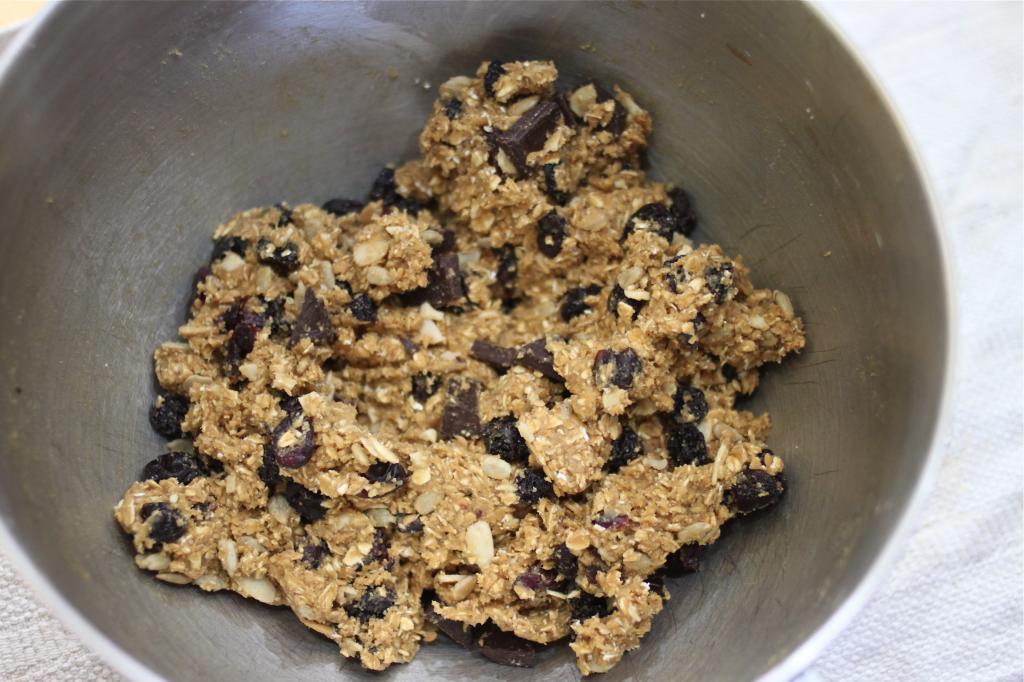 In a large mixing bowl, cream the butter, brown sugar, and cane sugar together until light and fluffy. Add the egg and vanilla, mixing until well combined into a light buttery, sugary, concoction. Add the dry ingredients into your wet ingredients, until just combined. Use a wooden spoon to mix the cherries, cranberries, and chocolate chunks into your cookie dough.
Place the dough on your prepared baking sheets in tablespoon-sized balls, spaced about two inches apart. Bake for 12-15 minutes, until nicely golden brown and just slightly soft in the center (they'll harden as they cool).
Transfer to a cooling rack. Try not to eat every cookie as they come out of the oven. Or do what you want – eat every cookie and forget about sharing completely. Store in an air-tight bag or container.