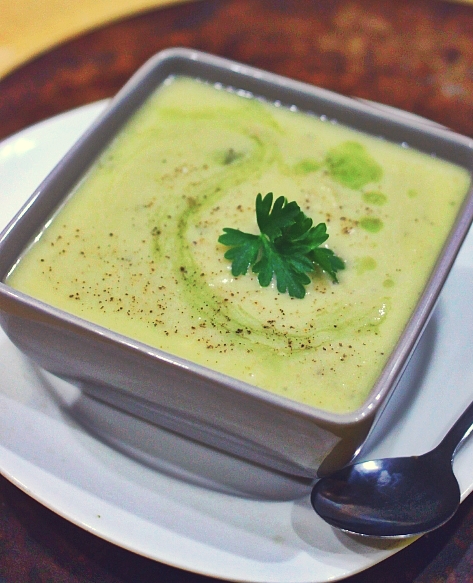 Sometimes I forget what it's like to cook with additional little hands in the kitchen. That sounds really creepy, I know. I'm referring to cooking with kids, not miscellaneous spare body parts I've failed to confess to owning. I have mentioned before that I really prefer cooking solo. It isn't that I'm unaware of how to be a good team player. Sometimes it's just quicker and easier to know what the plans are in my head, for preparing a meal, without having to dictate them to anyone else. Plus cooking is as good as meditating in my day; it's peaceful for me, even when things are chaos and there's flour in my hair, butter up to my elbows, or chunks of raw vegetables on the floor.
That said, once upon a time I thought it would be a good idea to have Silas help prepare dinner at least once a week, in the short three nights we have him here. He was ecstatic. My insides fluttered, knowing I was willingly giving up control of the kitchen to a seven year old. Schedules and real life don't always make it plausible, but we've done alright at making room for kid cooking nights.
When I was a kid, I remember being fascinated by my mom's cookbooks. I'd go through recipes all the time. Silas hasn't been one for cookbooks… I did check out a dinosaur cookbook from the library last week, but was quickly turned off by the recipe ideas. Food can be fun without having to sacrifice flavor! Even when you're little! (I rushed that book back before a certain 7-year-old saw it, because I was NOT going to eat a dinosaur cut out of a piece of lunch meat, placed on a plate with a cheese stick tree, featuring shredded cabbage grass.)
Luckily, Silas has always had great taste for a little guy. He's open to trying most anything. Although we don't cook meat here, he tells me one of his absolute favorite foods is bacon. When I asked him what he wanted to make for dinner not so long ago, he decided on soup. We checked out what was on sale in the grocery store, discovering an abundance of fresh local leeks. "I LOVE potato leek soup!" he exclaimed and thus the following recipe was born.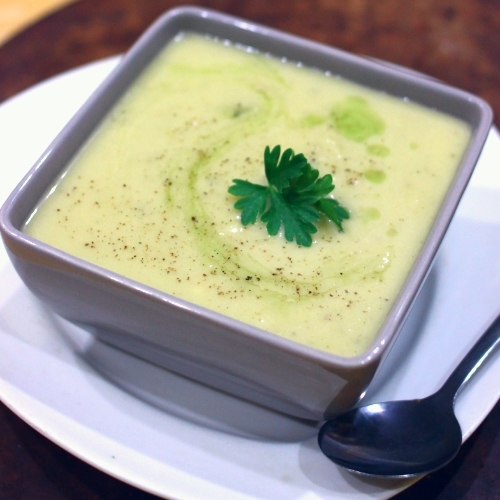 Creamy Herbed Potato Leek Soup
Yields enough soup for 8-10 people.
Ingredients:
4 tbsp. unsalted butter
4 leeks, washed and sliced
4 cloves garlic, peeled
1 medium yellow onion, peeled and diced
1 pound russet potatoes, peeled, sliced in 1" thick rounds
4-5 small sprigs fresh rosemary
3 tbsp. fresh thyme, chopped
3 tbsp. fresh oregano, chopped
2 bay leaves
2 tsp. ground coriander
pinch of fresh nutmeg
1- 32 oz. box No-Chicken broth
3 cups whole milk
½ cup grated sharp cheddar cheese
¼ cup grated parmesan cheese
2-4 tbsp. cream cheese, optional
salt and fresh ground pepper
Directions:
Melt the butter over medium-high heat in a large stock pot. Add the leeks, stirring them around to evenly coat with the melted butter. Occasionally stir, cooking until the leeks are tender (8-10 minutes).
Add the garlic and diced onion, mixing everything together. Allow the leeks, garlic, and onion to cook until the onion is tender. Add the potatoes, 2 or 3 or the rosemary sprigs, thyme, oregano, bay leaves, coriander, nutmeg, broth, and milk. Stir to evenly incorporate all the ingredients. Reduce heat to medium, then cook until the potatoes are fork-tender (15-25 minutes).
Once the potatoes are cooked all the way through, remove the harder stems leftover from the rosemary (the tender parts will fall right off; simply "fish out" the stem with a slotted spoon). Work the soup in batches, pureeing in a food processor or blender until smooth.
Return the pureed soup to your stock pot, over medium-low heat. If the soup is thicker than you like, add a little more broth or milk. Stir in the cheeses, until they're completely melted and incorporated. Taste, then add salt and pepper to your liking. Serve hot.