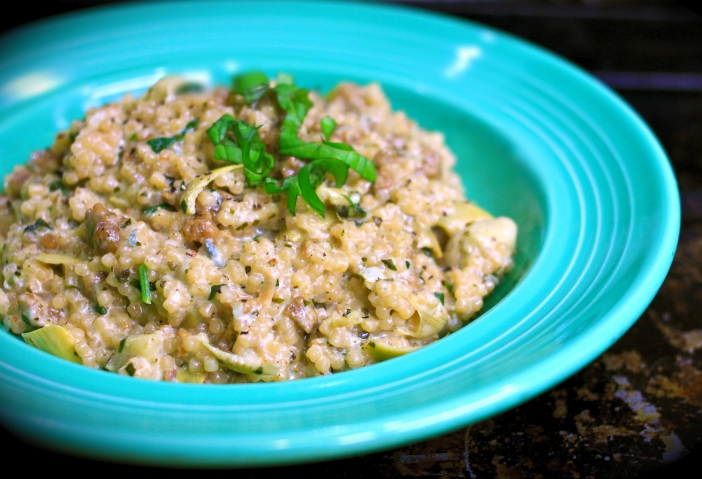 On evenings like this, where the only sounds echoing through our downtown Ashland home comes from the downpour happening outside my open windows, there's a peacefulness. Perhaps it's the comfort I've always found in water. I could spend hours in the ocean, rain or shine. I've never minded rain (except when I was forced to wear the "yellow banana suit" as I so   lovingly   begrudgingly named the rain coat my mom had me wear to elementary school, back – way back – in the day).
Rainy days like the ones we've been having for the last couple days encourage me to think of comfort foods. I love the assurance of a good pasta meal. It isn't even about the ease, or the convenience of throwing noodles into boiling water. Perhaps it's the certainty of a filling dish of food, which can turn into a one bowl meal… Because rainy days also encourage lazy days, where the most a person may want to do is lay in bed under her down comforter, with a pile of books, laptop opened to her favorite blog feed reader, offering an occasional gesture of puppy love with a from-the-bed-back scratch to the dogs, who enjoy lazy days as well.
The steady rain we've been experiencing has also been welcomed by our garden. I've found endless supplies of fresh herbs and greens, strawberries making their spring time appearance, and everything else is doubling in size every day. Pasta and fresh herbs are a happy marriage of ingredients. Well, fresh herbs and most anything are delightful in my recipe-brain.
I discovered acini di pepe after my husband played a gig at Sweetwater Music Hall in Mill Valley, CA. His dinner consisted of something the menu called "pastina," which were tiny little pastas, cooked with wild mushrooms, fresh vegetables, and cheese. It was delicious. The pasta was so small, but kept its shape and consistency, working almost like a risotto in the dish, allowing the fresh mushrooms and creamy sauce to shine through. I knew I wanted to find these little bead-like pastas when I got home. The following pastina features a creamy pesto sauce, ground seitan to add some protein to the dish, and lots of fresh herbs. I used Upton's ground seitan, as I love the flavor it imparts, but feel free to use whatever you have available.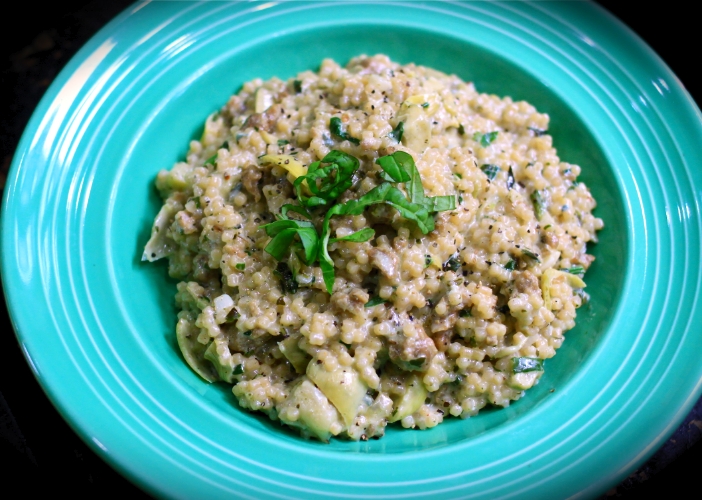 Little Pastas with Seitan, Herbs and Cheese
Serves 3-4 adult folks.
Ingredients:
1½ cups acini di pepe pasta
1 tbsp. olive oil
5 cloves garlic, minced
8 oz. ground seitan
1 cup artichoke hearts, chopped
2 tbsp. fresh chives, chopped
¼ cup fresh basil, chopped
¼ cup fresh oregano, chopped
½ cup arugula, chopped
½ cup heavy cream
¾ cup milk
½ cup prepared pesto
¾ cup gorgonzola cheese, crumbled
¼ cup parmesan cheese, grated
salt and fresh ground pepper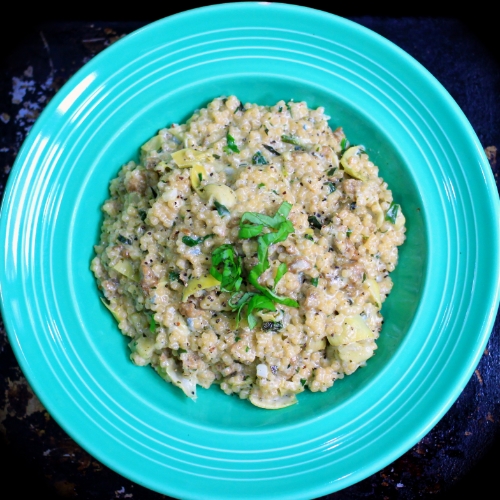 Directions:
Cook the pasta according to the package directions, in salted water.
While the pasta cooks, heat the oil in a medium-sized saucepan, over medium-high. Add the minced garlic, stirring around for a minute or two. Add the ground seitan, stirring to evenly distribute the garlic. Cook until the seitan is lightly golden brown (4-5 minutes).
Add the artichoke hearts, chopped chives, basil, oregano, and arugula to the seitan mixture. Cook for 2-3 minutes, then add the cream, milk, and pesto. Stir to evenly combine.
Add the cooked (and drained) pasta to your seitan mixture, stirring to evenly distribute everything. Mix in the cheeses, then salt and pepper to your liking. Cook over medium heat for 5-10 minutes, then serve, hot. Top with additional fresh herbs and/or freshly grated parmesan cheese if desired.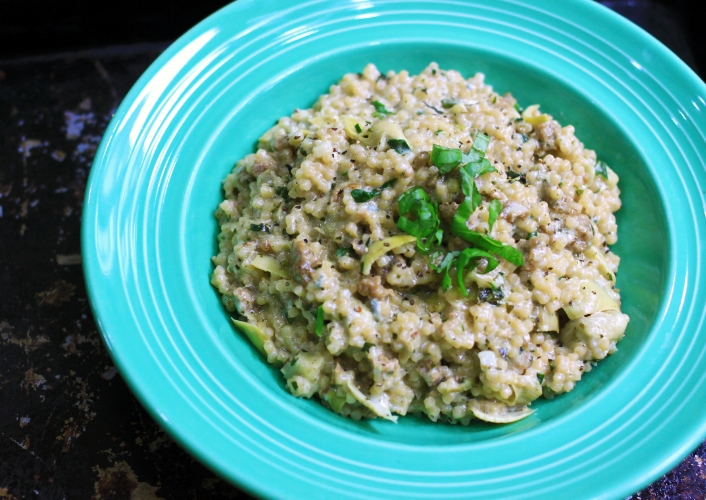 Please follow and like us: