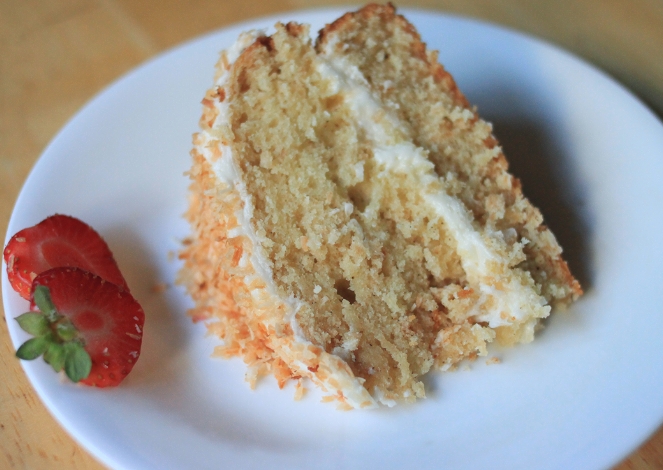 Some days require cake just because the day requires cake. There doesn't have to be a special occasion involved. No birthday, no holiday, no celebrating. Just cake. I don't believe in justifying reasons for dessert (even though I do it anyway now and then). You can eat dessert just because you feel like it.  Still… can I tell you that really, I don't even particularly like cake. I'm into pies. And tarts. And cheesecakes, which are an animal all of their own kind.
However, one day not so long ago, it was a coconut cake kind of evening. One of my favorite kitchen cookware items is the small, 7-inch round springform pan I was gifted in a set of multiple springforms. It allows me to bake a two layer cake, rather than cupcakes, but not so huge in size that I don't want to bother.
This cake is moist and flavorful. I used medium sized coconut flakes, which don't add too much texture to the cake, as would larger coconut flakes. The cake itself isn't overly sweet, which I like – the buttercream adds enough sweetness to balance everything out.  We ate this cake with fresh strawberry ice cream, which is highly suggested. :)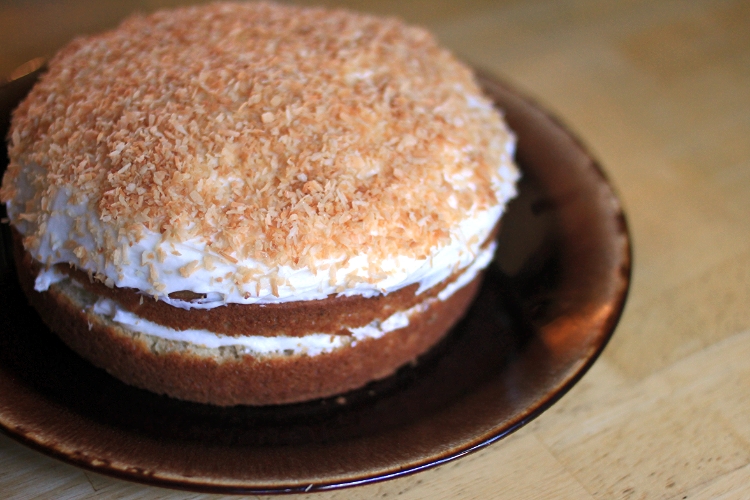 Toasted Coconut Cake with Vanilla Buttercream Frosting
Makes one small 2-layer, 7-inch cake.
Ingredients:
1 cup unsweetened coconut flakes
1 cup all-purpose flour
¾ tsp. baking powder
¼ tsp. salt
1 vanilla bean, scraped
6 tbsp. unsalted butter, room temperature
½ cup unrefined cane sugar
2 eggs, room temperature
½ tsp. vanilla extract
½ cup buttermilk
2 cups confectioner's sugar, sifted
5 tbsp. unsalted butter, room temperature
¼ tsp. vanilla extract
2-5 tbsp. whole milk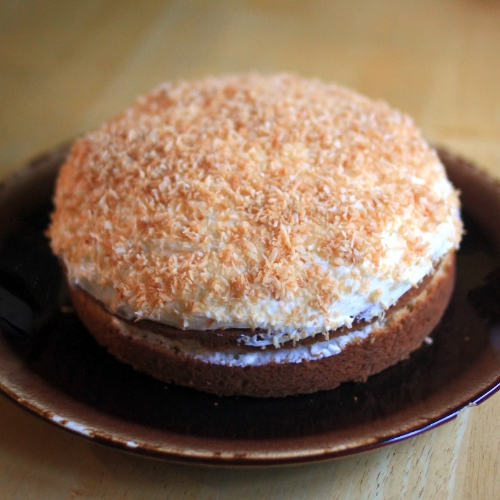 Directions:
Preheat your oven to 350°F. Lightly grease a 7-inch springform pan. Set aside until needed.
Spread the coconut flakes on a baking sheet in a single layer. Place in the oven, stirring occasionally until the coconut starts to turn lightly golden brown (3-4 minutes). Once the coconut begins to brown, stir frequently, paying close attention. The coconut will go from golden brown to burnt quickly. Remove from the oven and set aside to cool completely.
In a bowl, whisk together the flour, baking powder, salt, scraped vanilla bean, and one third of the toasted coconut flakes until well combined. Set aside.
In the bowl of your stand mixer, cream together the butter and sugar until creamy and light in consistency (3-4 minutes). Add the eggs one at a time, making sure each is well incorporated before adding the next. Add the vanilla extract, mixing to combine.
Alternate adding the dry ingredients and buttermilk, starting and ending with the dry ingredients. Pour the batter into your prepared pan, tapping it against the counter to release any air bubbles that may be trapped in the batter. Bake for 25-30 minutes, or until golden brown and a toothpick inserted in the center of the cake comes out clean.
Let the cake cool, in the pan, on a cooling rack for 10-15 minutes before undoing the springform pan and letting the cake cool completely on the rack. Once cool, use a sharp knife to slice the cake horizontally, into two even, round layers. If you prefer a one layer cake, simply refrain from cutting it into two layers.
While the cake cools, prepare your frosting. Beat the powdered sugar and softened butter together over medium-low speed, until the mixture comes together, well combined. Turn the mixer to low, streaming the milk and vanilla into the butter/sugar mixture. Once the milk has been incorporated, increase the mixer's speed to high, beating the frosting until it's light and fluffy (3-5 minutes). The longer you beat the frosting, the fluffier and lighter it will get. Keeping that in mind, beat the frosting to your preferred consistency.
Place one cake layer on a cake stand or serving plate, cut-side down. Spread one-third of the frosting evenly on top of the cake. Top with the second cake layer, cut-side down (on top of the frosting). Frost the top and sides (if you want) with the remaining frosting. Sprinkle the remaining toasted coconut all over the top of the cake and the sides as well, if you've frosted them. Serve at room temperature for best flavor. Leftovers can be tightly wrapped and refrigerated for 2-3 days.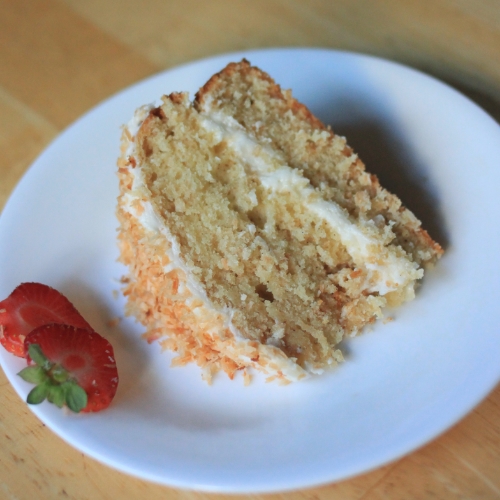 Please follow and like us: