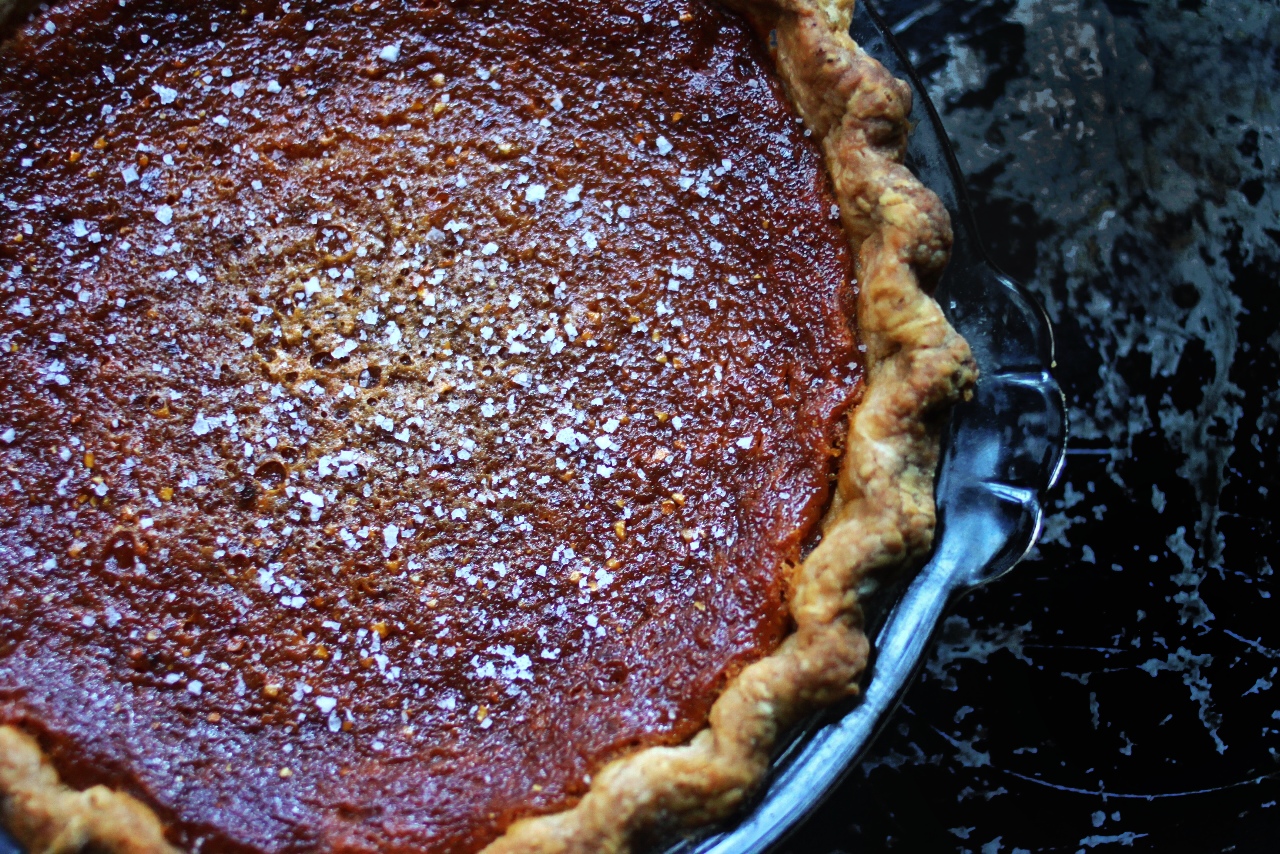 Sometimes I will start a post such as this one a day or two before it actually gets posted… Because let's face it – life happens. While many times I'd like to sit down and write about some recipe then move on and do other things, that only happens 50% of the time. The truth is, it often gets broken down like this: I will cook something and photograph it. Another day, hopefully close to the time I cooked the dish, I edit the photos and get them ready to be blogged. Another day, I write the recipe from start to finish. Maybe even this little blurb, then post. Other times that latter part gets split into two days. Somewhere in between these things, I answer e-mails, do mountains of dishes and laundry, go to the gym, cook other things, stay time-flexible with kid-shenanigans, sleep, keep our house livable…
And then there are times where brain farts happen, where I'll be mid-post. Then hit "publish" and swear out loud because, oh hey, all you e-mail subscribers who receive whatever original version of anything I publish… That said, sorry for the e-mail last night. Surely there was a recipe with half the directions and this area, which simply read, "Writing!" Let's get real. When it comes to grammatical and spelling errors, they make me a crazy lady. It seems no matter how many times I read a post before it ever gets published, I still spell things wrong, or leave words out that complete a sentence… but accepting the flat out public nature of blog posts has allowed me to forgive myself more easily when it comes to moronic typos. Or publishing mishaps.
Those things said, this pie… Yes, this pie. Have you ever had a honey pie? I hadn't, but I did see this recipe floating around the inter-webs forever and finally tried it out. The scent alone of this filling, is deliriously intoxicating. It reminded me of these caramels. I didn't use the pie crust from the original recipe, as I am quite fond of my own flaky pie crust recipe. The consistency of this pie once it's baked is somewhere between that of a custard pie and perhaps a pecan pie that has no pecans… It's warm and inviting, beautiful in color, and just the right amount of sweetness.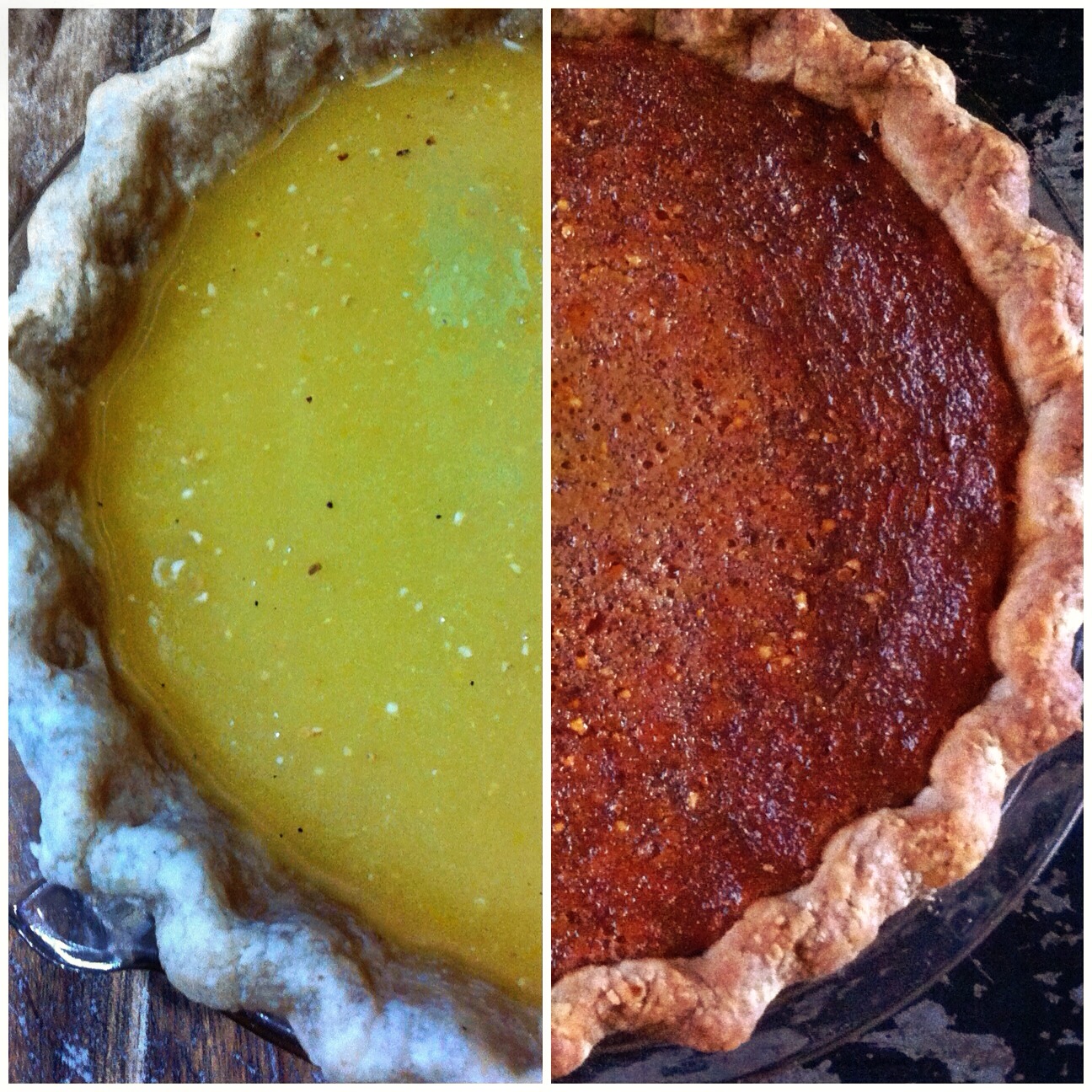 Salted Honey Pie
Recipe modified from Four & Twenty Blackbirds.
Yields one 9-inch pie.
Ingredients:
For the crust:
1 1/4 cups all-purpose flour
1/4 tsp. ground cinnamon
pinch of fresh ground nutmeg
2 tablespoons cane sugar
1/4 teaspoon salt
4 tablespoons unsalted butter, cold
3 tablespoons vegetable shortening
3-6 tablespoons ice cold water
For the filling:
1 stick unsalted butter, melted
3/4 cup granulated sugar
1 tablespoon white cornmeal
1/2 teaspoon kosher salt
1 teaspoon vanilla paste
3/4 cup honey
3 large eggs
1/2 cup heavy cream
2 teaspoons white vinegar
1 – 2 teaspoons flake sea salt, for finishing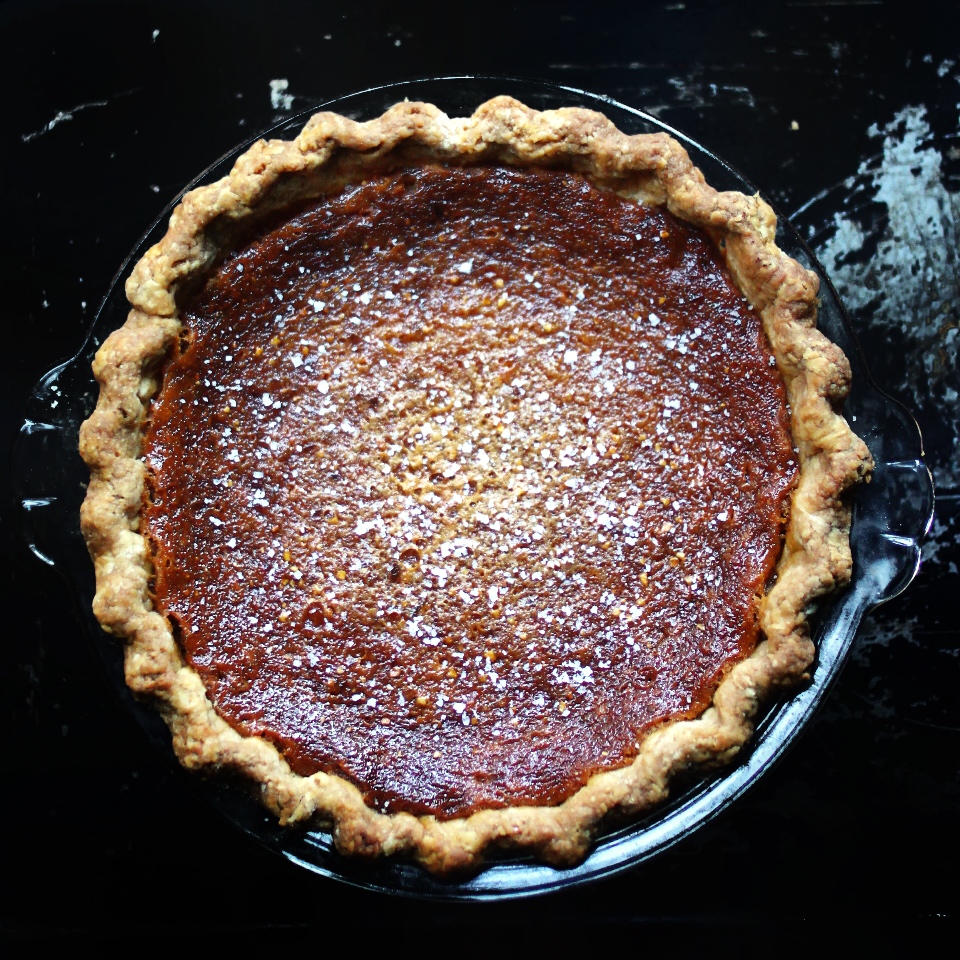 Directions:
Prepare your crust:  In a bowl, combine the flour, cinnamon, nutmeg, sugar, and salt. Cut in the butter and shortening, blending until the mixture resembles coarse sand (with some larger pieces of butter). Add in three tablespoons of the ice water, using a fork to mix the dough together. Add more water, one tablespoon at a time, just until the dough comes together in a slightly crumbly ball. Turn the dough out to a lightly floured surface. Use your hands to shape the dough into a flattened disc. Wrap tightly in plastic wrap and refrigerate for a minimum of 2 hours (up to 24 hours).
After the dough has been refrigerated for at least an hour, position a rack in the center of the oven, then preheat the oven to 375° F.
Working quickly, roll the dough on a well-floured work surface into an 11-inch circle. Press together any spots that look as if they'll tear. Carefully place the rolled dough into a 9-inch pie plate.  Use a pairing knife to trim the edges of pie dough, leaving about 1/2 inch extra dough overhang. Fold the excess dough under  and crimp with your fingers or a fork. Line the crust with parchment paper or foil and pie weights (or dried beans/rice). Bake for 25-30 minutes, until set but not browned at all. Remove the foil/parchment and allow the crust to cool while you prepare the filling.
Prepare the filling: In a medium bowl, stir the melted butter, sugar, cornmeal, salt, and vanilla paste together. Stir in the honey and the eggs one at a time, followed by the heavy cream and vinegar.
Place the pre-baked pie crust on a rimmed baking sheet. Strain the honey filling through a fine-mesh sieve, directly into the pie shell. Bake on the middle rack of the oven for 45-50 minutes, rotating the pie gently, 180 degrees when the edges start to set (30-35 minutes through baking).
The pie is finished baking when the edges are set and puffed up high, the center is no longer liquid but looks set, and it's golden brown on top. Allow the pie to cool completely on a wire rack, 2-3 hours. Sprinkle the top with flaky sea salt.
For best results and flavor, serve at room temperature. The pie will keep for 4 days in the refrigerator or at room temperature for 2 days.