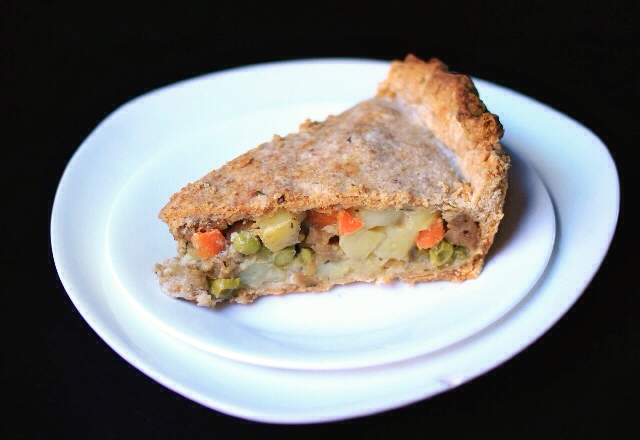 As I have said many times before, while I don't cook meat (aside from seafood) in my own kitchen, I don't consider myself a vegetarian, as I still eat meat products now and then. More and more that seems less necessary; I enjoy meatless meals just as much, and sometimes more, than those containing meat. Certainly cooking that way has pushed me to expand the creativity I like to bring into my kitchen.
That said, last week I received a message from Meatless Monday, the non-profit initiative of The Monday Campaigns Inc., whose global, public health campaign encourages people to simply keep one day a week, Mondays, meat-free. The idea is to improve both personal health and the overall health of our planet. You can read more about that here. I agreed to be a Meatless Monday blogger, wherein I'd post a recipe each Monday that is meat-free. Since this blog is generally vegetarian anyway, it seemed like an easy thing to commit to.
I hope to keep these Monday posts as a main dish post, which can easily be the highlight of dinner time. This week I am sharing a seitan pot pie that features a homemade flaky crust, filled with herbs and flavor. Initially I wanted to use Quorn Chik'n Tenders in the recipe, but when I got to the grocery store they were out of stock. I decided to use seitan instead, which holds up within the pie (unlike tofu, which breaks down more than my liking). This pot pie is filling and has always gone over well with the kids, too.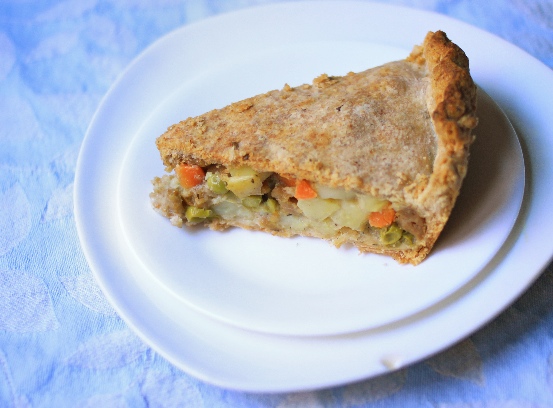 Seitan Pot Pie
Yields one 9-inch pie.
Serves 6 to 8 people.
Ingredients:
For the crust:
1 1/4 cups whole wheat flour
2 cups all purpose flour
2 teaspoons unrefined cane sugar
3/4 teaspoon salt
1/4 cup fresh chives, chopped
1/2 teaspoon dried basil
1/2 teaspoon dried oregano
1/4 teaspoon dried thyme
1/4 teaspoon granulated garlic
1/4 teaspoon ground black pepper
2 sticks unsalted butter, cold
4 tablespoons vegetable shortening
1/2 cup ice cold water
For the filling:
3 medium-large Yukon gold potatoes, scrubbed and diced
1 large carrot, peeled and diced
1/4 cup olive oil
1 large yellow onion, peeled and diced
3 cloves garlic, peeled and minced
1- 8 ounce package seitan (cut into bite sized pieces if it doesn't come diced)
10 ounces frozen green peas (shelled edamame can be used)
2 tablespoons fresh chives, chopped
2 teaspoons granulated garlic
1 teaspoon salt
1/2 teaspoon dried thyme
1/2 teaspoon ground black pepper
3 tablespoons all purpose flour
1 3/4 cups No-Chicken broth
1/2 cup whole milk
1 egg, lightly beaten with 1 tablespoon water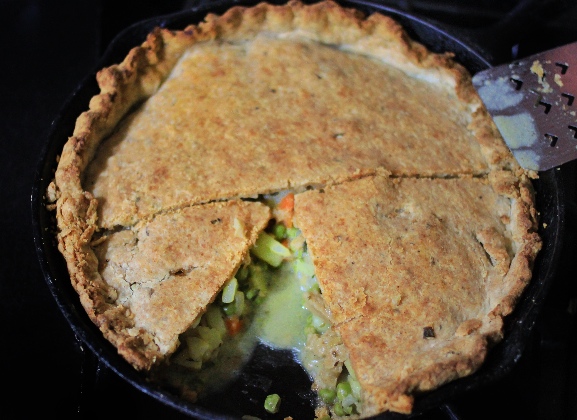 Directions:
Prepare your dough for the crust:
Whisk together the flours, sugar, salt, herbs, garlic and pepper. Use a pastry cutter (or my favorite method, use a box grater) to cut in the butter. Add the shortening to the mixture. Use your fingers to rub the butter/shortening into the dry ingredients until everything resembles coarse cornmeal. Add the ice-cold water, using your hands to mix everything together into a ball of dough. If needed, add more ice water one tablespoon at a time, just until the dough stays together.
Turn the dough out to a lightly floured surface. Split the dough into two even sized portions, rolling each into a ball then flattening into discs about one inch thick. Separately wrap each dough disc with plastic wrap and refrigerate for at least one hour (up to 24).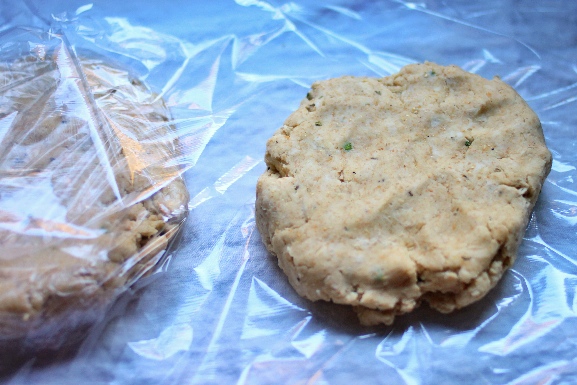 Prepare the filling:
Bring a large pot of salted water to a boil. Add the potatoes and carrots, boiling just until both are fork tender (8-10 minutes). Drain and rinse with cold water immediately.
Heat the oil in a large skillet over medium-high heat. Add the diced onion and garlic, cooking until the onions are translucent (5-6 minutes). Add the seitan, peas, herbs, garlic, salt, and pepper. Gently stir in the cooked (and cooled) potatoes and carrots.
Sprinkle the flour into the mixture, using a spatula or wooden spoon to evenly coat all of the ingredients with the flour. Add the broth and milk all at once, stirring frequently. Once the mixture begins to thicken up, taste and add more salt and pepper to your liking. Remove from heat, but keep the mixture covered.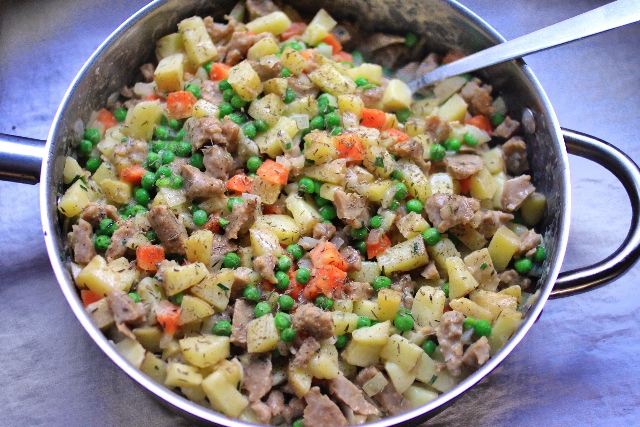 Prepare your pot pie:
Preheat your oven to 400°F. Lightly grease a 9-inch round pie dish (I like to use a cast iron skillet). Remove the rounds of dough from your refrigerator. On a lightly floured surface, roll out one of the discs until about 1/8-inch thick and 12-inches around. Use your hands to press the dough into your prepared baking dish, including all the way up the sides. Roll out the other disc of dough, again to about 1/8-inch thick and 12-inches around.
Pour your filling into the crust that is lining your baking dish, spreading it out evenly. Work quickly and top the filling with the second rolled out disc of dough. Use your hands and work all the way around the pan, tucking the top pie crust to seal it into the first. Cut a couple slits in the top of your crust so that steam can escape. Brush the top with your beaten egg, then bake the pot pie for 45  minutes to 1 hour, until the crust is nicely golden brown and crisp.
Let the pie sit, removed from the oven, for 10-15 minutes before cutting and serving.