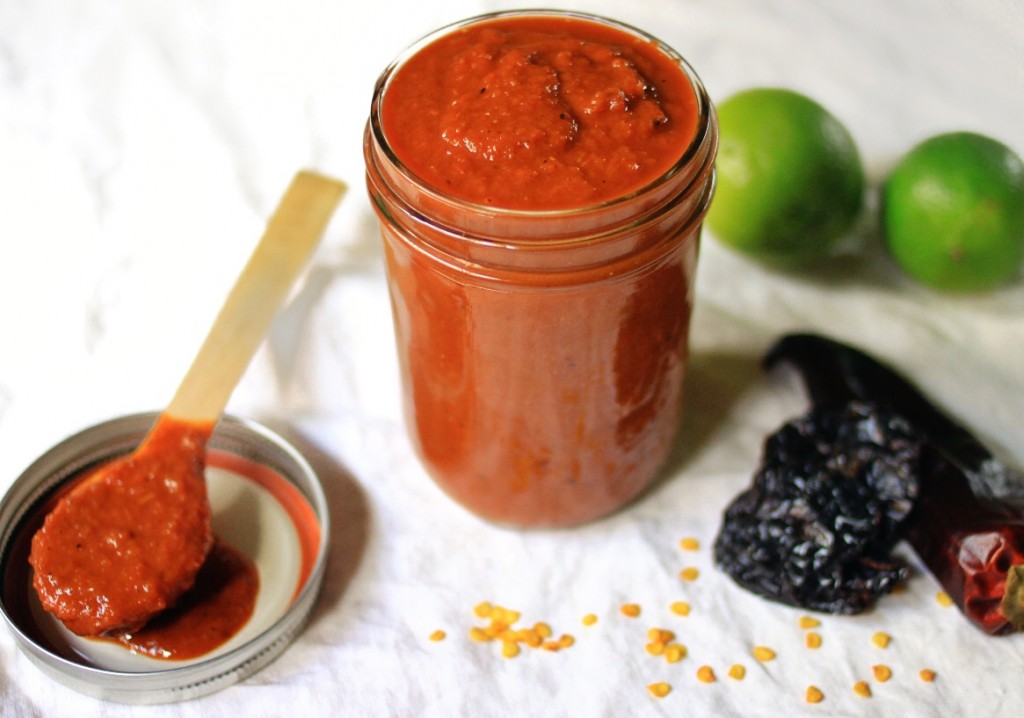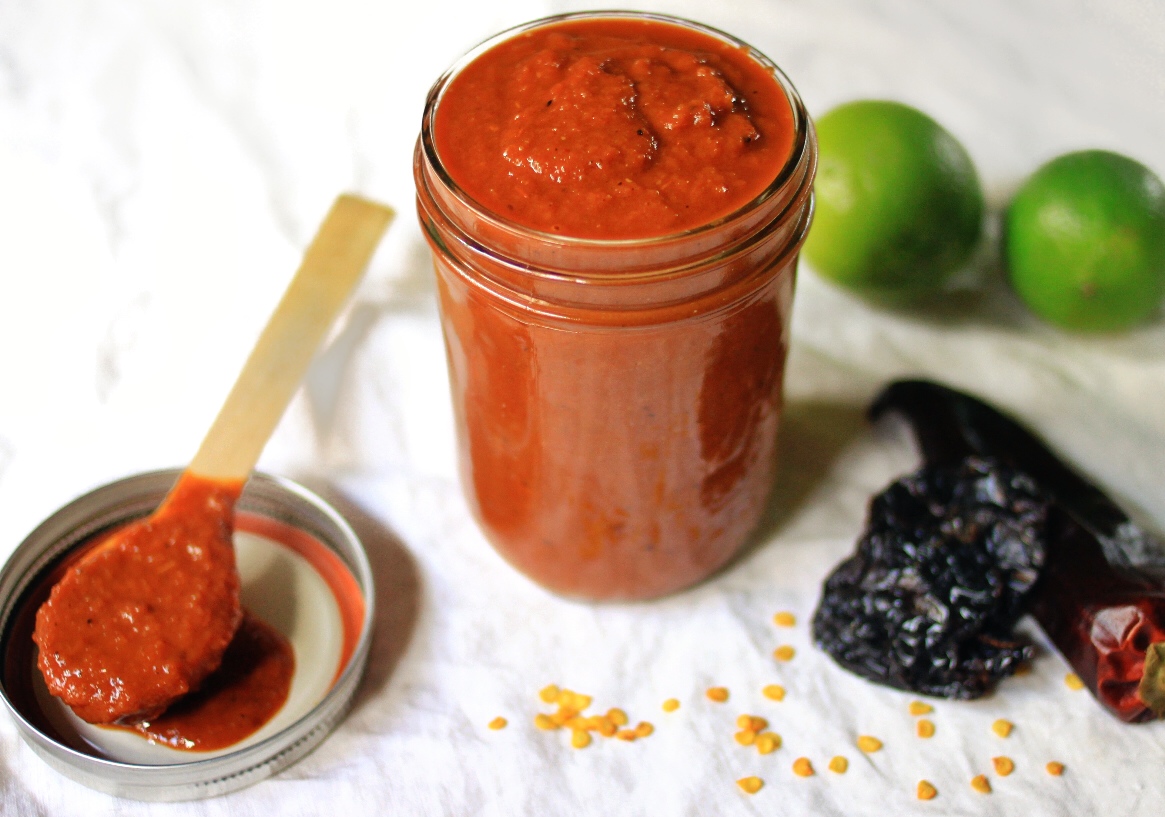 We are huge fans of enchiladas around our house. Honestly, I usually rely on canned enchilada sauce and then make everything else homemade – homemade tortillas, fillings, sides… seems kind of silly, really, to skimp out on the one place where the homemade version would probably make a noticeable difference.
I made enchilada sauce once before but couldn't remember much about the recipe. All I could recall is reading once upon a time that genuine enchilada sauce doesn't have any tomatoes in it.  In that sense, this isn't an authentic enchilada sauce… not exactly.  It's a chile colorado sauce which doesn't come from Colorado, but merely refers to the reddish color of the sauce (colorado meaning to blush, or to turn red).
For this sauce you would generally use ancho and guajillo chiles, although I used ancho and New Mexico chiles. The sauce is pretty mild-medium on heat, but also rich in flavor. I decided to make cheese enchiladas while using this sauce, rather than creating a heavy enchilada filling that would distract from the sauce. Needless to say, three adult-sized appetites ate two and a half dozen enchiladas within 24 hours.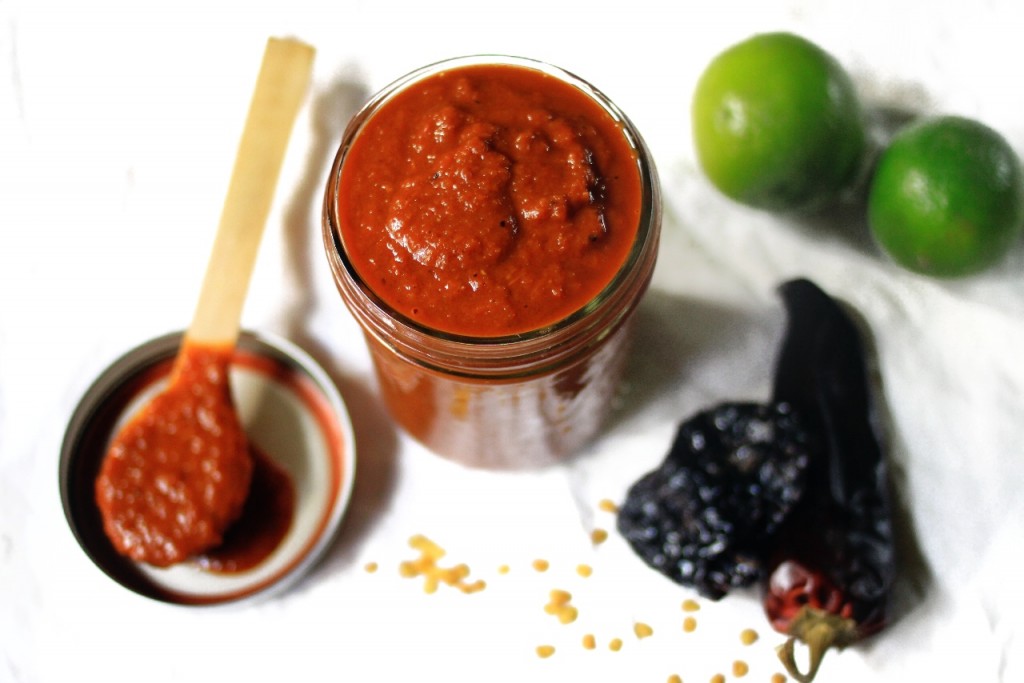 Chile Colorado Sauce (Basic Red Chile Sauce)
Yields about 8 cups of sauce.
Ingredients:
2 large yellow or white onions, peeled and quartered
2 pounds roma tomatoes, cored and quartered
8 whole garlic cloves, peeled
canola oil
2 dried ancho chiles, stems and seeds removed
4 dried New Mexico chiles, stems and seeds removed
1 teaspoon ground cumin
1 teaspoon ground coriander
1 1/2 teaspoons dried Mexican oregano
1 quart No-Chicken broth
salt and pepper
Directions:
Arrange the top rack of your oven on the top rungs. Turn your oven on to broiling. Place the quartered onions, tomatoes, and cloves of garlic on a large sheet pan in a single layer. Drizzle generously with the oil. Place the sheet pan under the broiler, cooking until the tomatoes and onion char and blister (7-10 minutes). Remove from the oven and cool to room temperature.
In a large heavy-bottomed skillet (I prefer cast iron), lay the dried peppers in a single layer. Toast the peppers over high heat, turning them often, until the outer skins blacken slightly. Immediately place the peppers in a large bowl and cover with water. You may have to place a plate on the peppers to weigh them down. Make sure the peppers are completely submerged. Soak the peppers until they soften completely (30 minutes or so).
Once the peppers have softened, combine them, the roasted onion, tomatoes, and garlic in a high-speed blender or food processor fitted with the large chopping blade. Add the cumin, coriander, oregano, and about half of the broth. Blend until smooth. Slowly blend in the remaining broth.
If the sauce isn't as smooth as you like, you can strain it. Pour the sauce into a large pot, bringing the temperature up over low heat, slowly. Taste and add salt and ground pepper to your liking.
This sauce should be used within one week, if refrigerated. If frozen, it will last up to one month.