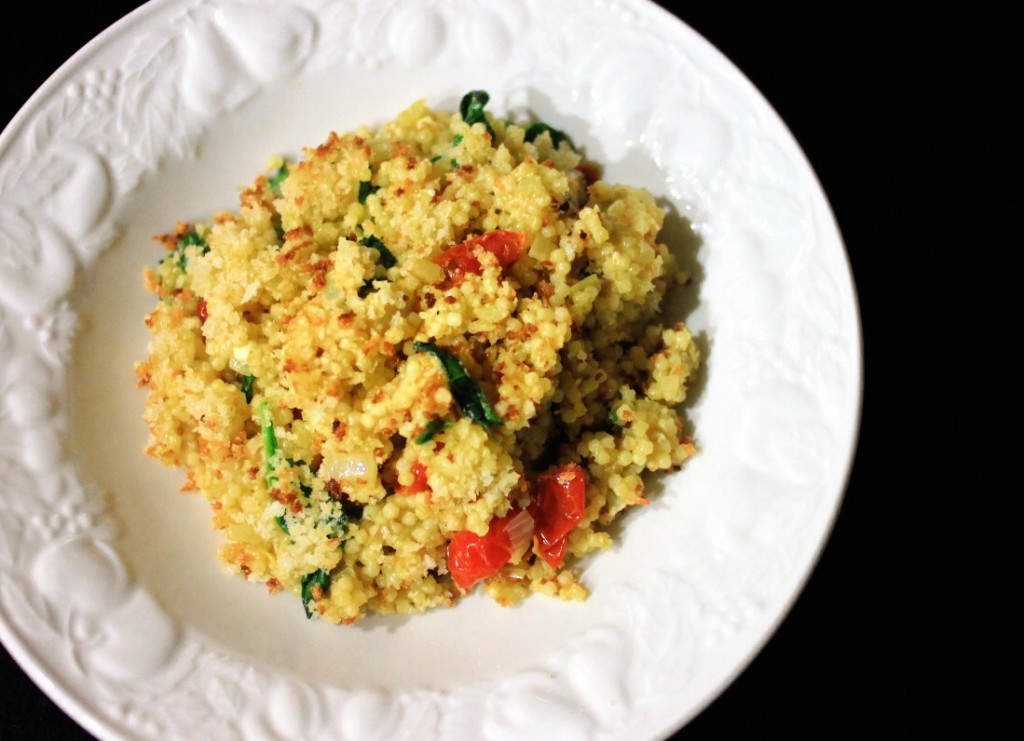 We were out of town for most of last week. Every time we are about to travel for any extended amount of time, I like to empty out our fridge prior to leaving. For the few days before a trip, we eat weird meals of whatever needs to go. Typically this type of cleaning means I eat a lot… I mean a LOT of yogurt for a three or four days, with other heavy-on-the-dairy dishes and concoctions of whatever vegetables and fruits are laying around.
When we got back from Seattle Friday night, it was late. The following day was busy and grocery shopping didn't happen. The next evening I realized I hadn't gone shopping, again, and I didn't feel like maneuvering through the grocery store while hungry. Seeing as it was just my husband and I, I asked, "Do you care what we have for dinner tonight?" The simple, "No." was a green light to make my favorite go-to dinner variety dish: pasta.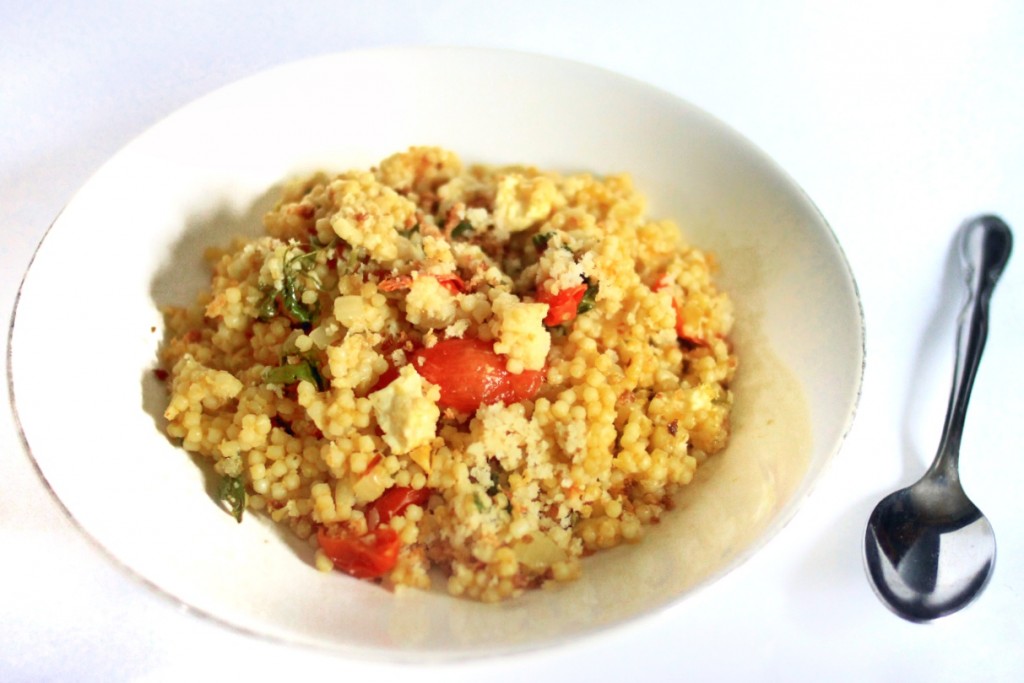 I dug around in the refrigerator and found a pint of grape tomatoes I'd managed to neglect before we went to Seattle, along with a pint of heavy whipping cream. (Turns out I didn't clean out the things I would've, had I looked better, very well.) This is an easily thrown together dinner. You can skip the breadcrumb topping if you prefer.
My favorite part was eating this again, like a pasta salad today for lunch. It was equally tasty cold as it was fresh out of the oven.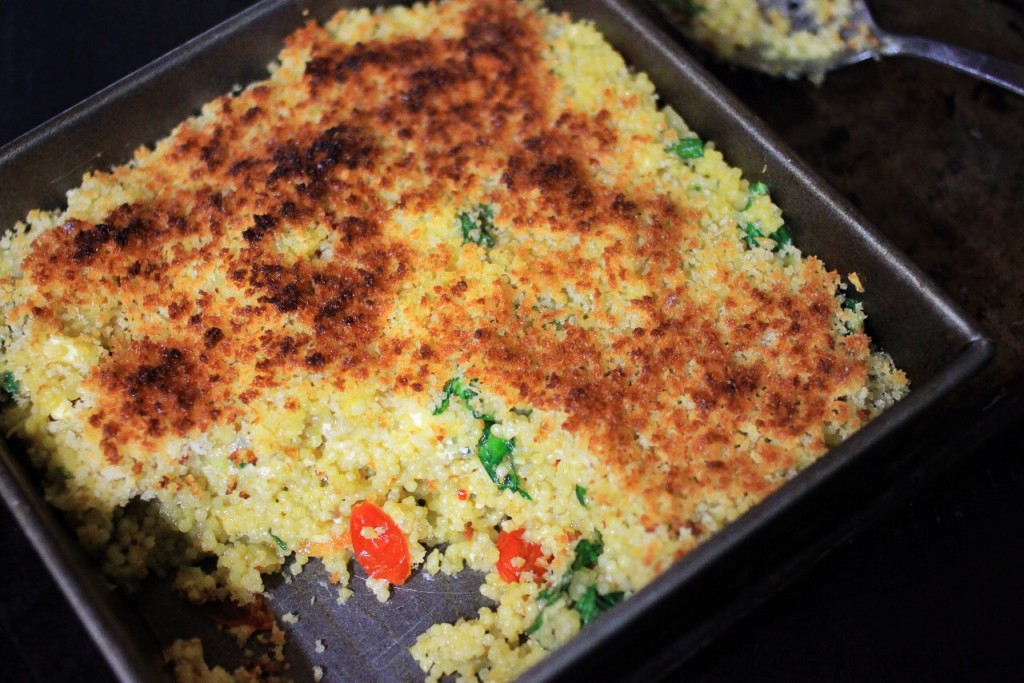 Acini di Pepe with Tomatoes, Spinach and Feta
Feeds 4-6 folks.
Ingredients:
2 tablespoons olive oil
1 small yellow onion, diced
4 garlic cloves, minced
1 pint grape tomatoes, halved
1 teaspoon salt
1 1/2 cups acini di pepe
3 tablespoons prepared pesto
2 cups fresh spinach, roughly chopped
2 ounces feta, crumbled
2 tablespoons grated parmesan cheese
1 tablespoon heavy cream
1/4 to 1/2 teaspoon red chili flakes (depending on your spice preference)
2 tablespoons unsalted butter
3/4 cup panko breadcrumbs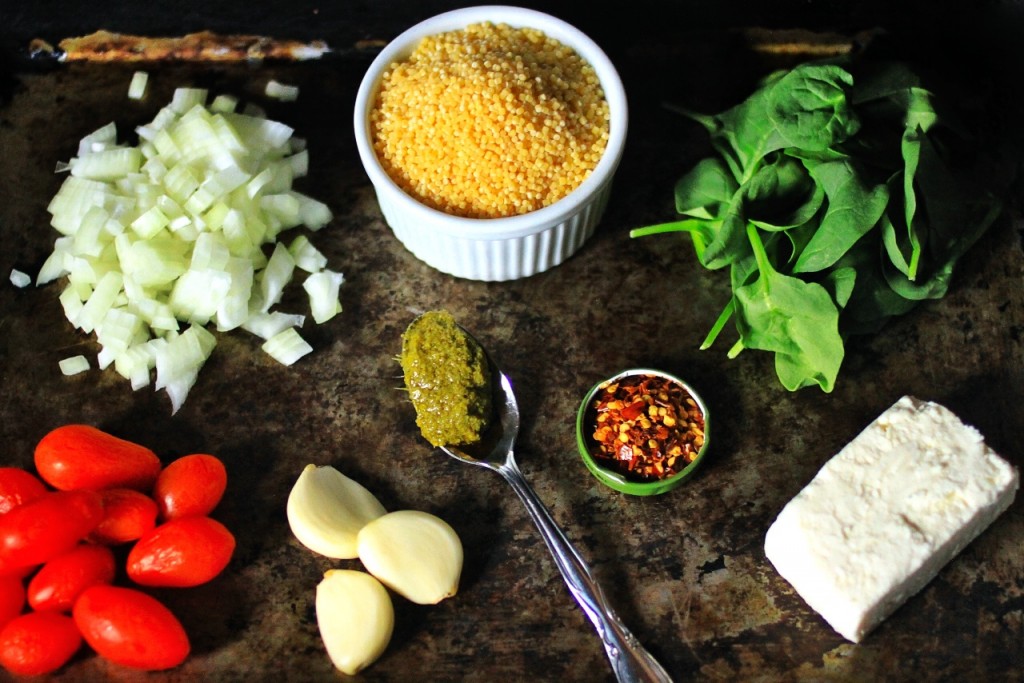 Directions:
Preheat your oven to 450 degrees F. Lightly grease a 9 x 9 inch square pan and set it aside until needed. Bring a large pot of generously salted water to a rolling boil. Melt the two tablespoons of butter in a small skillet, then stir the breadcrumbs into the butter. Set aside once the breadcrumbs are coated.
While the water is coming to a boil, heat the oil in a large skillet over medium-high heat. Add the onion and cook, occasionally stirring until the onion is translucent (5 to 7 minutes). Add the garlic, tomatoes, and salt. Saute until the tomatoes soften (5 or so minutes).
Pour the acini di pepe into the boiling water, stirring to separate the grains. Cook until tender (7 to 8 minutes total). Drain, setting the pasta aside until needed.
Meanwhile, add the pesto to the onion/tomato mixture, stirring to evenly distribute everything. Add the cooked pasta, feta, fresh spinach, parmesan, and cream, stirring to evenly combine the ingredients. Taste, then add more salt and ground black pepper to your liking.
Pour the pasta into your prepared baking dish. Sprinkle the buttered breadcrumbs over the top of the pasta. Bake until the top is golden brown (10 minutes or so). Serve while hot.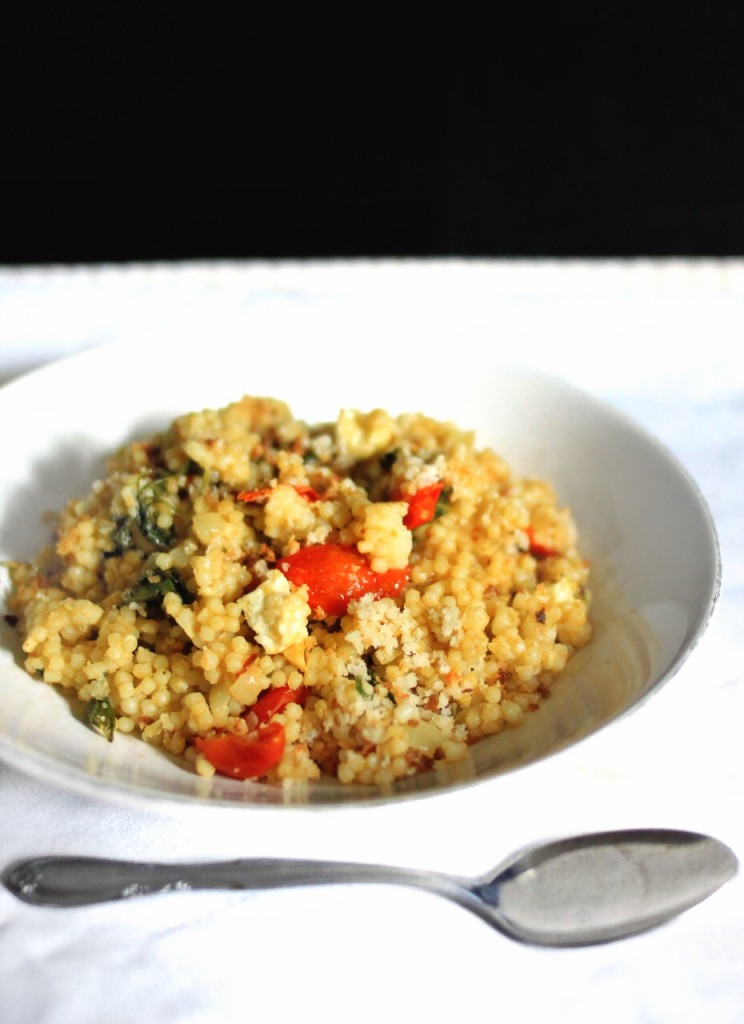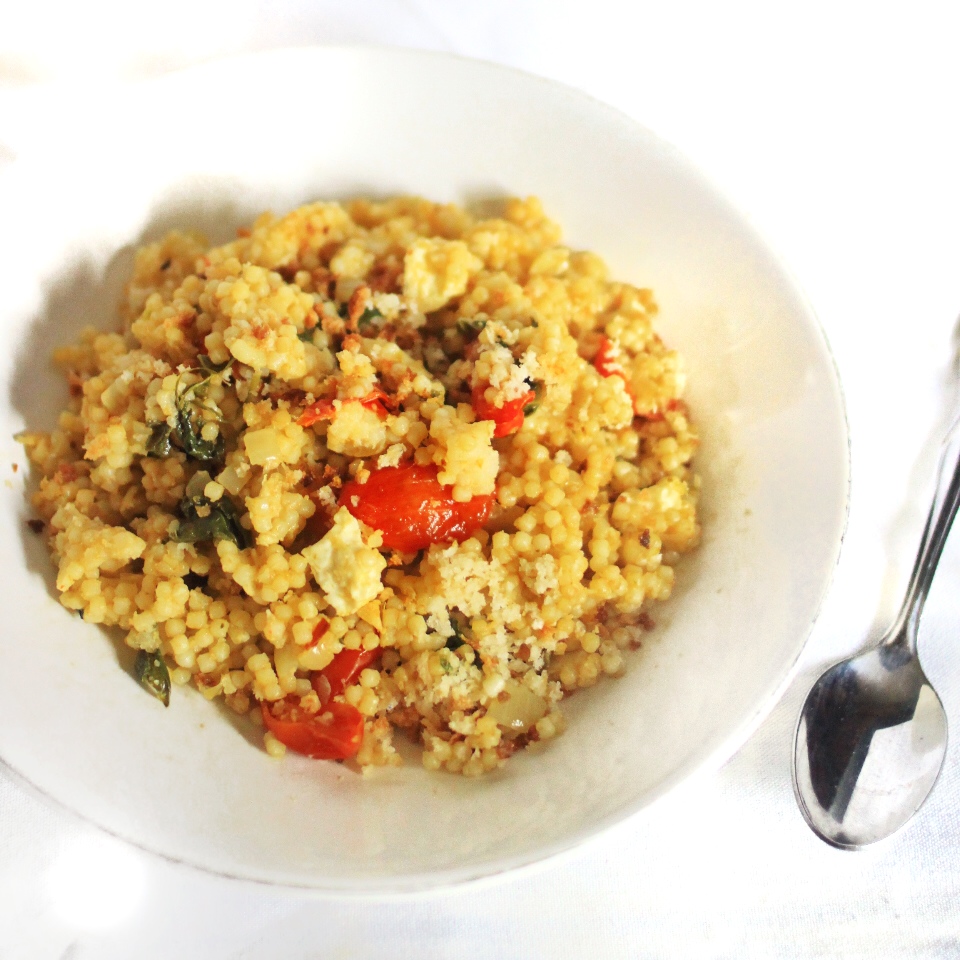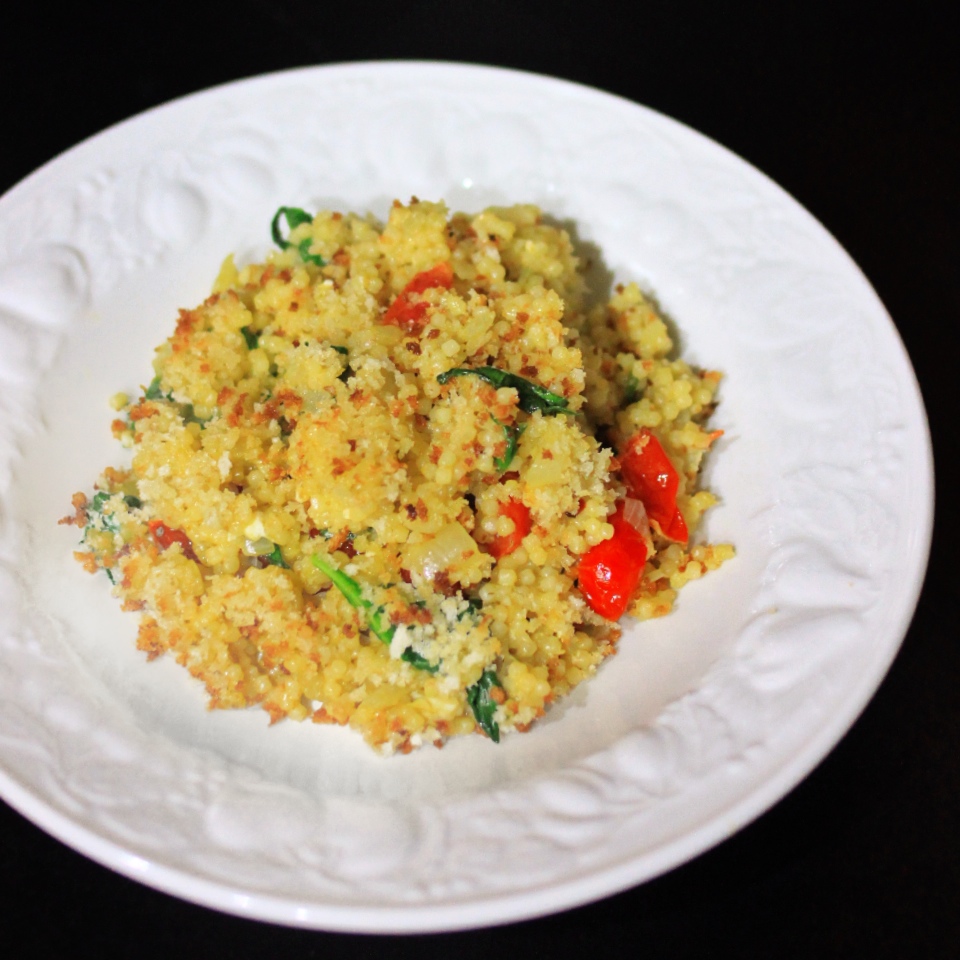 Please follow and like us: