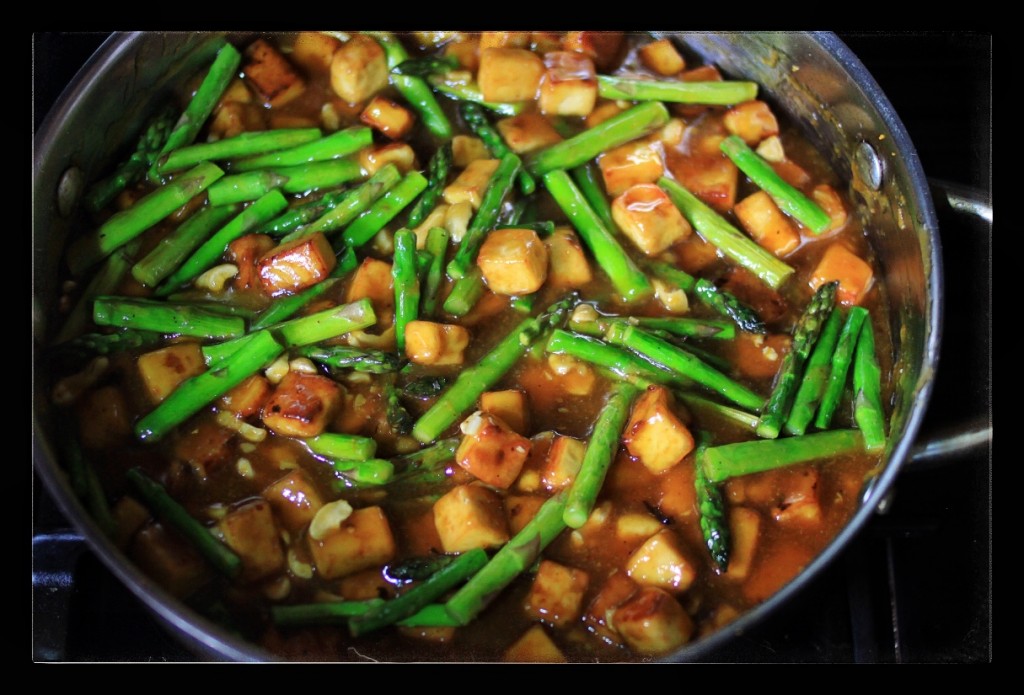 When I was in the 7th or 8th grade, I decided I was going to try vegetarianism.  When I told my mom, who did most of the cooking, she assured me that she wasn't going out of her way to cook a second meal each night just because I got a wild hair up my ass to try this new diet. That meant I had to cook things for myself or adjust what she'd already cooked to meet my dietary desires. That said, I ate a lot of rice and salad, saimin, mac and cheese out of a box… Despite making my vegetarian proclamation numerous times, it rarely lasted more than a couple days.
Nowadays, aside from fish every now and then, I cook entirely vegetarian. But when I come up with recipe ideas, often the ideas stem from dishes I am familiar with, which also frequently include meat. Part of what is fun for me in cooking is challenging myself to develop completely vegetarian versions of things I've always enjoyed eating – meat laden dishes included.
I've been on a weird Asian-influenced meal kick. When I began craving orange chicken, I knew instantly that I was going to figure out how to make the sauce, and the dish would include tofu. I also wanted to include roasted asparagus, which would add something savory to an otherwise sweet dish. While I wasn't sure how this would go over with 8 year old Silas, I was surprised that he demolished his first plate of food and went to help himself to seconds! A rare occurrence happened and we wound up with no leftovers – a good sign, for sure – and perhaps a legitimate way to encourage you to try this dish!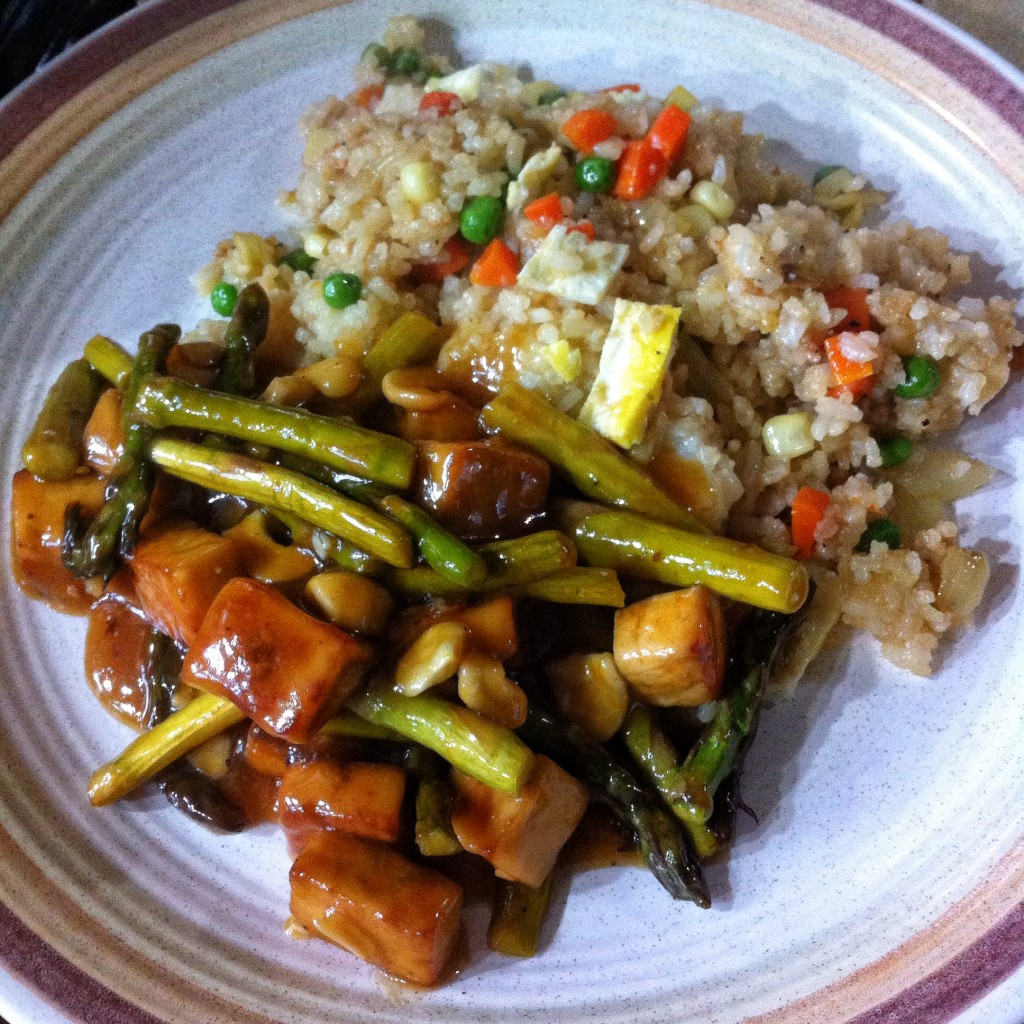 Orange Cashew Tofu with Roasted Asparagus
Serves 4-6 people.
Ingredients:
16 oz. extra firm tofu, cut into 1-inch cubes
2 tablespoons toasted sesame oil
1 tablespoon soy sauce
2 teaspoons yellow miso
1-inch piece of ginger, peeled and minced
1 pound fresh asparagus, cut into 2-inch long pieces
1 tablespoon toasted sesame oil
salt and pepper
3 tablespoons toasted sesame oil
4 cloves garlic, minced
2 whole valencia or cara cara oranges
zest from both oranges
3/4 cup No-Chicken or vegetable broth
1/2 cup light brown sugar, packed
1/4 cup soy sauce
1/3 cup rice vinegar
1 tablespoon chili sauce (like sriracha)*
2 teaspoons fresh minced ginger
1/4 cup cornstarch
3 tablespoons water
1/3 cup raw cashew pieces
*You can decrease the amount of chili sauce to your liking, or omit completely if you prefer no spice to your final dish.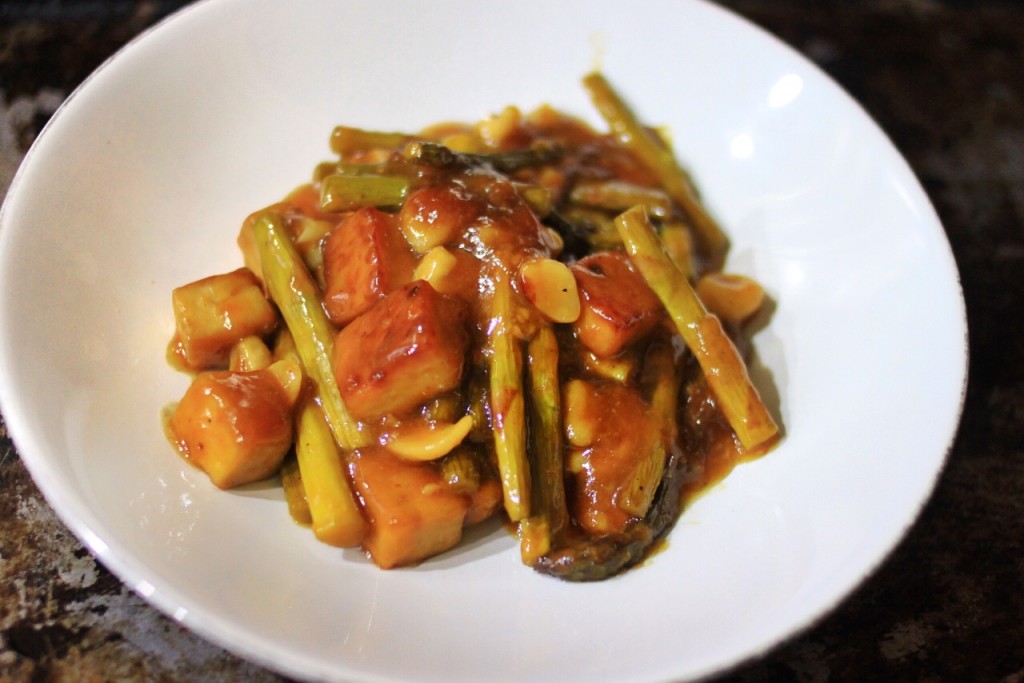 Directions:
Prepare the tofu: Preheat your oven to 450 degrees F. Lightly coat a cooking sheet in oil. In a small bowl, whisk together the two tablespoons of toasted sesame oil, tablespoon of soy sauce, two teaspoons miso and minced ginger. Gently toss the cubed tofu with the mixture. Spread the tofu onto your prepared baking sheet in a single layer. Bake for 25-30 minutes, turning occasionally, until nicely crisp and brown on the outside. Remove from the oven and set aside until needed.
Roast the asparagus: Toss the cut asparagus with the tablespoon of toasted sesame oil, as well as a generous amount of salt and pepper. Spread evenly, in a single layer, on a baking sheet. Bake for 12-15 minutes, just until fork-tender. Remove from oven and set aside until needed.
Prepare the sauce: In a large skillet or wok, heat the remaining three tablespoons sesame oil over medium high heat. Add the minced garlic, cooking until fragrant (a minute or two). Add the juice from both oranges, along with the orange zest, broth, brown sugar, soy sauce, rice vinegar, chili sauce and minced ginger. Whisk well.
In a small bowl, stir together the cornstarch and water until all the cornstarch has dissolved. Pour this mixture into the orange sauce, whisking to combine everything. The sauce will begin to thicken as the cornstarch heats up. Add the baked tofu, roasted broccoli, and raw cashews to the sauce. Turn the heat to low and let everything simmer for 15-20 minutes.
Serve hot with steamed or fried rice.