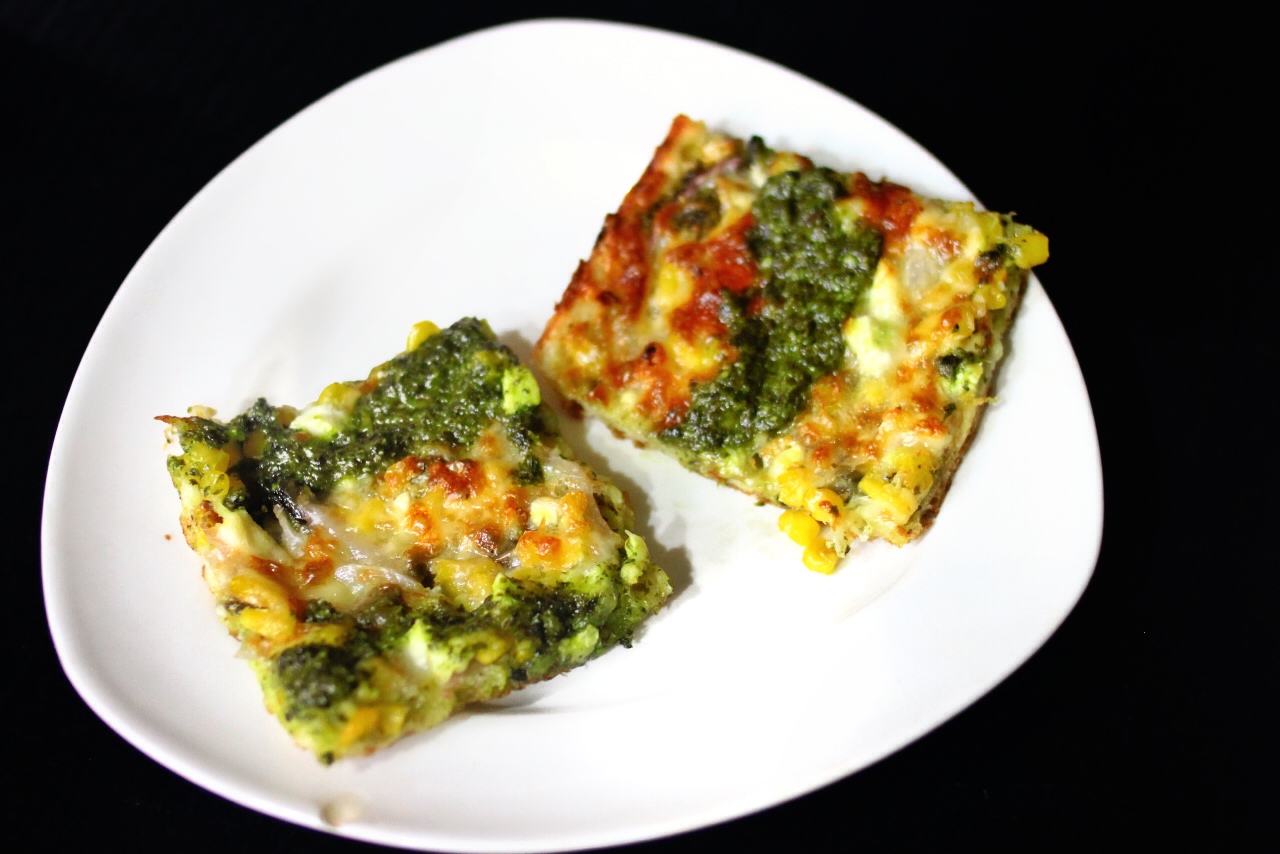 It appears we are still obsessed. This pizza crust has taken over our weekly menus with a rampant force. For the last few weeks, we have eaten pizzas of various varieties all based on this amazingly easy, DELICIOUS pizza dough. Fear not! This isn't a complaint. The truth is, I could happily eat these pies daily.
When we stayed in Berkeley a couple summers ago, we discovered The Cheese Board not far from our hotel. What we didn't anticipate was the line that wrapped down the sidewalk for more than a block. We didn't wait, as we had the kids and that would have just been asking for extensive whiny chaos, but I did tremendous amounts of research on this mysteriously well-loved pizza.
The Cheese Board menu changes daily, featuring one key pie that you can buy by the whole, half, or slice. When I saw numerous photos of a well loved pizza featuring cilantro, feta, corn and lime, I knew I'd experiment and make my own version. We do intend to make it to Cheese Board one day… but until then, I will just eat this pizza weekly. Enjoy!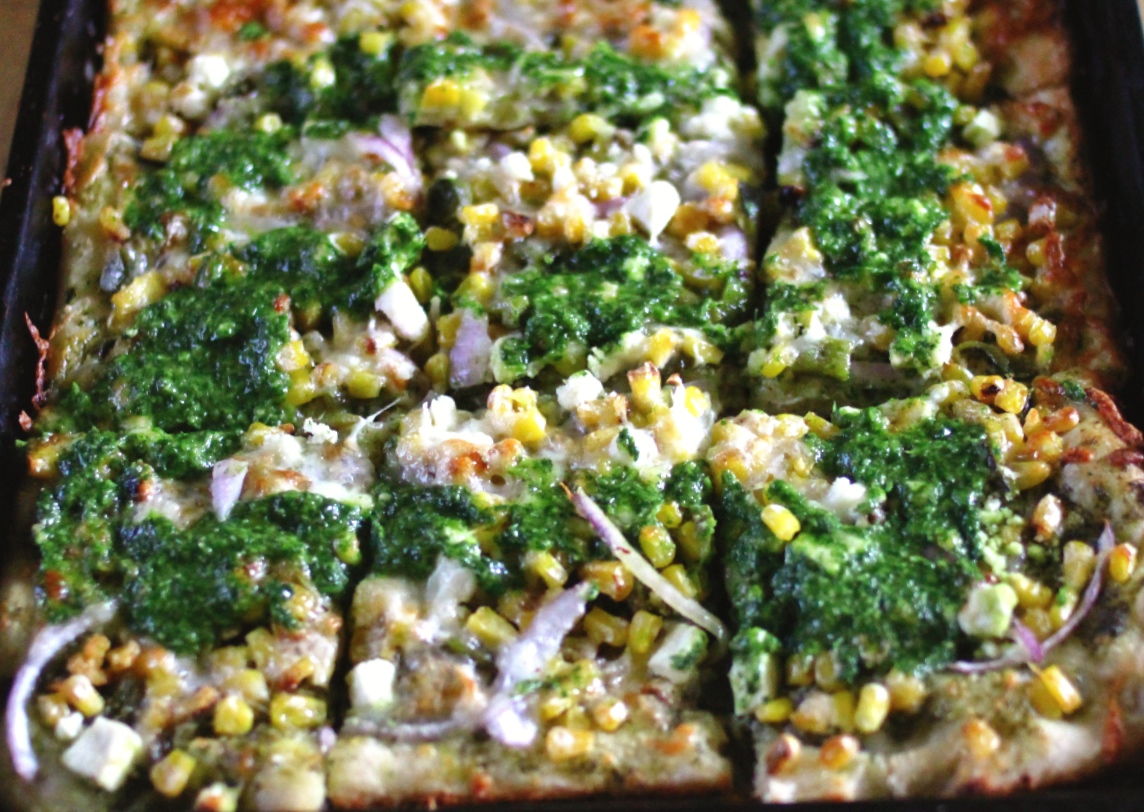 Corn and Poblano Pizza with Cilantro Pesto
Yields one 13 x 18 inch pizza.
Pizza dough recipe adapted from Tracy Shutterbean
Ingredients:
For the dough:
2 cups plus 2 tablespoons all-purpose flour
1 1/4 teaspoons active dry yeast
1/4 teaspoon salt
1/4 teaspoon sugar
3/4 cup warm water
olive oil for pan
For the cilantro pesto:
one large bunch of cilantro, yellowed parts removed
2 cloves garlic, peeled
2 tablespoons olive oil
1/4 teaspoon salt
1/2 a lime, juiced
For the pizza:
the above dough
the above pesto
8 ounces sweet corn (frozen or fresh)
2 poblano peppers
1/2 a small red onion, cut thinly
1 ball fresh mozzarella
1 cup shredded mozzarella
2 ounces feta, crumbled
Directions:
Prepare the dough: Stir together the flour, yeast, salt and sugar in bowl. Add the water, then use a spoon or your hands to mix everything together until blended into a ball of dough (this should take no more than a few minutes).
Cover the dough and let it rise at room temperature for about 2 hours. It may be slightly less than doubled in size.
Roast the poblano peppers while the dough rises: If you have a gas stove, this is easily done by toasting the peppers over an open flame (on high), using tongs to turn the peppers constantly. Once the peppers are nicely blackened on all sides, place them in a bowl and then tightly cover the bowl with plastic wrap. The trapped steam will soften the peppers and loosen their skins. After 15 minutes, pull the stems out of each pepper. Pull the skins off the pepper. I like to do this under running cold water, as it seems to help make the job quicker. You can also use a paper towel to rub off the loosened skins. Holding one end, squeeze the pepper length-wise, to remove the bulk of its seeds (leave them in for a spicier sauce). Dice the peppers into bite-sized pieces.
If you are using an oven, turn it on to the broiler setting. Brush each pepper with 1-2 teaspoons of vegetable, sunflower, or another high-smoke point oil. Arrange the peppers on a baking sheet, then place the sheet on the highest rack in your oven. Keeping a close eye on the peppers, remove them once dark, blackened spots appear. As with stove-top roasted peppers, place in a bowl and cover for 15 minutes. Follow the above directions for removing the skins and seeds.
Make the cilantro pesto: Combine all the ingredients for the sauce in a blender or food processor and blend until smooth (4-5 minutes).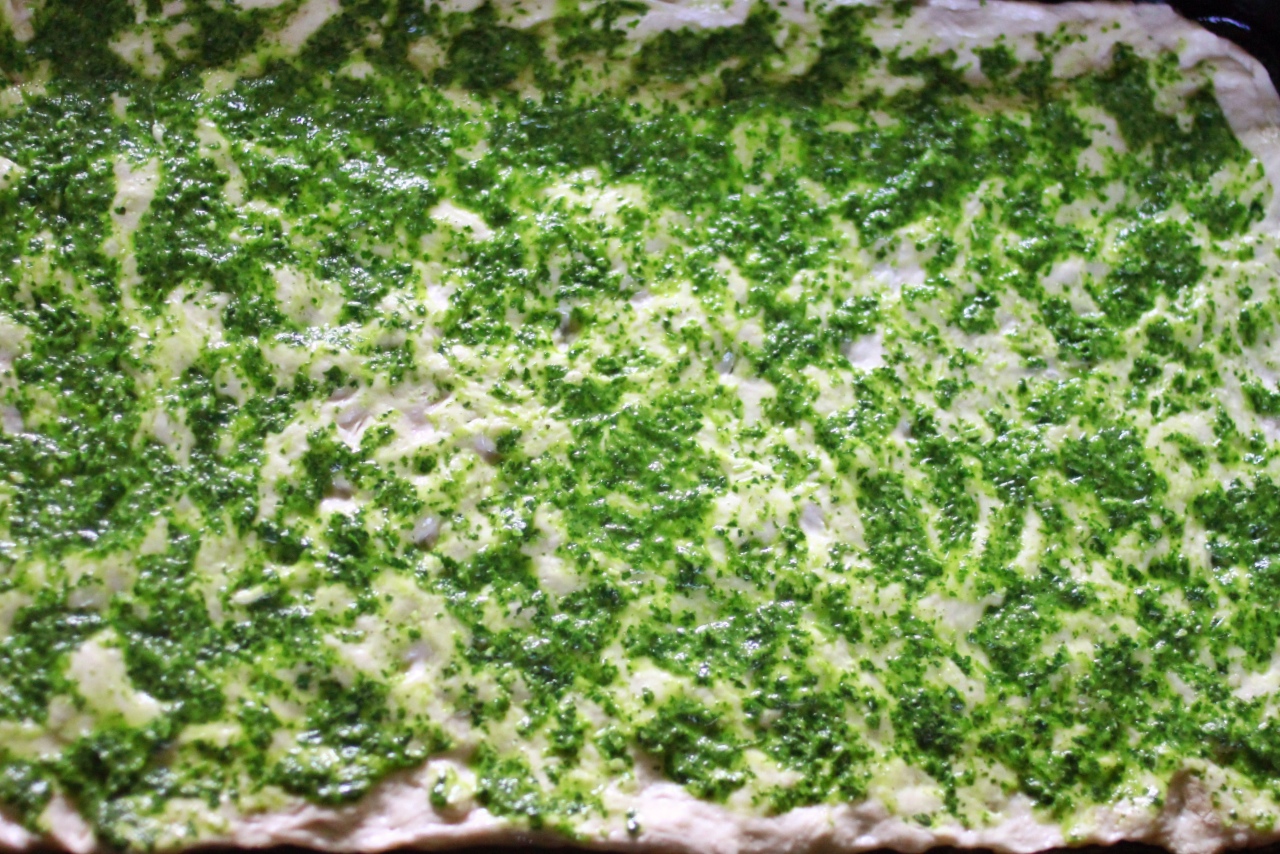 Make your pizza: Preheat your oven to 500° F. Dump the dough onto a lightly floured surface. Generously oil a 13×18 inch rimmed baking sheet with a good quality olive oil. Gently place a ball of dough on the pan, stretching and pressing it out toward the edges. If it springs back wait five minutes and then continue. The dough is very thin. If it tears, simply pinch it back together.
Spread half of the cilantro sauce all over the dough, making sure to get it out towards the edges. Sprinkle on the corn, diced poblano peppers and red onion. Sprinkle the shredded mozzarella evenly on the pizza. Next, tear pieces of the fresh mozzarella and scatter it over the pie, before sprinkling the crumbled feta over the top. Bake for 18-20 minutes until the edges are slightly charred. Drizzle the remaining cilantro sauce over the baked pizza, then cut into squares and serve. This pizza is also great at just above room temperature!