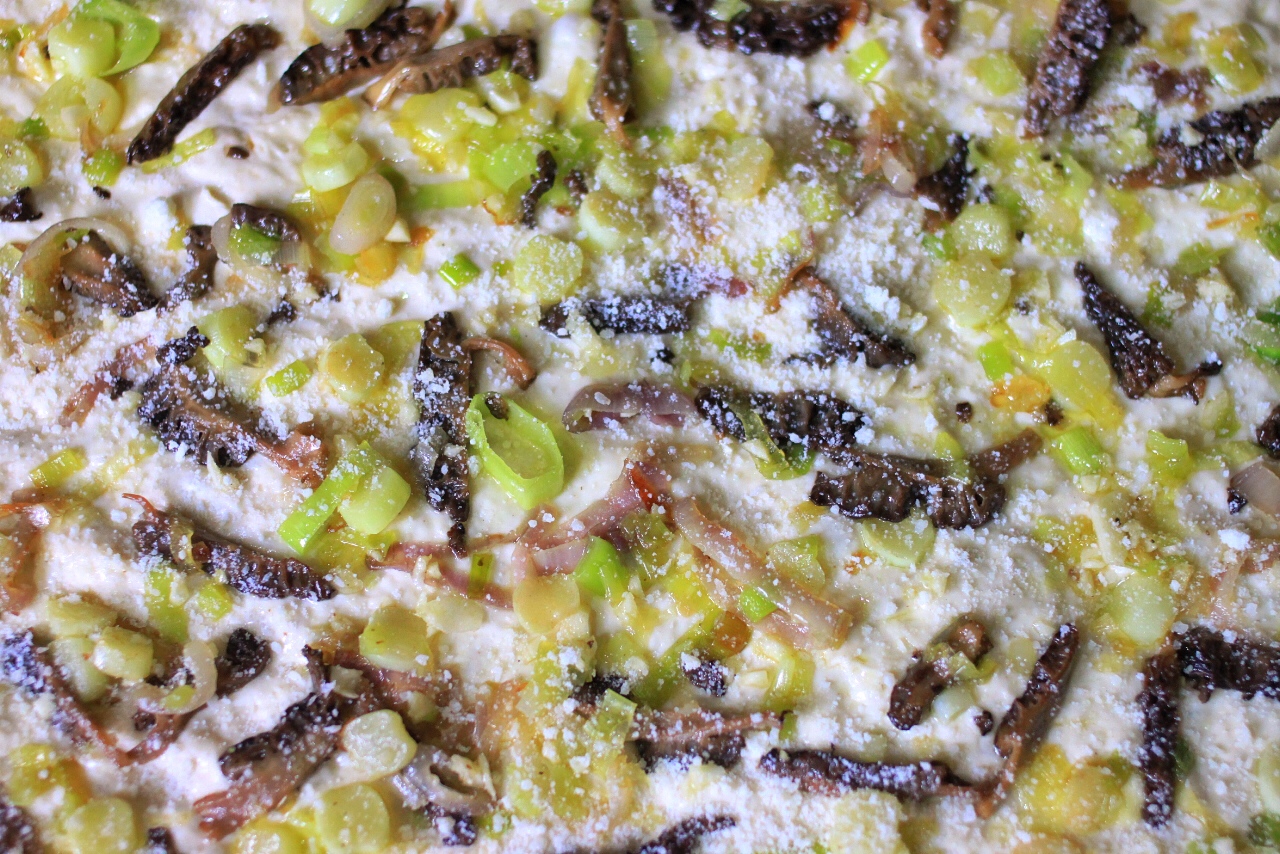 I feel like I should apologize for sharing a pizza recipe with you… AGAIN… But really, I'm not that sorry. We have been eating a lot of homemade pizza recently. This recipe has changed our lives… It's no lie that we have had pizza every week since its discovery.
The thing about homemade pizza people seem to get tripped up about is the supposed difficulty in working with yeast. As per my usual cooking technique, I have always approached homemade bread making and yeast with a gung-ho, what's the worst that could happen attitude. The worst thing, your yeast doesn't proof or the bread doesn't rise. While disappointing, that's not the end of the world. This dough doesn't leave a whole lot of room for failure though, being that it's so simple. Add the dough ingredients to a bowl, mix (no stand mixer, bread machine, or kneading required!) wait, wait, wait… press, top, bake, EAT.
I have found that a limited number of topping ingredients are part of the beauty in making a good pizza. Minimal, GOOD QUALITY ingredients, that is. Recently a friend gave us a handful of fresh Oregon morels he'd found while mushroom hunting. I had never tried morels before, as I am generally not a huge fan of mushrooms. I've tried to be more open minded about them recently and have actually enjoyed them. We decided to use these particular mushrooms on the following pizza, which was deliciously successful. If you're unable to get your hands on fresh morels, I imagine fresh shiitake mushrooms would also work nicely since they too are somewhat "meaty" in consistency.
This pizza was incredible while still hot from the oven. Better yet, cooled almost to room temperature! And let's not forget about reheating the next day in the toaster oven…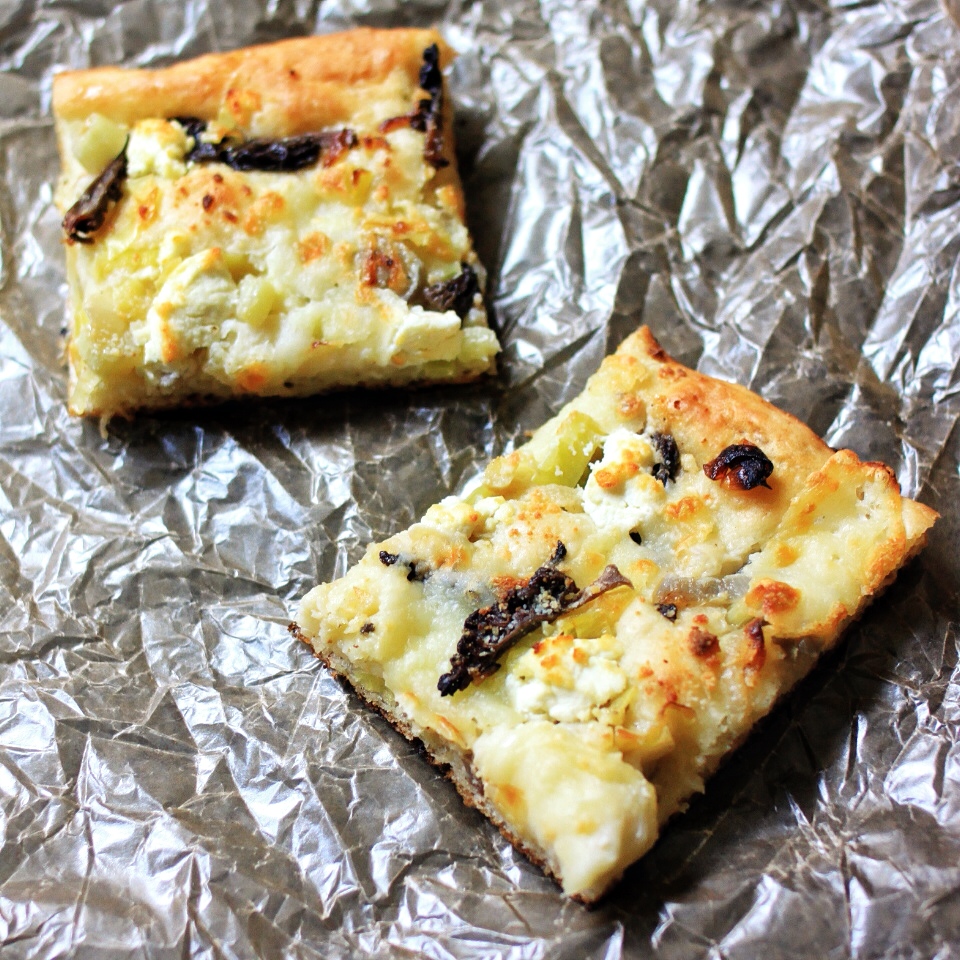 Morel Pizza with Leeks, Shallots, and Goat Cheese
Yields one 13×18-inch pizza
Ingredients:
For the dough:
2 cups plus 2 tablespoons all-purpose flour
1 1/4 teaspoons active dry yeast
1/4 teaspoon salt
1/4 teaspoon sugar
3/4 cup warm water
olive oil for pan
For the pizza:
1 shallot, peeled and cut thinly
2 cloves garlic, minced
1 large leek, green parts removed then cut thinly
4-6 large morels, cleaned then sliced semi-thinly
2 tablespoons butter
2 tablespoons olive oil
1 ball fresh mozzarella
2 ounces mild goat cheese
2 tablespoons grated parmesan cheese
salt and pepper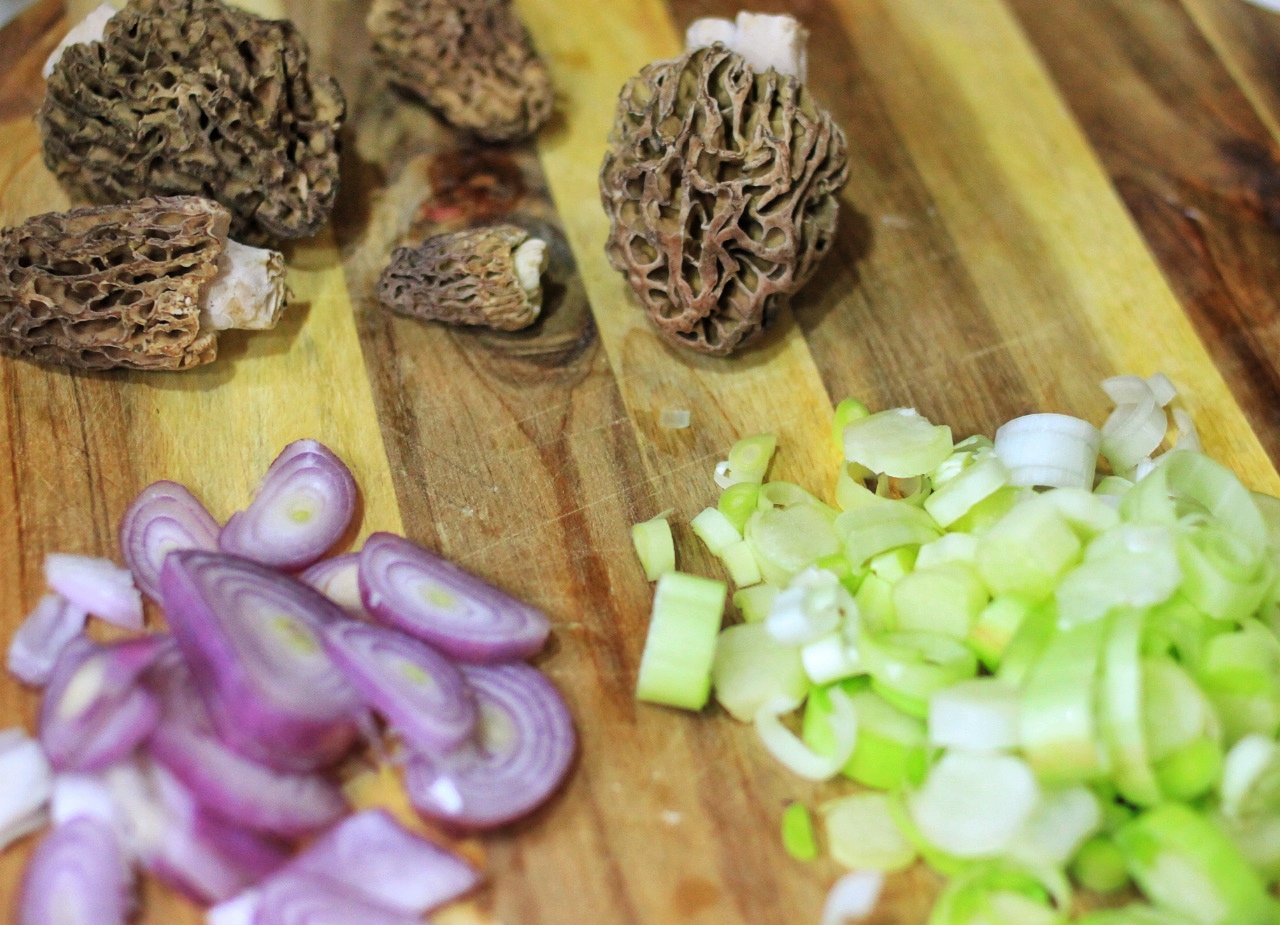 Directions:
Prepare the dough: Stir together the flour, yeast, salt and sugar in bowl. Add the water, then use a spoon or your hands to mix everything together until blended into a ball of dough (this should take no more than a few minutes).
Cover the dough and let it rise at room temperature for about 2 hours. It may be slightly less than doubled in size.
Once the dough has risen, preheat your oven to 500 degrees F. Generously oil a 13×18-inch pan with olive oil. Dump the dough onto a lightly floured surface. Generously oil a 13×18 inch rimmed baking sheet with a good quality olive oil. Gently place a ball of dough on the pan, stretching and pressing it out toward the edges. If it springs back wait five minutes and then continue. The dough is very thin. If it tears, simply pinch it back together.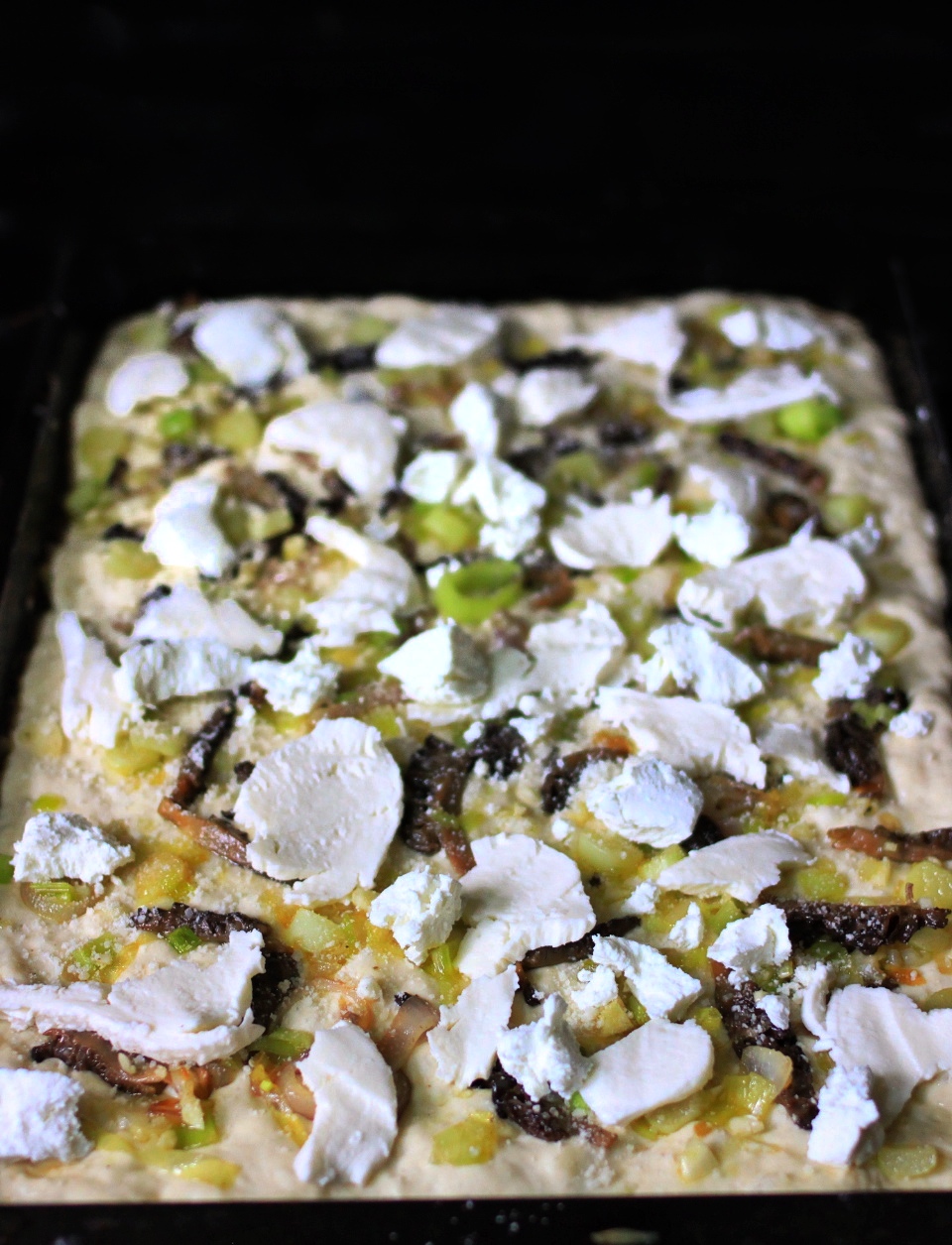 Heat the oil and butter in a pan over medium-high heat until the butter melts completely. Add in the shallot, garlic, leeks and sliced morels, stirring to coat everything well. Saute until the leeks and shallot are tender (12-15 minutes). Spread the mixture over the prepared dough (including any residual oil/butter from the pan) , all the way out to the edges. Break the mozzarella into chunks and arrange it over the top, followed by the goat cheese, parmesan, and a sprinkling of salt and pepper. Bake for 18-20 minutes until the edges are slightly charred.
Let the pizza sit for 5 minutes before cutting into 12 squares. This pizza is also great at just above room temperature!