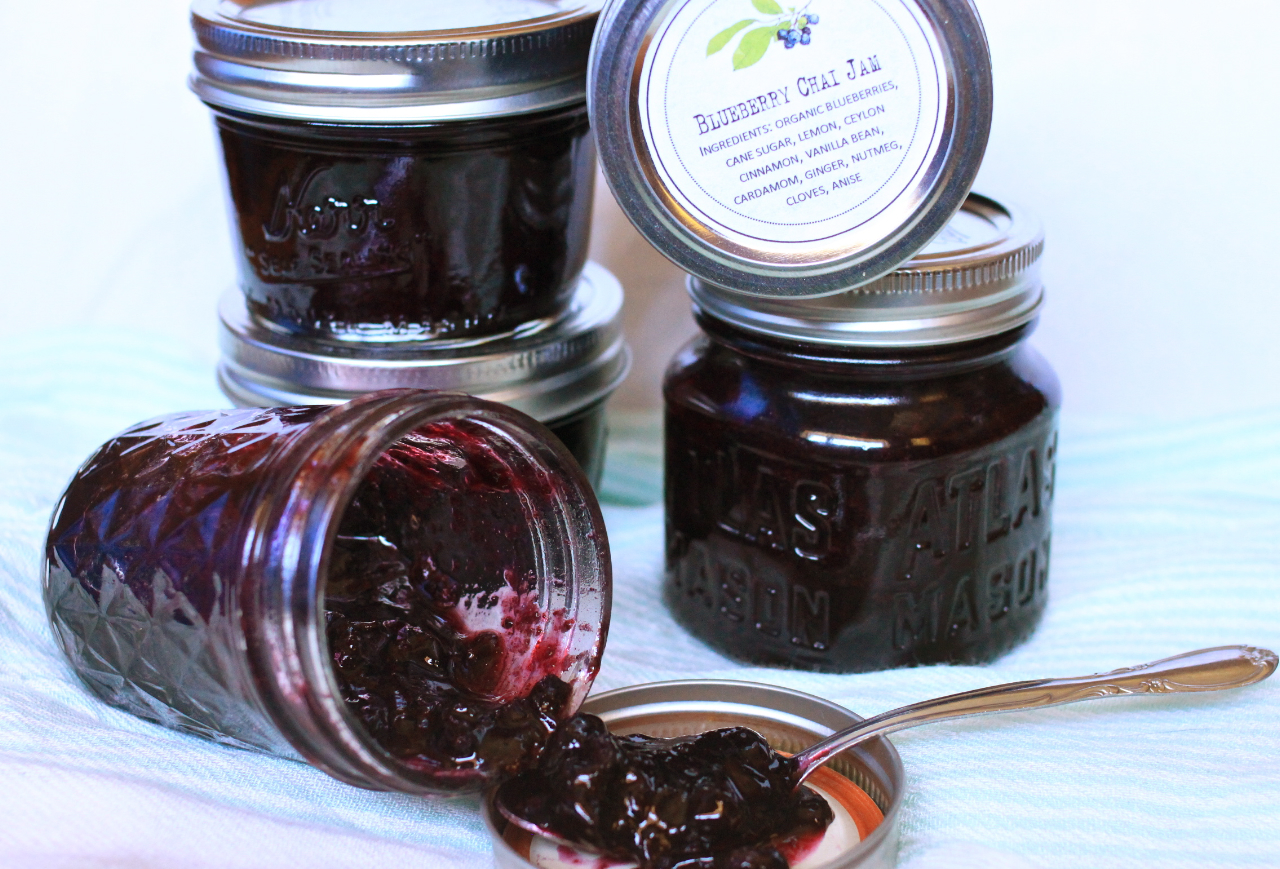 Up until last summer, canning anything really terrified me. I was certain I would create jars of botulism-ridden, bacteria filled foods and most definitely kill someone. Unintentionally. (Ahem.) Then I made some jams, I made and canned squash pickles, dill pickles, green bean pickles, pesto and marinara sauces, diced tomatoes… and I didn't accidentally sicken anyone while sharing!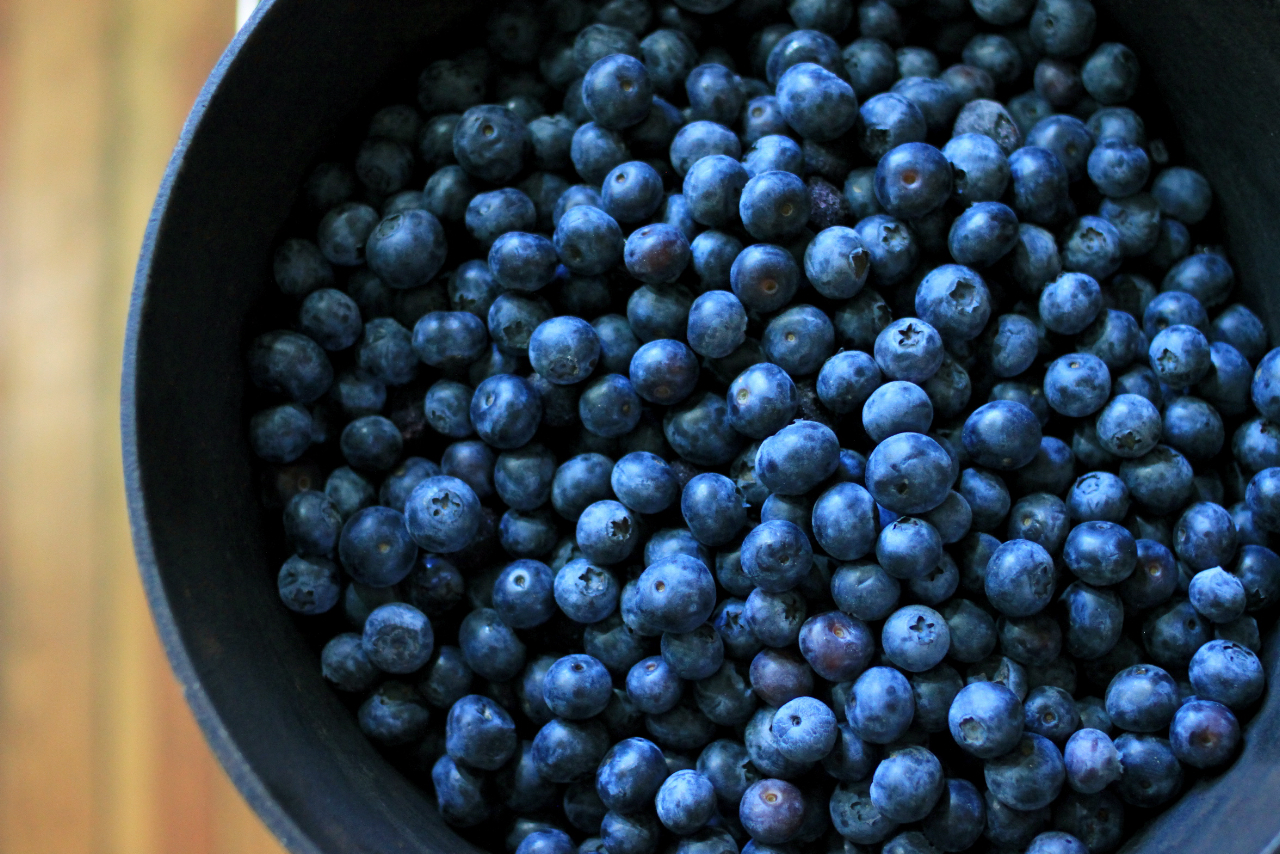 Recently blueberries have begun to make their beautiful blue-purple appearance in the Pacific Northwest. These fresh berries are sweet and juicy, and although it often feels like it's quite the splurge to indulge in the cost of these organic blueberries, I usually give in. They're excellent by the handful, on yogurt, in muffins, pies, tarts, ice cream…
But over the last few years, I think my favorite way to enjoy them is in jam, year round. I like simple, plain jam… and then I also enjoy flavorful, spiced jams. I love stirring a spoonful of either type into vanilla yogurt or my bowl of oatmeal. I decided to add some chai flavors to the following blueberry jam. The result is warmth, sweetness, earthy spiciness that balances nicely with the blueberries.
There is a certain loveliness about jams, jellies, and preserves you've canned yourself. I especially enjoy giving a jar of them as a gift, as I know the time, love, focus, and heart that goes into each batch. (Plus if it didn't taste good, I wouldn't let it leave my kitchen.) My intention with this blueberry jam was to enjoy its summery, warming flavor dead in the middle of winter-to-come. However, I seem to have issues with eating it by the spoonful. May you have more self-control than I! :) But if not, I totally condone eating this jam as quickly as you want.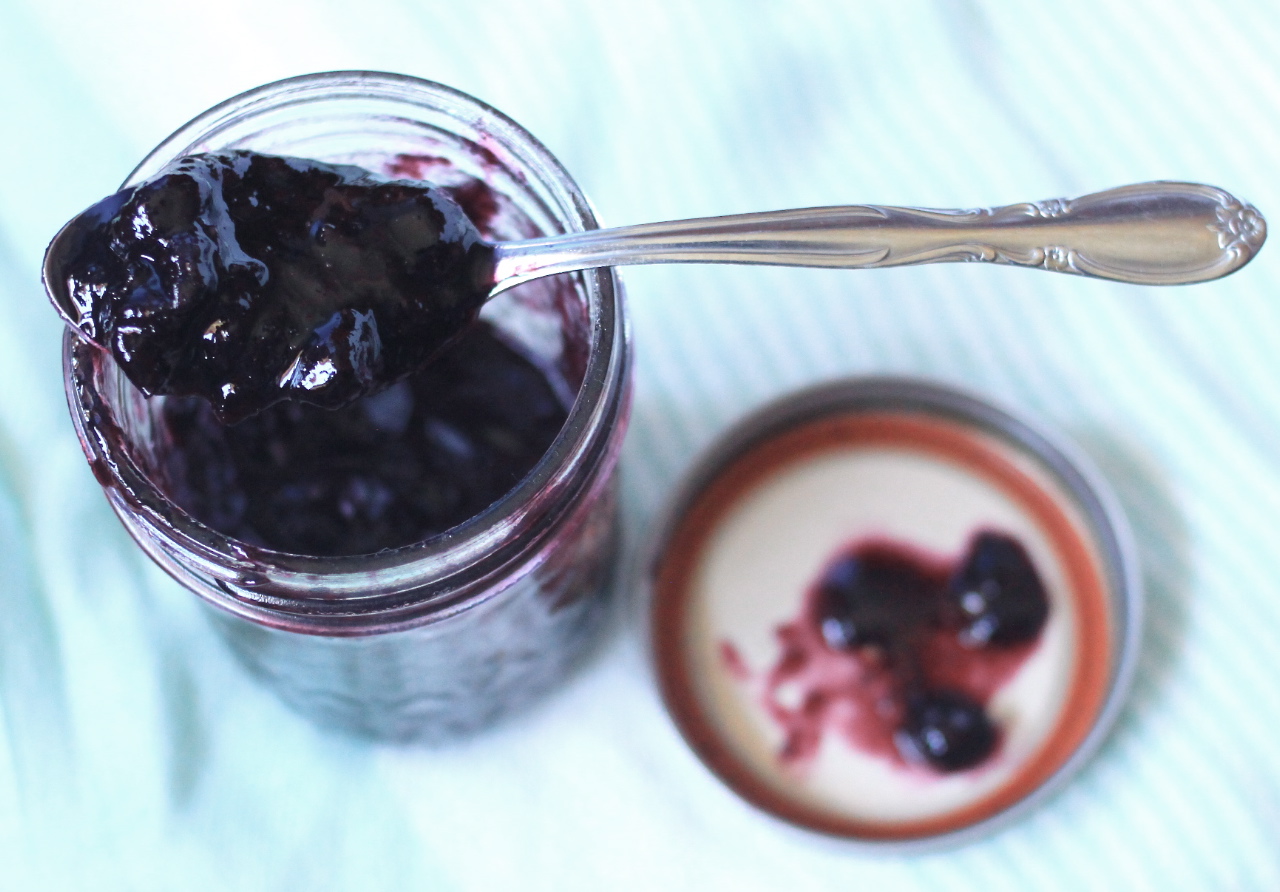 Blueberry Chai Jam
Yields about 8 half-pint jars.
Ingredients:
8 cups fresh blueberries, stems removed
3 3/4 cups unrefined cane sugar
2 tablespoons fresh squeezed lemon juice
1 vanilla bean, split and scraped
1 1/4 teaspoons ground cinnamon
1 ceylon cinnamon stick
1 teaspoon ground cardamom
1/2 teaspoon ground ginger
1/2 teaspoon ground nutmeg
1/4 teaspoon ground anise
1/4 teaspoon ground cloves
2 teaspoons vanilla extract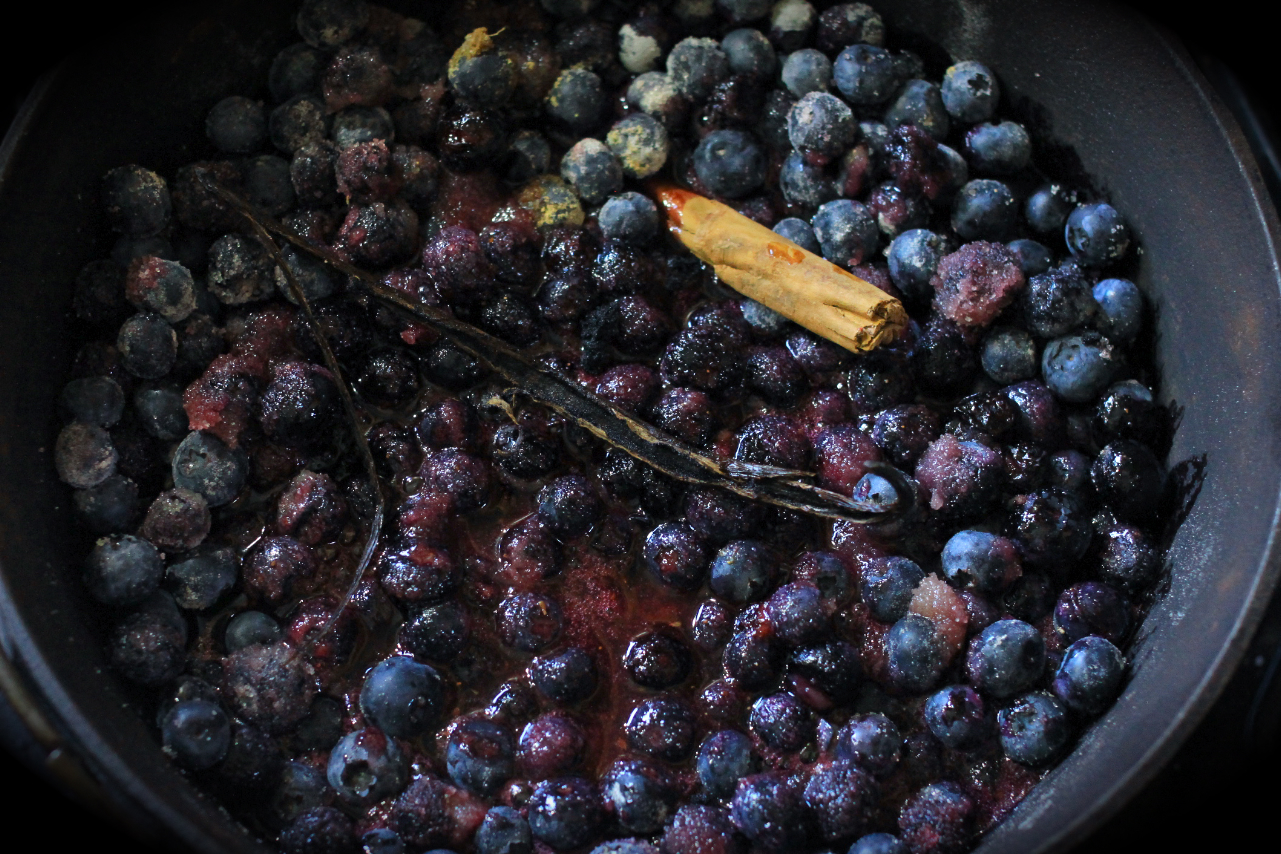 Directions:
First of all: since this is a canned preserve, it's important to make sure your jars and lids are sterilized.
Next, place a plate in the freezer to use to test the readiness of the jam once its done.
Begin by sterilizing your jam jars. Boil the empty jars in a large stockpot of water, with at least one inch of water covering them for at least ten minutes. Leave the jars in the water, turn the burner off and begin making the jam.
Place the blueberries, sugar and fresh lemon juice together in a large heavy bottomed pot. Let the juices macerate for about 15 minutes. Add the vanilla bean (scraped insides plus the pod), cinnamon stick and spices. Bring the mixture to a low simmer for about 40 minutes, stirring occasionally, until the jam reaches 220-225 degrees F and remains at that temperature steadily for at least 10 minutes. If the mixture foams up a bit that is totally normal, just keep it simmering.
After 40 minutes, test the jam on the plate that has been in the freezer. Spoon out a teaspoon of the jam onto the plate and let it sit for a minute. If you pick up the plate, tilt it and the jam does not run, it's done. Stir in the vanilla extract.
Bring the water the jars were sitting in back to a boil and pull out the jars. Spoon jam into each jar and wipe the top edges with a damp towel. Then place the lids and caps on the jars and immerse back into the boiling water for 15 minutes, with at least an inch of water covering the tops.
Once the jam is done, set on the counter to cool until you hear the ever-glorious-and-satisfying POP! indicating your jars sealed correctly. Wait until completely cooled to check that the jars sealed. If any didn't properly seal, simply place in the refrigerator and consume! Keep stored at room temperature for up to 1 year for best flavor.