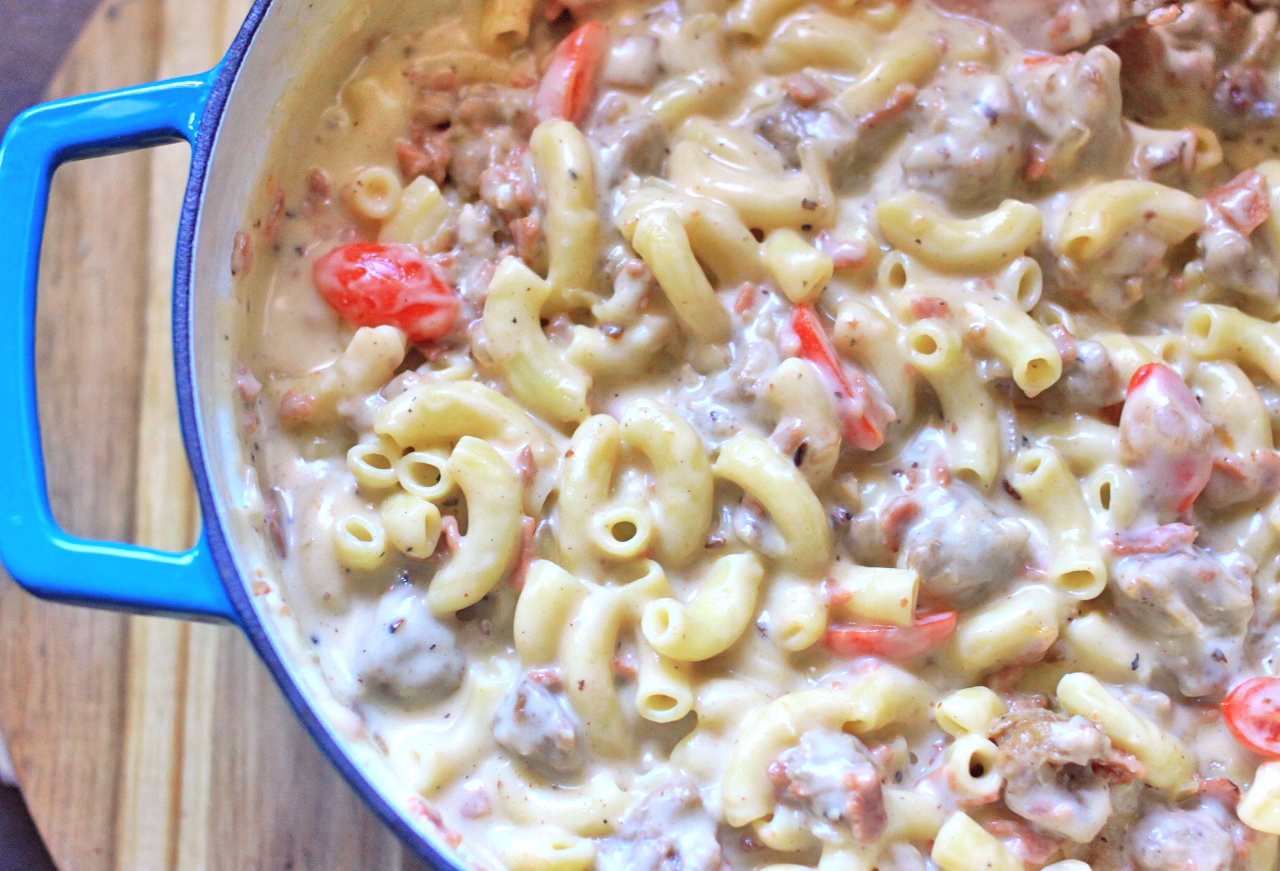 The other day I was on the cross trainer at the gym and bam! vegetarian bacon cheeseburger mac and cheese popped into my brain from god-knows-where. As I added up the miles in my workout, all I could think about was an ooey gooey cheese sauce laden with Gimme Lean sausage, pieces of bacon, and perhaps something like tomatoes to add some color. Something had to be done.
Later on I realized that this idea very, very much reminded me of the Hamburger Helper my mom occasionally made when we were kids. (Side note: did you know that these days if you go to Betty Crocker's website, there is a whole array of "Helper Products?!") While these days I can do without a mysterious packet of "cheese sauce mix" and rely on real ingredients, I do fondly remember the cheeseburger Hamburger Helper I so very much loved and learned to cook from this guy: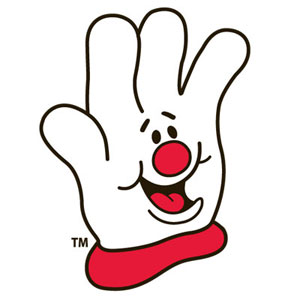 This mac and cheese is creamy, flavorful, easy to put together and went over well with the kids and adults, both. I used Tillamook smoked black pepper white cheddar but if you cannot find that where you are, please feel free to use pepperjack cheese in its place.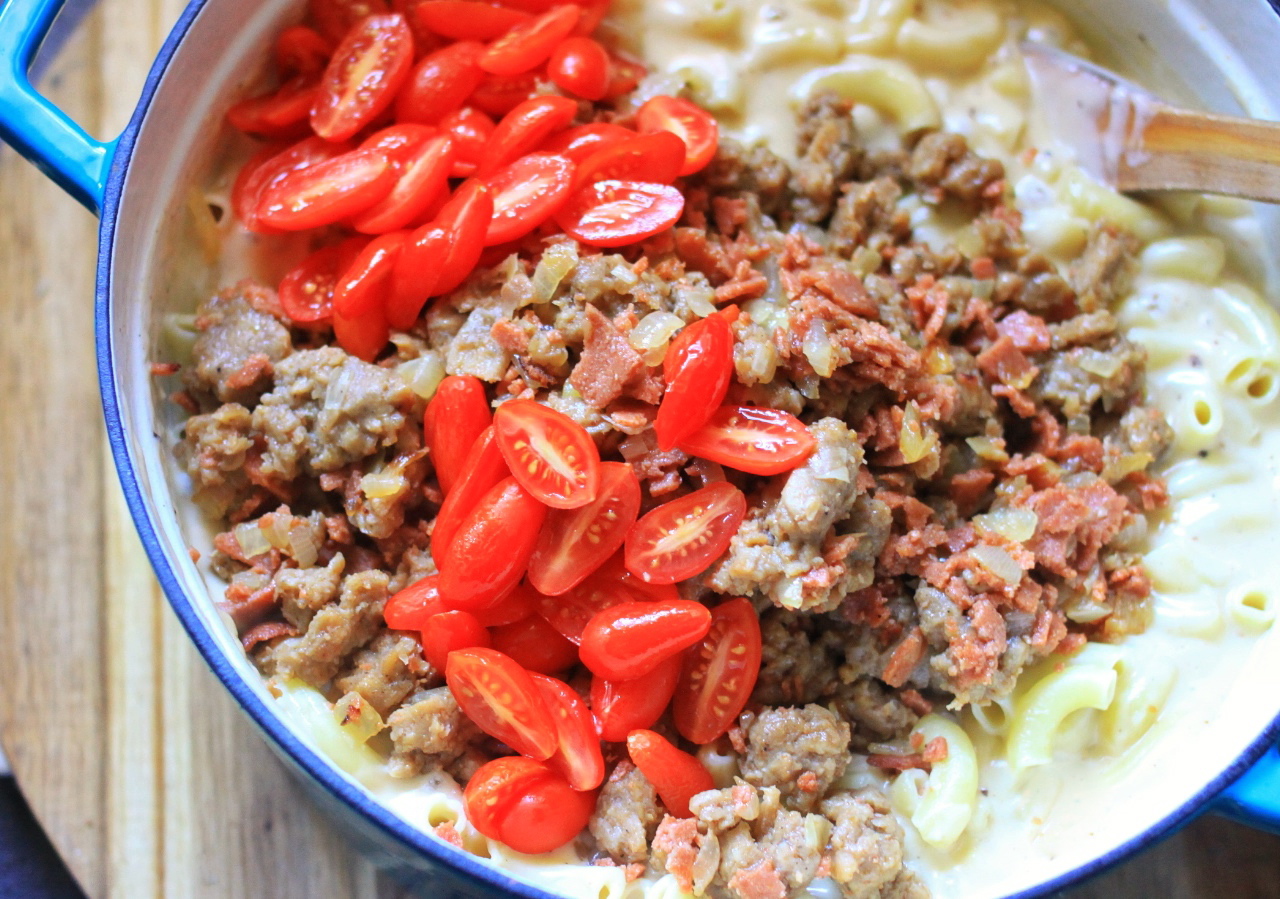 Bacon Cheeseburger Mac and Cheese
Serves 6-8 folks.
Ingredients:
1 pound large elbow macaroni
1/4 cup olive oil
1 large white onion, diced
3 cloves garlic, minced
one 14-ounce tube Lightlife Gimme Lean Ground Sausage
one 5-ounce package Lightlife Smart Bacon, diced
1/2 teaspoon salt
1/2 teaspoon ground black pepper
8 tablespoons unsalted butter
10 tablespoons all-purpose flour
5 cups whole milk
8 ounces extra sharp cheddar cheese, shredded
8 ounces smoked black pepper white cheddar, shredded
4 ounces havarti cheese, shredded
2 tablespoons yellow mustard
2 teaspoons kosher salt
1 teaspoon ground black pepper
1/2 teaspoon granulated garlic
1 cup grape tomatoes, halved
Directions:
Bring a large pot of water to a rolling boil. Generously salt, then cook the macaroni according to the package directions. Strain and set aside until needed.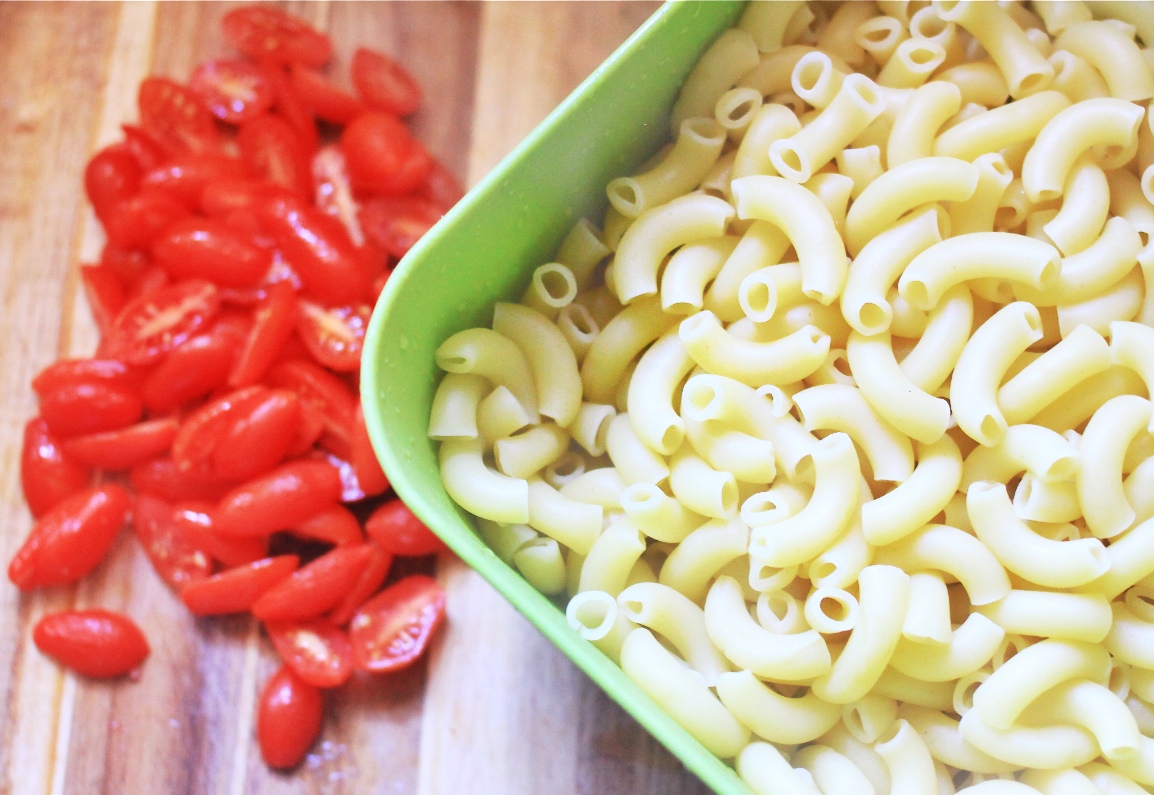 In a large, heavy-bottomed pot, heat the olive oil over medium-high heat. Add the diced onion and garlic, salt and pepper, sautéing until the onion is translucent and tender. Crumble the Gimme Lean into the onion mixture (it's sticky, but do your best with it). Stir occasionally until the Gimme Lean begins to brown. Add the diced bacon into the mixture, again stirring occasionally until the bacon begins to brown and crisp slightly. Scoop the mixture out into a bowl and set aside.
Meanwhile, return the heavy-bottomed pot to the stove. Melt the 8 tablespoons of butter over medium heat. Whisk in the flour, until smooth. Cook for 2 to 3 minutes. Whisking constantly, add the milk. Continue whisking until the sauce thickens (5 to 7 minutes). Add the cheese in, about a half cup at a time, stirring to fully incorporate each new addition. Continue stirring until you are left with a thick, creamy cheese sauce. Add in the mustard, salt, pepper and garlic, stirring to evenly distribute everything. Reduce heat to low.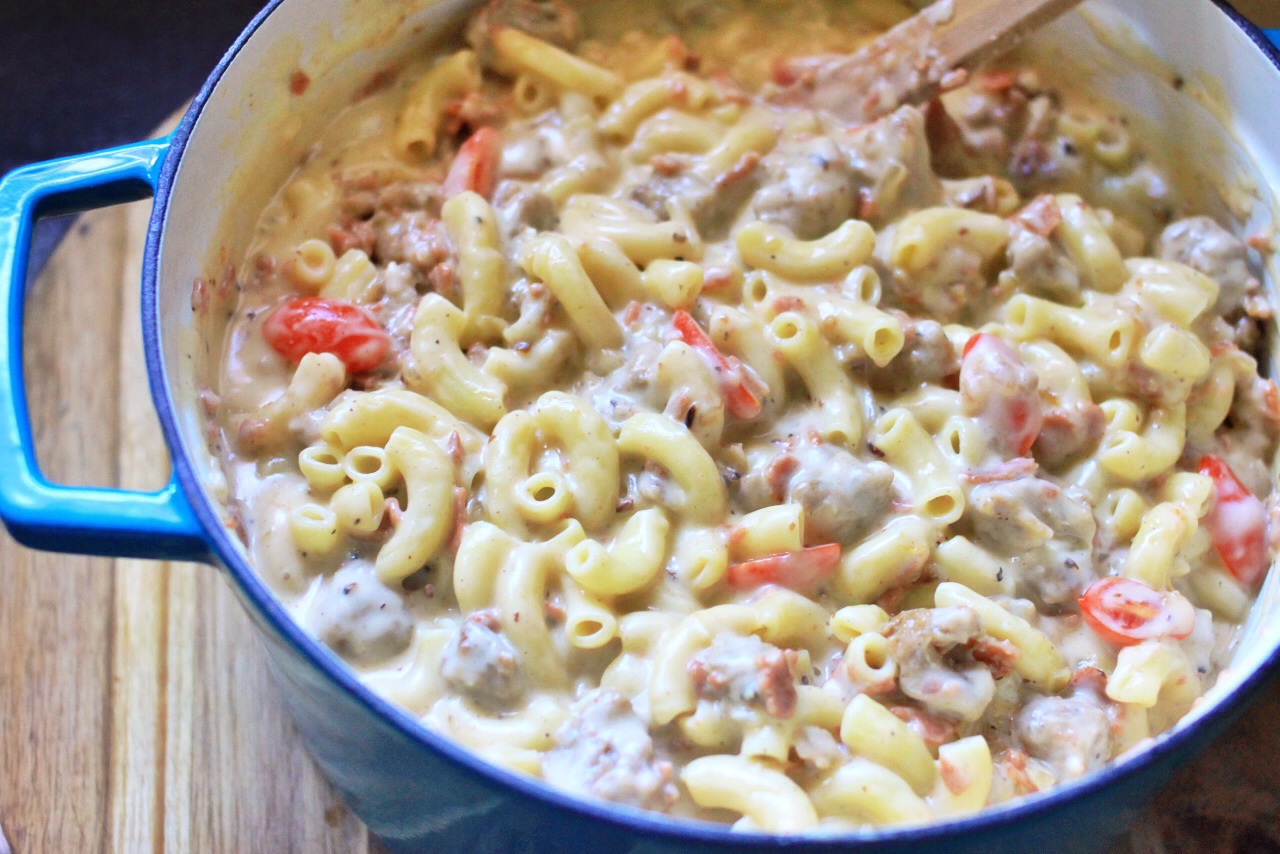 Pour the pasta into the cheese sauce, then stir to make sure every inch of pasta has been covered with sauce. Add in the Gimme Lean mixture and the halved tomatoes, folding everything together.
Serve while hot.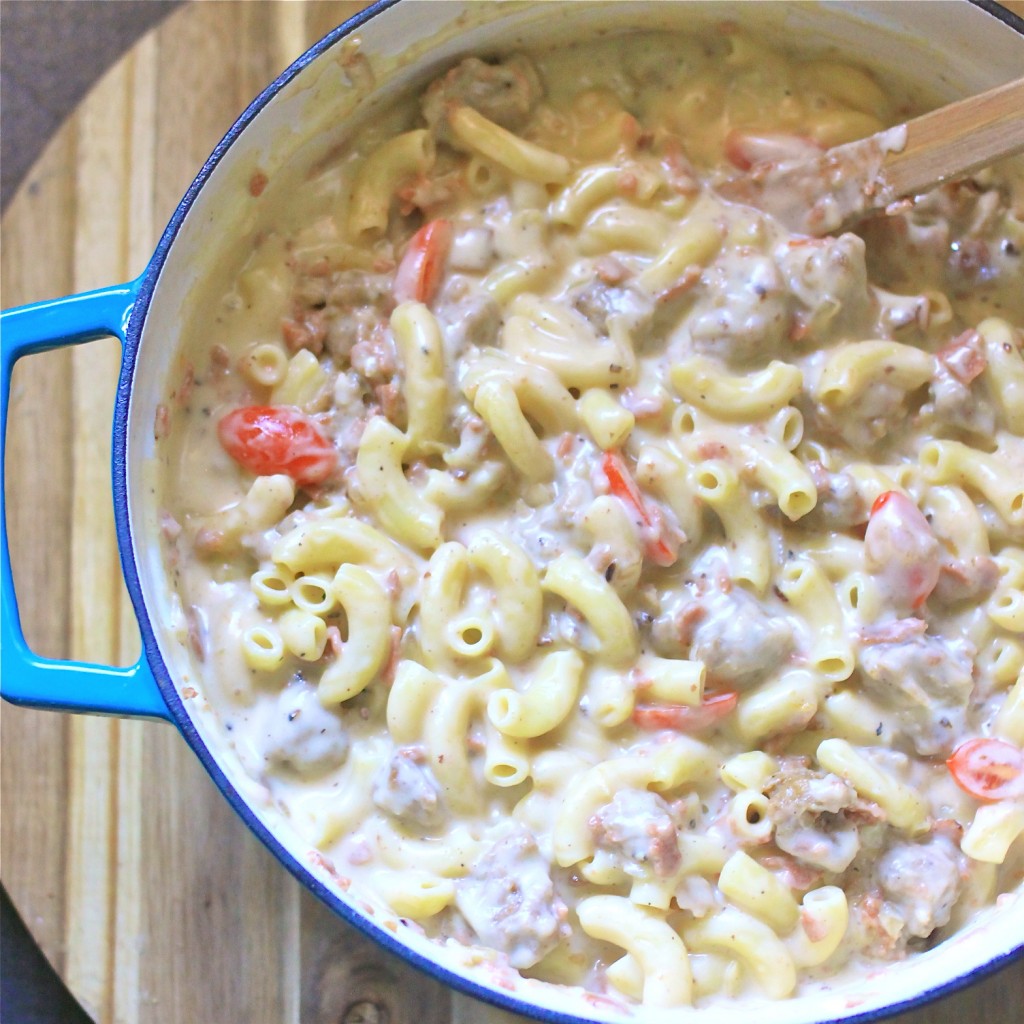 Please follow and like us: