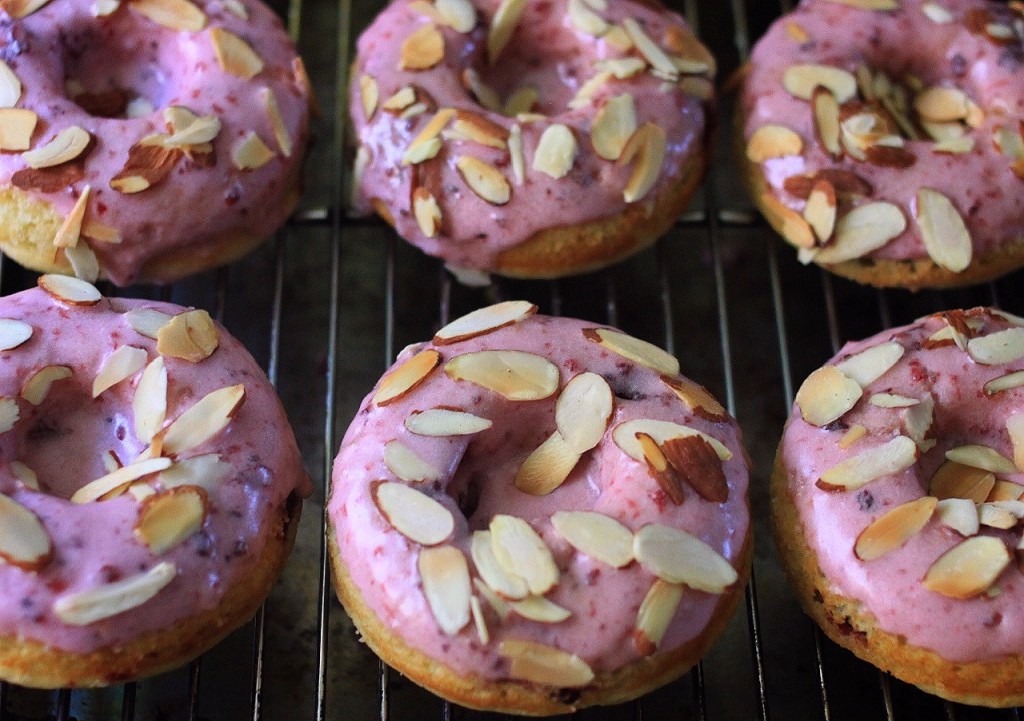 There's this thing about baked doughnuts… Somehow they are a cross between both doughnuts and muffins. Obviously that means they're totally acceptable as breakfast, snacks, a mid-morning (or afternoon, or evening) party-in-your-mouth. These baked cherry doughnuts waiver in that doughnut-muffin realm even more than your average vanilla or chocolate baked doughnut. They're light, fluffy and filled with fresh cherries.
I left a couple of these glaze-free and they were equally delicious. Do as you will, want, may… all that good stuff.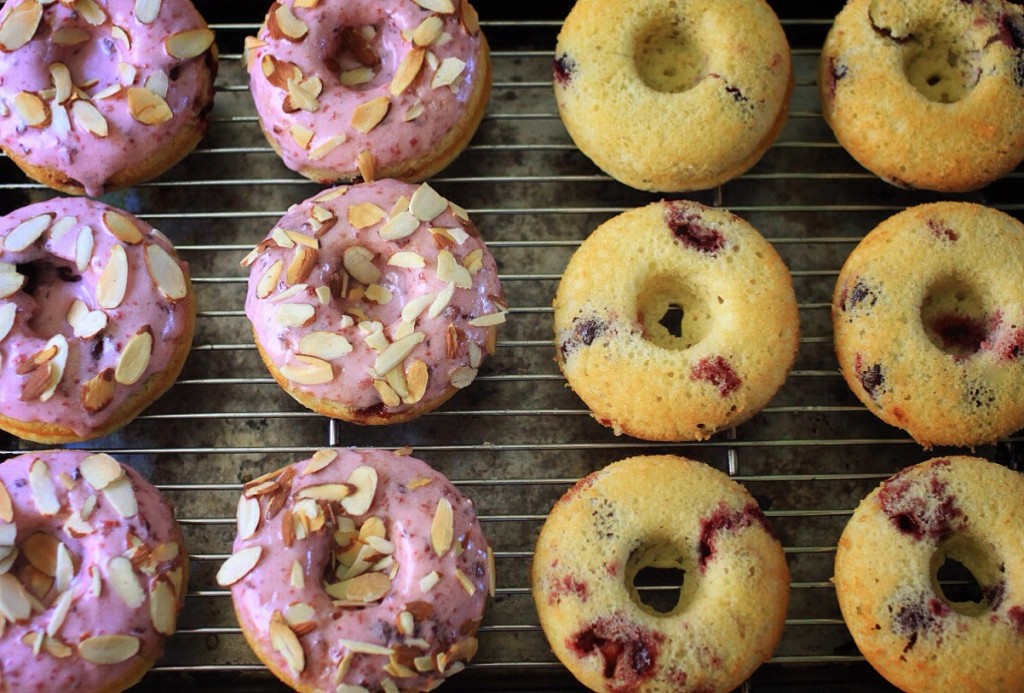 Baked Cherry Doughnuts with a Cherry Glaze and Toasted Almonds
Yields about one dozen doughnuts.
* A doughnut pan is needed for this recipe.
Ingredients:
For the doughnuts:
2 cups all-purpose flour
2/3 cup granulated sugar
1 1/2 teaspoons baking powder
1/2 teaspoon baking soda
1/2 teaspoon salt
1 teaspoon freshly grated nutmeg
1 cup buttermilk
4 tablespoons butter, melted
1 1/2 teaspoons vanilla extract
1 large egg
1 1/2 cups fresh cherries, pitted and halved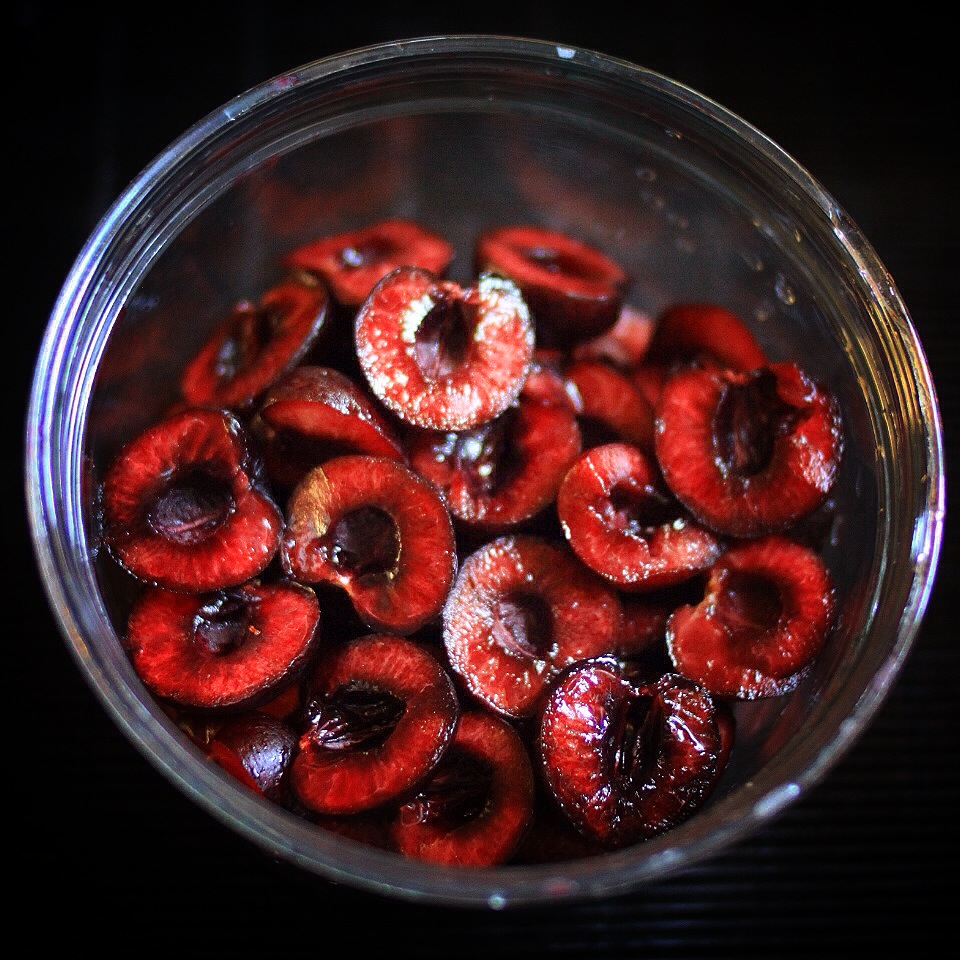 For the glaze:
1/4 cup fresh cherries (about 6), pitted and very finely diced
1 tablespoons milk
2 tablespoons coconut oil, melted and cooled slightly
1 teaspoon almond extract
1/2 teaspoon vanilla extract
1 1/4 cups confectioner's sugar
1/2 cup sliced toasted almonds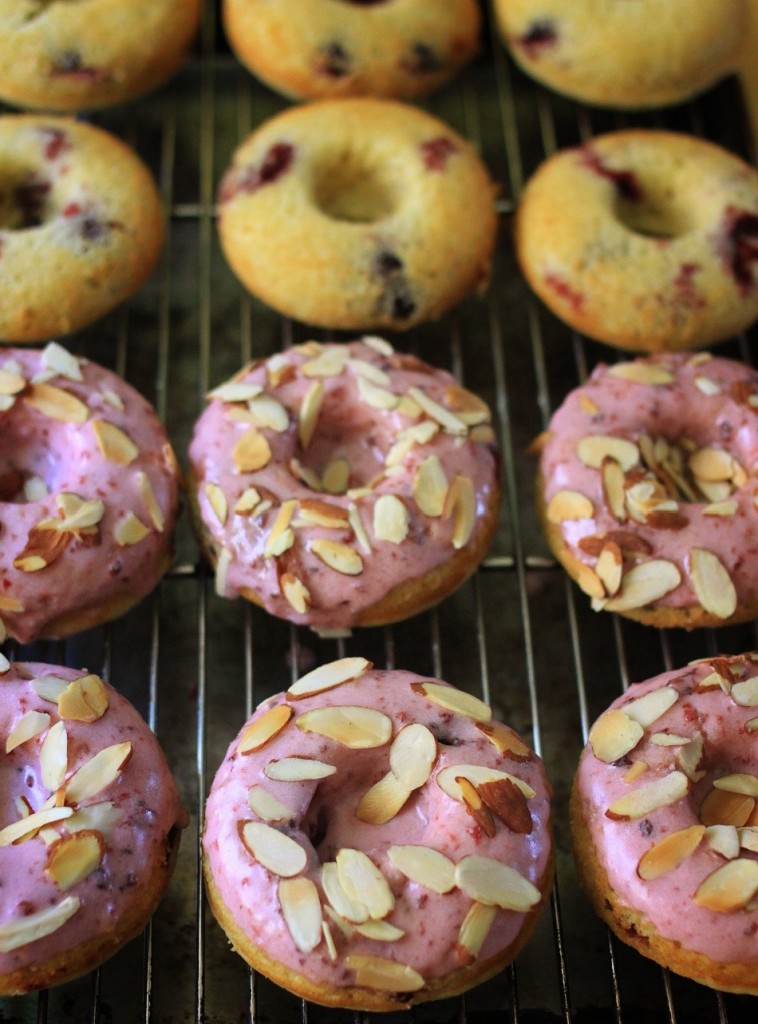 Directions:
Prepare your doughnuts: Place a rack in the upper third of your oven, then preheat to 350 degrees F. Lightly grease a doughnut pan and set aside.
In a medium bowl, whisk together flour, sugar, baking powder, baking soda, salt, and nutmeg. Stir in the buttermilk, melted butter, vanilla, and egg, mixing until all of the ingredients are well combined. Try not to overmix the batter. Gently fold in the halved cherries.
Using a small spoon, scoop the batter into the prepared pan. Smooth out the dough, filling each doughnut in the pan three-quarters full.
Bake for 10 to 12 minutes,. Keep an eye on them and try not to over-bake them. Remove from the oven and allow to cool in the pan before inverting onto a wire rack to cool completely.
While the doughnuts cool, make the glaze. In a small bowl, whisk together the finely diced cherries, milk, melted coconut oil, almond and vanilla extracts, and confectioner's sugar until smooth.
Once the doughnuts have completely cooled, dip them top-side-down into the glaze. Return to the wire rack then sprinkle with the sliced almonds. Allow the glaze to set for about 30 minutes before serving. For best flavor, eat the day they're made.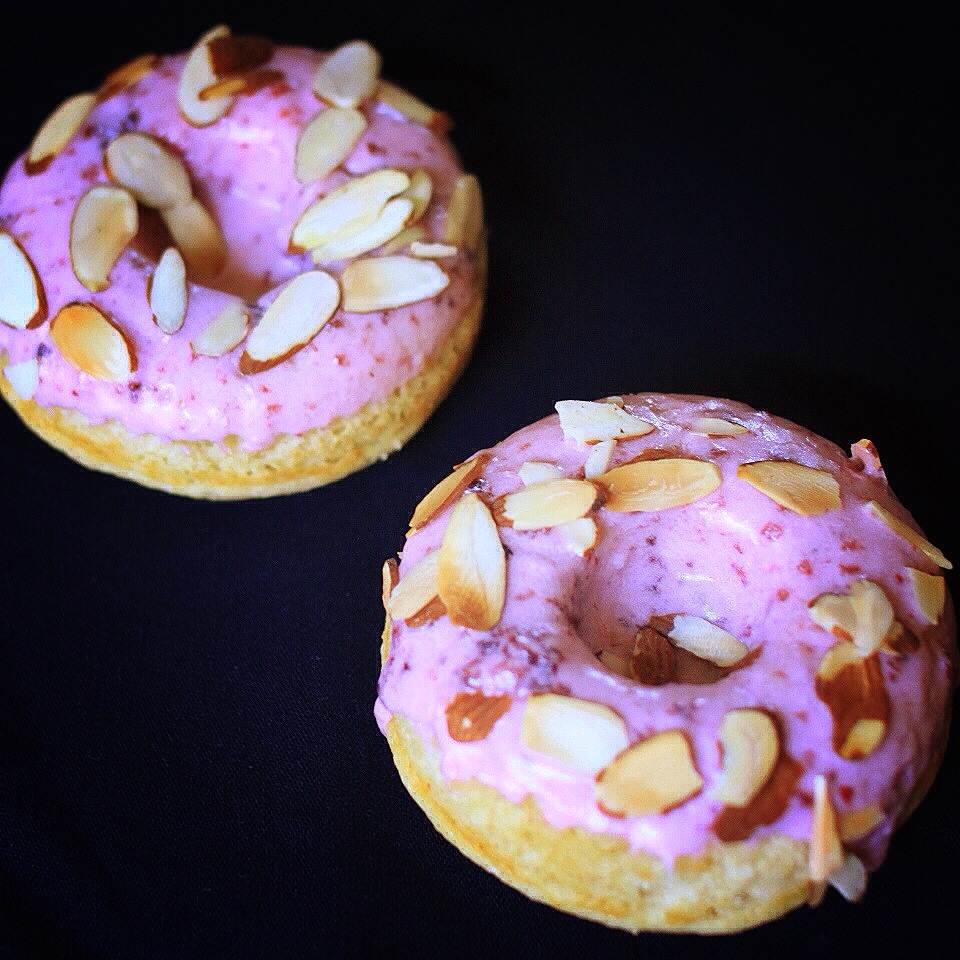 Please follow and like us: