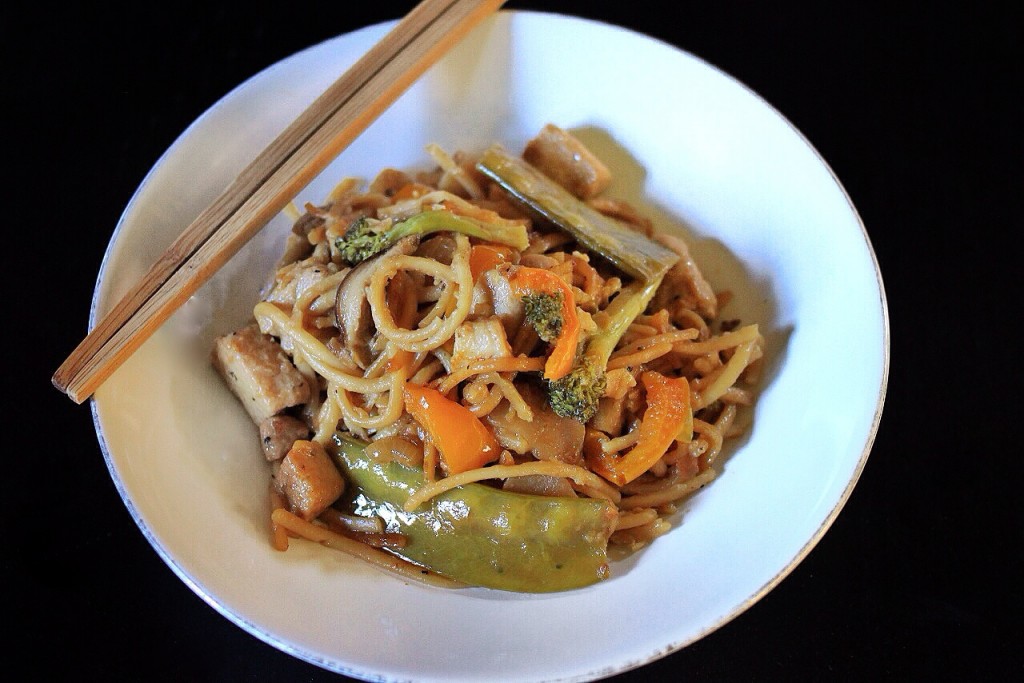 Although we eat a lot of Mexican food around here, there are some things I enjoy much more…  Noodles, for instance, are at the top of the list. It almost doesn't matter the type or the particular cuisine. Maybe it's just the high desire for carbs and the insatiable desire my half-Japanese self finds to eat my meals with chopsticks. Can't eat a burrito with chopsticks, now can we?!
Growing up in Hawaii, so many of my meals growing up were a conglomeration of multiple cultures. There are Hawaiian dishes mixed with Chinese, Japanese, Filipino, American, Thai influences.  Even as a kid, noodles were instant comfort food for me. One of the first things I learned how to cook was saimin (ramen… straight out of the package, little spice packet included).
These noodles aren't traditional in most senses, but they're good and filling, sweet and savory. It's important not to overcook your vegetables, so they maintain some texture and slight crunch in the final pasta. While I used round udon noodles, you can use what's available to you — whether that's flat, wide, or thin udon, or thick round noodles. I encourage you to add a bit of spicy red chili sauce to your bowl if you enjoy the heat at all — it balances well with the sweetness of these noodles.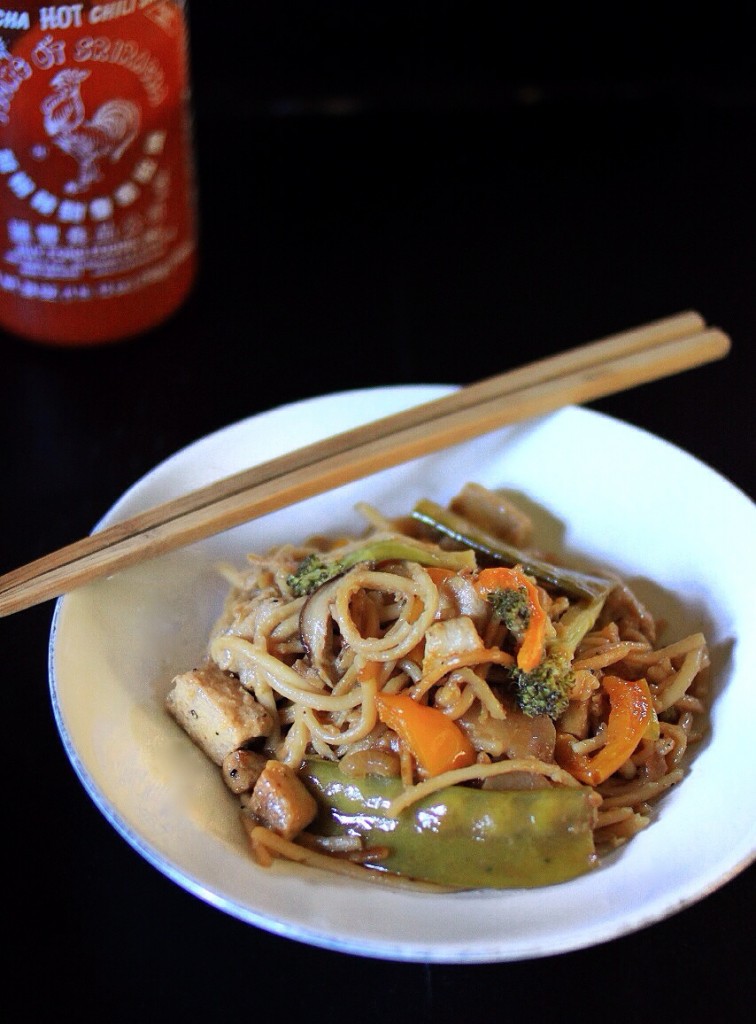 Veggie Yakiudon
Serves 8-10.
Ingredients:
8 tablespoons shoyu
8 tablespoons mirin
3/4 cup hoisin sauce
1/4 cup rice vinegar
1/4 cup vegetarian worcestershire sauce
6 cloves garlic, minced finely
4 teaspoons fresh ginger, minced finely
2 8-ounce packages round udon noodles
4 tablespoons toasted sesame oil
1 onion, halved then cut into half-moons about 1/4″ thick
1 package Quorn Brand Chik'n Tenders
1 large orange bell pepper, diced into bite sized pieces
15-20 snow peas, ends trimmed
1 small head of broccoli, cut into bite sized florets
1 large stalk celery, diced
1 cup bean sprouts
1 cup shiitake mushrooms, sliced into strips
salt and pepper
4-6 stalks green onion, diced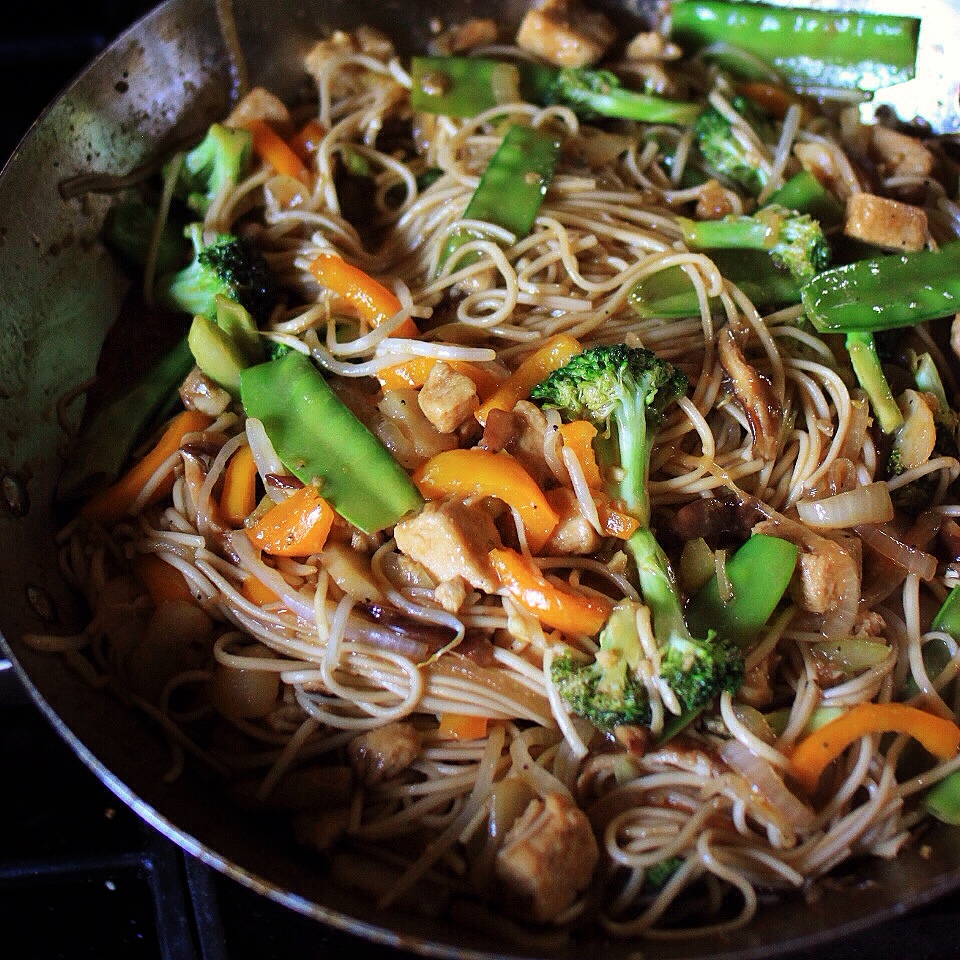 Directions:
In a bowl, whisk together the shoyu, mirin, hoisin, rice vinegar, worcestershire, minced garlic, and minced ginger. Set aside until needed.
Cook the noodles according to the package directions, then run under cold water to stop the cooking. Set aside in a colander to drain until needed. Make sure the noodles are dry before adding them to the wok later, which will help them to brown up instead of steam, keeping them from getting overly mushy.
In a large wok, heat the sesame oil over medium-high heat. Add the onions, tossing in the oil until tender. Add the Quorn tenders, also tossing in the oil. Cook until lightly golden brown. Add in the bell pepper, snow peas, broccoli, celery, bean sprouts and shiitake mushrooms. Use two spoons or spatulas to toss the vegetables in the wok until they just start to soften up. Remove the vegetables from the wok and set aside.
Add half of the sauce to the wok. Over medium-high heat, add the noodles and quickly toss them in the sauce with the two spoons or spatulas you used with the vegetables. Add the veggies back to the noodles, tossing them into the mixture. Add the remaining sauce, along with a bit of salt and pepper. Toss a few more times, then remove from heat. Sprinkle the diced green onion on top and serve immediately. I like adding a bit of sriracha into my own bowl!