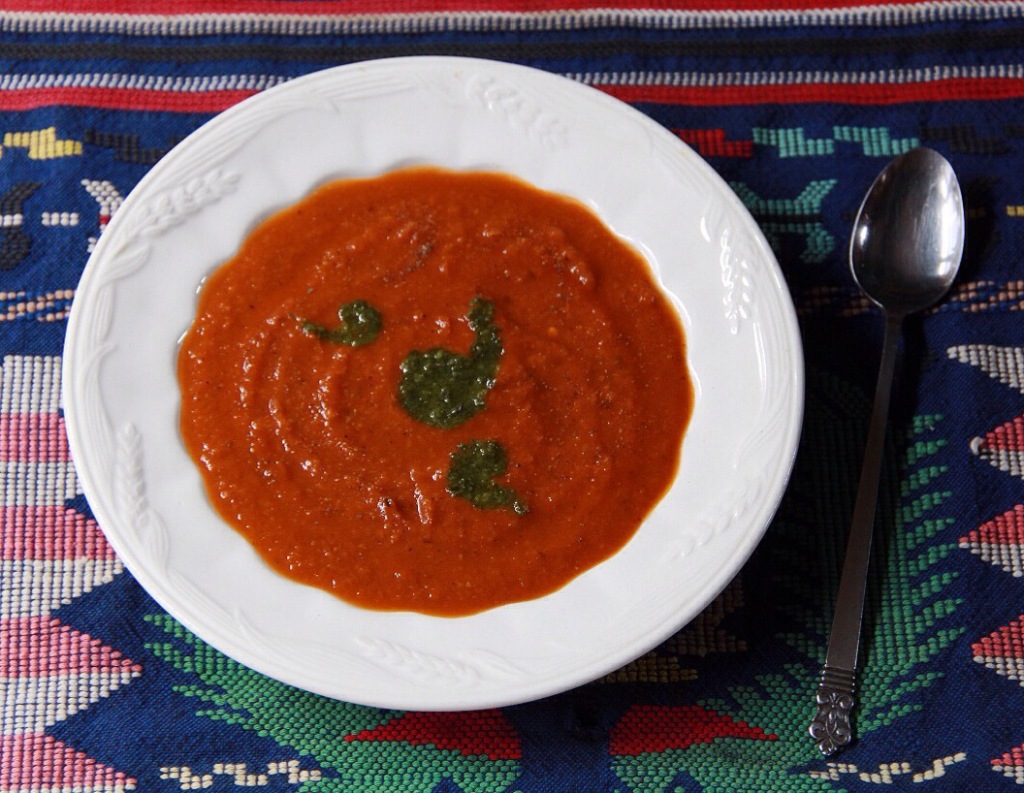 When I was a young, poor college student, soup often sounded like it'd be a money-saving dinner/meal option. This time of year, when the weather is cold and dreary, the trees have dropped the majority of their leaves, and certainly the bold colors of summer foods have faded, soup can have the potential of sounding appetizing. But even my poor college student self knew the truth: it takes real effort (or hunger) for me to be excited about soup. And even when I'm hungry, it's probably at the bottom of my list of things I want to eat. I know it seems like the "right" thing to eat at this point in the year, but generally I cannot get into it.
One exception is possibly tomato soup. Probably because when I think of tomato soup, I instantly think of grilled cheese sandwiches. And I most certainly do enjoy a good grilled cheese! There's something very kid-like about tomato soup and grilled cheese sandwiches… I still remember the massive pile of grilled cheese sandwiches my mom would make and neatly cut into rectangles, along with the heated canned Campbell's Tomato Soup that accompanied them.
When I heard that we were going to get our first freeze for the late fall a couple weeks ago, I rushed to pick all the tomatoes I could from our garden. About 3/4 of them were still mostly green, but there were some nicely ripened red ones that I had neglected to pick sooner. I decided to roast those poor red tomatoes, since they are absolutely worth cooking down and enjoying, even if they've passed the preferred time to eat them raw.
This soup is tangy, earthy, surprisingly filling. You can add more broth if you prefer a soup that is less chunky. I like to stir in little spoonfuls of basil pesto, but that is entirely up to you! This soup is great on its own as well.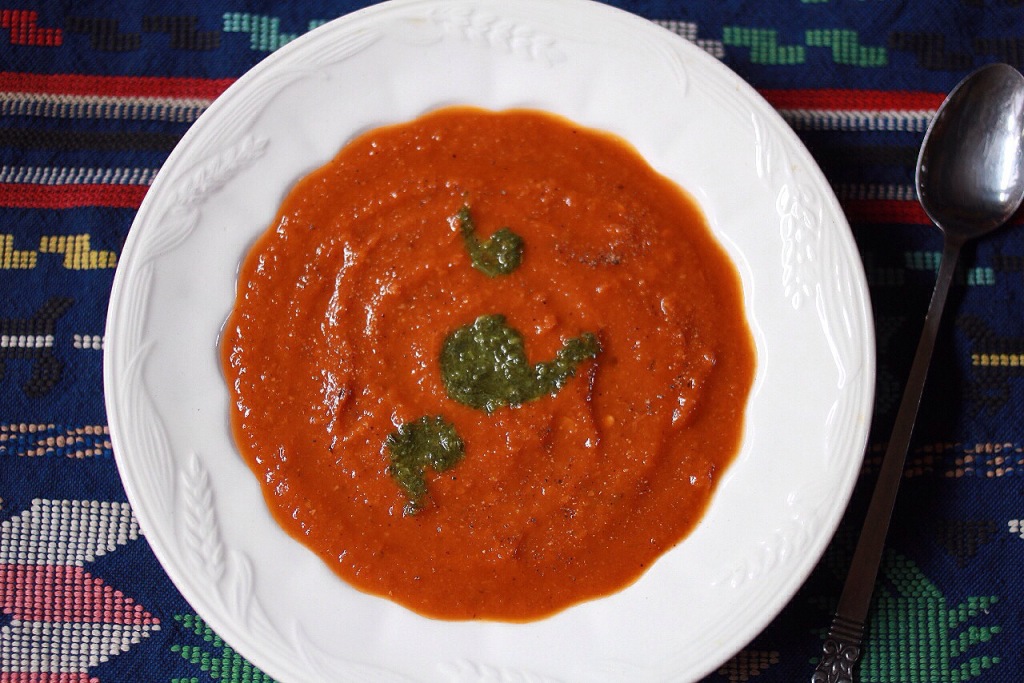 Vegan Roasted Tomato Soup
Yields about 10 cups of soup.
Ingredients:
6 very large, ripe tomatoes
3 tablespoons good quality olive oil
1 teaspoon sea salt
1 teaspoon fresh ground black pepper
1 teaspoon dried thyme
1/2 teaspoon ground coriander
1 tablespoon olive oil
1 small onion, peeled and diced
1 large anaheim pepper, stem removed, then sliced
2 medium yellow bell peppers, stems, seeds and ribs removed, then sliced
5 cloves garlic, peeled
3-4 cups No-Chicken broth (or vegetable broth)
1 teaspoon cane sugar
salt and pepper, to taste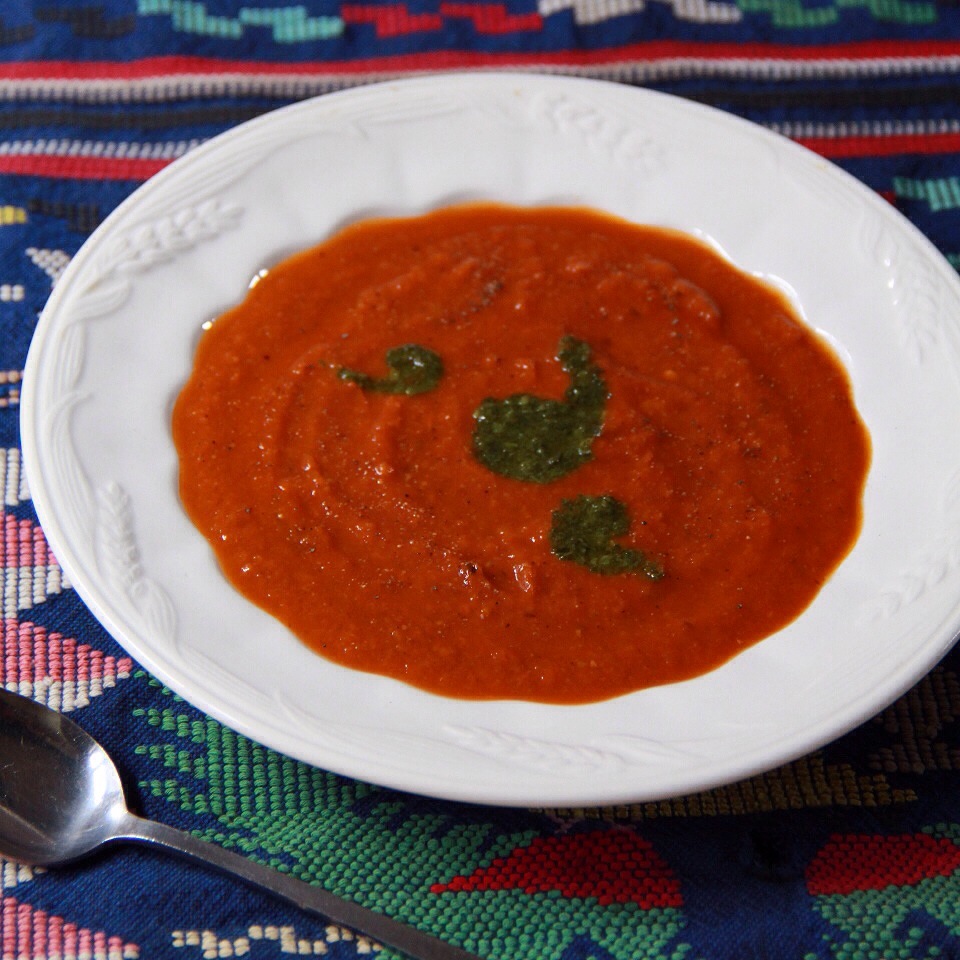 Directions:
Preheat your oven to 375 degrees F.
Slice the tomatoes into 1/2-inch thick rounds. Arrange on two large rimmed baking sheets. Drizzle with the olive oil, teaspoon of salt, pepper, thyme, and the ground coriander. Bake for 30-35 minutes, until fragrant, slightly crisp around the edges.
Remove from the oven and set them aside to cool. While the tomatoes are cooling, heat the remaining tablespoon of oil in a saucepan, over medium-high heat. Add the diced onion, anaheim and bell peppers, and garlic. Sauté just until everything begins to soften.
In a blender, combine the roasted tomatoes and the sautéed onion mixture. Blend until smooth and completely combined. Pour the pureed mixture into a large pot (I like my enamel cast iron dutch oven). Stir in the broth and sugar, then bring the heat up to medium. Warm the soup up until hot enough to serve. Add salt and pepper to your liking.
Leftovers freeze well, or can be canned and water-bath sealed for later use.