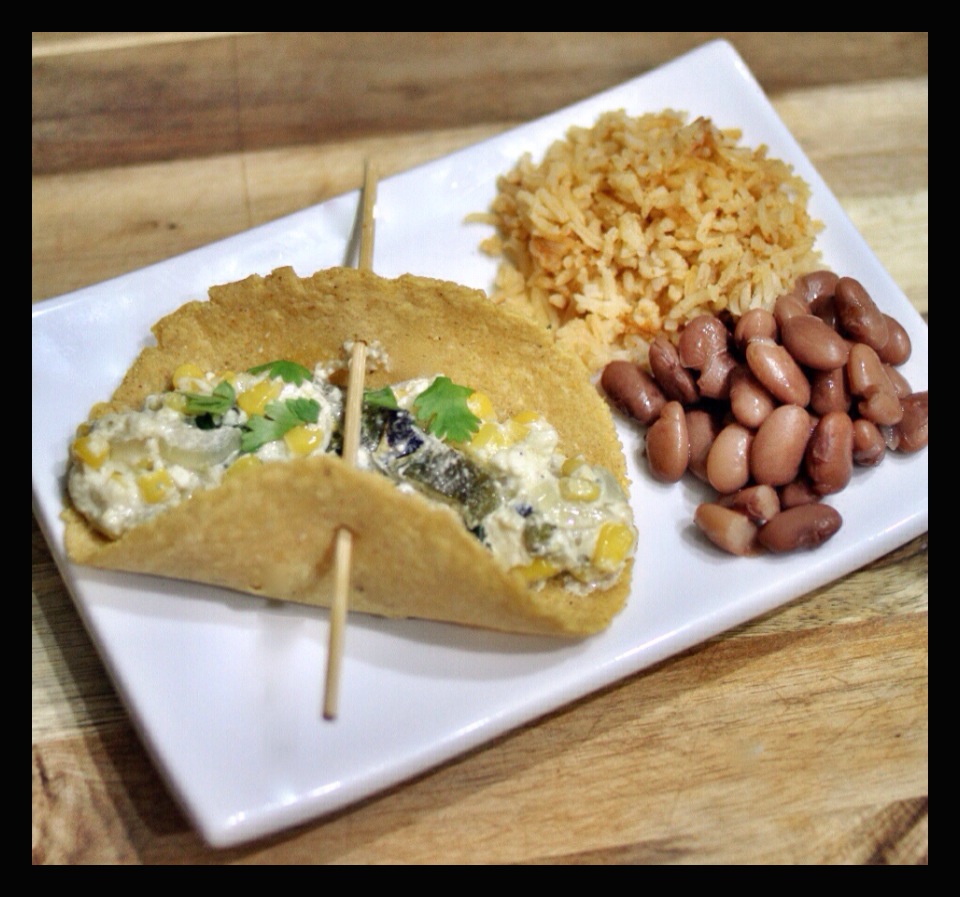 For a good, long period of my near-thirty years, burritos were my preferred Mexi-food fare. Over the last few years, however, I've found myself increasingly enamored with tacos. Possibly because nearly anything can be shoved into a taco. Possibly because I can keep eating them, whereas I am generally full after one burrito. ;)
Since I don't cook meat at home, we have veggie-taco nights, perhaps once a week or so. However, vegetarian tacos can become boring really fast. Beans, rice, cheese, salsas and sauces of various sorts, avocado… No one here is particularly fond of what is often the other vegetarian taco offering that is heavily present on a multitude of restaurant menus — heavy on the roasted vegetables, little on anything else, beans and rice on the side… Sometimes we are lucky to find bean/rice/cheese type tacos, which are incredible despite (or perhaps because of) their simplicity.
I began to do some research for the best veggie tacos across the globe. One taco that immediately caught my attention was filled with a creamy, roasted poblano pepper filling, wherein the tacos had nothing but this in/on them. Poblano peppers are medium-spiced (although occasionally you'll find a spicy one!), but carry a lot of flavor. Roasting them imparts a smokiness that carries through in the following dish. This gorgeous taco filling is a great balance of spiciness, sweetness, creaminess, and downright deliciousness!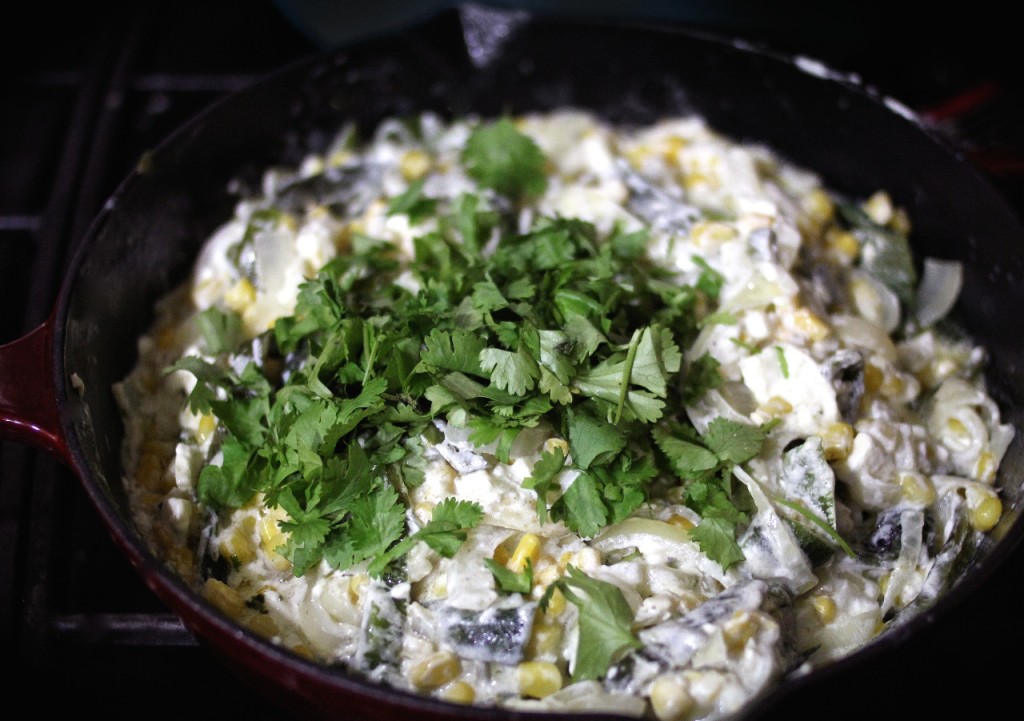 Rajas de Poblano con Elote y Crema
Tacos with Slices of Roasted Poblano Peppers with Corn and Cream

Serves 4-6 people.
Ingredients:
3 tablespoons olive oil
2 cloves garlic, minced
1 white onion, peeled, halved then cut into 1/4-inch thick slices
6 poblano peppers, roasted, seeded, then cut into 1/4-inch thick slices
2 cups sweet corn (frozen is okay)
1 teaspoon ground cumin
1/2 teaspoon dried Mexican oregano
1/2 teaspoon salt
1 cup cotija or mild feta cheese, crumbled
1 1/2 cups sour cream
1/2 cup fresh cilantro, chopped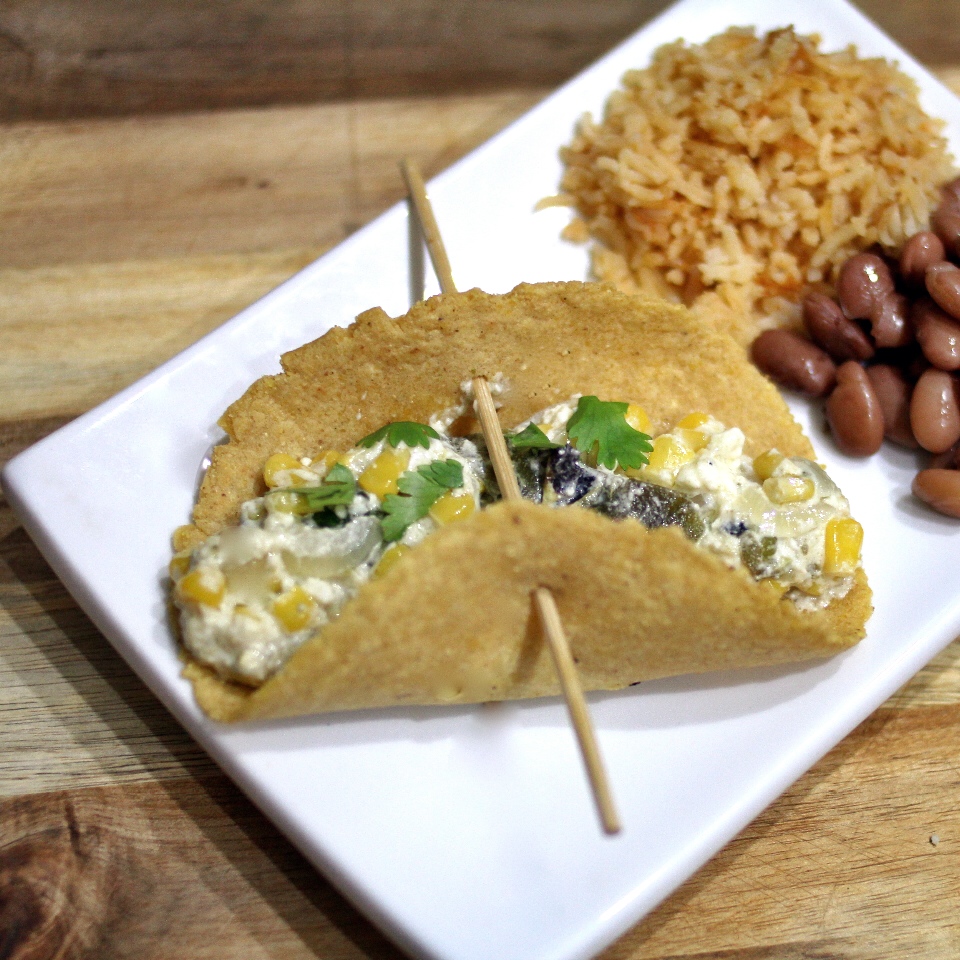 Directions:
In a large skillet heat the oil over medium high heat. Add the garlic and cook until fragrant (1-2 minutes).
Reduce the heat to medium and add the onion, cooking until softened, 2 to 3 minutes. Add the roasted chile strips and corn, cumin, oregano and salt, then cook an additional 3 to 4 minutes.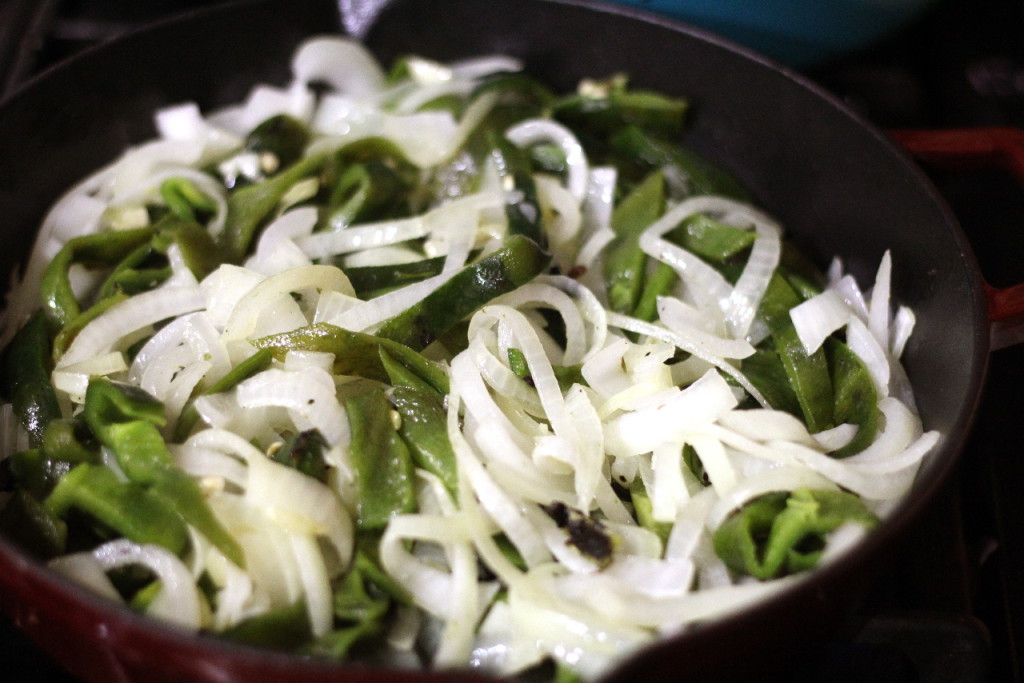 Add the cheese, reduce the heat to low and stir in the cream. Continue cooking, stirring until the cheese has melted. Remove from heat, stir in the chopped cilantro, then serve immediately with warm tortillas.