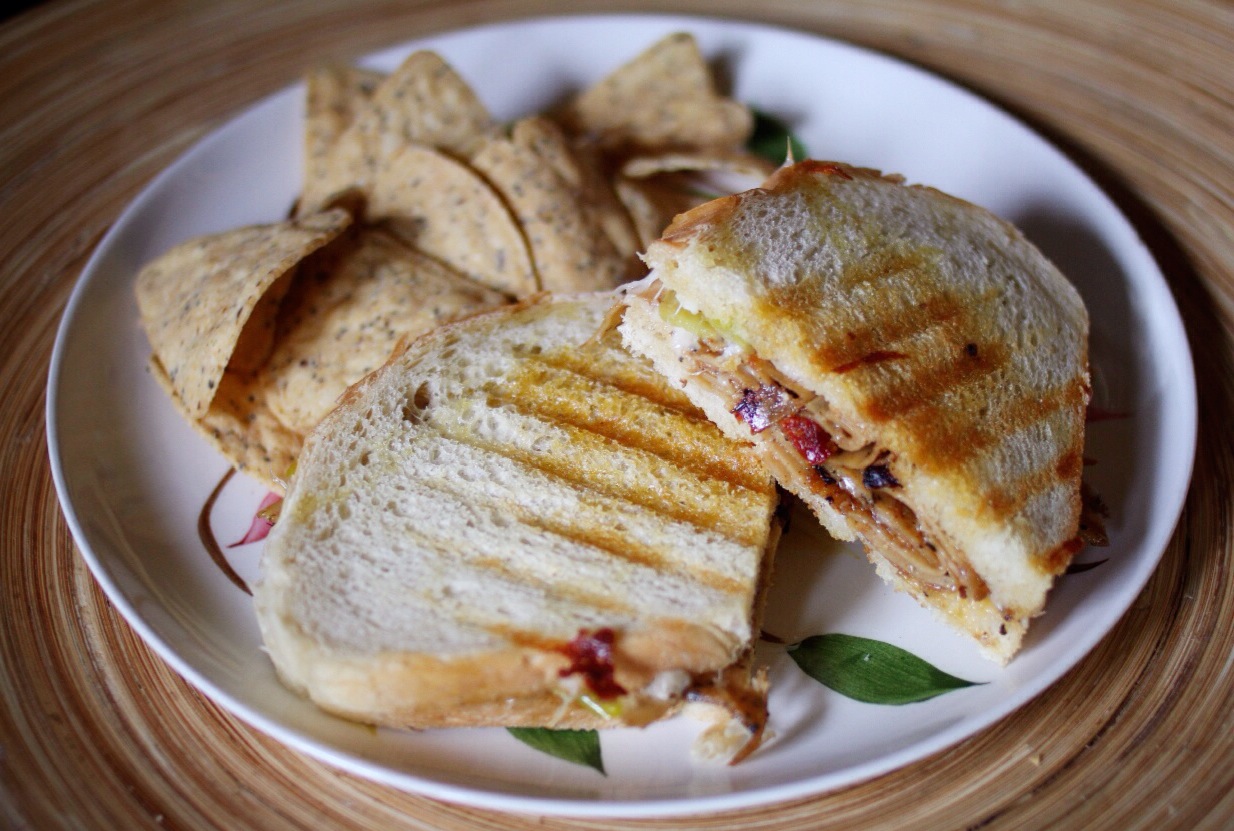 Around here, there is one type of sandwich that stands out, far above all else. It's what the kids refer to as a "chop chop." I think it came about one day a few years ago when my husband and I were experimenting with a vegetarian Philly cheesesteak-type of sandwich. Making that sandwich involved aggressive chopping of veggie meat to mimic the shredded/chopped up cheesesteak style of meat preperation.
The next time Vincent wanted a sandwich like the above-mentioned one, he told me, "Julie, will you help me? I'm not good at the chop-chop part!" Since then, this torn/chopped up veggie meat sandwich has been referred to simply as a "chop chop." It's requested multiple times every week. Variations are limited to what happens to be in the house at the moment. Tofurky deli slices work the best, although you can use different flavors — they're all delicious. Cheese-type is entirely up to you, although it's worth noting that cheddar tends to break down more greasily, mozzarella, monterey jack or fontina adds a lovely stretchiness, and anything else can be used for flavor variation as well.
The following chop chop panini was inspired by some Mediterranean flavors. If I had kalamata olives (or even black olives) on hand, I probably would've included them too. I prefer sourdough bread for panini making, but feel free to use whatever you'd like. You want something that will hold up to the fillings though, perhaps a thickly cut brioche or challah, a baguette with the rounded ends trimmed off, or possibly ciabatta bread?
Feel free to use the following recipe as a template for future chop chop sandwich making. Change up the Tofurky flavors. Vary the cheese, add in different embellishments (Artichoke hearts? Pesto? Slices of avocado? Thinly sliced eggplant? Fresh spinach?). Use different sauces if you want — I made a delicious garlic sriracha mayo once that worked well. You really can't go (too) wrong! ;) Happy eating!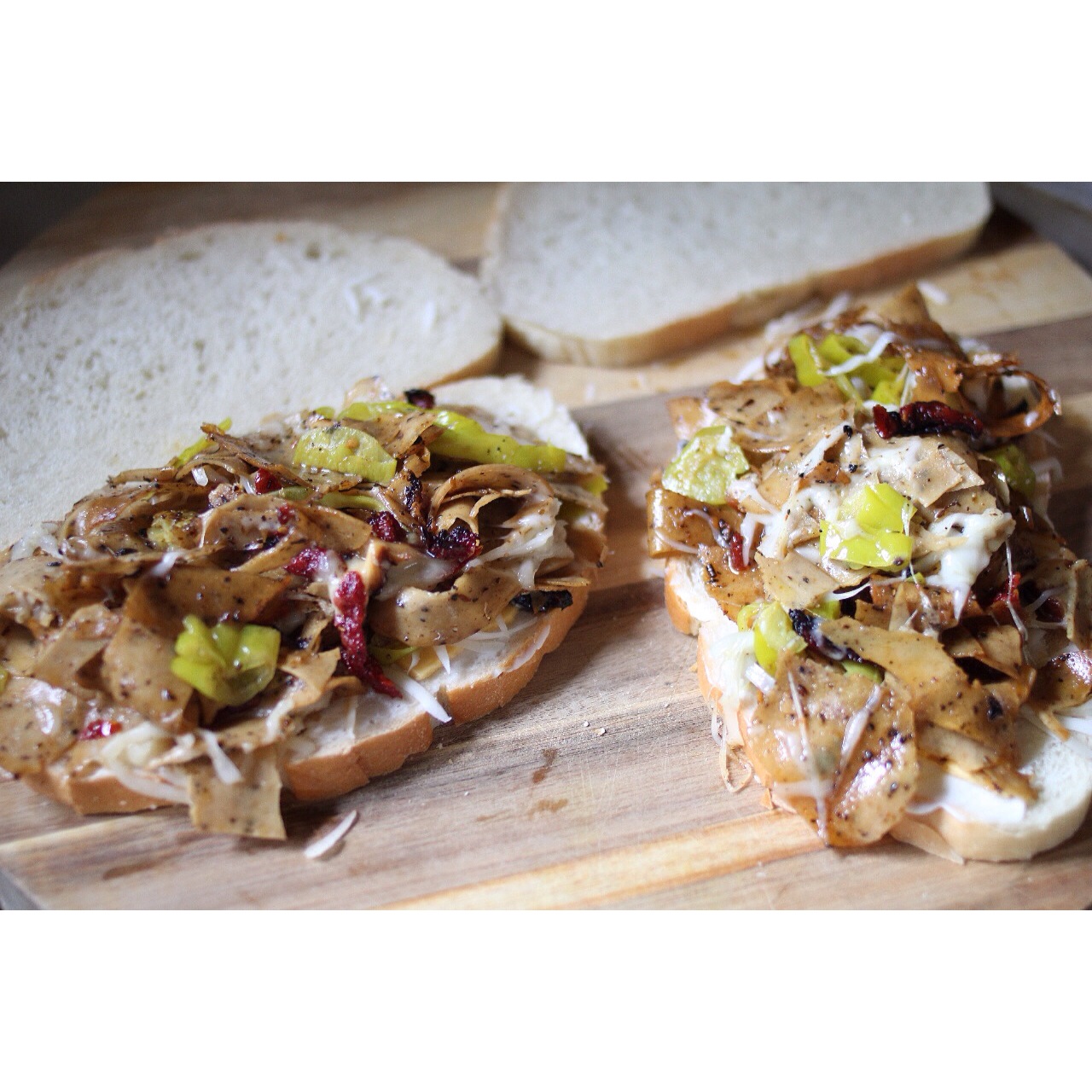 Vegetarian Turkey Pepper Panini
Serves 2.
Ingredients:
1 package Peppered Tofurky Deli Slices
1 tablespoon olive oil
1/2 teaspoon salt
1/2 teaspoon granulated garlic
4 ounces provolone cheese, shredded
2 ounces havarti cheese, shredded
1 ounce smoked mozzarella, shredded
5-7 olive oil packed sundried tomatoes, sliced thin
10-12 sliced peproncinis
2 tablespoons vegenaise (or mayonnaise if you prefer)
2 tablespoons dijon mustard
4 large slices thick-cut sourdough bread (or your preferred sandwich making bread)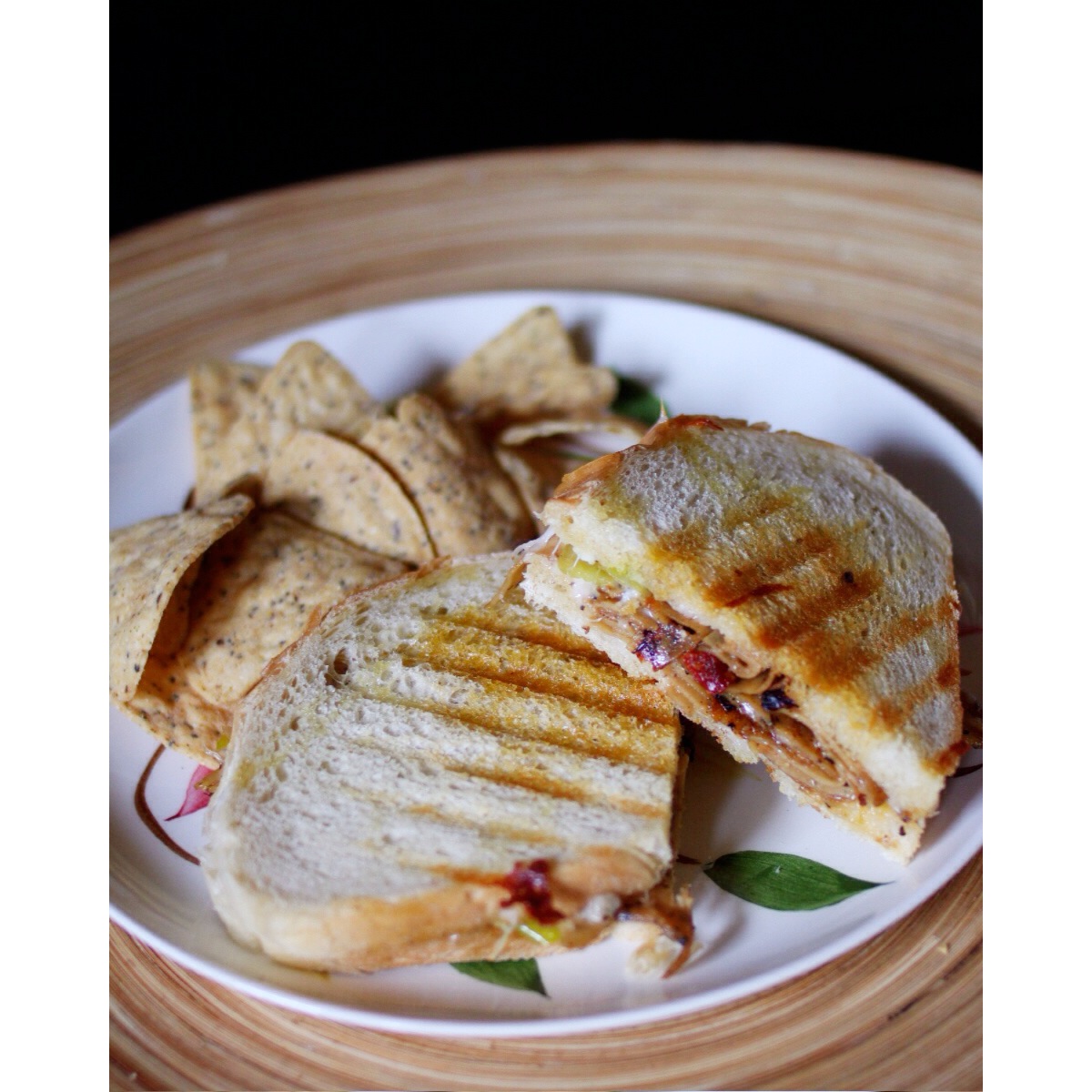 Directions:
Preheat your panini press according to the manufacturer's instructions.
While the panini press heats, in a medium sized saucepan, add the tablespoon of oil. Place over medium heat on your stovetop. Tear up the Tofurky slices into large bite sized pieces (messy is encouraged!). You can do this with your hands, a sharp knife, or even a pair of kitchen scissors! Add the tofurky to the heated oil. Use a spatula to coat the tofurky. Add in the salt, garlic, sun dried tomatoes and peproncinis. Next, sprinkle in half of the shredded provolone, all of the havarti and mozzarella. Reduce heat to low and cover, cooking for 2-3 minutes, until the cheese has melted.
On two of the bread slices, spread the Vegenaise. On the other two bread slices, spread the dijon mustard. Sprinkle the remaining provolone cheese over the Vegenaise-coated side. Next, split the Tofurky mix between the two sandwiches. Top with the mustard-coated bread. Brush the outside of both sandwiches with olive oil.
Cook in your panini maker until the outsides are golden brown (use the manufacturer's instructions). Slice in half and serve immediately.